On the Road is a weekday feature spotlighting reader photo submissions.
From the exotic to the familiar, whether you're traveling or in your own backyard, we would love to see the world through your eyes.
Today we have a splendid collection of interesting photos and stories from a photographer.  Very nice!  ~WaterGirl
Jim Appleton
These photographs come from a twenty-year stint in advertising, circa 1987 to 2008.
Here are some of their stories.
There is an entire universe behind what you see in a tv, internet, or magazine ad.  My own small part is in the images.
The vast portion of my professional time spent is in the sausage making.  How to get the job, how to do so sustainably, who is the audience, what do I see.
I work on location, meaning on the road in BJ parlance.
This OTR submission may differ from other contributors whose great portraits of places and interests look at subjects.  These look toward context.
I like working in series.  Take a subject or theme and look for options.  That focus on options is both limiting and freeing.  Hard to describe.  Always on the hunt.
All photos registered copyright Jim Appleton, all rights reserved.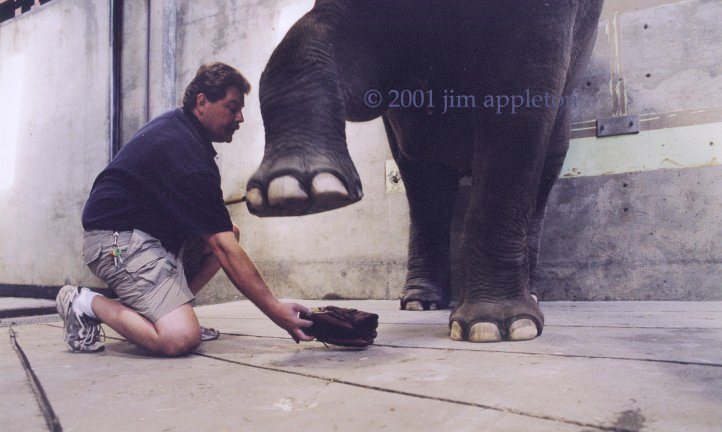 Portland, Oregon
Outtake from a print ad for Nike Baseball about extreme methods of softening a baseball glove.
This is for BJ's animal lovers.
I'm right under the head of this zoo elephant, Rose Tu.  No safety barriers, up close and personal.  Just prior, she was very curious and wanted to sniff me from top to bottom in that order, at some length.  In the end, she did as asked by the keeper, crushing a baseball mit for my camera.  She kept part of her focus on me, and before she left she got a hug from me which seemed to be reciprocated — a head cock and gentle nuzzle.  I work with horses, same kind of interaction.
The experience of an elephant moving to look me in the eye from just a few inches was awesomely electrifying.  A huge animal who clearly responds partly out of a need for affection and attention, much like our pets.  The main difference is that every second is choreographed by one person, the zoo keeper.  I could not speak or move unless he directed.  If she sensed any ambiguity or conflict, her cooperation could be lost.
My exhilaration is matched by the absurdity of why this was happening — selling baseball gloves.
Nikon F5, waist-level finder, which I used almost exclusively with this camera.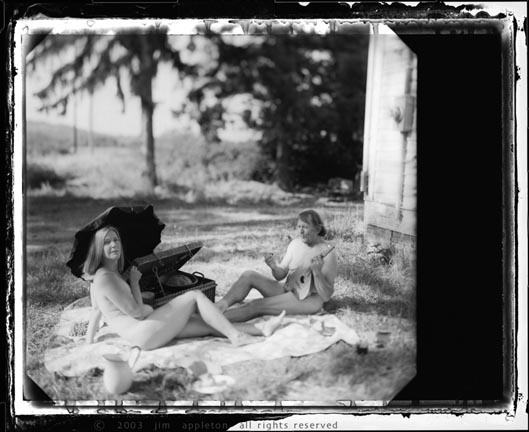 Forest Grove, Oregon
Naked calendar photo, fundraising for purchase of the historic house on the right side of this image.  http://jimappleton.com/calendar.htm
Part of a trend around this time.
Twelve separate shots of different subjects, each showing naked volunteers.  We had three weekends in the summer of 2003 to get this done.
This one was spontaneous, on one of our first days of shooting.  The two models showed up unexpectedly.  No one knew what to do with them, given we'd had weeks of planning behind at least ten final images.
I think the art director came up with the idea for a picnic.  I was already creating compositions in an "old masters" concept — American Gothic, Death of Marat, etc.
This one is Manet's "Le déjeuner sur l'herbe".  https://en.wikipedia.org/wiki/Le_D%C3%A9jeuner_sur_l%27herbe
I had not seen the source image in at least ten years.  The gestures in the photo are pure luck, not my direction.
I purchased the mandolin a couple of years earlier, as a photo prop, but also to aid recovery from a neck surgery which affected my left hand.  It's a Mid-Missouri KM-4 with Schaller tuners, a tiny four-string.  An awesome, plain but well-made instrument, used daily, and right now about two feet to my right.  Ciaccone in d minor never sounded better …
This is shot on Polaroid Type 665, using a hand-held Fuji GX680 without the format mask on the Polaroid magazine, resulting in about 9 by 9 centimeter image.  What you see is the entire sheet of film.  The lens is 100mm f/4 at 5.6.  Waist-level finder.
Somehow, not by design, I shot a lot of high-end nudes over several years …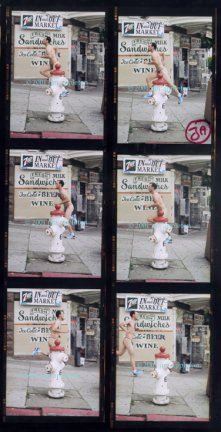 San Francisco, California
Outtakes from a day of shooting for Nike ads themed around the Bay to Breakers, an annual footrace which some of the one hundred thousand or so participants run nude.
This is one of a series which my client liked but I did not.  Client wanted comic Austin Powers scenes like this one, I wanted an emphasis on training.  In the end, the two most used images were my concepts of bleacher sprints and stretching shot at Kezar Stadium, though one of the Austin Powers ideas ran for weeks on one of the most expensive billboards in the city, overlooking Union Square.
Because the city would not give us a permit to shoot naked people in public, this is one of maybe three assignments I've ever done without full permission.
The funniest anecdote from that very busy Monday of shooting was from the Financial District.  The day before, I found a topiary perfect for an Austin Powers crotch block, noted the narrow time window for full sun, and the next day our full crew was ready to go as planned.  We set up and did a few test shots while we waited for sun in the dark canyon of skyscrapers.
Then we noticed we were right in front of huge windows behind which a bunch of maybe second-graders we're seated around an old stage coach.  All of the kids were looking at the naked guy.
An armed Wells Fargo security guard came out to see what was going on in front of his employer's world headquarters.  I was sure we were going to jail.
Instead, he asked one of our production staff a couple of questions, shrugged and went back inside.
A few minutes later, our sun arrived and I jumped into action in the middle of the street, just before a huge surge in traffic before the lunch hour which did not happen on Sunday, the day prior, when I scouted the location.
The photos in this contact sheet are shot single frame with a hand-held Fuji GX680, 100mm f/4 lens at 6.5.  Waist-level finder, mirror locked up.  The technique is heads up (looking directly at the model, not through the lens), and pressing the hair-trigger release as he hits the "money shot".
The sequence is from top left to bottom right.
You can see how I asked the model to move his launch point to my right.
Glenwood, Washington
In 1992, two of my work-related friends married.  They asked a bunch of photographers to use two rolls of film in toy cameras to document the day.
I'd never heard of anything like this and had some trepidation and skepticism about the technical end.  Plus my own dislike of being both a guest and at work for important events.  In the end, the bunch of us just ended up having a good time.
This is one of three shots from that day which are still in my portfolio, and several more from later years using the same Holga camera.
The one notable technical feature is that I used a hand-held remote cord flash, with on-camera thyristor.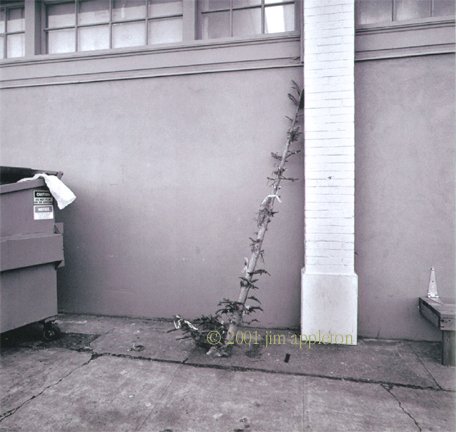 Portland, Oregon
Discarded Christmas trees are funny, pathetic, and endless.
On December 26, they transform from icon to litter problem.
Of maybe a hundred or so that I've shot, I only moved one (not this one), and only to align it in position.
This one was a block from my home.
Hasselblad SWC/M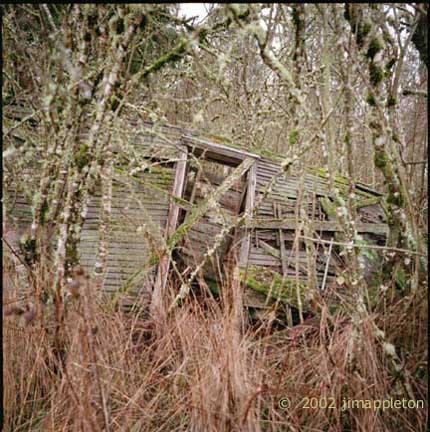 Gervais, Oregon
Outtake from a series of ads for Rejuvenation Houseparts, featuring buildings beyond repair.
The ad agency approached me with a famous set of photos of dilapidated mining cabins as their concept.
I suggested we steer away from funky in favor of what I called "aspirational" — cool and desirable, but clearly lost causes.
I found, shot, and permitted all of the candidates, and the end result was three ads which were well received.  One of my photos became a wall-sized (unauthorized) mural in the lobby of Rejuvenation's corporate office, the first and most prominent thing anyone entering saw for years.
The ad agency won one of the most prestigious industry accolades — inclusion in the publication Communication Arts.  The agency omitted any credit for the photography, which is not typical for CA.
They also made a big deal in their CA acceptance about how they worked hard to make the photography about "aspirational" subjects.
This kind of cheesiness is one small reason I was glad to leave advertising.
Hasselblad SWC/M.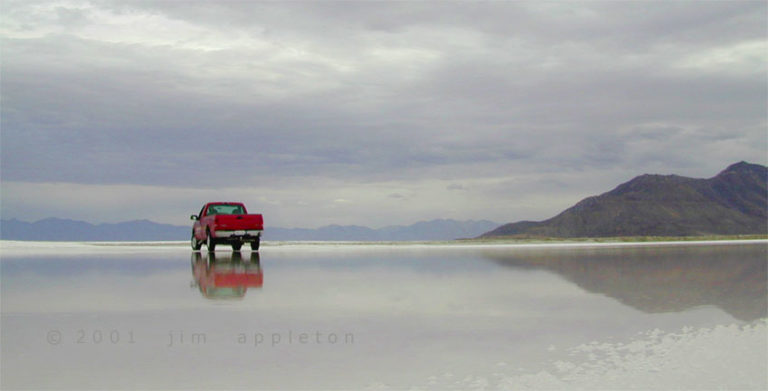 Tooele, Utah
Location scouting for Georg Fischer photographer/Jeep, UK.  http://www.georg-fischer.de/
I revel in support roles for other photographers.
Collaboration and riffing, much as it happens in music, has always been one of the most enjoyable aspects of advertising photography for me, when it's done with honest mutual respect.
This is one of my many scouting assignments for high-end car ads shot by other photographers.
The original concept from the agency called for studio shots.  Georg asked me if there were location possibilities.
The final ads were shot at the Bonneville salt flat, my first thought when he called me and the reason we were in Utah.  Afterward, Georg spent a day and a half at this salt mine nowhere near Bonneville, shooting on-site machinery for his personal use.
Nikon Coolpix 950.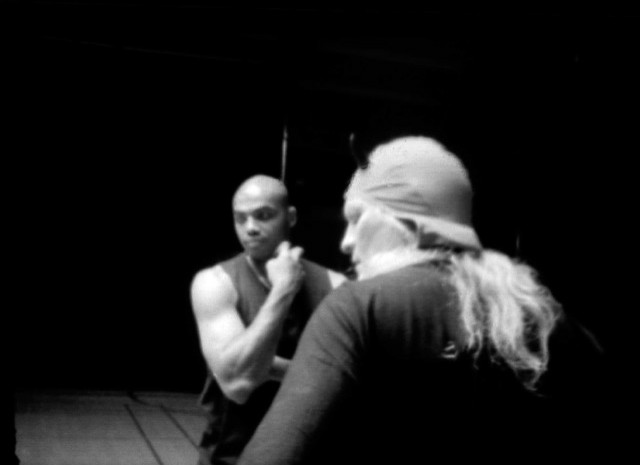 Phoenix, Arizona
I spent several years assisting established photographers.
This shot comes from one of those gigs.  My boss, Pete Stone, was hired to shoot stills on Nike tv commercials.
This is from the famous Charles Barkley "I am not a roll model" set, during takes of that part of the script.
Barkley is facing the director, Joe Pytka, who is wearing a devil hat, for reasons you'll have to ask Joe about, but clearly provocative.  They're looking at video playback of recent takes.
This image and the absurdity of being there has long resonated for me, more so now given the importance of race and responsibility in 2020.  It also encapsulates my ethic at the time:  always have a camera ready to shoot.
All photos registered copyright Jim Appleton, all rights reserved.
Minox B.