So the word is that the CDC has been forbidden from doing contact tracing related to the recent White House centered COVID-19 outbreak, but there is apparently plenty of information in the public domain.  (h/t Wyatt Salamanca, who gave me a heads up about this and sent me the links)
It's a real-time tracking tool to monitor the growing number of people in Trump's circle who were exposed or infected with COVID-19.  It was created by Jesse O'Shea MD, MSc, an infectious disease fellow physician at Emory University, Benjy Renton, a senior at Middlebury College and Digital Director at The Middlebury Campus, and Peter Walker, who does data visualization.
COVID-19 At The White House – Public Reports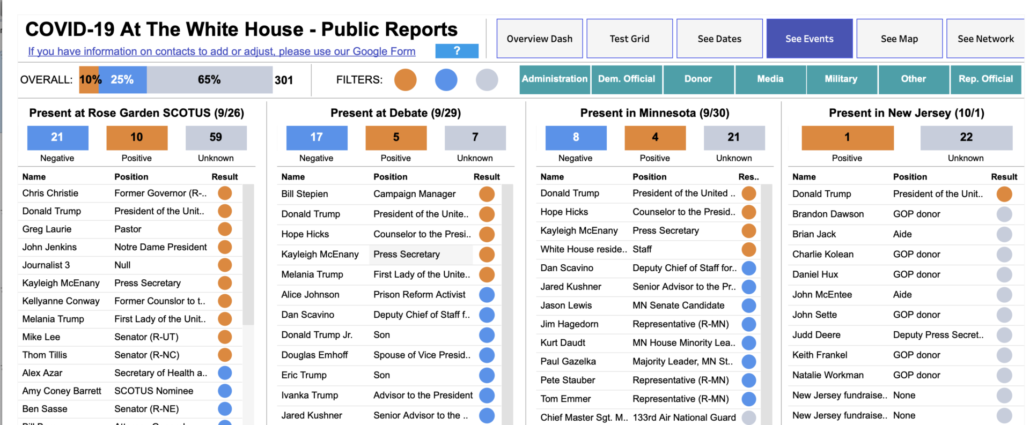 The key people behind this effort:
WH Covid Tracker https://twitter.com/CovidWh
Jesse O'Shea MD, MSc https://twitter.com/JesseOSheaMD
Benjy Renton https://twitter.com/bhrenton
Peter Walker https://twitter.com/PeterJ_Walker
Will the evil clowns in the White House ever figure out that this is not 1980?
8pm ET Update

277 total contacts. Within the Administration, we have 80 contacts (13 pos / 24 neg / 43 unknown)

Stay up to date at: https://t.co/Gg1cIDTlpe pic.twitter.com/YuGfQDqVpk

— WH Covid Tracker (@CovidWh) October 6, 2020