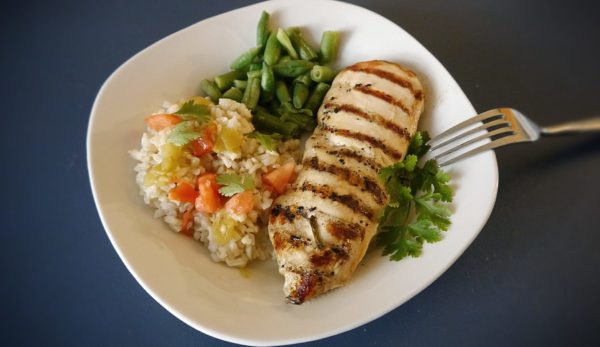 It's been unseasonably warm here after our early snow in September, so grilling is on the menu.
On the board:
Spicy Lime Cilantro Chicken
Mexican Rice Medley
Green Beans
Dark Chocolate Chip Cookies (recipe here)
Spicy Lime Cilantro Chicken:
4 boneless chicken breasts
½ cup lime juice
¼ cup chopped cilantro
¼ cup sliced pickled jalapenos and juice
Place ingredients in a zip-lock bag and marinate 1 hour or overnight.  Broil or grill for 15 minutes, turning every 5 minutes, until breasts are cooked to 165 degrees.
Mexican Rice Medley:
1 tbsp olive oil
½ small yellow onion, chopped
6 oz can chopped green chilies
½ tsp crushed garlic
1 small tomato, chopped
1 cup Jasmine rice
1 ¼ cup water
1 cup tomato sauce
1 tsp chili powder
salt & pepper to taste
2 tbsp chopped fresh cilantro
large saucepan and bowl
In saucepan, heat oil, add onion, chilies, garlic and tomatoes, sauté until onions are golden.  Remove to bowl.  In the saucepan add rice, water, tomato sauce and chili powder, bring to a boil, cover, reduce heat to low and let simmer 20 minutes until all liquid is absorbed.  Add onion mixture.  Finish with salt and pepper to taste and cilantro.  Fluff with a fork and serve.
Dinner menu serves 4
Cooking Tips:  If a recipe has meat or poultry that is marinated, a great timesaver is to make the marinades when you purchase the meats.  Mix meat and marinades together into a freezer bag and freeze.  All that's left to do is thaw and cook.  10-minute meals are easy with a variety of marinades and meats or poultry, then stir-fry, grill or broil and serve.
=========================
What's on your menu this weekend?