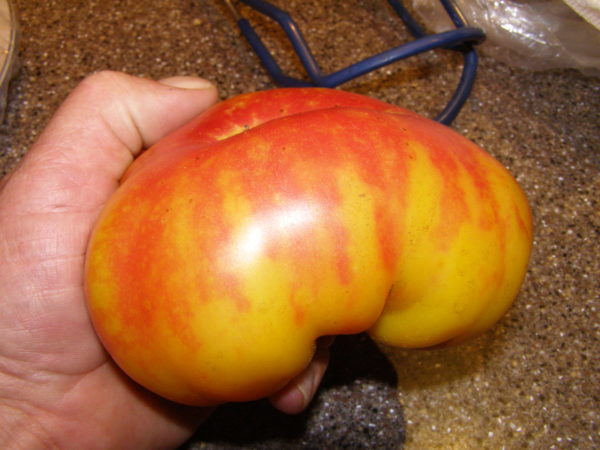 From our multi-talented & ever-dependable Ozark Hillbilly:
I forget where I read it and I am quite sure that every person who ever cared about cooking echoed the sentiment, but one eats with the eyes long before the mouth. With that in mind, I am always looking for beautiful fruits and veggies to grow in the garden.

This year, my maters didn't exactly measure up with the tongue due I think to too much rain, but there was some definite eye candy on them there vines.

Starting at top left: Hillbilly (from TomatoBob), Mushroom Basket (BakerCreek), Amana Orange (TB), Wood*s Brimmer (BC).

My wife thinks tomatoes are supposed to be red and won't eat one that isn't red or pink. No problemo, more for me.


I always grow a variety of beans but Good Mother Stollard is a favorite. (Also Hidatsa red beans — look closely)


This was my second year growing Ojo de Tigre beans and this year they really produced. (Amix pic) also to be seen are Cherokee Trail of Tears (the black beans), Xmas Limas (all 2 of them).

Sometimes beauty shows up when you least expect it, like when slicing up red cabbage for sauerkraut.


We've all heard the saying that "beauty is skin deep but ugly goes to the bone." but that ain't true. I planted our apple trees 8 or 9 years ago and this year for the first time they produced enough fruit to bother picking.

Starting last year they developed a leaf spot disease and this year was a repeat. Looking it up on the google, the most likely culprit is the cedars we have on the property. Well, forget that. Not only am I not cutting them all down, I'm planting more (along the road as a winter privacy screen). So I decided the apple trees would have to live or die with the cedars. So far, they have chosen to live with them and this year I harvested the (somewhat meager) fruits of their labors. They were ugly but hey, I never won any beauty contests so I wasn't about to judge.

Slicing them into wedges it was obvious that ugly is only skin deep too! The Jonathons were everything they are supposed to be: Tart and crisp. The 2 honeycrisps, my wife loved and the golden delicious were just fine (not my fav but Jonathons and Honeycrisp need them for pollination).
***********
What's going on in your garden(s), this week?