The Kaiser Family Foundation has analyzed the first half of 2020 claims to assess insurer gross profitability.
The short version is that insurers paid out far fewer claims than anticipated in the first half of 2020 than they had projected when they had set their rates. The long version is to expect large and pervasive Medical Loss Ratio rebates through at least 2022.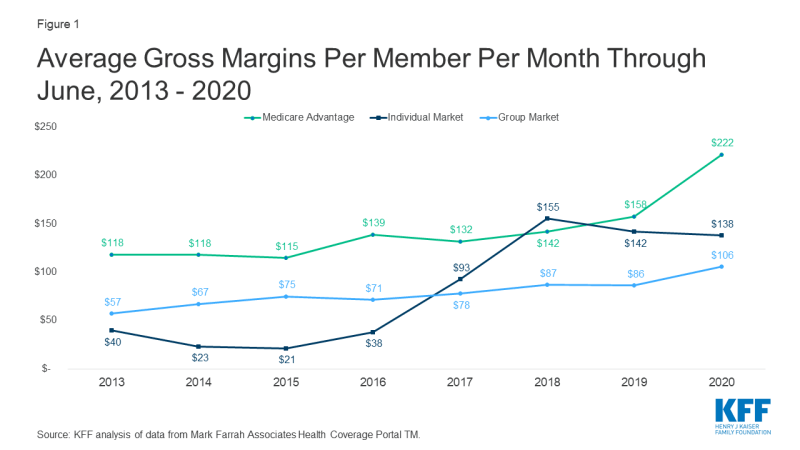 Medical Loss Ratio (MLR) regulations call for insurers to spend at least 80% or 85% of premiums (depending on market segment) on claims or qualified quality improvement expenses. We know that insurers massively overpriced 2018 and somewhat overpriced 2019 as the Silverloading shock was working its way through the system where the increase in monopolies and the game theory dynamics of overpricing leading to rebates versus underpricing leading to company liquidation led to high prices. Effectively flat rates in 2020 were intended to restore the pricing equilibrium to 2017 where insurers would be profitable but not obscenely so.
And then the pandemic happened. And for 3+ months, elective and deferrable care crashed. Some categories of care are still deeply below trend on a year over year basis even as more of the economy has been trying to open up in the middle of an infectious disease pandemic. Insurers will be collecting premiums that are priced well above the actual claims experience. Insurers will be writing larger rebate checks in the summer of 2021 than they did this year as the rebate period will be one massively overpriced year and two overpriced years for 2018-2020 instead of one massively overpriced year, one overpriced year and one year that was priced about right for the current 2017-2019 rebate cycle.
There is one big limitation. We can expect the second half of 2020 to look different than the first half in unusual ways as some care got delayed and deferred and there was potentially catch-up care. At the same time, as I noted last week, many people who normally would have hit their deductible in the first half of the year did not and therefore they are not having deferrable but needed care in the fourth quarter. The bias is unobserved and could go in either direction.
Additionally, some insurers have been trying to front load rebates with premium credits that are going out in the 4th quarter. This will be helpful to consumers as it is more immediate receipt of money that they would be entitled to. It does not fundamentally address the rebate calculations beyond time shifts.