Hey, hope this thing still works.  I wanted to rise from my dogmatic slumber and give y'all an update about the Dakotas, and add a little local color to the terrible news emanating from that benighted territory.
Let's look at the two flavors of idiots in charge.  In South Dakota, we have Dollar Store Sarah Palin, Governor Kristi Noem, a Trump ass kisser who has been juking the stats and undertesting for months. The result of her abject failure to do anything meaningful about COVID is that their cases/day graph looks like this: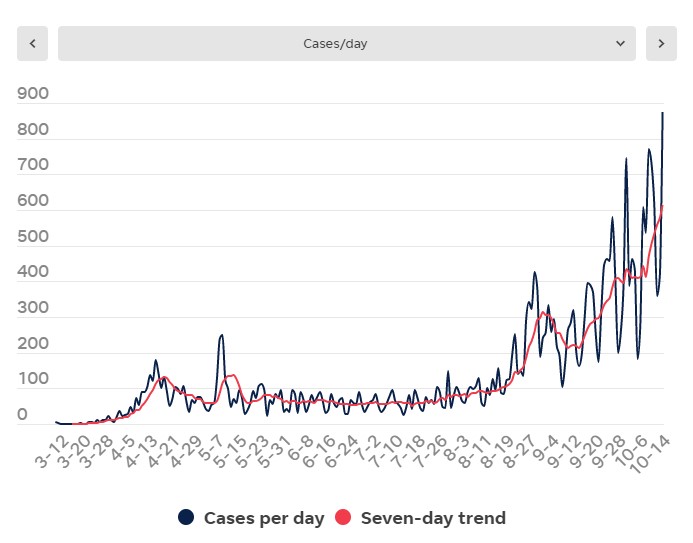 All Kristi cares about is currying favor with Trump and setting herself up to be a Fox surrogate.  She built a TV studio in the basement of the capital so she could go on Fox more often.  She's traveling the country campaigning for Trump.  She says dumb shit like this:
"We have triple the amount of testing [ed note:  false] that we are doing in the state of South Dakota, which is why we're seeing elevated positive cases," Noem said. "That's normal, that's natural, that's expected."

The Republican governor did not explain how an increase in hospitalizations would be connected to an increase in testing. The state has also seen one of the nation's highest positivity rates for testing in the last 14 days, according to Johns Hopkins researchers. The roughly 23% positivity rate is an indication there are more infections than tests are indicating.
Hospitals are filling up and she's talking about building National Guard field hospitals, which will be great places to die without anyone to take care of you, since hospitals in the state are perennially searching for nursing staff and doctors.  Anyway, you get the picture — stupid Trumper does stupid shit and people die.
But now let's look at North Dakota, under the stewardship of Governor Doug Burgum, former owner of Great Plains Software and pretty much a bog standard pre-Trump Republican.  In May, Doug generated a bit of buzz by almost crying at a press conference when begging North Dakotans to put on masks and not divide themselves over masking.  He's on record calling the Republican platform's anti-LGBTQ resolution "hurtful and divisive".  Today he had a news conference where he was still begging North Dakotans to "find their love" and wear a goddam mask.  So, not overly stupid, and not a MAGA-hat Trumper.
The North Dakota COVID response has been a fair bit better than South Dakota.  They test twice as much.  Their positive rate of ~8% (14 day average) indicates that they may be testing somewhere near enough people, unlike South Dakota's ridiculously high 23%.  Still, like South Dakota, North Dakota's hospitals are almost full.  Yesterday, North Dakota had 713 new COVID cases.  New York, which has 25 times the population of ND, had 1,232.  COVID is as out of control in North Dakota as it is in South Dakota.  Why?
The first reason is that talk and tears are fucking cheap.  Doug's ability to use his lacrimal glands, and his exhortations to "find your love," have zero correlation with his ability to find a fucking pen and sign an executive order to mandate mask wearing and gathering restrictions in his state.  He might as well be going on Fox every day of the week for all the good that his tears and good intentions have done.
The second reason is that the majority of each state is in the thrall of Fox News, and listening to the bullshit emanating thereof.  My dad, retired physician, just turned 90 the other day, but he's got his marbles and still gets around.  He went to the grocery store and hardware store in our small Dakota town the other day, and noticed zero mask wearing on the part of the staff.  As he is wont to do, he called the owners of each of those establishments to tell them that their employees need to mask up.  The grocery store is owned by the third generation of a family that he knows well – he treated each generation and delivered a few of their babies.  Their response was that any of their employees could choose to wear a mask if they wanted.  The response of the hardware store owner was, "you must be watching CNN."
There's just no way that these people are going to "find their love".  But if there were mask orders, a good deal more of them would find a find a fucking mask and put it on.  If there were gathering restrictions, no doubt there would be non compliance, but fewer people would gather.  We have the same problem in New York — right now we're fighting some COVID clusters in areas with large orthodox Jewish communities where gathering restrictions and mask wearing were never followed.  Now that those regions are under orders to close down again, and they're bitching and moaning and burning masks.  When they calm  down, I assume they'll either start doing what they need to do, or they'll end up living in a "red zone" where no non-essential businesses are open and they can't gather without the sheriff shutting them down.
The take away from the Dakotas is that that gentle persuasion and "choice," and denial and Trumpism, end up in the same place when it comes to COVID — full hospitals and dead people.