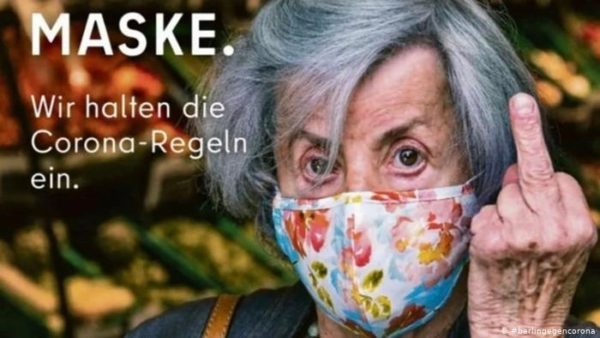 Thanks to commentor Another Scott:
The German capital's tourism authority has launched a controversial advertisement campaign featuring an elderly woman wearing a face mask and showing the middle finger to those who do not abide coronavirus measures.

Above the image of the woman wearing a floral-patterned mask and giving onlookers the finger, the poster reads: "A finger-wag for all those without a mask."

Visit Berlin and the Berlin Senate on Tuesday launched the advert, entitled "We obey the corona rules," aiming to prevent further spread of the coronavirus and to highlight the importance of safeguarding the health of the elderly…
Coronavirus cases are rising in America, sparking worries the next big wave has begun https://t.co/ybJFnLQiYq

— The Washington Post (@washingtonpost) October 14, 2020
"Birx replaced a functional, if imperfect, CDC data system—well understood by hospitals and state health departments—with an error-ridden and unreliable filter on hospital needs that sometimes displays nonsensical data, such as negative numbers of beds." https://t.co/zUK2gbwwQs

— Daniel W. Drezner (@dandrezner) October 14, 2020
During the #coronavirus pandemic, people in the US are dying at higher rates than elsewhere in the world.
Over the last 5 months per capita deaths in the US, both from #COVID19 & other causes, have been far greater than in 18 other high-income countries.https://t.co/8d3HPAal3R

— MicrobesInfect (@MicrobesInfect) October 14, 2020
======
European countries, and even regions inside countries, are applying drastically contrasting strategies to combat the resurgence of COVID-19. @JWilsonBCN and @Karel_Janicek examine the different measures being taken in Europe. https://t.co/IryWfqC9eE

— AP Europe (@AP_Europe) October 14, 2020
France imposed curfews while other European nations are closing schools, canceling surgeries and enlisting student medics as overwhelmed authorities face the nightmare scenario of a COVID-19 resurgence at the onset of winter https://t.co/si1fDN1MY8 pic.twitter.com/VHxgB1EjHh

— Reuters (@Reuters) October 15, 2020
Spain has become the coronavirus hotspot in Western Europe. At Madrid's Infanta Sofia hospital, intensive care staff are feeling emotionally exhausted on a level even worse than in the first wave https://t.co/X4vEs3i64a pic.twitter.com/K7xIrOkUGs

— Reuters (@Reuters) October 15, 2020
Germany posts record daily increase in coronavirus cases https://t.co/0O0xGRga1w pic.twitter.com/3HypYHDC7C

— Reuters (@Reuters) October 15, 2020
"On a psychological level, I have to say I still have not recovered." For the medical personnel who fought the coronavirus in Italy's hardest-hit region of Lombardy in the spring, the long-predicted resurgence came too soon. https://t.co/1zmKUujiNX

— AP Europe (@AP_Europe) October 14, 2020
Meanwhile in the Italian senate, when the senator refuses to wear a mask. pic.twitter.com/6ZF91EyfJz

— Channa Prakash (@AgBioWorld) October 14, 2020
The U.K. government's new COVID-19 strategy appears to be unraveling as regional leaders in Northern Ireland, Wales and Scotland are charting their own paths, saying Prime Minister Boris Johnson's plan hasn't gone far enough. https://t.co/ENeBdyYs5D

— AP Europe (@AP_Europe) October 14, 2020
Polish officials warn of rising infection, new curbs https://t.co/R3SMg5nDpd pic.twitter.com/b6SlwqjrvO

— Reuters (@Reuters) October 15, 2020
Even before the coronavirus pandemic, Israel had one of the largest income gaps and poverty rates. A second nationwide virus lockdown has widened those gaps, dealing a new blow to an economy already hit hard by the first round of restrictions. https://t.co/UqKpsGEdJA

— The Associated Press (@AP) October 14, 2020
⚡ Russia confirmed 13,754 new Covid-19 cases Thursday, bringing its official number of cases to 1,354,163 https://t.co/b1RdeIo3oK

— The Moscow Times (@MoscowTimes) October 15, 2020
Russian hospitals are near capacity with coronavirus patients as new infections break records and authorities attempt to slow the second wave of the virus, a top health official saidhttps://t.co/RccsVJdbVG

— The Moscow Times (@MoscowTimes) October 14, 2020
India's peak holiday season set to send COVID-19 cases surging https://t.co/6IrRteGhAn pic.twitter.com/SwchgzTnZm

— Reuters (@Reuters) October 15, 2020
Two health officials in the northern Chinese city of Qingdao have been fired after China's latest coronavirus outbreak. https://t.co/tgc5BcH8TM

— The Associated Press (@AP) October 15, 2020
Indonesia officially has the highest number of COVID-19 cases in all of Southeast Asia, overtaking the Philippines today with 4,411 new infections today. https://t.co/kcTkvnZCe9

— Stanley Widianto (@stanleywidianto) October 15, 2020
Brazil registers 749 coronavirus deaths on Wednesday https://t.co/kthGV5P4tU pic.twitter.com/2fhZcwj7Hl

— Reuters (@Reuters) October 15, 2020
======
Yes, you can be reinfected with the coronavirus. But it's extremely unlikely. More than 38 million people have been infected with the coronavirus globally, but fewer than 5 of those cases have been confirmed by scientists to be reinfections https://t.co/ml9K8jgz5E

— delthia ricks ? (@DelthiaRicks) October 14, 2020
'Long COVID' may affect multiple parts of body and mind, doctors say https://t.co/RbL0vcHcBg pic.twitter.com/Ymtqt1NPua

— Reuters (@Reuters) October 15, 2020
U.S. health officials are planning an extra layer of safety scrutiny for the first people vaccinated when COVID-19 shots become available. https://t.co/lyhbOySHaY

— AP Health & Science (@APHealthScience) October 14, 2020
NEW Correspondence—80+ researchers warn that a so-called #herdimmunity approach to managing #COVID19 is "a dangerous fallacy unsupported by the scientific evidence" #WCPH2020 https://t.co/2gTtklAkwx pic.twitter.com/q4YNZFJM22

— The Lancet (@TheLancet) October 14, 2020
"The societies that are doing the best all over the world right now in fighting covid, are all countries that have decided not to pursue herd immunity, but instead to go into a deliberate lockdown followed by cluster studies" – @Laurie_Garrett w/ @NicolleDWallace pic.twitter.com/vriPDVhgyp

— Deadline White House (@DeadlineWH) October 14, 2020
Evidence that one of the #Covid19 vaccines works sufficiently well to warrant its use could make testing the others seriously complicated, @sciencecohen writes in a meaty discussion of vaccine trial ethics. https://t.co/rW0jRyCkuW

— Helen Branswell (@HelenBranswell) October 15, 2020
China's largest vaccine manufacturer is expected to announce some level of approval for a coronavirus vaccine in October. Many citizens haven't waited to get injected. https://t.co/xH5eQYbkDt

— The New Yorker (@NewYorker) October 14, 2020
Russia has approved its second coronavirus vaccine, President Vladimir Putin announced Wednesday as the country faces down a second wave of the virushttps://t.co/iIz87NKPYa

— The Moscow Times (@MoscowTimes) October 14, 2020
======
The @washingtonpost live focused on #COVID19 yesterday w/@EricTopol and I — stream it here: https://t.co/TVF8eR2Rd7

— Laurie Garrett (@Laurie_Garrett) October 14, 2020

Full transcript at the link.
Brigham Young University-Idaho is warning about college students trying to contract #COVID19 to make money donating plasma with antibodies https://t.co/APGYXM33Ev

— delthia ricks ? (@DelthiaRicks) October 14, 2020
Florida adds nearly 3,000 #COVID19 cases and more than 60 deaths https://t.co/z0I2WRPU8F

— Crawford Kilian (@Crof) October 14, 2020
Gov. Cuomo threatens to withhold state funds from local govts that don't comply with #coronavirus restrictions. Several Orthodox Jewish communities are in the state-declared "red zones" where the case positivity rate is 6.2% https://t.co/5wF3aiphew

— delthia ricks ? (@DelthiaRicks) October 14, 2020