On the Road is a weekday feature spotlighting reader photo submissions.
From the exotic to the familiar, whether you're traveling or in your own backyard, we would love to see the world through your eyes.
Today we see Italy as I have never seen it before.  Not that I've ever been there!  But I love seeing seeing the unexpected.  Almost makes you feel like you were there.  ~WaterGirl
Ceci n est pas mon nym
We've been to Italy several times, always in the north. Neither one of us felt much of a draw to Rome or Naples or other popular destinations in the south. Instead, the first time we went I picked Milan as a destination, largely based on studying train lines.
I knew nothing about Milan itself but it seemed to be a convenient transportation hub to lots of other places like Venice and Florence. As it turned out, Milan is a wonderful city, more business-y than tourist-y, and we fell in love with it. Switzerland is also close by, and on that first trip we discovered the Swiss town of Lugano which we also fell in love with (but that is a subject for another post).
This trip in 2015 was a business trip for my wife, who had a conference in Milan. So we were traveling off-season, in October.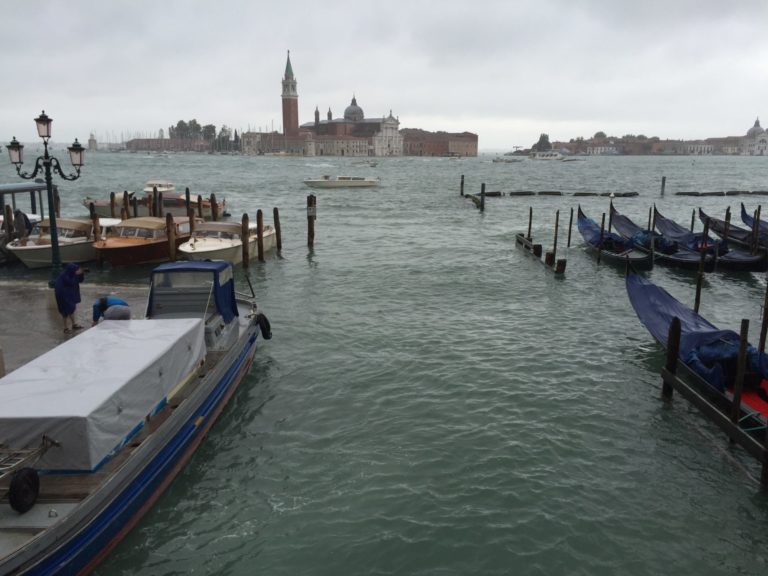 Harbor, Venice, Italy
We had not been to Venice since that first trip to Milan (I think 2004?) so we decided to start the trip by flying into Venice. It turns out that Venice in October is wet. Very, very wet. It rains almost constantly, and all the streets flood at high tide. This is a shot of the main harbor, not far from Piazza San Marco (St. Mark's Square). Not sure if you can tell but the waterline is very high.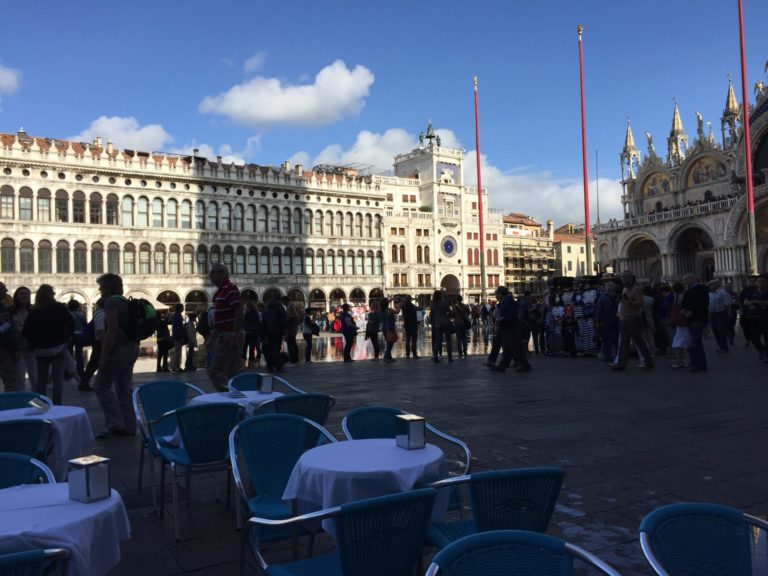 St. Mark's Square, Venice Italy
A rare sunny day in the Piazza San Marco, looking toward the Basilica (on the far right). This was one of the few cafes that was actually open because it stands on one of the few bits of the square that were actually dry. You can see the water that fills most of the square just beyond where the people are standing.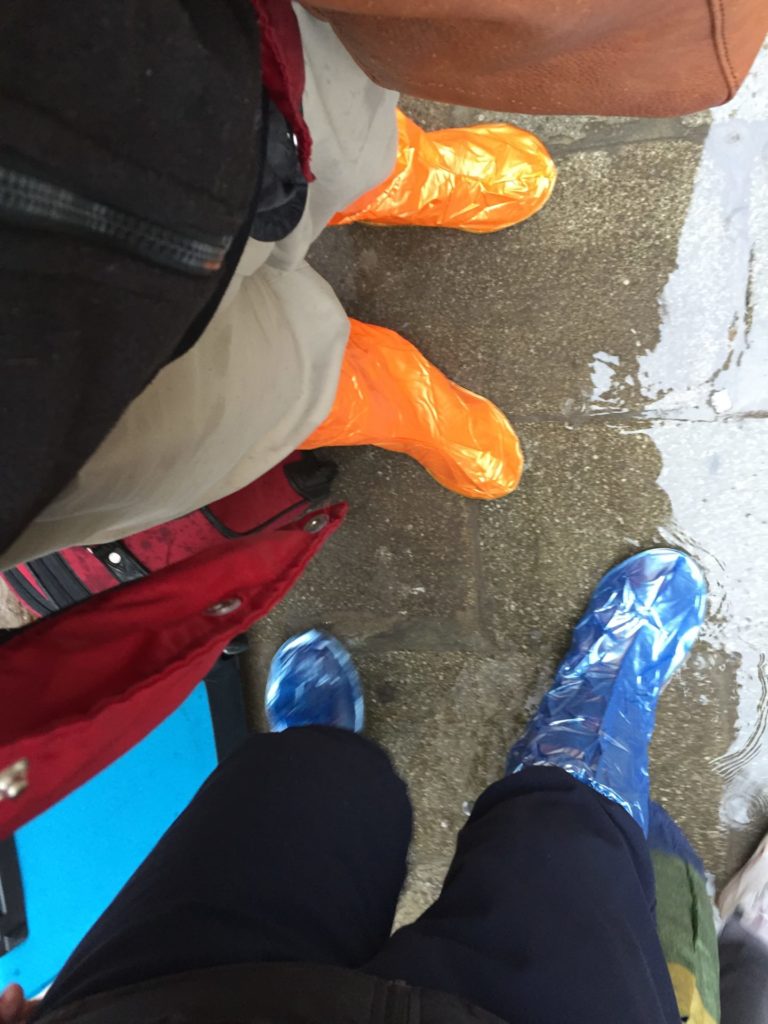 Venice, Italy
These colorful rubber boots are sold by vendors at every street corner in Venice in the rainy season, and they are an absolute necessity because sooner or later you are going to have to make your way through 6″ – 1′ of water. We wore them everywhere, hated them, and tossed them as soon as we were on the way out of town.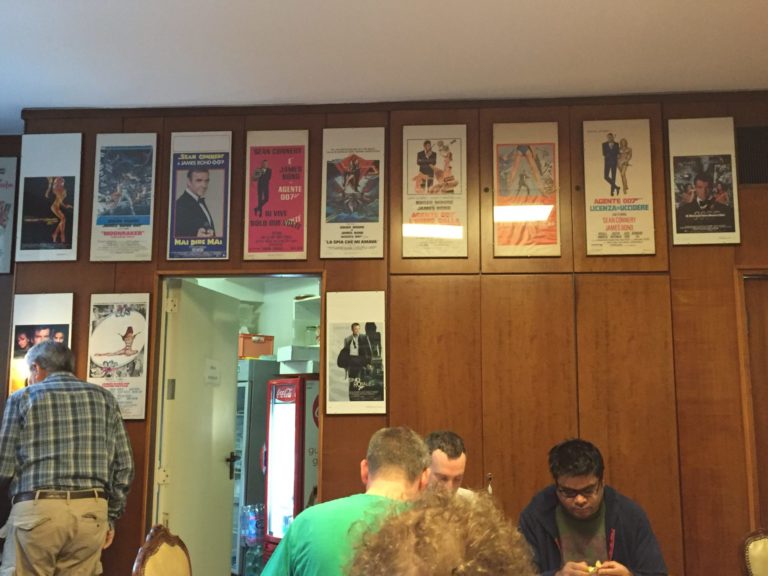 Milan, Italy
Breakfast at the hotel in Milan. For some reason the hotel had a James Bond theme. This shot shows the wall full of Italian 007 posters in the breakfast area. Not shown: the giant Sean Connery murals in the parking lot, the display case full of Bond cars and miniatures, or the latch-hooked Bond-007 logo (the silhouette with gun inside the camera iris).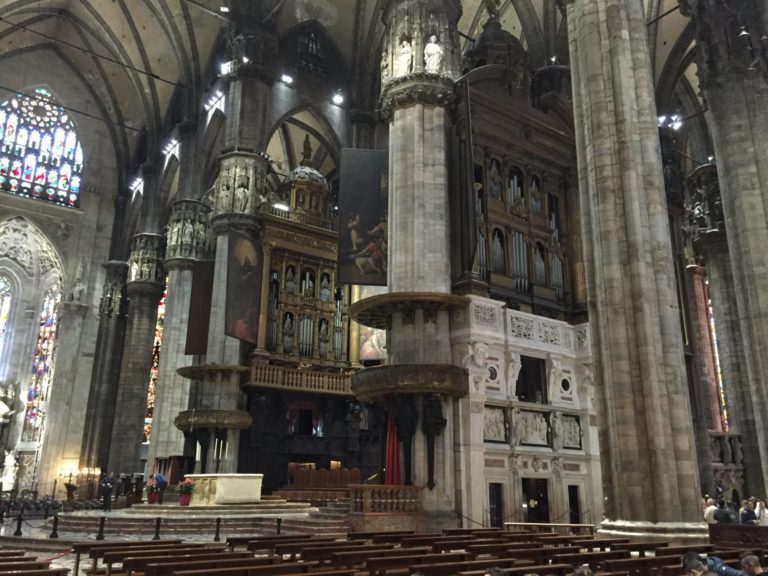 Duomo, Milan, Italy
While my wife was in conference I spent one day wandering in, around, under, and on top of the Duomo di Milano, the main cathedral. Here is a shot of the interior.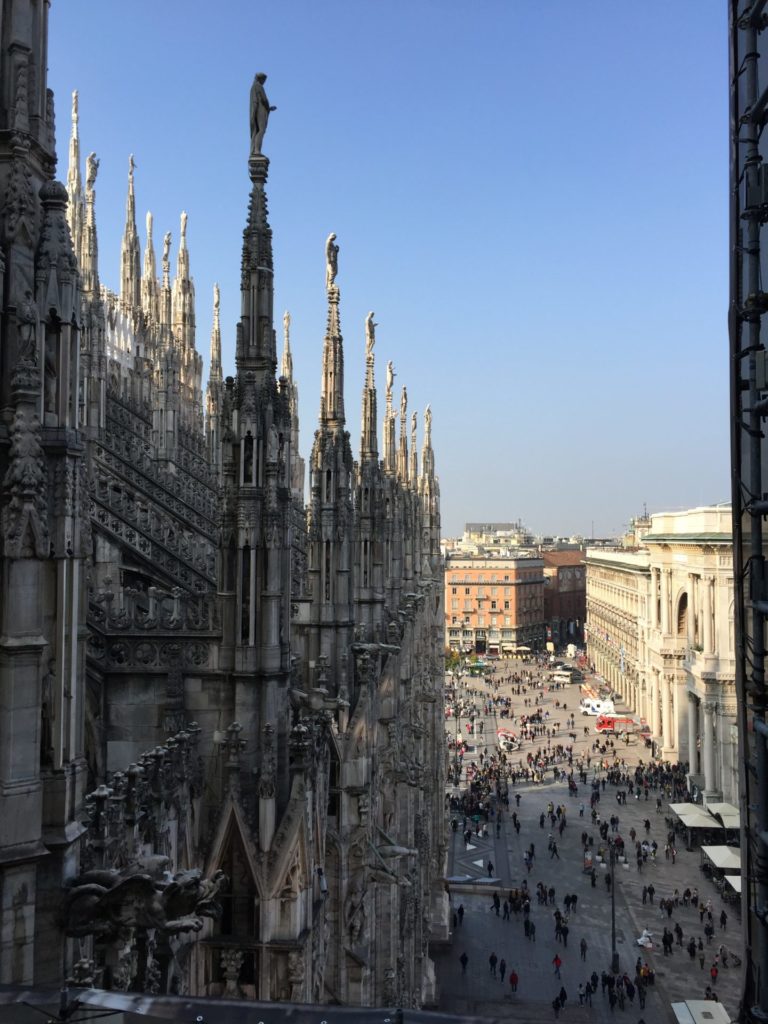 Duomo, Milan, Italy
You can explore the roof of the Duomo. This shot from up top shows some details of the architectural structures decorating the roof, and the Piazza far below.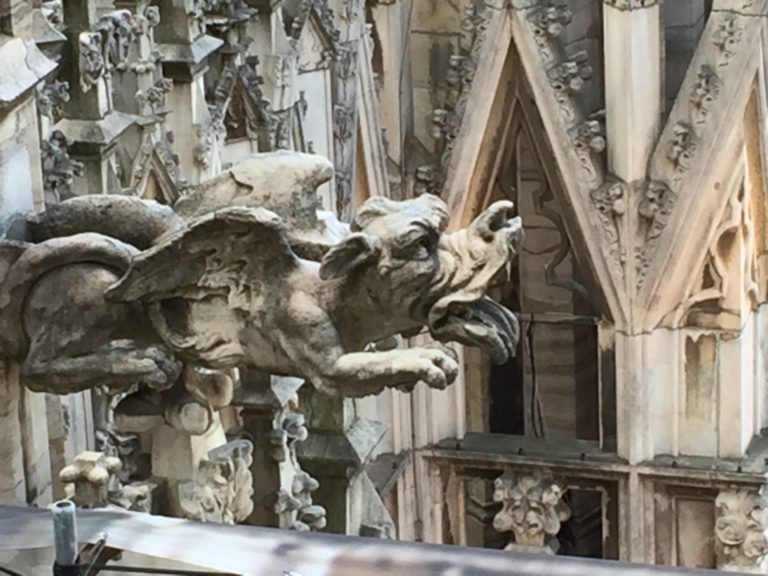 Duomo, Milan, Italy
A gargoyle from the roof of the Duomo, because what's a cathedral without a gargoyle?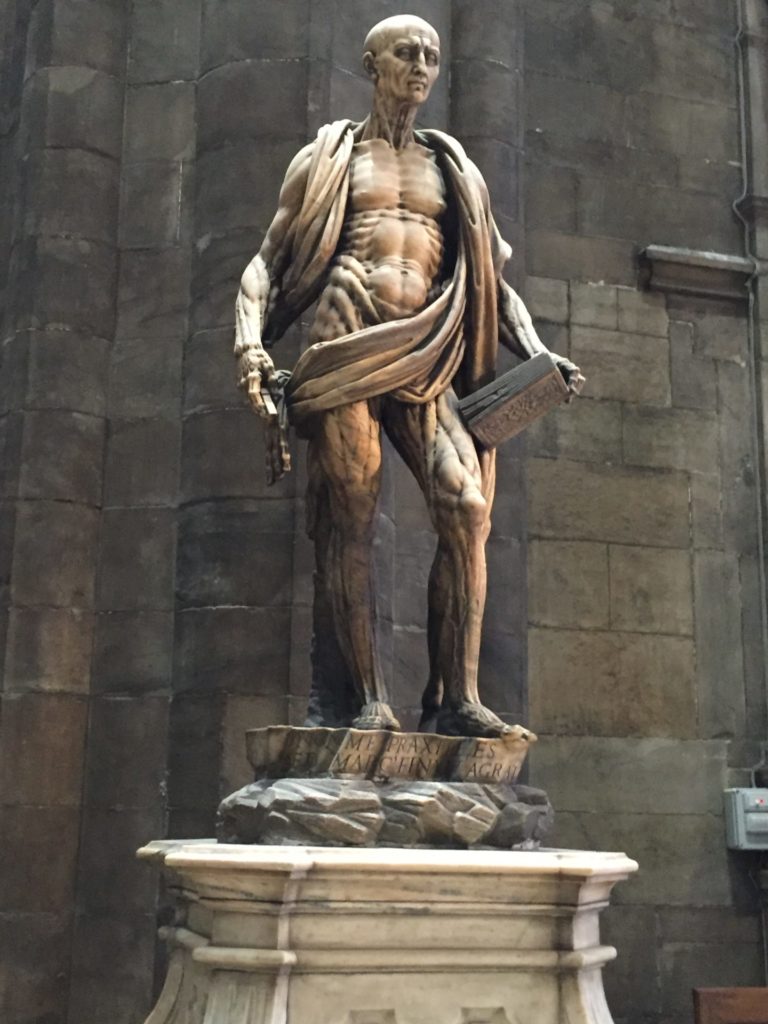 Duomo, Milan, Italy
September 24, 2020
While exploring inside the Duomo, I was surprised to encounter this statue, apparently an anatomical illustration of musculature. It turns out to be a statue created in 1562 called St. Bartholomew Flayed, and that is actually his skin he is carrying nonchalantly over his shoulders. According to this article from the cathedral website, it looks like an anatomical study because sculptures of the time were actually very interested in human anatomy.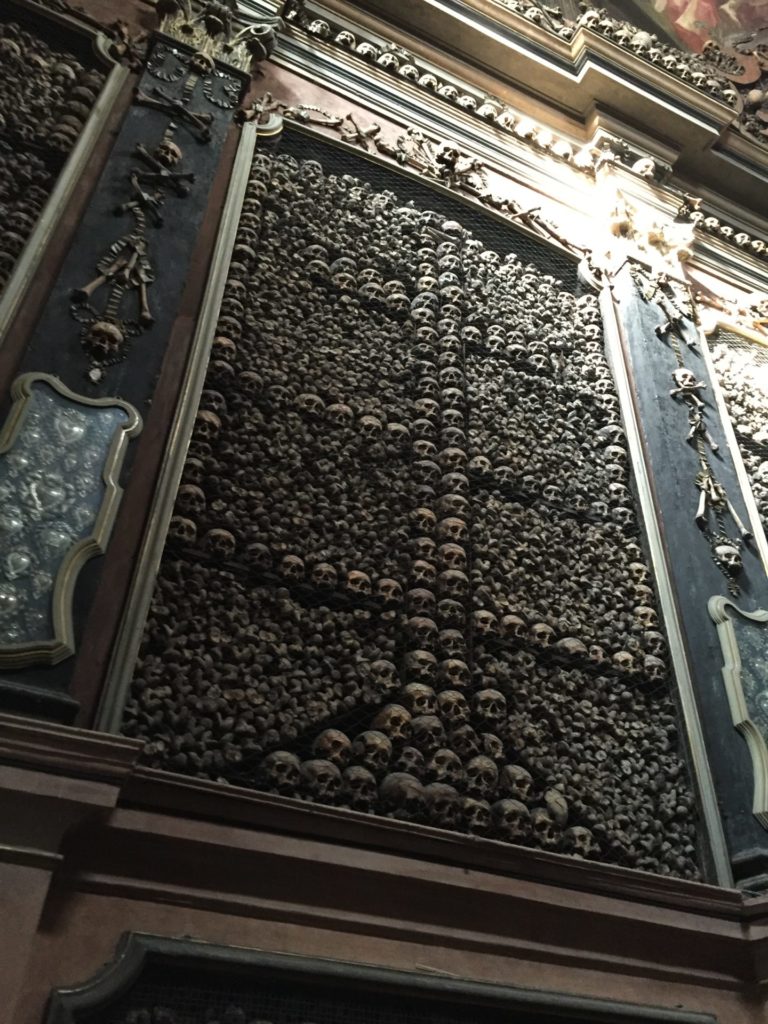 San Bernadino alla Ossa, Milan, Italy
I'll finish with one more odd artistic sight, the church of San Bernadino alla Ossa. It is famous for this chapel, the ossuary. Those are actually human skulls and bones, and every wall of this small chapel is covered with these artistic arrangements of bones. This bizarre decoration was done in 1679 by Giovanni Andrea Biffi.