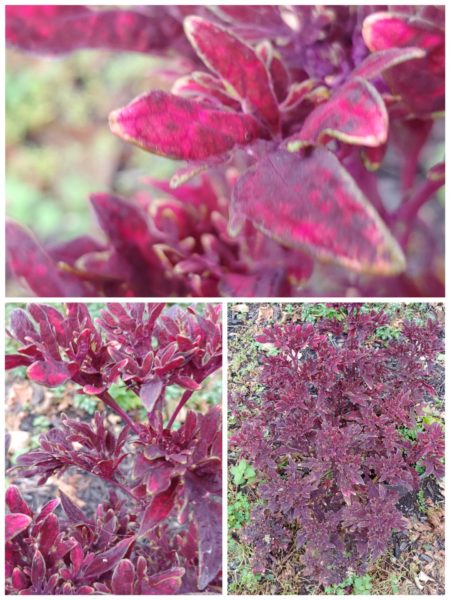 From commentor Smedley the Uncertain:
Can you identify this plant? I lost the name tag. I want to know how to over winter them here in Western NY. They are thriving in pots all about the garden.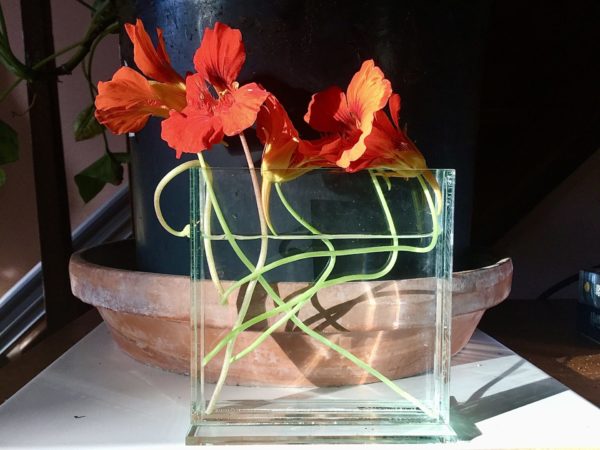 Some serendipitous beauty from commentor Jeff G:
I found this vase in a drawer I haven't opened in a while. Picked a few nasturtiums from the bedraggled plant I was about to pull out. Put them in it. Didn't arrange them. Yesterday as I sat in the living room the sun came through the windows and hit the vase. This is the picture.
And some bonus uplift, from the Washington Post — "The small city farm: An oasis in food deserts, during the pandemic and beyond":
… It is amazing how much you can grow in a small space if the soil is good and you stay on top of tasks such as watering and weeding. But even in a pandemic-driven planting year full of homegrown potatoes, beans and carrots, you have to face reality. If you relied on most urban veggie plots alone to feed yourself, never mind a large family, you'd be forever tightening your belt.

This is why I've had my doubts about whether urban agriculture can meet the challenge where it is most needed: in poorer, food-insecure neighborhoods.

Rosie Williams is in charge of such a garden, in an expansive side lot of the National Children's Center, an early-learning and educational development provider in Southeast Washington.

The garden packs a lot in. There are almost 70 raised planter beds, each four by eight feet and filled with deep, rich soil. That's a lot of growing area; the beds generate bushels of edible plants for most of the year. A shed houses tools, a single beehive is active, a few fruit trees ring the area, and one side is devoted to little benches for little people. The center, which normally houses classes for 188 children up to age 5, has been closed because of the pandemic, though a limited reopening is in the works.
Williams, a teacher and the garden coordinator, shows me cool-season veggies growing in the fall, young plants of kale, collards, cauliflower, broccoli and red cabbage. In other planters, mature plants are seeing out the season in robust vigor. The most obvious is a single pepper plant — now taller than Williams — whose leaves hide unripe green chiles that hang like ornaments. This is a mighty hot pepper from Trinidad named Scorpion, she said, and I have no doubt that it has a sting in its tail.

Elsewhere, wizened sunflowers have had their day. "We bring the kids out, we show them how to plant seeds, what the plants need," she said. "It's getting folks exposed to the garden." Food from the garden is used in the center's kitchen.

Thus the children (and their families) get a sense that food comes from the soil. This is not so obvious a connection in Ward 8. In this corner of the capital of the United States, there is one full-service grocery store for 80,000 people, and access to something as basic as fresh vegetables is limited…

The Baby Bloomers Urban Farm that Williams coordinates at the National Children's Center is one of seven in a network of city farms east of the Anacostia River, including a one-acre farm run by Threatt's organization at THEARC, the arts, education and social services campus at 1901 Mississippi Ave. SE.

This one farm produced as much as 1,600 pounds of food this year, but to provision its CSA program, the Building Bridges group turns to an additional 10 farms within 50 miles of the city, most of them Black-owned, said Scott Kratz, vice president…

I am rethinking my sense that mini-farms in the city are of limited value. They are, rather, a key portal into a larger infrastructure of food-security efforts. Beyond their utility, they are places of deep reconnection, to the soil, to food and to communities. In the food deserts of big-city America, they are the oases.
***********
What's going on in your garden(s), this week?