BettyC asked this very good question this afternoon:
One thing in this tawdry tale I'm truly curious about is the origin of that laptop. From what I've been able to piece together, it sounds like the FBI really did take possession of a hard drive?

But the MAGA computer store guy's story isn't believable. If Russian agents and/or some of Giuliani's other shady minions planted stuff on a laptop that didn't belong to H. Biden and contrived this whole tale, I think a forensic investigation would reveal that, but I don't really know how all of this works…
I think the simple answer is that Hunter Biden's cellphone was hacked. And it really wouldn't matter if it was an iPhone or some other type of smart phone. Let me unpack this a bit, but before I do I want to make one very specific point. The tradecraft here, the actual details of how this operation, for lack of a better term, has been conducted, does not negate the fact that the disinformation, misinformation, and agitprop that Giuliani is pushing is the creation of Russian intelligence and that he has been pushing it for almost a year now while working with active Russian intelligence assets as part of Russia's ongoing political war against the United States.
Let's stipulate, as I explained in a comment reply earlier today, that:
the structure, if you will, of this type of operation is to hack for actual documents and photos and video and audio files, remove them, doctor some, fabricate others completely, and then dump them all together. This makes it impossible for someone, especially if they didn't realize they were hacked, to assert that they are all forgeries. Because the forgeries and doctored materials are shuffled in with the legit materials. This was attempted by the Russians against Macron in 2017. This was also done against AG Lynch in 2016, which led to Comey being stupid in the most Comey way ever.
I would add that it is also why it becomes impossible to state that the materials being released are all fakes, because there are some outright fakes, some modified and partial fakes, and some actual real materials all bundled together. And remember, neither Giuliani nor The NY Post has provided anything that isn't a pdf or a screen grab, so there's no actual real metadata for you techie types reading this to analyze.
Hacking Hunter Biden's smartphone – iPhone, Samsung, or what have you aside – as a way to access all this information would not be surprising. The NSO Group developed a smartphone hacking program named Pegasus, which has been sold/licensed to the United Arab Emirates, allegedly in partnership with the Saudis. There are concerns that it was the Pegasus software that was used to gain access to material on Jeff Bezos's phone, which was then conveniently laundered through the disgruntled and MAGA manic brother of the woman Bezos was having an affair with. The NSO Group is currently under Federal investigation. While the NSO Group is technically now owned by a US investment firm, it is headquartered in Herziliya, Israel, which is also where the Israeli security and intel firm Black Cube is headquartered. Black Cube has done work for NSO Group in an attempt to disrupt, through private intelligence operations, researchers trying to prove that NSO's Pegasus software was used to target dissidents. Black Cube is the firm responsible for targeting former Obama administration senior national security officials Ben Rhodes and Colin Kahl. NSO has also impersonated Facebook to spread their spyware. Pegasus and NSO's other tools are very, very, very effective. Bezos had to hire one of the top names in personal security services to actually figure out what had happened.
If whomever managed to hack and exfiltrate the data from Hunter Biden, and my professional guesstimate is it was from his smartphone, they would have been able to get access to all of his emails and text messages through the email and text message clients on the phone, as well as pictures, audio, and/or video that were stored on the phone. If it was an iPhone and he had Safari set up to share history and bookmarks across devices, then they would also have access to his entire search history. Once whomever did the hack had all that information, then select items would be altered, other items would be completely fabricated, and then all of them together – the real, the altered, and the completely fabricated – would be bundled together, placed on one or more devices, in this case one or more old MacBooks and/or the external hard drive, and then given to someone to discover this treasure trove and feed it to someone like Giuliani who would then launder it through something approaching a legitimate news source.
Here's the screen grab of the computer store receipt that Giuliani provided to the New York Post: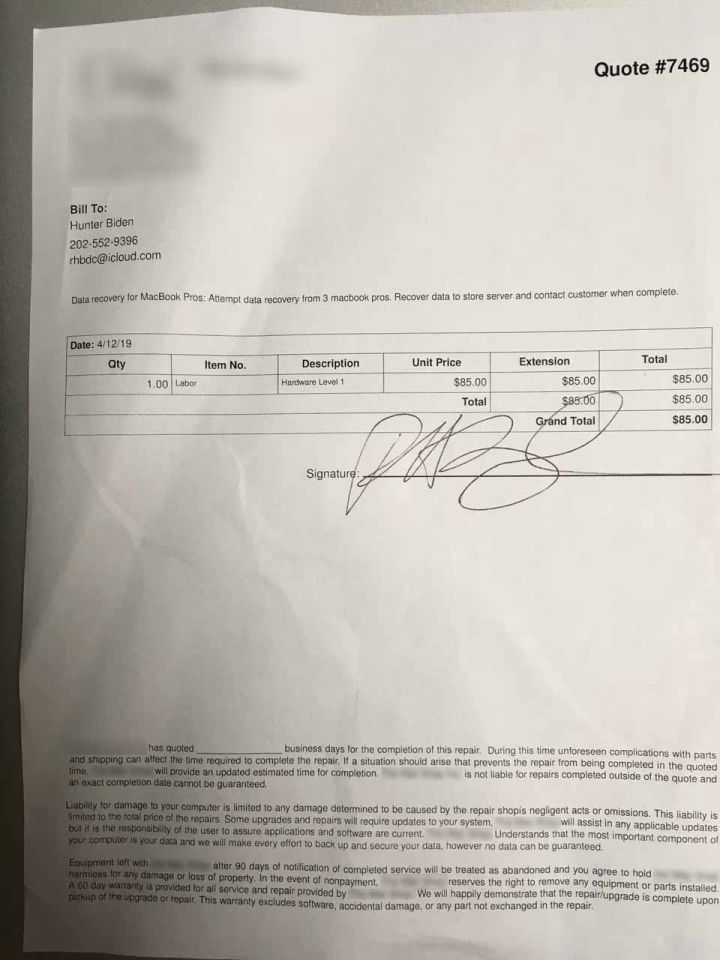 There are a couple of things that have my antenna up on this receipt. The first is the date, April 2019. By all reports Hunter Biden was living in Los Angeles throughout 2019 having moved to LA after his divorce in 2018. Is it possible that Hunter Biden went home to visit his father and step-mother in Delaware in April 2019, brought one or more broken, water damaged MacBooks and possibly a brand new external hard drive with him, and decided to take it to a strip mall computer repair place instead of driving 20 minutes to the Apple Store in Newark, DE? It's possible. Is it possible he did all that rather than take it in for repair in LA? This too is possible. But neither make a lot of geospatial, let alone logical sense. Especially as Hunter Biden had to go to Arkansas in April 2019 to produce a DNA sample pursuant to a court order in a paternity case. The next thing that bothers me is that signature. I spent about an hour yesterday looking for any image of a document with Hunter Biden's signature and I could not find one. That doesn't mean there isn't one on the Internet somewhere, but I couldn't find one to compare that scribble against. Is it possible that that is Hunter Biden's signature? Sure it's possible, but that could be anything. The cell phone number and iCloud email address that supposedly belong to Hunter Biden are in the upper left corner of that receipt. Both of those pieces of information would be available for extraction and to be used to generate a bogus receipt if his smartphone had been hacked.
This is my semi-informed professional estimate/guesstimate, but given the people involved in this insanity – Giuliani and Bannon and Col Allan at the NY Post – using a highly sophisticated phone hacking program like Pegasus to exfiltrate all the information possible from Hunter Biden's smartphone, then modifying some documents and images and video and fabricating others, dumping them on to a different device and then leaving them all with a credulous individual to be discovered makes both logical sense and sense in terms of how we've seen subversion tradecraft change as the technology finally caught up to the concepts and doctrine for undertaking this type of operation. And this leads me to concerns about any alleged video that Rudy plans to leak out. Deep fake technology has increased by leaps and bounds over the past four years. Either modifying existing video that Hunter Biden might have had on his smartphone or modifying video of someone else to look like Hunter Biden can be done with better results in 2020 than they could have been done in 2016. Would a deep fake hold up to proper analysis? Probably not, but it wouldn't have to. It just has to make it through a news cycle or two on Fox News, Breitbart, The New York Post's website, the Epoch Times' website, The Daily Caller, The Daily Signal, The Gateway Pundit, etc. Especially as none of those outlets will print a correction or retraction if a deep fake modified video is debunked.
I want to make one final point and it is a human/humane one. One of the things that isn't being remarked on is that Hunter Biden was three years old when he, his brother, his baby sister, and his mother were in the car accident that killed his mother and baby sister. While everyone remembers the picture of four year old Beau Biden in his hospital bed with a broken leg being suspended on a pulley, Hunter Biden was also injured. He had a skull fracture. I'm not a medical doctor, I've got a PhD, but I'd be willing to wager good money that both Biden boys were given significant pain killers as needed/required during their stays in the hospital. Anyone care to guess the effect that the pain killers that would have been used in the early 1970s would have had on the developing neurotransmitters and receptors of a three year old? Hunter Biden has an addiction. I'm not sure that over 45 years later anyone can definitely say if whatever he was treated with for pain after the accident predisposed him to drug addiction, a preexisting condition if you will, but it really doesn't or shouldn't matter. We all know people in our personal lives, as well as online lives, who have addiction problems. It doesn't matter if they're for things that are deemed legal, such as food addictions or addictions to alcohol or even gambling, let alone for controlled substances – addiction is a disease. There is a real scandal here and that scandal is that the President, his sons and daughter in law, Giuliani, Bannon, his other surrogates, the Fox News evening talking heads, the chuckleheads at Breitbart, etc have such a basic lack of humanity and are so obsessed with obtaining power or being near those that do, that they've decided to exploit someone's battle with addiction in the hope of increasing the President's electoral outcomes by a couple of percent. This is both the real scandal and the real tragedy of this entire sordid story. This isn't just traumatizing Hunter Biden and likely pushing all of his triggers for addictive behavior*, it is doing the same thing for a lot of other people who struggle with addictions. It isn't just as Adam Serwer says that cruelty is the point. Cruelty is also the ways and the means too!
Open thread!
* I would not be surprised, given Giuliani's deranged rantings on his and Bannon's YouTube channel, as well as Fox News, if we ultimately find out that Giuliani is doing this to try to trigger Hunter Biden into relapsing in the hope of a news media feeding frenzy that the Democratic nominee's son was caught smoking crack just weeks before the election.