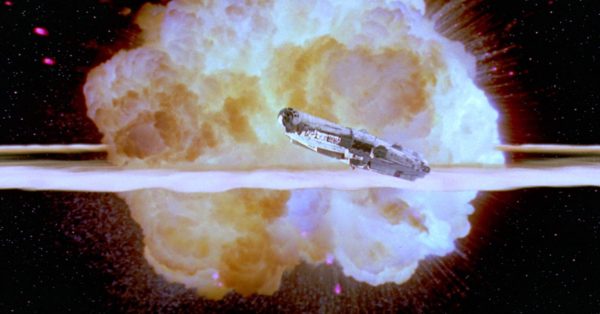 This AP report on broke-ass fraud Trump's broke-ass fraud campaign contains some vivid descriptions of Team Griftapalooza's profligate ways:
WASHINGTON (AP) — President Donald Trump's sprawling political operation has raised well over $1 billion since he took the White House in 2017 — and set a lot of it on fire…

"They spent their money on unnecessary overhead, lifestyles-of-the-rich-and-famous activity by the campaign staff and vanity ads way too early," said Mike Murphy, a veteran Republican consultant… "You could literally have 10 monkeys with flamethrowers go after the money, and they wouldn't have burned through it as stupidly."
The article ticks off some of the stupid ways the flamethrower-wielding monkeys torched the cash, including buying up copies of Trump Jr.'s dumb ghostwritten book, hiring private jets to ferry surrogates around, running ads in the DC media market to pacify Trump while he watches Hannity, buying tens of millions in Trump merch and pissing away nearly a million to run ads on Parscale and Pierson's personal Facebook pages. But nobody is crying for Covita — hundreds of millions more were hoovered up into shell corporations, destination unknown, i.e., the pockets of Trump and hangers-on.
Campaign fund management is so bush-league that even the hideous, mummified casino crook Sheldon Adelson diverted largesse away from the campaign and into super PACs that don't have the Trumps' greedy little fingers in their cookie jars. As a subscriber to campaign emails, I have noticed that the Team Trump begging has become more plaintive since conservative donor checkbooks slammed shut: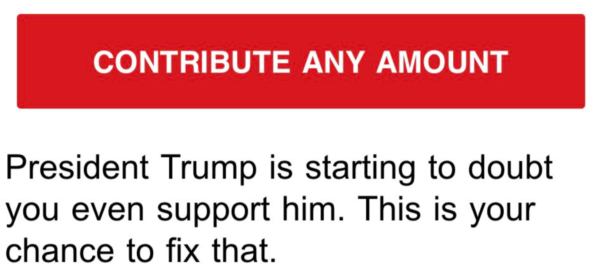 Reader, I did not fix that!
Anyhoo,  two weeks to go. I am encouraged by some recent district polling in Florida that came out yesterday. In an article about a current UNF poll that shows Trump and Biden in a dead heat, Florida Politics points to the Monday polls and underscores Biden's cash advantage:
Several St. Pete Polls surveys released Monday and previously showed Trump underperforming in areas he won four years ago. For example, Trump is down 11 points in Florida House District 60 in Tampa, a district he carried in 2016 by less than one point. In House District 69 in Pinellas County Trump is down nearly 15 points. He won that district four years ago by three points. A poll earlier this month also showed Trump down more than 13 points in Pinellas County as a whole, which he won four years ago by just over 1%.

In addition to public polling that indicates Biden has an edge, the former Vice President enjoys another considerable advantage: money.

Over the past four months, Biden has raised over $1 billion, a massive amount of money that has significantly eclipsed Trump's once-overwhelming cash advantage.
Those districts are in the fabled I-4 corridor. And I trust Team Biden-Harris not to turn flamethrower monkeys loose on their campaign war chest. Open thread!