My beloved kitty, Quiver in 2009.
This is last call for real.

All you have to do by the end of the day on Wednesday 10/21 is send an email to start the process.   That's it.  Just one email message, telling us that you want your guys in the calendar and what their names are.  You don't even have to send the photos yet.
Address the email to me or you can send it to pet-calendar.  You know the format of the email addresses, right?  nym at balloon-juice.com – for more details click on Contact Us.
Your message should include:
your nym
the names of all your pets that are going to be in the calendar*
When I get your email, I will send you the link to upload your photos.
As soon as we know how many entries there will be, Beth can get started sorting the pictures we already have.
You can write as much as you want in your email, but it can be as simple as this.  Yes, this is a screen cap of a real one.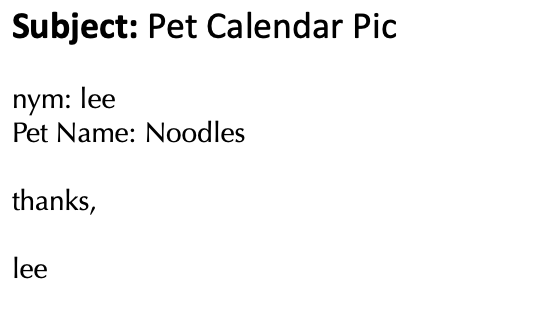 *If you have a beloved pet that is no longer with you, they can be in the calendar, too.  You have an option of a small heart next to their name, or a tiny rainbow.  If you want either of those, just let us know.
Deadline for actually submitting your pictures is Nov 1.  
Open thread.