On the Road is a weekday feature spotlighting reader photo submissions.
From the exotic to the familiar, whether you're traveling or in your own backyard, we would love to see the world through your eyes.
I have only been to Maine once, but I fell in love.  ~WaterGirl
JanieM
Maine, my adopted home, is devoted to its public lands, including state and local parks; land set aside by land trusts (I volunteer for one that has more than 6000 acres and fifty miles of well-maintained trails in its care) Baxter State Park; Acadia National Park; and – not technically in Maine, but you could throw a stone there from Lubec – Roosevelt Campobello International Park. Several kinds of parks are represented in these pictures and in Part II, which will come later. I've traveled in the area a lot, but these particular shots were taken in April of 2014.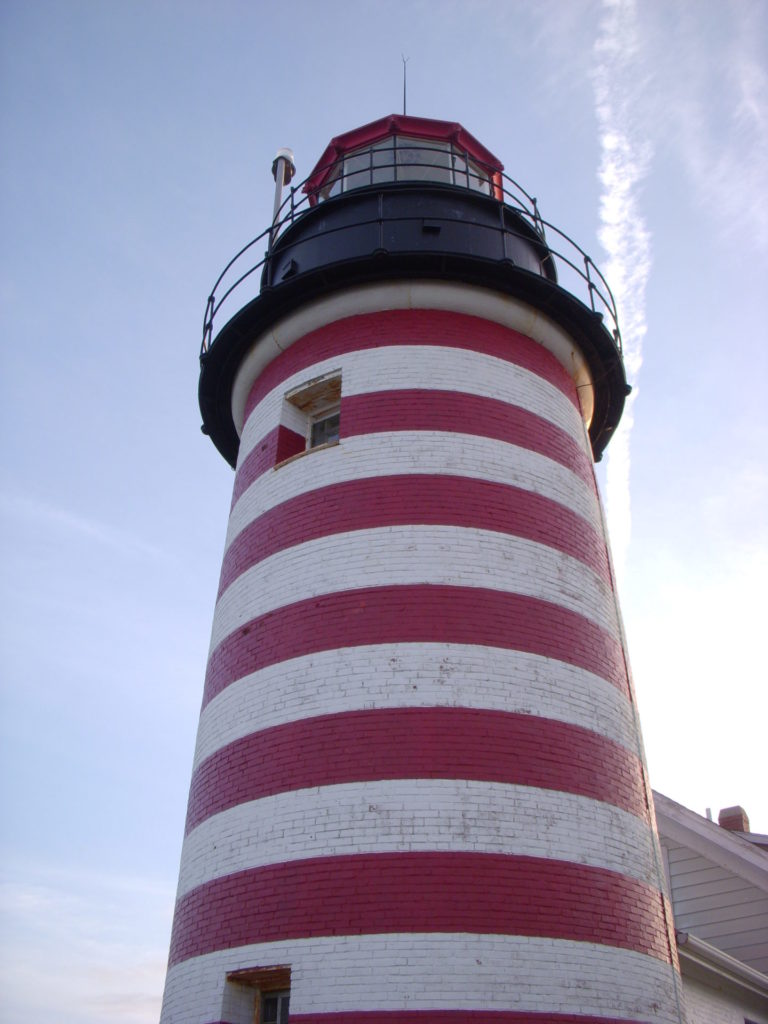 West Quoddy Head Light, Lubec, Maine
In Quoddy Head State Park, where there's a beautiful cliff trail (I walked it before I had a digital camera to carry with me all the time, so no pics). This is the easternmost point of land in the continental US, and as I just discovered when I looked up the park in Wikipedia, "the closest geographic point in the United States to the African continent."
Lubec, Eastport, and Bar Harbor had a bit of a squabble preceding the millennium over who would get the first gleam of sunlight on 1/1/2000. For some chuckles, here's an article about it.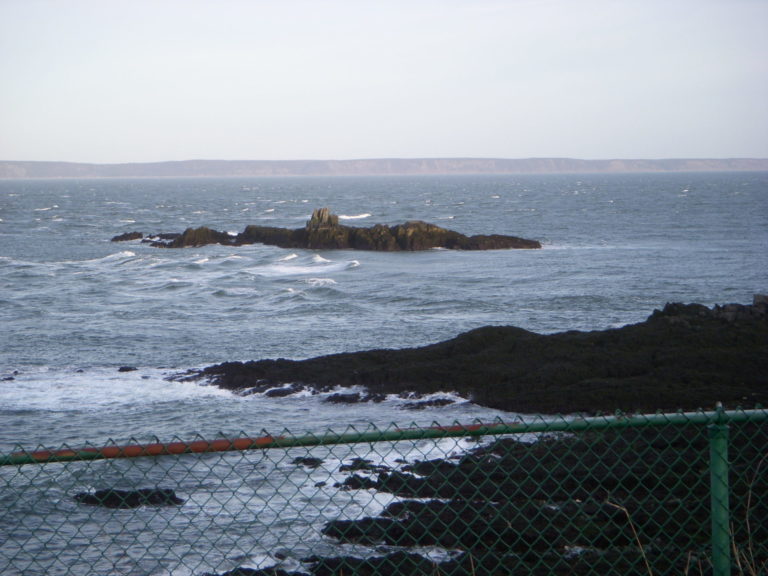 Looking cross the water to Grand Manan Island, Canada
Taken from next to the base of the lighthouse. I hope to check out Grand Manan when we can all go traveling again.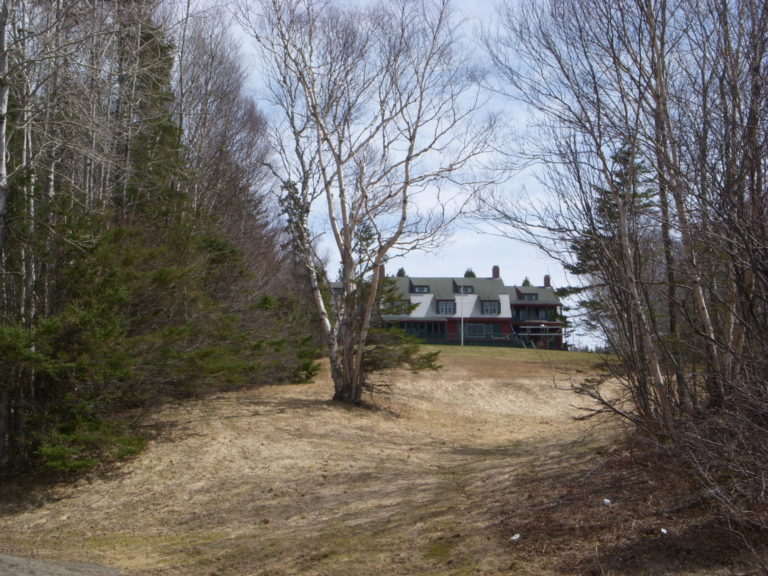 Roosevelt Campobello International Park
You cross the little bridge, show your passport to the Canadian border guard, and you're on Campobello Island, where the Roosevelts had a summer "cottage" that was made into a park 56 years ago. I took the indoor tour once, but this trip was just before the park officially opened for the season, so we couldn't go inside. The staff were getting the place ready to celebrate the park's 50th anniversary. This shot was taken from the shore.
In a reversal from my usual experience, on this trip the Canadian border guard was a bit crabby, and the US one was friendly. We established that his kid had played in a basketball tournament at the high school up the hill from my house, four+ hours from Lubec, and the fact that I knew the name of that high school was apparently proof of my legitimacy. Either that or it was my sweet, innocent face and manner. ;-)
From the park website: "Roosevelt Campobello International Park is the only park in the world jointly managed, staffed, and owned by the peoples of two countries and administered by a joint commission in their name."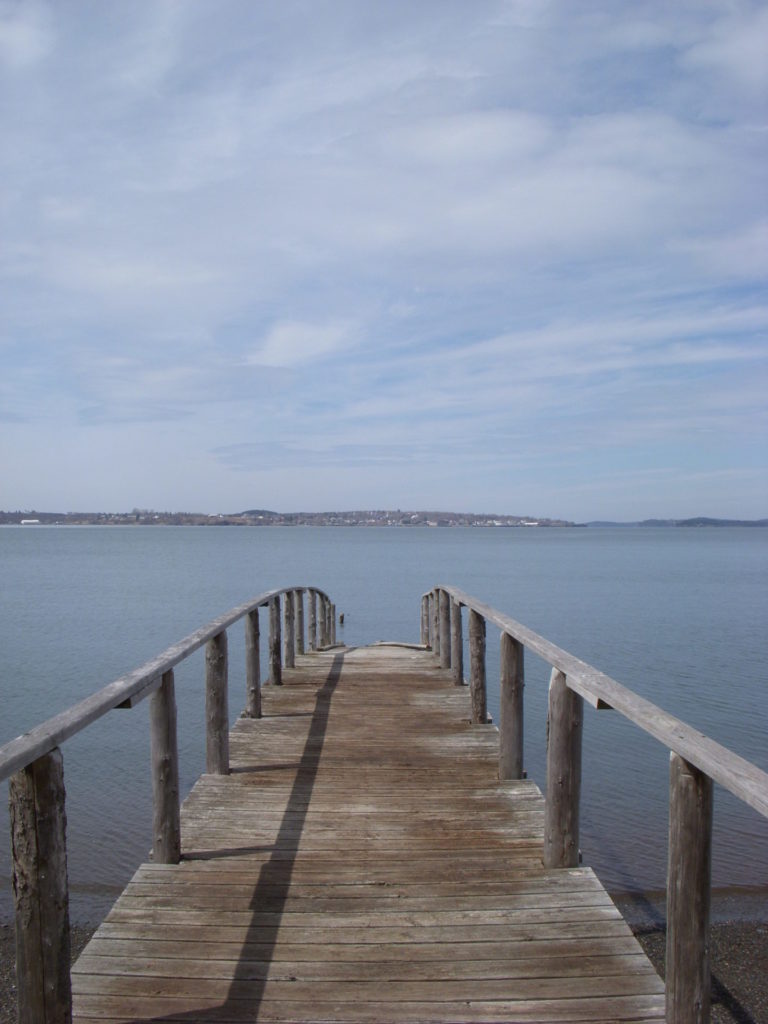 An old pier on the shore at Campobello
Looking across the water to Eastport. It's a couple of miles by water from Lubec or Campobello to Eastport, but almost forty miles by land, through beautiful, spare countryside. This was a busy region in the days of sailing ships and sardine canneries, but time has sort of left it behind. That may change again, especially if shipping starts to come through the arctic, since Eastport has the deepest harbor in the continental US and is the nearest US port to China by the arctic route. It's hard to know what to hope for…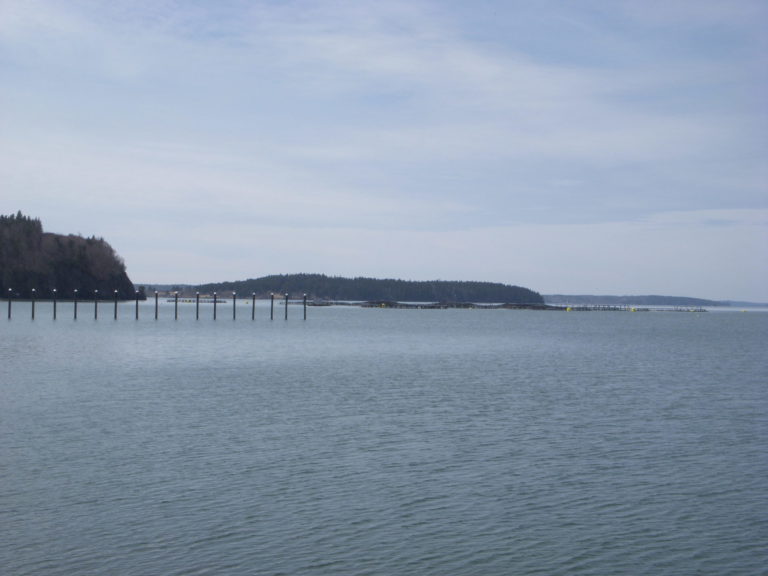 Aquaculture off Campobello
Mostly I like the picture because it has the flavor of "another land made of water" (to borrow a phrase from folksinger Gordon Bok).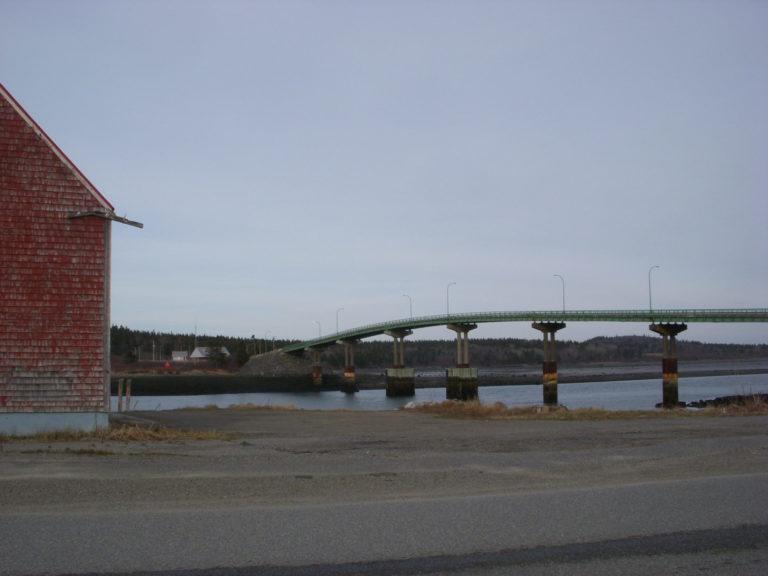 The bridge from Lubec to Campobello
From Lubec to Campobello—not strictly in the park, but I wanted something to show how close Campobello is to Lubec.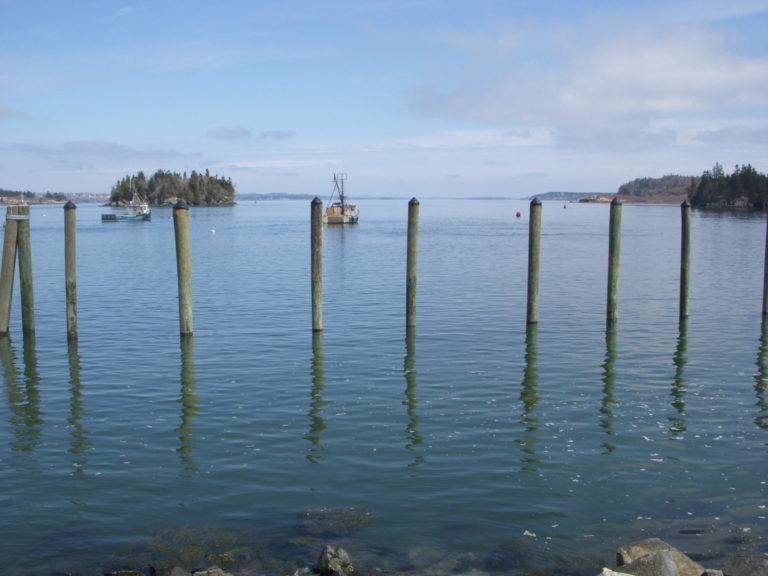 Scene "downtown" Lubec
Also not inside a park, but just another example of how everywhere you turn in this area, there's another beautiful vista – and especially, given our "After Dark" goals – a calming one. Then again, I've never lived through a winter out there. Even April was fairly grim compared to summer, which is when I've visited most often.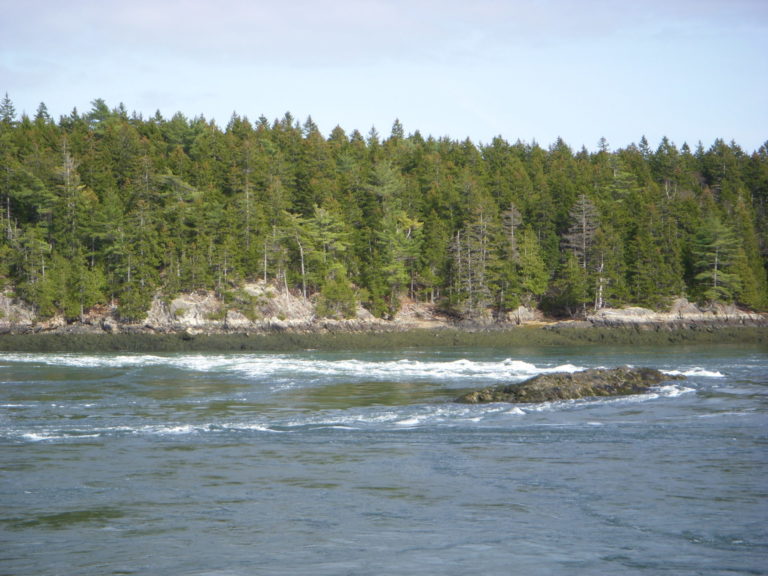 Reversing Falls Park, Pembroke, Maine
Saving the best for last—this is one of my favorite places on earth. The picture doesn't remotely do it justice, maybe because of my (lack of) photography skills, but at least in part because a photo can't convey the sounds and smells, or the effect of being here over a daily cycle of tides. Not really falls, but more like rapids, it's a narrow channel, with a hill of rock in the center of it, in an area where the tidal range is exceptionally high – over twenty feet in this spot, though it's hard to find precise numbers.
I took an "eco-tour" through this channel in a Zodiac once, and the tour guide cited the "rule of twelfths" – for every roughly six hours between low and high tide, 1/12 of the water flows in the first and sixth hours, 2/12 in the second and fifth, and 3/12 each in the third and fourth. I first saw the falls halfway between high and low tide, and the force of the water was staggering. Then, at high and low tide, presuming a not-windy day, everything gets very, very quiet for just a little while, and then you start to hear a little tiny burble, and the tide has reversed and the water is flowing again.  I once stuck around for the entire six+ hours, to experience the whole sequence. I would have stayed longer, but the once-barely-functioning outhouses had been vandalized to the point of uselessness. I haven't been back for a few years, so I don't know if they've been repaired/restored. It's a town-owned park—very minimalist.
The Bay of Fundy, of which this area is a part, is known for its eddies and whirlpools, the Old Sow being the biggest and most famous. "Cobscook"—as in Cobscook Bay, one of the subsets of the Bay of Fundy—means "boiling tides" in the language of the Passamaquoddy tribe, which has a reservation at Sipayik, or Pleasant Point, on the peninsula leading from the mainland to Eastport. I took a linguistics field methods class some years ago, and our informants (for practicing) were Passamaquoddies. It's a living but "private" language … fascinating topic but too big for this space.