On the Road is a weekday feature spotlighting reader photo submissions.
From the exotic to the familiar, whether you're traveling or in your own backyard, we would love to see the world through your eyes.
You guys are adventuresome in ways that I am not.  This is a view into a world I would never see otherwise.  ~WaterGirl
way2blue
My father was soon retiring from Pan American Airways, meaning my access to cheap international flights was coming to end. So I planned one last ambitious trip—to Bali. [Aside to WaterGirl » a well traveled colleague recommended Bali, and told me where to stay… ] I had to fly 'sub-lo' (subject to load), thus was routed on a series of flights—from San Francisco to Tokyo to Hong Kong to Singapore. Rather than direct to Singapore. Made for a very long journey, however, in that era I could get a row of seats to myself and stretch out…
After arriving in Singapore I still needed to arrange transportation to Bali (as Pan Am didn't fly there). I first looked at booking passage on a ship, but that was impractical. So I ended up booking a flight on Garuda Air. I arrived in Denpasar without my luggage (which had stalled in Hong Kong). And spent my first day in Kuta Beach buying clothes suited to the humid tropics rather than temperate California.
My initial plan was to rent a motorbike, but after viewing the main thoroughfare crowded with a chaotic mix of 'bemos', trucks, cars, motorbikes, bicycles, carts—even at daybreak—convinced me to switch to bemos for transportation… I was traveling on a shoestring (not to mention young & foolish) with a borrowed SRL camera. Which obviously wasn't happy in the humidity, so apologies for the speckled scanned slides. Nonetheless, I hope some might enjoy a glimpse of Bali when western style lodging was restricted to two locations, Sanur & Bukit Peninsula, as Bali was deemed a magical island to be protected from overdevelopment…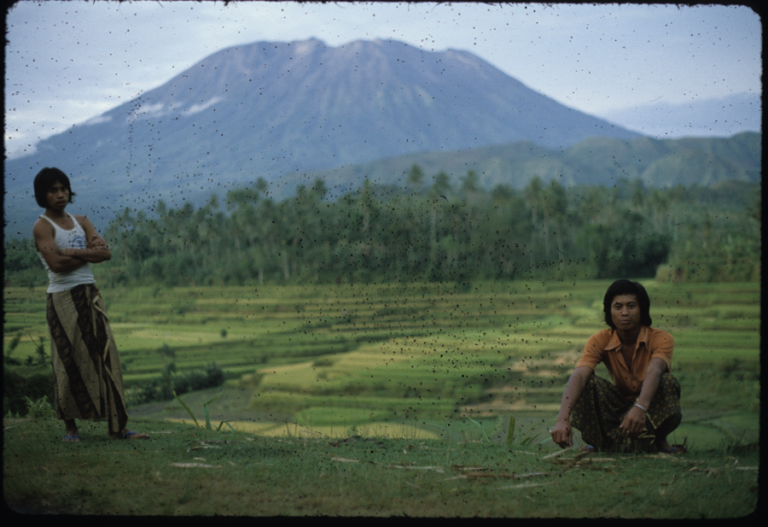 GUNTUNG AGUNG
These two young men allowed me to photograph them with the sacred stratovolcano, Gunung Agung, in the background. I happened to visit Bali during a holy year related to eruption of the volcano. Many villages were hosting burial ceremonies. Families had stored the remains of loved ones until this year, saving funds needed to make elaborately decorated containers to carry in processions. (I did not photograph these events.)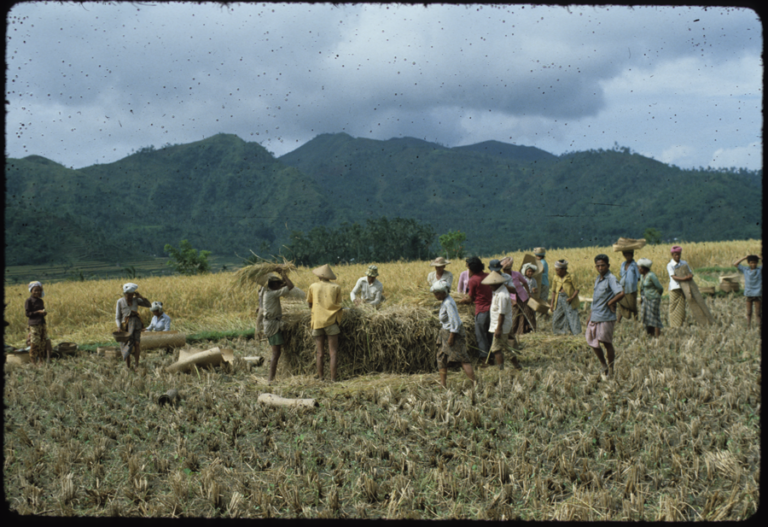 HARVESTING RICE
Common scene of Balinese harvesting a rice crop.
DUCKS EN ROUTE TO THE RICE PADDIES
Ducks were used in the rice paddies to clear the weeds, bugs, snails…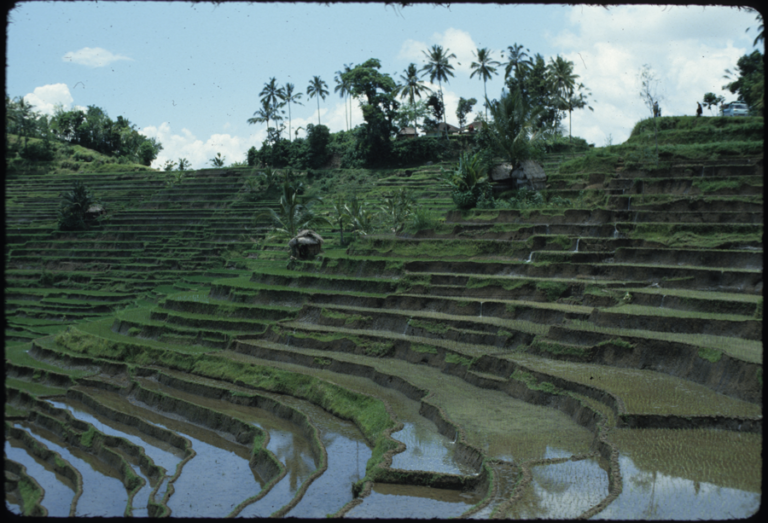 TERRACED RICE PADDIES
Another typical scene, this one of beautifully terraced rice paddies. The Balinese have an advanced irrigation system, subak, devised centuries ago which determines how water is shared. [see » en.wikipedia.org/wiki/Subak_(irrigation)]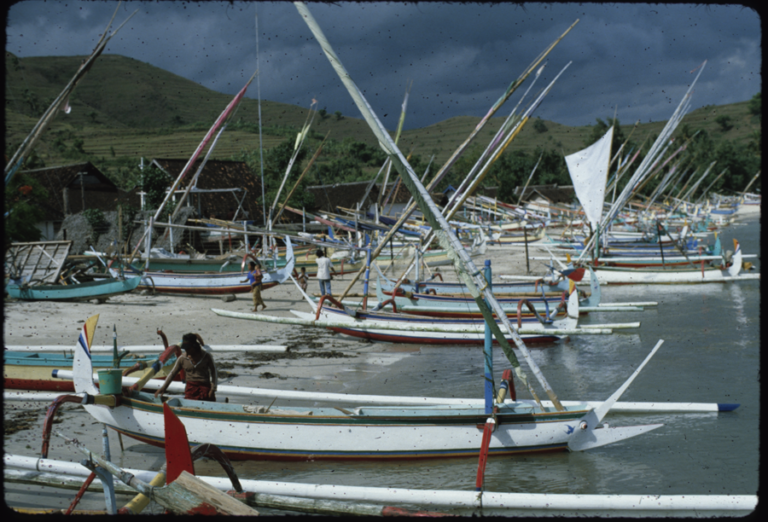 FISHING BOATS
Beautifully decorated outrigger canoes, jukung, with small (reefed) triangular sails. Used for fishing in Lombok Strait.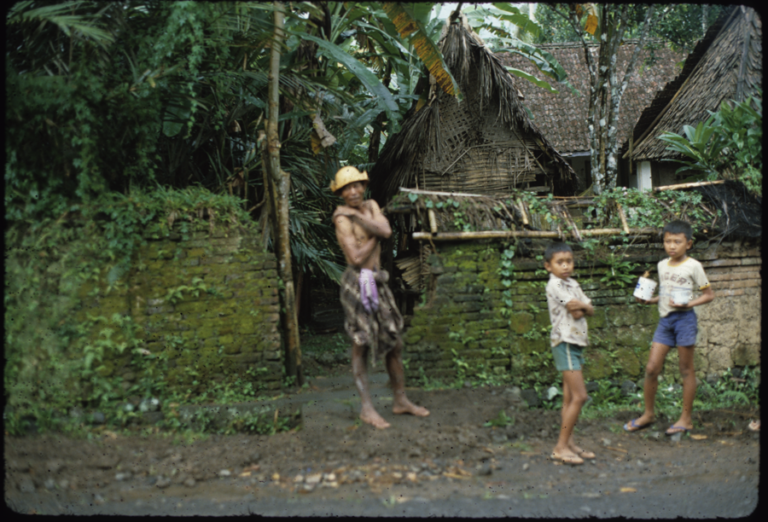 VILLAGERS
Met some Balinese while walking through their village who let me take their photo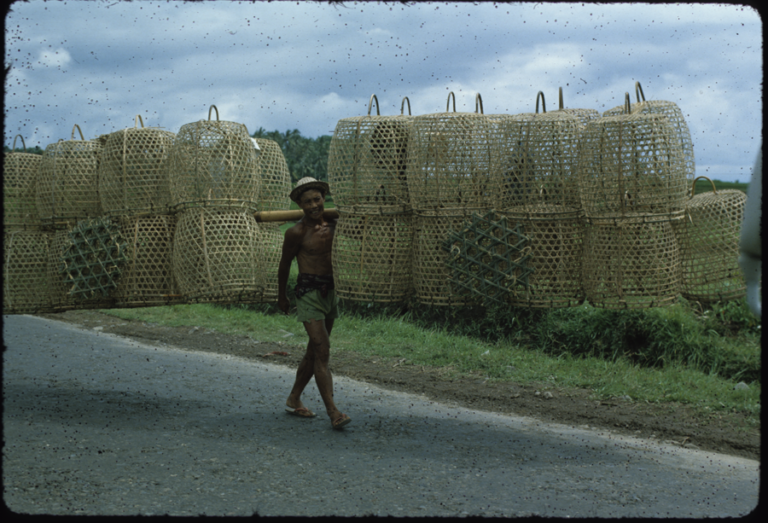 MAN CARRYING BASKETS
Woven baskets designed to hold fighting cocks.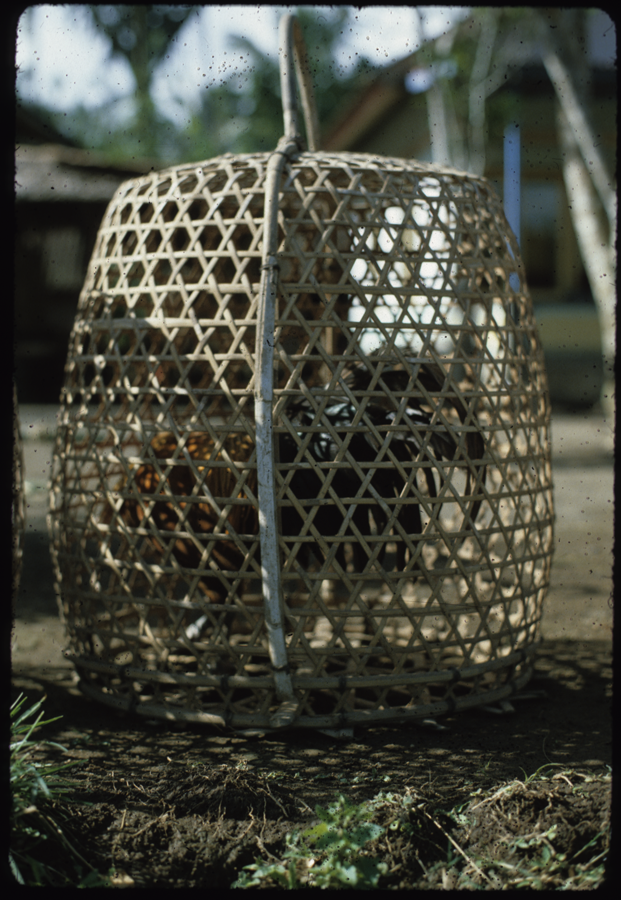 FIGHTING COCK
When I saw several beautiful roosters in a village, it didn't occur to me until later that these were likely fighting cocks.