On the Road is a weekday feature spotlighting reader photo submissions.
From the exotic to the familiar, whether you're traveling or in your own backyard, we would love to see the world through your eyes.
On the Road: Week of October 26  (5 am)
Albatrossity
Steve from Mendocino
?BillinGlendaleCA
Captain C
Jim Appleton

We are going to do something special with On The Road After Dark for a couple of weeks in the run-up to the election and in the days that follow after November 3.

Election Respite Edition

I invited about 15 people to submit photos that wouldn't necessarily be from a single place or time, but would simply be collections of photos that are especially beautiful, happy,  soothing, or calming.

The folks who were interested rose to the occasion and submitted some amazing collections, which I will be posting each night without introduction.  I am wound up, too, and I want to get to experience them each night, as everyone else does!

On the Road After Dark: Week of October 26 (10pm)
Albatrossity – Election Respite, Staying Chill Edition
lashonharangue – Election Respite, Sights Near and Far Edition
Dagaetch – Election Respite, World Edition
SkyBluePink – Election Respite, The Magic of Trees Edition
cope – Election Respite, Beautiful, Soothing or Calm Edition

If you are reading along and think you might want to be part of this by submitting your own collections, contact me by email or let me know in the comments.

And now, back to ?BillinGlendaleCA.

Holy crap, I am so not brave enough to climb that rock.  Bill, is that really you in the 4th photo?

Maybe we should have a series where everyone (who wants to) sends a photo of themselves when they were young and we put up 5 at a time, along with a list of 5 nyms,  and we try to guess who is who.  ~WaterGirl
?BillinGlendaleCA
When I graduated from High School, my father gave me a choice; I could either go to Grad Night at Disneyland or I could go on a backpacking trip to Yosemite with our church youth group. I chose the later. We started out hiking from Glacier Point to our base camp in Little Yosemite Valley on the Merced River above Nevada Falls. The hike to Half Dome was pretty much an all day affair, beginning with a hike on a portion of the John Muir trail.
The first part of the trail is heavily forested until you get close to Sub Dome, a small rock structure northeast of Half Dome. One on Sub Dome you encounter the Half Dome Cables which assist in the final climb to the top of Half Dome. The view at the top of Half Dome is really incredible and there is little to obstruct the view. You get a fine view of Yosemite Valley to the west and the high Sierra to the north, east and south. These shots were originally shot on Kodachrome with an Olympus OM-1, I've modified the shots quite a bit to bring out some more color and correct some issues with the original shots(also the slides are 42 years old).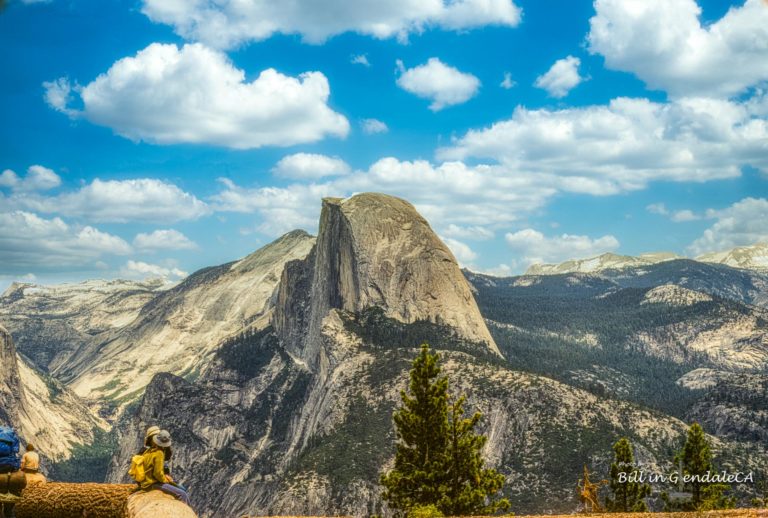 Yosemite National Park, CA
June 19, 1978
Half Dome from Glacier Point. I've modified this photo quite a bit, I replaced the sky and warmed it up quite a bit(it was originally overcast).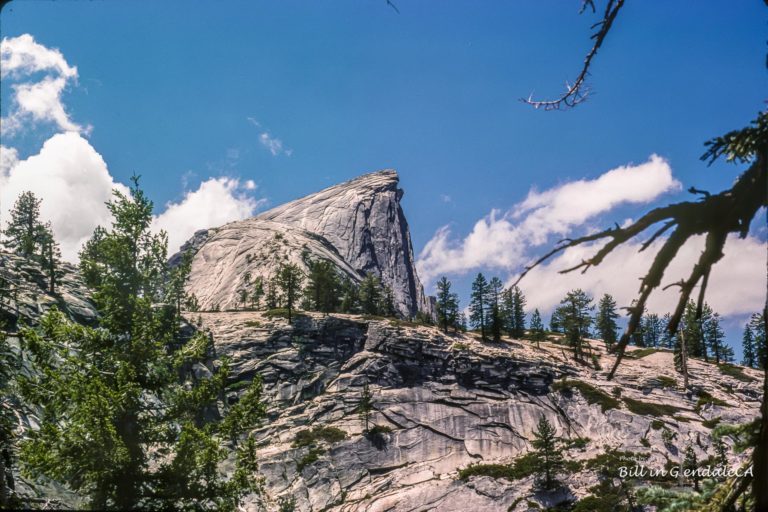 Yosemite National Park, CA
June 20, 1978
As we moved up the trail, the trees started to thin out revealing Sub Dome with Half Dome behind it.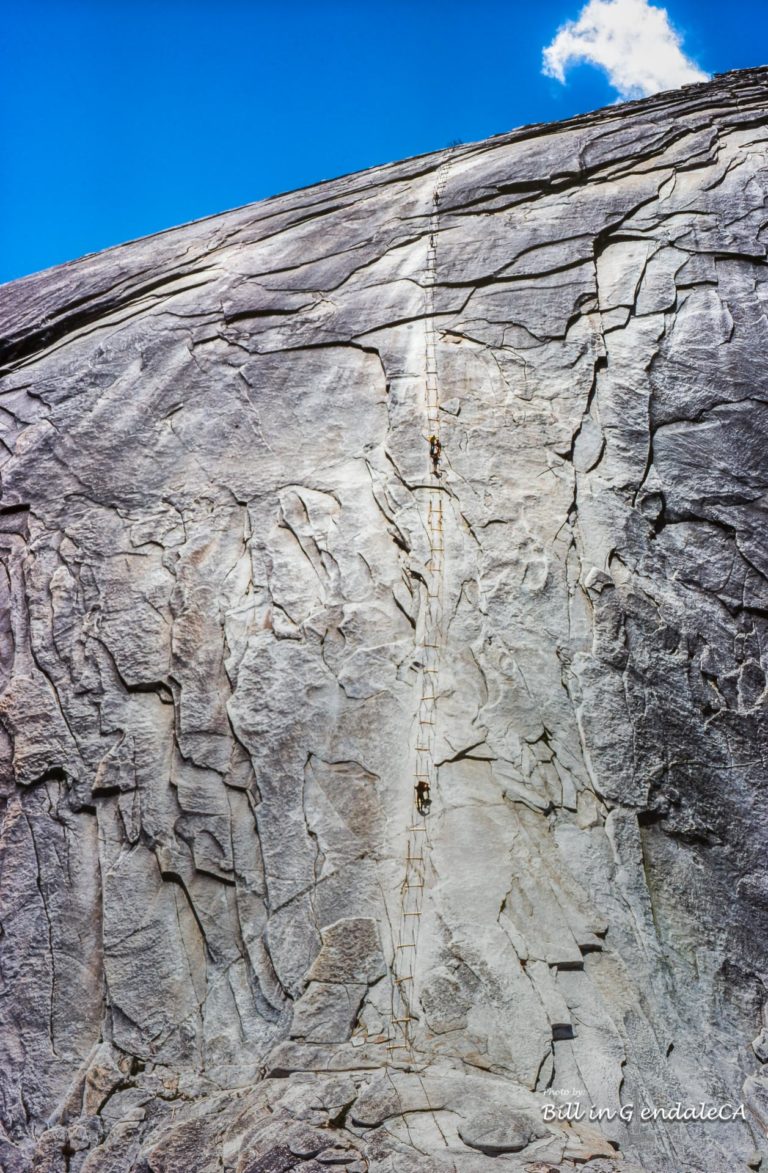 Yosemite National Park, CA
June 20, 1978
This is the final portion of the hike to the top of Half Dome. This is the back of the rock that you usually don't see in most pictures. Ther is a set of cables on each side of the trail with wooden blocks every few feet.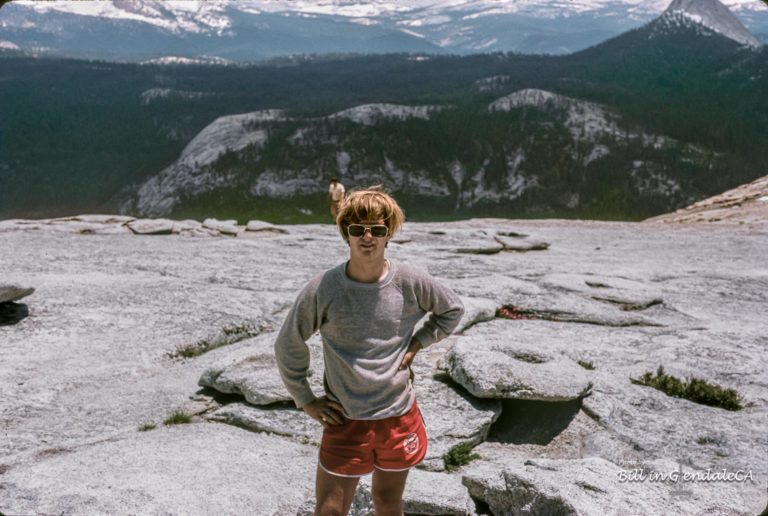 Yosemite National Park, CA
June 20, 1978
Your intrepid photographer has reached the summit of Half Dome, Mount Star King can be seen at the upper right.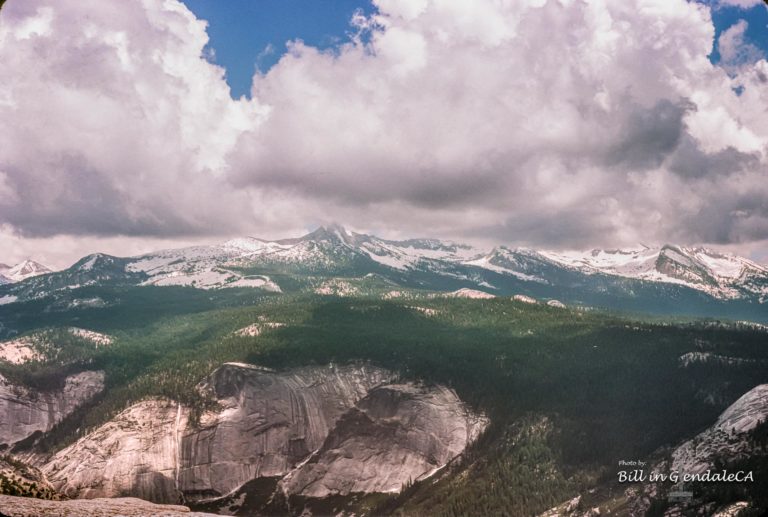 Yosemite National Park, CA
June 20, 1978
This is the view from the summit of Half Dome looking east. Mt. Clark is at the center of the photo with Gray Peak to its right. Our campsite in the Little Yosemite Valley is at the bottom of the frame.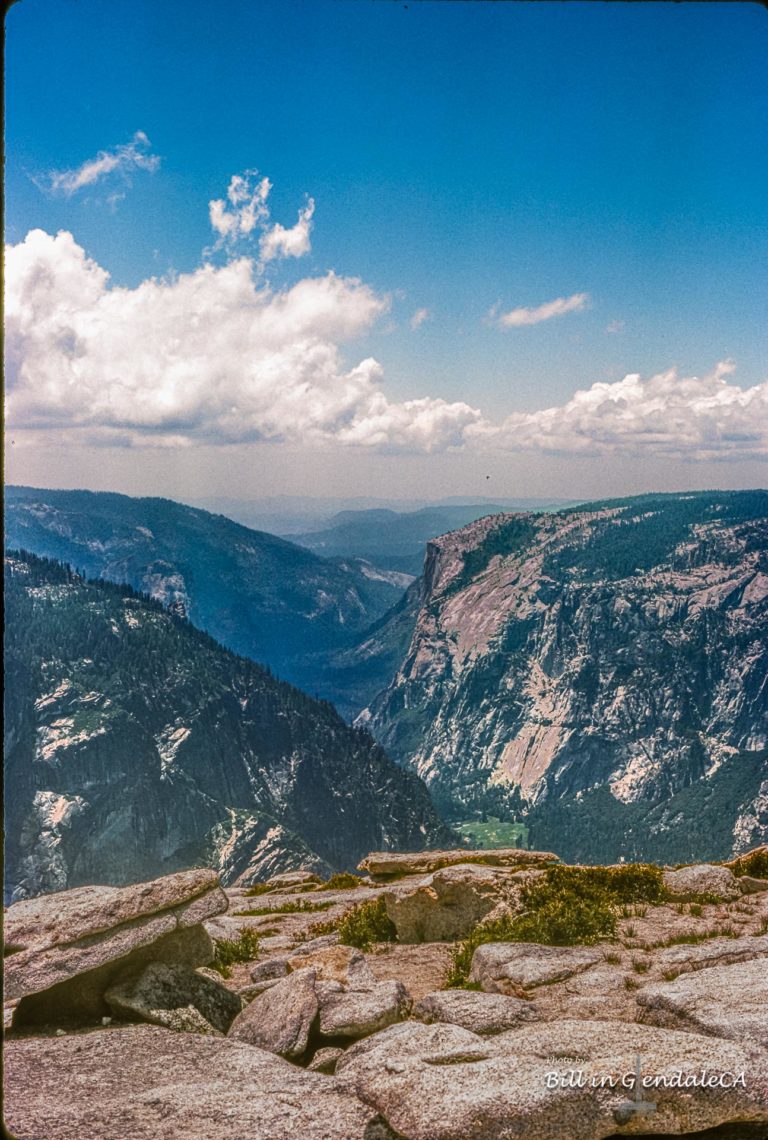 Yosemite National Park, CA
June 20, 1978
The view of Yosemite Valley from the summit of Half Dome. El Capitan is visible just to the right of center.