About 30 seconds after swearing to "administer justice without respect to persons" and "faithfully and impartially discharge and perform" her duties, Barrett walked out onto the balcony of the White House with Trump as his co-star in an political ad.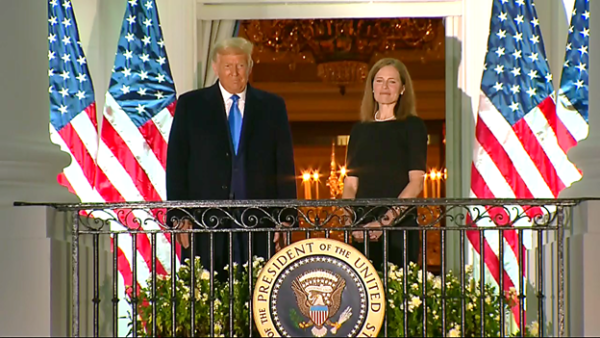 I know what you're thinking: at what point does the makeup Trump slathers on to hide his splotchy pallor cross the line into "blackface," and why doesn't he apply it to his fucking ears and blend at the hairline so it's not so obvious?
But let's focus here for a second — a SCOTUS nominee participated in a rushed, farcical process. Then she chose to cut a campaign ad as her first act as a U.S. Supreme Court Justice. In one sense, it's like buying your dream home and then taking a shit on the carpet and smearing poop on the walls — within seconds, Barrett defiled the court she'd just joined, and now we all have to live with the stench.
From Barrett's own actions, not partisan rancor, we must conclude she has poor judgment and zero integrity. So, what do we do with that information? Vote for Democrats who oppose this charade, first of all. Done and done, for many of us. Next, we have to hold the people we vote in accountable to fix this mess, using any action that doesn't violate the Constitution.
Mitch McConnell made up a rule to deny President Obama a SCOTUS nomination, then made up another rule to ram this unethical, low-quality Trump hire onto the court. The rules McConnell pulled out of his ass weren't in the Constitution, nor did the Constitution expressly forbid his actions. So, if Democrats take the Senate, it's time for a new set of rules.
Expanding the court will be a heavy lift, but I've been encouraged in the last few days by seeing the likes of Senators Chris Coons and Angus King speak favorably of it. Especially Coons. When you've radicalized the mild-mannered Senator Coons of all people, you may have over-reached.
Anyhoo, as voters, perhaps our most important task is staying good and mad about this outrageous theft. Republicans are strutting around today. Let's wipe the smirks off their faces, not just a week from today but two years from now too. We've got to hang this corrupt travesty around their necks at every opportunity.
Open thread.