On the Road is a weekday feature spotlighting reader photo submissions.
From the exotic to the familiar, whether you're traveling or in your own backyard, we would love to see the world through your eyes.
Jim Appleton
This is a group of photographs about people.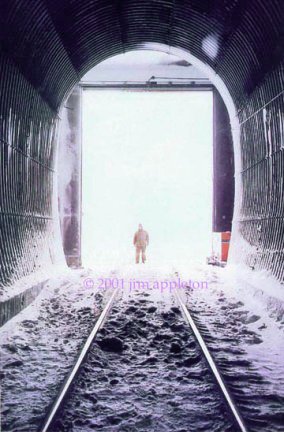 Whittier, Alaska
Outside Magazine hired me to document a story essentially about one guy and this tunnel.
It connects the town of Whittier, Alaska to the outside world.
Anchorage is about 100 miles away, but impassable terrain and limitations of the railroad schedule and its car-carrying capacity made that distance feel more like 1500 miles. Until modifications shortly after my visit which made the tunnel navigable by passenger cars, Whittier was a bizarre end-of-the-road high density community of class-A weirdos.
Mine were the "before" photos. Of those weirdos, mainly. The one guy I was sent to photograph tried, unsuccessfully, to drive the tunnel because he ran out of antidepressants.
Getting to Whittier from Anchorage was an epic process.
The magazine arranged for a float plane. Bad weather in Whittier prevented that option for several days, and then indefinitely.
Finally, I called the railroad and arranged for them to give me a ride on a regular maintenance run. I took a cab to the railhead at oh-dark-thirty, sat through the daily safety briefing, and met a doctor who was also hitching a ride, swapping with the doc then in Whittier.
After all that, this photo is shot from the deck of the flat car at the front of the train at the Whittier end of the tunnel. The guy in the photo is a driver ferrying the two doctors, who were at this moment going over some documents a few feet behind me.
Right after taking this, I asked the train operator when I should dismount.
He said to wait. I watched the arriving doctor drive off into town.
Then the train backed up at least a mile, and the operator told me this was where to get off.
I had considerable luggage and he knew that. And he knew what I was working on. He'd also just told me it's common for bears to nap in chambers off the tunnel.
Welcome to Alaska. Now go work for the privilege of being here.
Leica M6, 50mm f/2 Summicron at f/5.6.
I used mechanical film cameras here partly out of esthetic preference, but also because of reliability in extreme cold — minus 30 Fahrenheit, with 60-mph gusts. Lightning-like discharge of static electricity directly onto the film surface is also a concern in the very dry air, so I took care to wind film slowly by hand.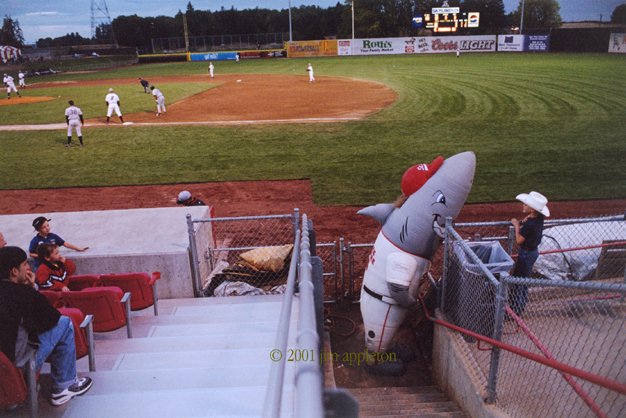 Kaiser, Oregon
Outtake from a series of photos for a Nike Baseball ad about being a spectator.
Nikon F5, waist-level finder. This is undirected, a grab shot.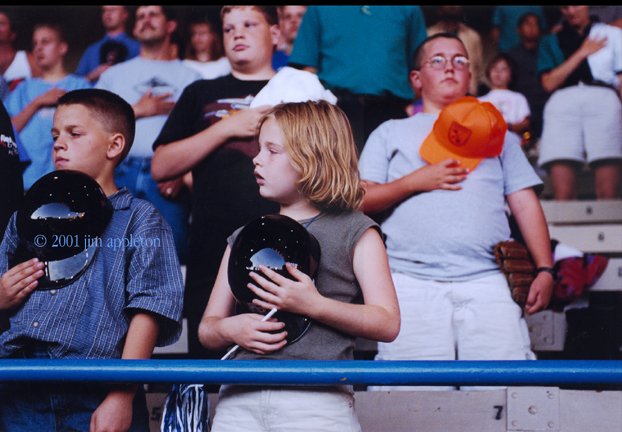 Portland, Oregon
Outtake from a series of photos for a Nike Baseball ad about being a spectator.
Nikon F5, waist-level finder. This is undirected, a grab shot.
Outtake from a series of photos for a Nike Baseball ad about being a spectator.
Nikon F5, waist-level finder.
This shows one of the advantages of this finder. Before digital cameras with tilting screens became common, people tended not to notice someone looking down at a camera, while they would otherwise instantly react to the same person holding a camera at eye-level.
This shot is candid and undirected. Immediately afterward, production staff went through the entire scene getting signed model releases.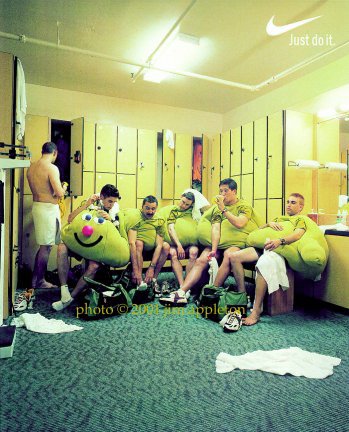 San Francisco, California
Ad for Nike themed around the Bay to Breakers, a footrace which some teams run in caterpillar costume.
Hasselblad SWC/M.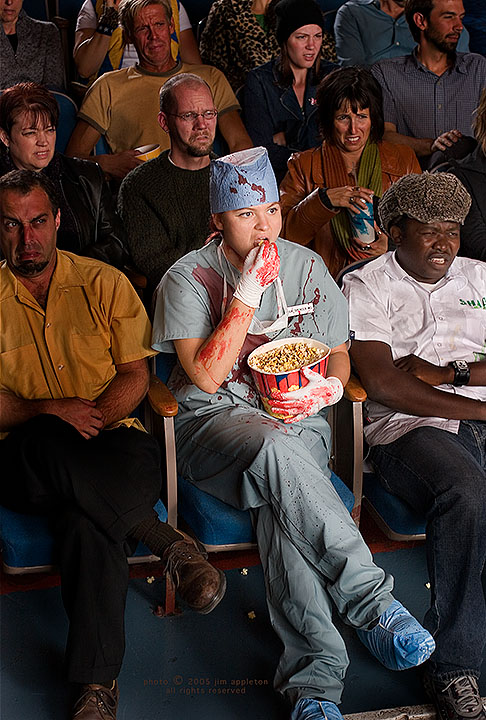 Portland, Oregon
Outtake from an ad for the Portland International Film Festival, themed on a tag line of "drop everything."
The idea here is that Ms. Medico left work in a hurry to catch a film.
The extras are almost all people off the street. As we were shooting, a team of recruiters brought them in from the sidewalk outside the theater. The only non-random person is my assistant, bearded near the top right. To fill a spot that, for some unknown reason, the random folks consistently left empty.
I recall people coming in and out, sometimes for a few minutes, sometimes for longer. Other than telling them the basic boundary and suggestions for what they were reacting to, I didn't direct their location or body language.
The only egregious Photoshop is a replacement face for the guy at center right. His expression on the raw shot was fine, but this one from another frame was too good to pass up.
Everything else is one shot.
This was the first job I ever shot "tethered" by USB cable.
Rented Canon high-end dslr.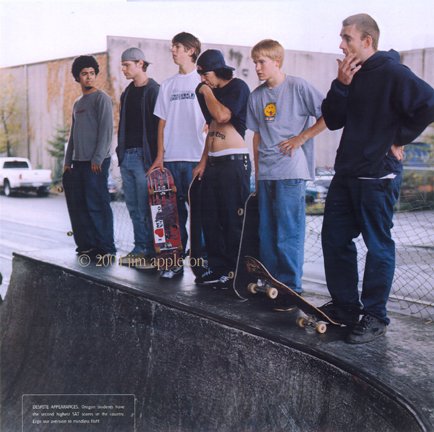 Portland, Oregon
Promotional photo for a small local ad agency, used in a book aimed at attracting new business as well as potential employees and contractors.
This is the world famous Burnside skate park. The two gentlemen on the left are hired models. Pretty clear they know they're at work.
The others are random, undirected guys who know what I'm doing but have other things on their minds.
This looks like it's helped by artificial light from camera right, but it's not. The effect is from the location under a wide bridge, shading a huge portion of the sky overhead. This is all available light.
Fuji GX680, 100mm f/4 lens at 5.6, hand-held, waist-level finder.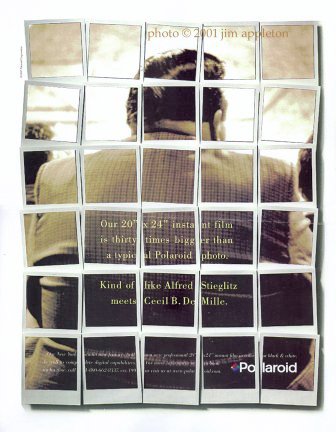 Wollaston, Northamptonshire, England
Ad for Polaroid's 20 x 24 inch camera.
This is a grab shot from a job in about 1994 assisting another photographer on an ad for Dr. Marten's.
Wollaston was then the production center for DM, where most or all of their shoes were made.
This is from after work hours. Our host took us to a night soccer game featuring DM's sponsored team.
This was the guy in front of me in the stands.
The story gets interesting a few days later.
As we were departing the UK via Gatwick, we were unpleasantly surprised by a difference in how airports then worked there as opposed to here. We were accustomed to handing our film to US airport security for a hand inspection, rather than going through the x-ray machine, which could in theory fog the film (not likely, unless run through many times, but we took no chances).
The supervisor at the x-ray station told us their policy was not negotiable. All of our film, exposed and unexposed, had to be x-rayed.
I happened to have one small lead-lined bag for just this situation, protecting my own film from potential x-ray damage.
My boss and I then spent about twenty minutes shuttling the one bag back and forth with a small fraction of his exposed film coming through the x-ray each time, in the lead bag.
In the unexpected high-pressure moment (we were already cutting it close on our flight's departure time), one of my personal rolls got tossed into his exposed film.
About two years later, I got a phone call from the studio manager.
She explained that she had sold my photo to Polaroid as a stock image.
Then my former boss realized the problem and tried to convince his client to reshoot, going so far as to produce a whole new photo shoot at his expense, hoping to sell his own photo.
Their client ultimately insisted unequivocally on my original, and so began a series of uncomfortable conversations. My former boss wanted me to reimburse his out-of-pocket for the rejected reshoot. I declined his offer.
Zeiss IKonta 520, 75mm f/4.5 Tessar. I think this lens from the 1930's had something to do with my former boss's lack of success reshooting. Also bears on references in the ad copy to bygone image makers, of the same era as the camera. I like the camera for compactness, bonus for unique image quality.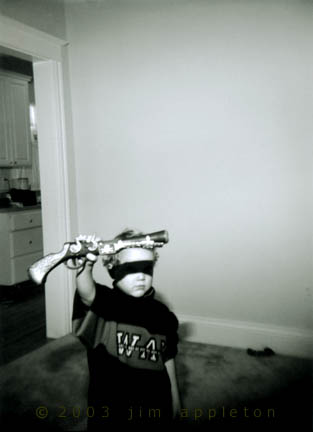 Portland, Oregon
From a series of photos for a gallery show about experiences of childhood.
Holga 120S, remote chord flash with on-camera thyristor.