Did what amounts to a symbolic bit of electioneering today–a lit drop in Salem, NH. I haven't been nearly as active-on-the-streets as I usually am, for a variety of reasons; it's been money and a bit of post-carding for me.
So this was my first real on-the-ground experience outside the Brookline, MA bubble–which really is a bubble. Our politics basically runs from tote-bag liberal to unreconstructed lefty, and that's fine by me. (Like a lot of town-governed-towns, actual local politics is run by a small, deeply embedded cabal and it's just as tricky as you might imagine, but that's for a different post.)
New Hampshire, though it's been pretty blue for a while now still has plenty of the Hamshirtucky that made it a rock-ribbed/crazy right wing state for a long time. So when we showed up at the local HQ in Salem NH, we were met by a wall of Trump signs and some very loud MAGATs, using a bullhorn to taunt Democrats for all kinds of things.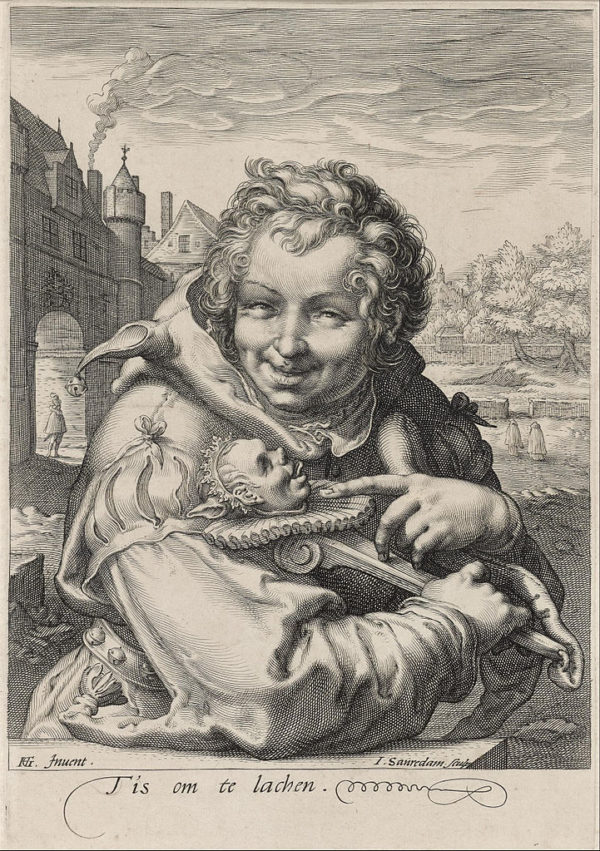 One of the weirder moments in that monologue, by the way, was a sudden diversion into California mandating all-electric cars by 2035, as the highly informed and judicious asshole with the bullhorn complained about the quality of CA's current grid. He then asserted CA is a shithole of state, and as a scion of the place, I wondered what it was that so upset him: the weather? The food? The quality of higher ed in the state? Etc.  Take it from me folks:  New Hamster has its virtues–but it's not going to win most competitions with the Golden State.
But I digress.
What struck me was the purity of the demonstration: this was simply an expression of assholery.  This guy, at least, had some stamina, and he was a blessedly silent performer: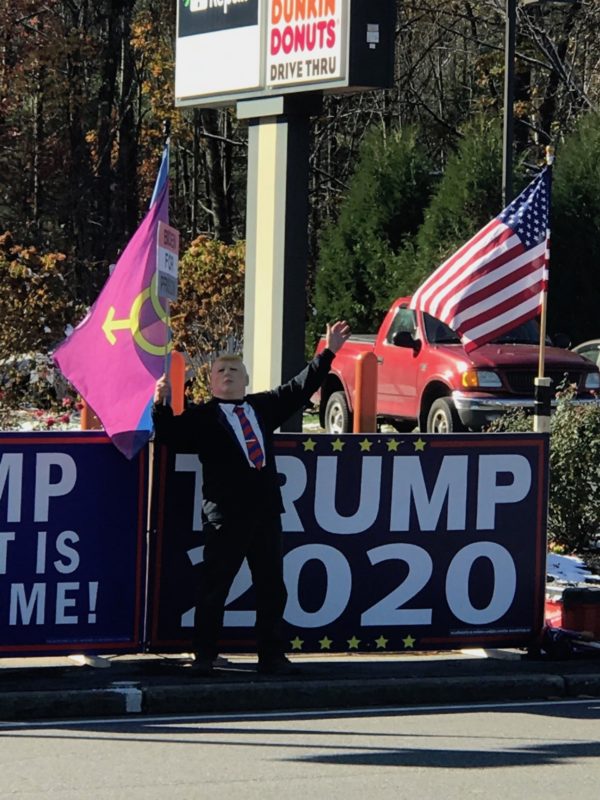 He was doing his Trump dance for at least three hours that I could check, so give the man some points for persistence.
But this captures the tone of what was being bullhorn across the street: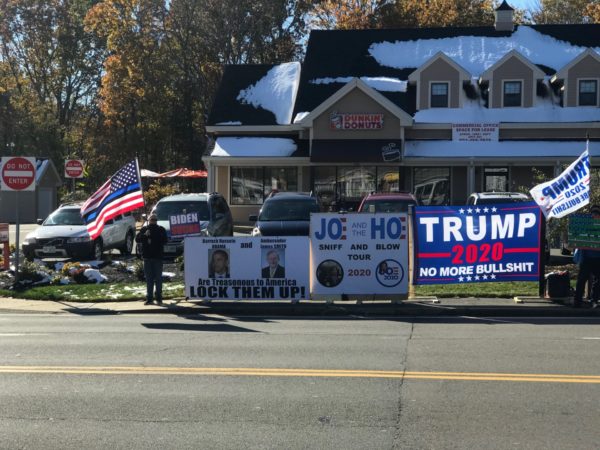 The good news is that all this involved a fair amount of local resources: ten or dozen people (none masked, of course), lots of signs, lots of energy. The D's had three or four folks at the HQ–and all the volunteers (and there were a bunch) were out canvassing and dropping literature.  The Trumpanzees went for what really amounts to political masturbation.
So yeah, it was uncomfortable, and it was intended to be so: these scumbags wanted to make some other folks lives miserable, and between the horns (some truckers driving big rigs really enjoyed leaning on theirs) and the blather, they did a pretty good job.
Except for the fact that the Democratic GOTV effort was completely undisturbed.
But besides being forced to come to some conclusions about how these losers were raised, it was a reminder that these are not people with whom one can respectfully disagree. From the top down, they are performative jerks–on their best days.
Oh–and they cheat all the time, large and small.  One more photo (ETA: actually loaded the photo this time):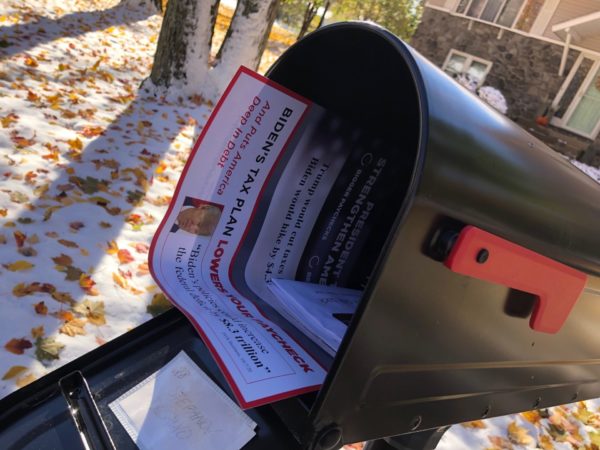 What you're seeing is a Trump flyer, placed in a mailbox. As everyone here likely knows (at least everyone who has canvassed in the last many decades) that's a big no-no. Just last night in our volunteer training Zoom, they told us at least three times that it is a federal crime to do that. We saw Trump leaflets in each of the open mailboxes we passed.
Admittedly, when the tally of Trump-era crimes are totted up, this won't rank high. But to me that's what's telling: there is simply no rule, no matter how minor, that they won't break.
Fuck 'em. Let's roll their sorry asses through Tuesday. Even my cup of coffee agrees: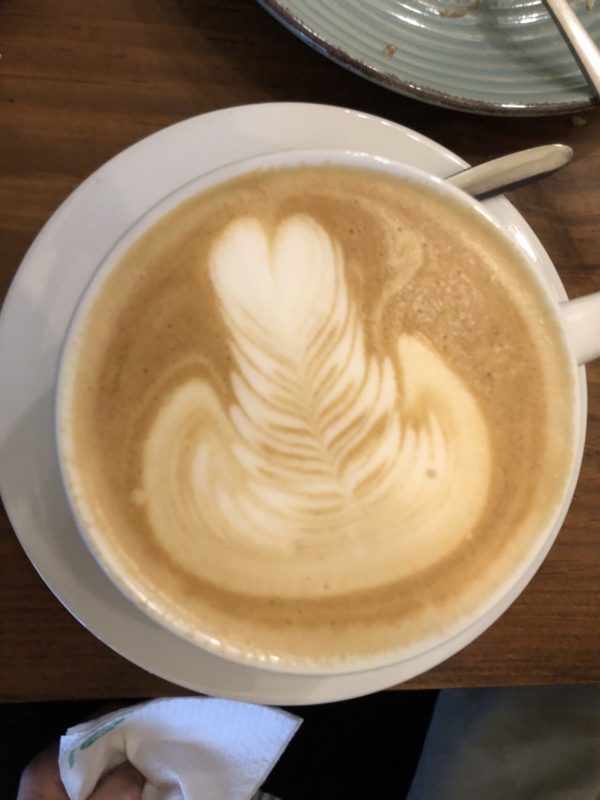 This thread.
It is open for anything.
Image: Jan Pietersz. Saenredam, The Fool, between 1590 and 1600.