The whole point of all the chaos that the President, his campaign, his surrogates, and his supporters are calling for, and the actual chaos that he, his surrogates, and his supporters are creating, are all intended to do one thing: demoralize everyone. In the table below you can see the Soviet doctrinal model for subverting a state and society. Demoralization is one of the major components. Among other actions, it includes subverting the legislative process to subvert the judicial system and the rule of law. Part of the reason that Senator McConnell jammed Amy Coney Barrett's nomination through in under six weeks just before the election is to demoralize the majority of Americans. It is why he's already stated publicly that during the lame duck, regardless of the results of the election, he's not going to bring a COVID relief package to the floor. Rather, all he's going to do is fill the remaining Federal judicial vacancies in order to achieve a legislative demoralization two for: further packing the courts with Leonard Leo chosen reactionaries and extremists and ensuring that Americans don't get the help and assistance they need to survive the pandemic.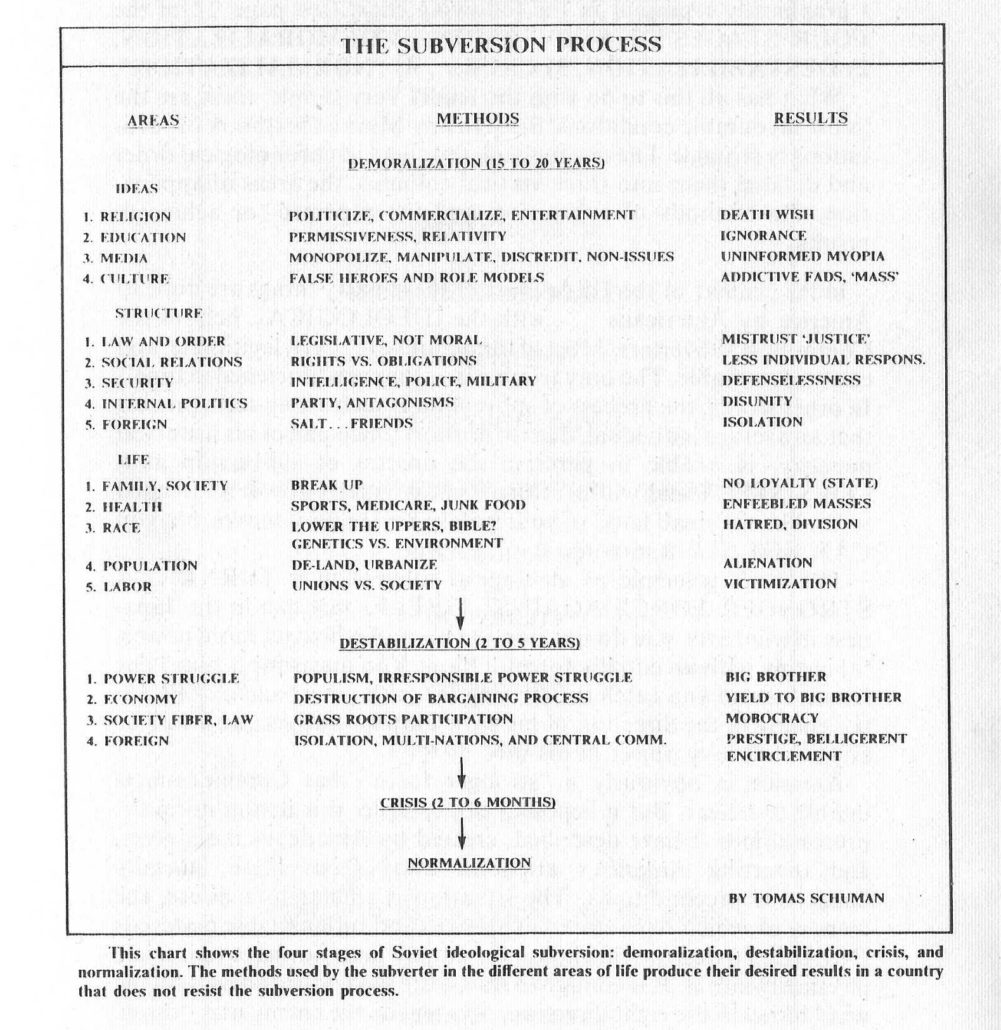 The domestic terror attacks on the Biden-Harris campaign bus and the staffers accompanying it in their own vehicles in Texas, promising to give Senator Harris a Texas Welcome, which is reminiscent of what conservative Texans announced they would give President Kennedy in 1963 is intended to demoralize you. Domestic terrorism that appears to have originated with Don Jr. instigating it via his social media accounts. The militia threat in Rome, GA that led to Georgia Democrats cancelling their rally there today is intended to demoralize you. Thethe closing of the Garden State Parkway in NJ, the Mario Cuomo Bridge in New York, and several other major roadways in the northeast are all intended to demoralize people. As are the President's statements that his lawyers will get right to work as soon as the polls close in Pennsylvania on Tuesday night. And the statements by deadbeat dad and ambulatory thumb Jason Miller on ABC's Sunday news talk show this morning. The ever more bizarre attempts to smear VP Biden with ever wilder and more bizarre allegations about his surviving son by Giuliani, Bannon, Don Jr., Guo Wengui's network, and others are intended to demoralize you.
Just as the President's, his surrogates', and his supporters' attempts to make it so that nothing is true, therefore anything, everything, and nothing is possible are intended to demoralize, so too are the activities, actions, and statements heading into election day. And regardless of the outcome of the election, whether they are able to make projections and calls early or whether it takes several days because things seem close on Tuesday and we have to wait for the ballots to be counted, the attempts to demoralize will continue through January 20, 2021. The President, his campaign, the Republican Party, the now clearly misnamed conservative movement, the President's surrogates, and the President's supporters want you demoralized. They want you on edge. They want you scared. Because they want the demoralization and the fear to immobilize you.
The political science PhD part of me, in line with Charlie Cook's projections, looks at the data and information we have and recognizes the high probability that VP Biden wins without much difficult and the Democrats are able to achieve a 52 seat Senate majority. The low intensity warfare professional in me looks at what's going on and is exceedingly concerned regardless of what happens on Tuesday.
Things are going to be unsettled, uncomfortable, unpleasant, and dangerous no matter what happens on Tuesday night. Especially if what the data tells us is going to happen happens and VP Biden wins. The President, his key subordinates in his administration, in Congress, on the Federal courts, in state governments, his surrogates, and his supporters will ramp up their destructive rhetoric and, in some cases, behavior. Not because it will somehow undo the results of the election, but because in reality they actually hate America; especially the real promise and ideals of America. Just as they hate the vast majority of Americans. And if they can't control America and rule it and over the vast majority of Americans, then they'll try to see it damaged so no one else can.
I know the next 120 hours, the next five days, is going to seem like an eternity. An eternity fraught with danger and full of stress. But they only win if we actually become demoralized. America doesn't belong to them. They don't own it. They don't get to control it. And they don't get to rule it or anyone in it.
So compartmentalize. Do whatever you have to do for self care. And keep doing whatever you've been doing to make sure everyone you know is voting and everyone they know is voting.
Edited To Add (ETA) 9:25 PM EST:
I just want to add one comment within the body of the post. Everyone needs to stop freaking out and knee jerking about which demographic is turning out in which ways for Biden versus 2016 or 2012 or 2008. The coalition that VP Biden has built, as well as that has coalesced around him, is not a recreation of President Obama's 2008 or 2012 coalitions. Nor is it an attempt to recreate Secretary Clinton's 2016 coalition and then expand it in the demographics that underperformed for her vis a vis for President Obama in 2008 and 2012. Rather, the coalition that VP Biden built was, as I forecast back in January 2019, initially from the left through to the center. With the addition of the NeverTrumpers, whether former Republicans or Republicans who recognize the threat that the Republic is in and are doing the right thing by crossing over and supporting VP Biden's candidacy, and VP Biden's ability to pull in non-college educated more rural and blue collar whites, especially white men, tells us something important. What VP Biden has built in terms of an electoral coalition is, for all intents and purposes, a national unity coalition. It now runs from the left anchored by Senator Sanders and all but his most rabid supporters all the way out to the center right with a number of Republicans for Biden, The Lincoln Project folks and their supporters, and at least half of the National Security Leaders for Biden*. This is something almost unseen in modern American political history. And it is important to remember just how broad, wide, and deep VP Biden's coalition is when you see, hear, and/or read reporting on some proportion of what would normally be a Democratic demographic not turning out in the numbers like they did in 2016, 2012, or 2008. So don't freak out. Realize just what the Biden coalition is and what it represents.
Open thread!
* Full disclosure: I am advising one of the original 3 star (lieutenant general) signatories of the National Security Leaders for Biden letter. I served as his senior civilian advisor before he retired and have been providing political, strategy, and policy analysis to him since early in the summer. This is a voluntary service, I am not being paid.