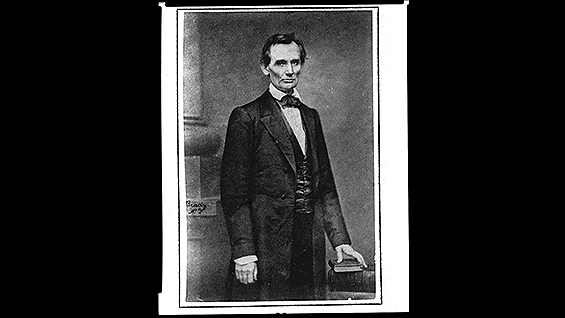 (Abraham Lincoln Before His Speech at The Cooper Union)
On 27 February 1860 a not yet president Abraham Lincoln delivered his Cooper Union address. Lincoln recognized that the problems the Republic was facing, specifically the people behind the problems the Republic was facing, had not suddenly popped up between the mid 1830s and the 1860s. Rather, these people had been with Americans since before the founding attaching themselves to one faction or party and then another to try to achieve their objectives. And those objectives had little to do with the grand ideals of the Constitution that they then, and their ideological and political descendants today, love to quote while they use it as a shield to deflect responsibility from their actions and a club to bludgeon anyone and everyone that disagrees with them. Those objectives then, just as they are now, had nothing to do with providing for the common defense or securing the blessings of liberty or promoting the general welfare. Then, like today, and like their attempts to overthrow our self governing democratic-republic in the 1930s by subverting FDR's presidency, was solely about greed, about self enrichment by stealing from the public treasury, from every American and every American's hard work. Lincoln, clear eyed, had them sized up (emphasis mine):
But you say you are conservative – eminently conservative – while we are revolutionary, destructive, or something of the sort. What is conservatism? Is it not adherence to the old and tried, against the new and untried? We stick to, contend for, the identical old policy on the point in controversy which was adopted by "our fathers who framed the Government under which we live;" while you with one accord reject, and scout, and spit upon that old policy, and insist upon substituting something new. True, you disagree among yourselves as to what that substitute shall be. You are divided on new propositions and plans, but you are unanimous in rejecting and denouncing the old policy of the fathers.

Not one of all your various plans can show a precedent or an advocate in the century within which our Government originated. Consider, then, whether your claim of conservatism for yourselves, and your charge or destructiveness against us, are based on the most clear and stable foundations.

But you will break up the Union rather than submit to a denial of your Constitutional rights.

That has a somewhat reckless sound; but it would be palliated, if not fully justified, were we proposing, by the mere force of numbers, to deprive you of some right, plainly written down in the Constitution. But we are proposing no such thing.

Your purpose, then, plainly stated, is that you will destroy the Government, unless you be allowed to construe and enforce the Constitution as you please, on all points in dispute between you and us. You will rule or ruin in all events.

This, plainly stated, is your language. Perhaps you will say the Supreme Court has decided the disputed Constitutional question in your favor. Not quite so. But waiving the lawyer's distinction between dictum and decision, the Court have decided the question for you in a sort of way.

Under all these circumstances, do you really feel yourselves justified to break up this Government unless such a court decision as yours is, shall be at once submitted to as a conclusive and final rule of political action? But you will not abide the election of a Republican president! In that supposed event, you say, you will destroy the Union; and then, you say, the great crime of having destroyed it will be upon us! That is cool. A highwayman holds a pistol to my ear, and mutters through his teeth, "Stand and deliver, or I shall kill you, and then you will be a murderer!"

To be sure, what the robber demanded of me – my money – was my own; and I had a clear right to keep it; but it was no more my own than my vote is my own; and the threat of death to me, to extort my money, and the threat of destruction to the Union, to extort my vote, can scarcely be distinguished in principle.

The question recurs, what will satisfy them? Simply this: We must not only let them alone, but we must somehow, convince them that we do let them alone.This, we know by experience, is no easy task. We have been so trying to convince them from the very beginning of our organization, but with no success. In all our platforms and speeches we have constantly protested our purpose to let them alone; but this has had no tendency to convince them. Alike unavailing to convince them, is the fact that they have never detected a man of us in any attempt to disturb them.

Silence will not be tolerated – we must place ourselves avowedly with them.
Rule or ruin. That was the crux of it in 1860.
It was the crux of it in 1933 when a group of ultra wealthy elites unhappy with how FDR was leading the US out of the depression sought to overthrow his presidency. The conspirators included Robert Sterling Clark, Grayson M. P. Murphy, and Prescott Bush among others. They conspired and attempted to recruit Marine Major General Smedley Darlington Butler to turn the membership of the American Legion into an insurgency. An insurgency that would allow them to force FDR to accept a co-president, appointed by the ultra wealthy conspirators, who would secretly run the US on their behalf while FDR served as a figurehead. Fortunately they miscalculated and picked the wrong Marine. Maj. Gen. Butler played it cool, collected the necessary information, and went right to Congress and then the news media in order to expose the plot.
It is the crux of it now in 2020. Rule or ruin! The President, Senator McConnell, the Republican majority caucus in the Senate, the Republican minority caucus in the House, their surrogates, what passes for an intelligentsia within the conservative movement, the ultra wealthy donors like the Mercers, the Kochs, the DeVoses, the Uhliens, the Popes, the Thiels, the Zuckerbergs, and many, many, many others who now, like in 1860 and 1933, seek to enrich themselves at everyone else's expense.
They seek to rule or ruin. It is all they have ever sought. They don't care about party, when they finish consuming and using up what's left of the Republican Party they'll attach themselves to another party. Just as they abandoned the Democratic Party and attached themselves like the parasites they are to the Republican Party during the Civil Rights era of the 1960s when it became clear that they could no longer achieve their goals through the Democratic Party. All they care about is ruling or ruining. They don't care about the ordered liberty, civic rights and responsibilities, and individual rights and responsibilities that animated the founders and framers. They don't actually care about the Constitution or what it means. They don't actually care about America and its ideals, the actual promise of those ideals, and the charge laid upon us all by the founders and framers to create a more perfect union. They certainly don't care about providing for the common defense, securing the blessings of liberty, and promoting the general welfare. They don't actually care about America or Americans except insofar as they can use America to protect themselves, their property, and their wealth and they can exploit every other American to further enrich themselves. If they cannot rule, then they will always seek to ruin.
Lincoln was clear eyed as to who they were and what they were about in 1860. As we go into election day tomorrow, even if you've already cast your vote by mail or in person during early voting, we need to be as clear eyed as Lincoln to the threat they pose to the Republic and recognize that voting tomorrow to disempower these anti-American wreckers is just the first step in a centuries long war for not just control of, but for the soul of, America.
Open thread!