On the Road is a weekday feature spotlighting reader photo submissions.
From the exotic to the familiar, whether you're traveling or in your own backyard, we would love to see the world through your eyes.
Albatrossity in Scotland
Our final days in Scotland were spent near Edinburgh, although we didn't get into the city since there was some large festival going on at the time and it seemed to be a zoo. On the way down to Edinburgh from Aberdeen we stopped and visited an ancestral site. My great-grandfather was born there, but when he was a young man in the mid 19th century, he emigrated to America. We shared a first name as well. My cousin,who is a dedicated family genealogist, researched the records and found the home site near Kinross in Perthshire. So we were armed with a map, and we proceeded to seek out that site and get some pictures to send to the rest of the family.
The ancestral estate name apparently dates back to the 1300's, when the name was spelled Rentowle. What was left at the time we visited was a run-down barn and a sealed up two-story house. It is not clear if my great grandfather was born in this structure, but he was baptized in Orwell Parish in Milnathort, about three miles east of this site. A look at the most recent Google Earth images (from June 2018 and March 2020) would indicate that these structures have been leveled and something else is being constructed on the site.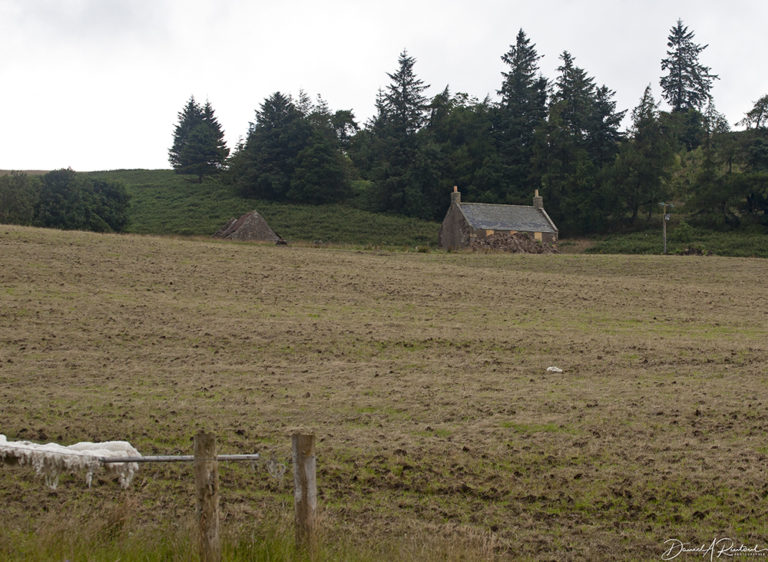 Near Kinross
August 3, 2008
House and barn as seen from the road,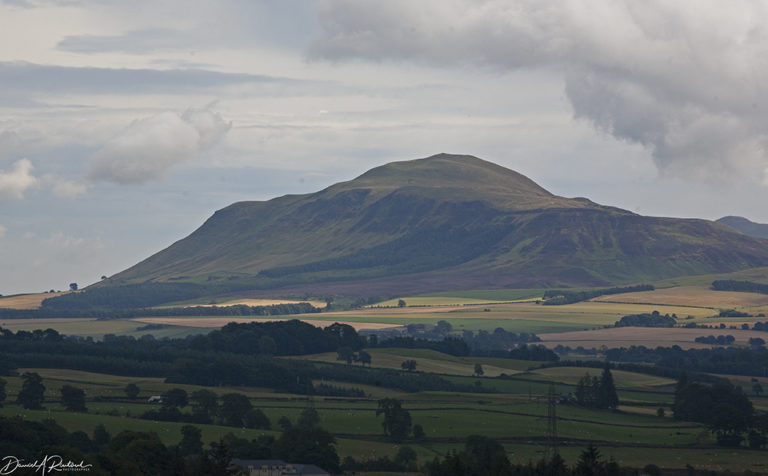 Near Kinross
August 3, 2008
This is the view to the east from the house; it would seem to be a lovely prospect, even on a rainy on-again, off-again day.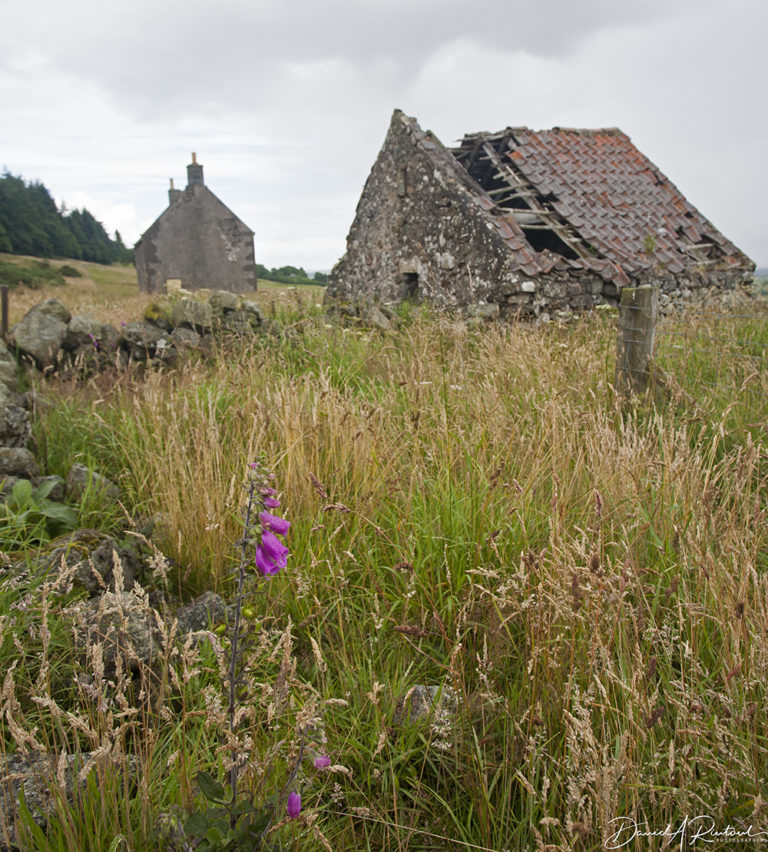 Near Kinross
August 3, 2008
It was, of course, lightly raining when we walked up the hill to the site, so we ducked into the barn to shelter under what was left of the roof. A Barn Owl fled the premises as we entered. An omen, if we only knew what it meant!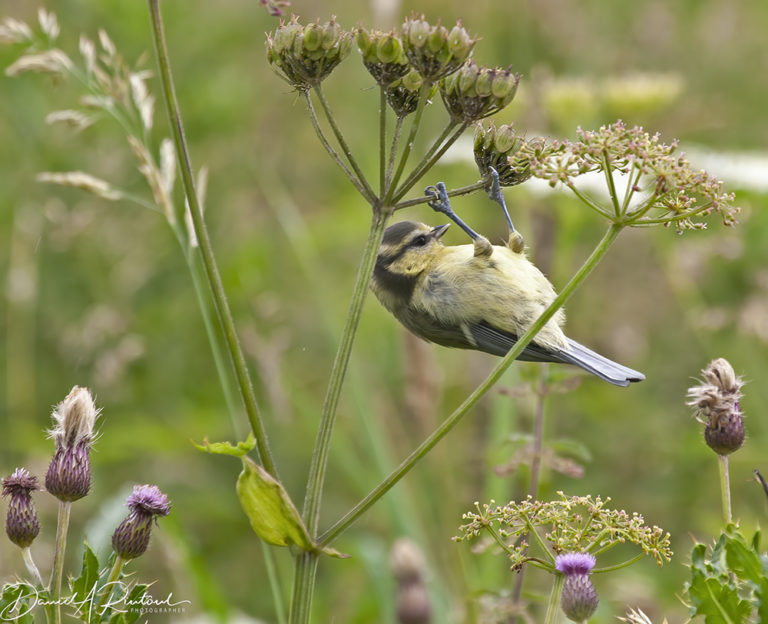 Near Kinross
August 3, 2008
This is a common bird in the UK, a Blue Tit (Cyanistes caeruleus), which was feeding unconcernedly in the grassy area near the house.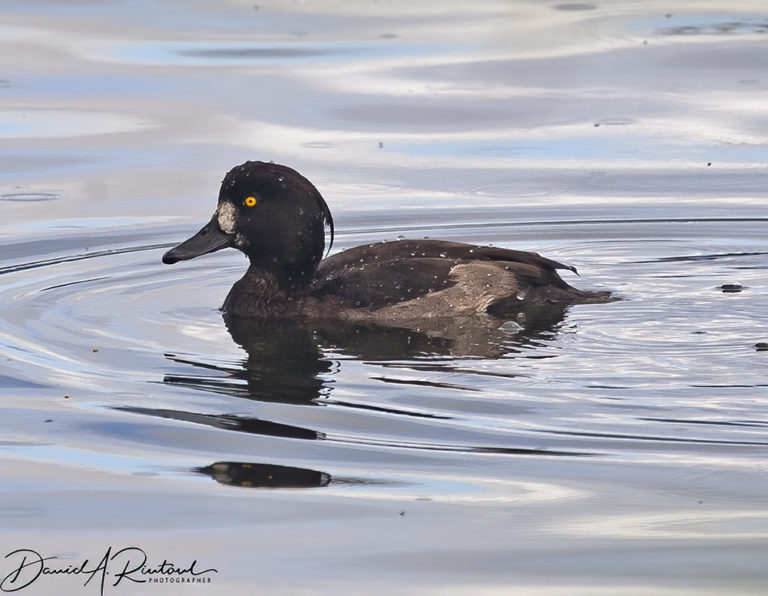 Near Kinross
August 3, 2008
At nearby Kinross we ate lunch (Elizabeth had a hamburger which, in typical Scottish fashion, seemed to have been fried, then boiled, and then left to harden into proper hockey-puck consistency somewhere overnight) and then visited a local lakeside trail, The lake (Loch Leven) was full of waterfowl and herons, including this Tufted Duck (Aythya fuligula). This species finds its way to the coastal states of North America, but is very rare in the interior, so I was happy to study it and photograph it for a while.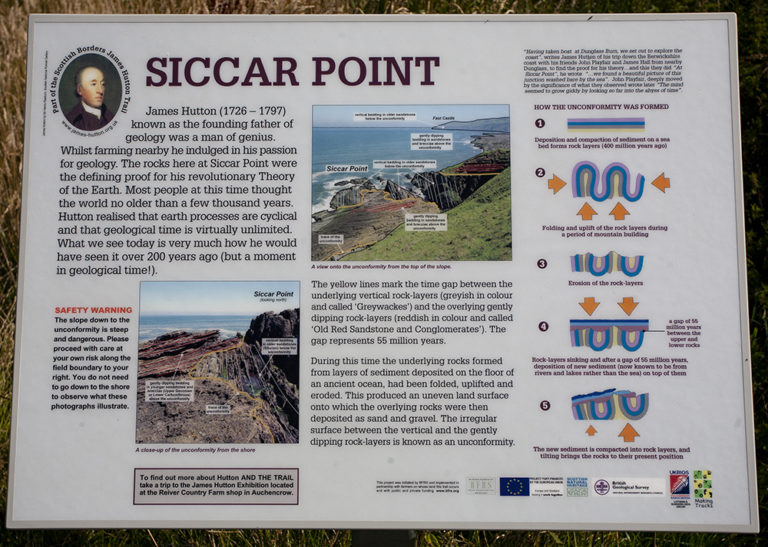 Siccar Point
August 4, 2008
On our last day in Scotland we visited another site that is a must-see for any visiting scientist, Hutton's Uncomformity, on the shore of the North Sea south of Edinburgh. This is often referred to as the Birthplace of Modern Geology, and that is accurate. The juxtaposition of the rocks at this site convinced James Hutton (and subsequent generations of geologists) that the earth was far older than a few thousand years. This realization allowed Darwin, a few decades later, to formulate and support his Theory of Evolution.
The site is not well marked, and we made several false starts before we found it. The parking area from which one hikes to the site is behind a turnip canning plant, which was dutifully processing many turnips on the day of our visit. From there one hikes across a couple of pastures with resident cows and sheep, to reach this sign.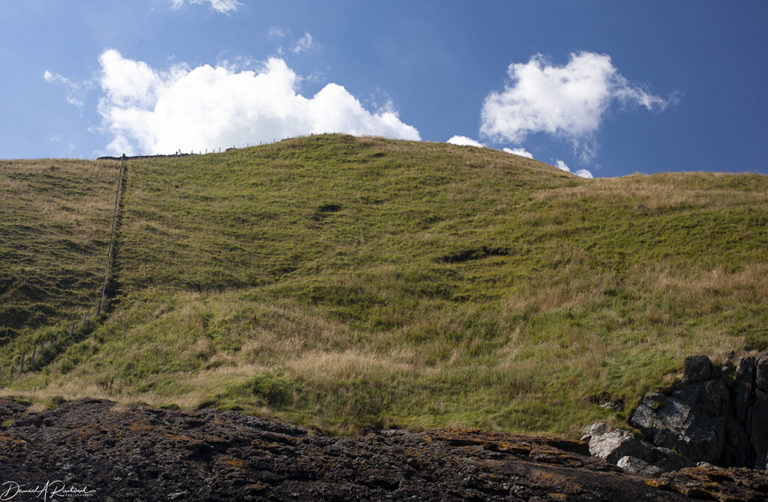 Siccar Point
August 4, 2008
The slope from the pastures to the unconformity was steep and littered with sheep poo. This is the view back uphill from the seaside.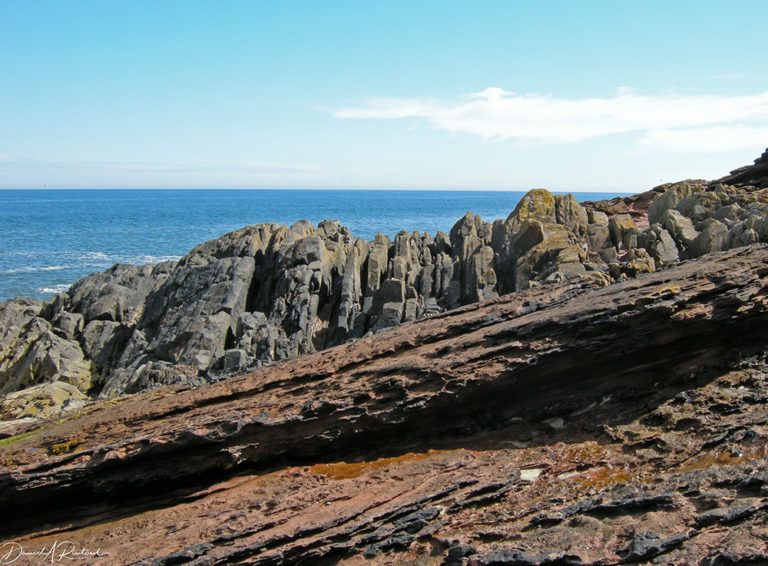 Hutton's Unconformity
August 4, 2008
The Unconformity itself.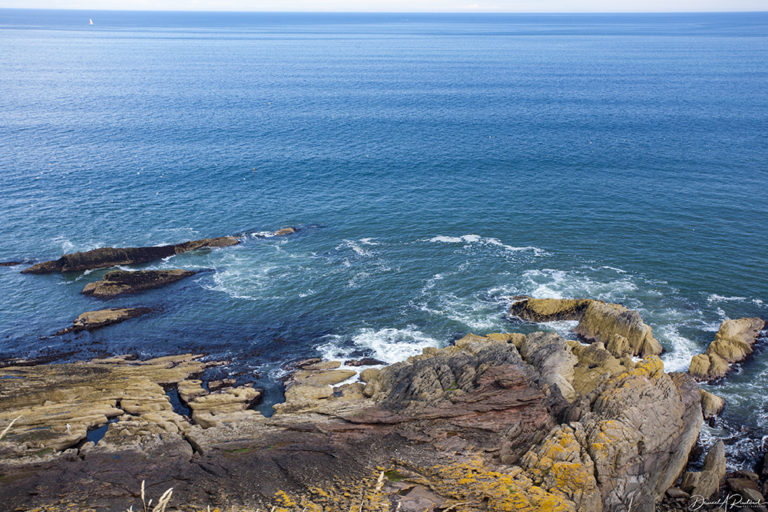 Siccar Point
August 4, 2008
It was a glorious blue-sky day for our visit, and so after paying my respects to the rocks, I heaved myself back up the hill and got this shot of the rocks, the North Sea, and a miniature Elizabeth still exploring the rocks and tide pools. A most wonderful end to our time in Scotland.