On the Road is a weekday feature spotlighting reader photo submissions.
From the exotic to the familiar, whether you're traveling or in your own backyard, we would love to see the world through your eyes.
Ceci n est pas mon nym
I mentioned in an earlier On-The-Road that Milan is a favorite destination in Italy both for its own attractions (it is the home of Leonardo Da Vinci's Last Supper) and the fact that it's a convenient jumping-off place for other locations.
This post features two of those locations, both originally picked while we were in Milan by looking at local maps and saying "that doesn't look too far, let's see if there's a train". And both have become favorite destinations in themselves: Como, located on Lake Como, and Lugano, located just over the border in Switzerland, in the Italian-speaking canton of Ticino.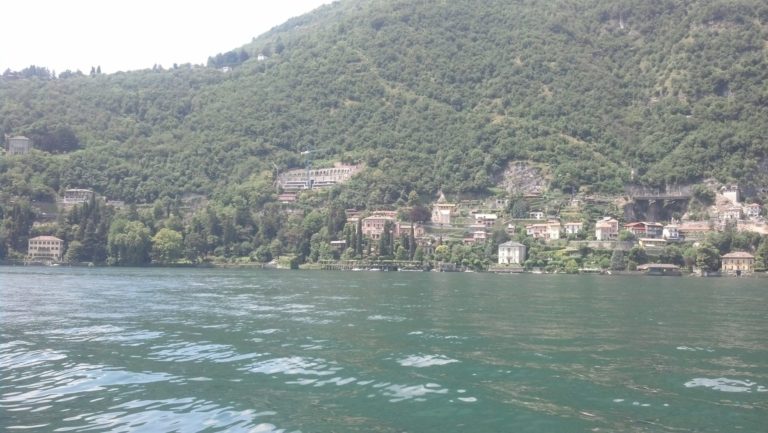 Lake Como, Italy
Como is an ancient city dating back to Roman times. The city of Novum Comum was founded by Julius Caesar in 59 BCE. Two famous writers, Pliny the Elder and his nephew Pliny the Younger, were born and lived here. Since the 15th century it has been famous as a center of the silk industry. If you own silk neckties, they may very well be marked "Setta di Como (Como Silk)".
The first time we came here, a guidebook we had bought told us there was basically nothing there and no reason to hang around, and that you should go to one of the other lakeside towns like Bellagio. Being kind of anti-tourists, we were delighted to read that.
On a later trip a local asked if we were there because of George Clooney. Puzzled, we asked for an explanation and he told us that they were getting a lot of Americans lately because George Clooney had famously bought a villa on the lake, at Laglio. Still, it hasn't been very much overrun, and though there are American tour groups, you hear a wide mix of languages on the streets and it still has that quiet, slow-paced feeling.
This is a view of Lago di Como (Lake Como) from a tour boat. It might be of Bellagio, I don't recall. I believe those mountains in the background are the beginning of the Alps and our other destination, Lugano, is just over the mountains on the next lake over.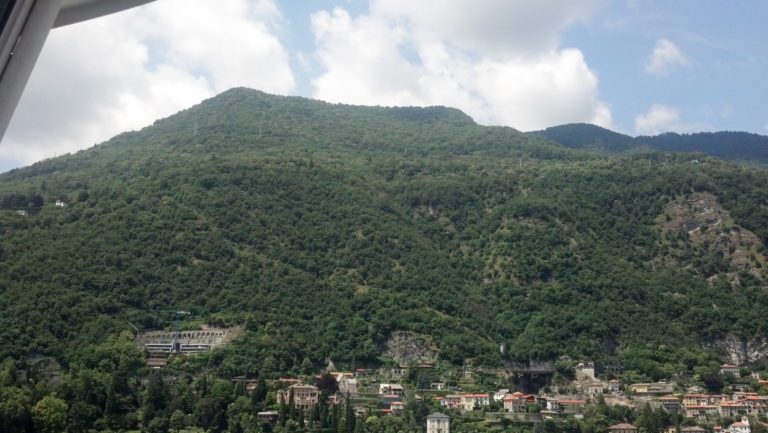 Lake Como, Italy
Another view from Lake Como. I believe that this is showing a Roman aqueduct, the stone structure visible in the lower left above the modern building.
I love seeing ancient buildings, but I find that I'm somehow more interested in them when they are like this, in the middle of modern construction rather than stand-alone ruins. Something I love about Italy is that you will come across buildings that have incorporated Roman construction, like a wall whose lower half dates back to the Romans.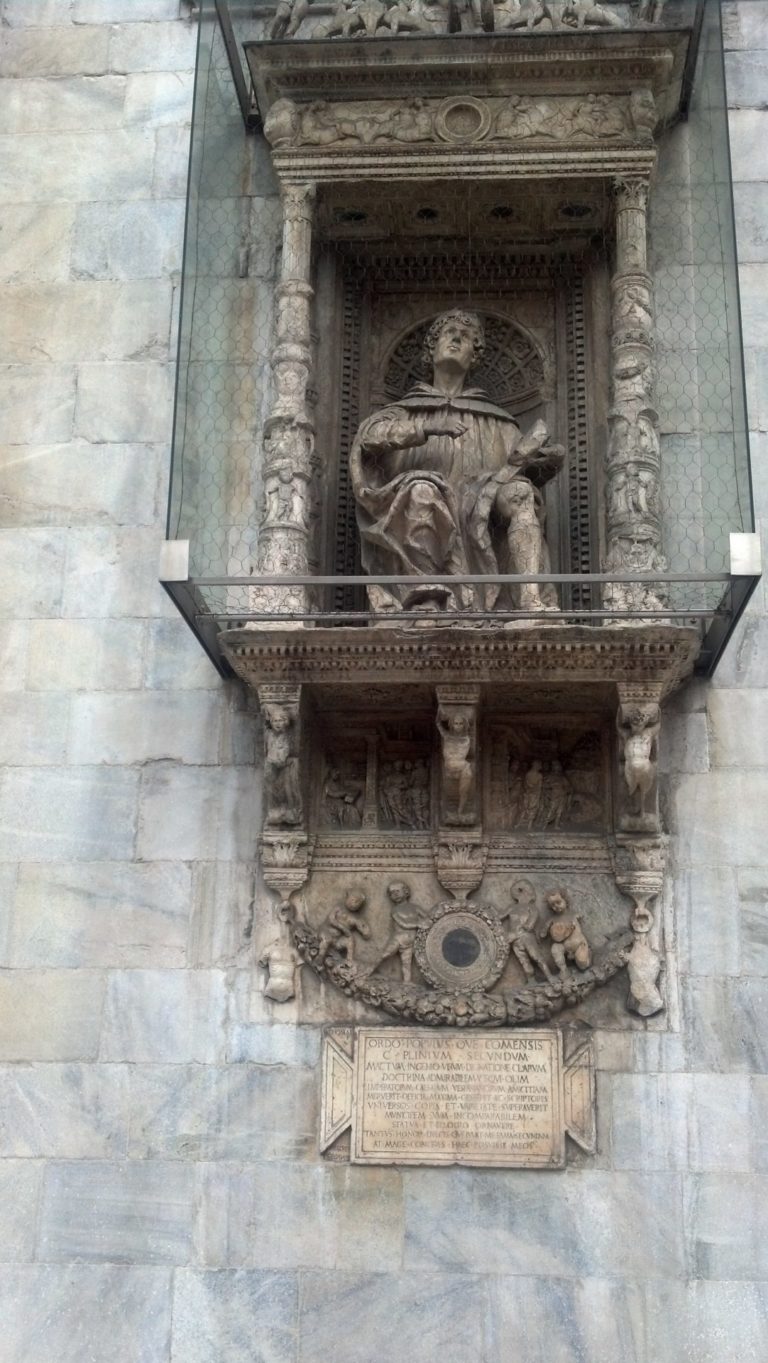 Duomo di Como, Como, Italy
Two famous Roman authors, Pliny the Younger and his uncle, Pliny the Elder, were born in Como, the Elder in 24 CE and the Younger in 61 CE. This is the statue of Pliny the Elder that is on the Duomo di Como, the main Cathedral of Como. A companion sculpture of Pliny the Younger is on the other side of the door. The elder Pliny died in Pompeii during the eruption of Vesuvius in 79 CE, and his nephew who survived the eruption wrote an eyewitness account.
Construction of this cathedral dates back to 1396.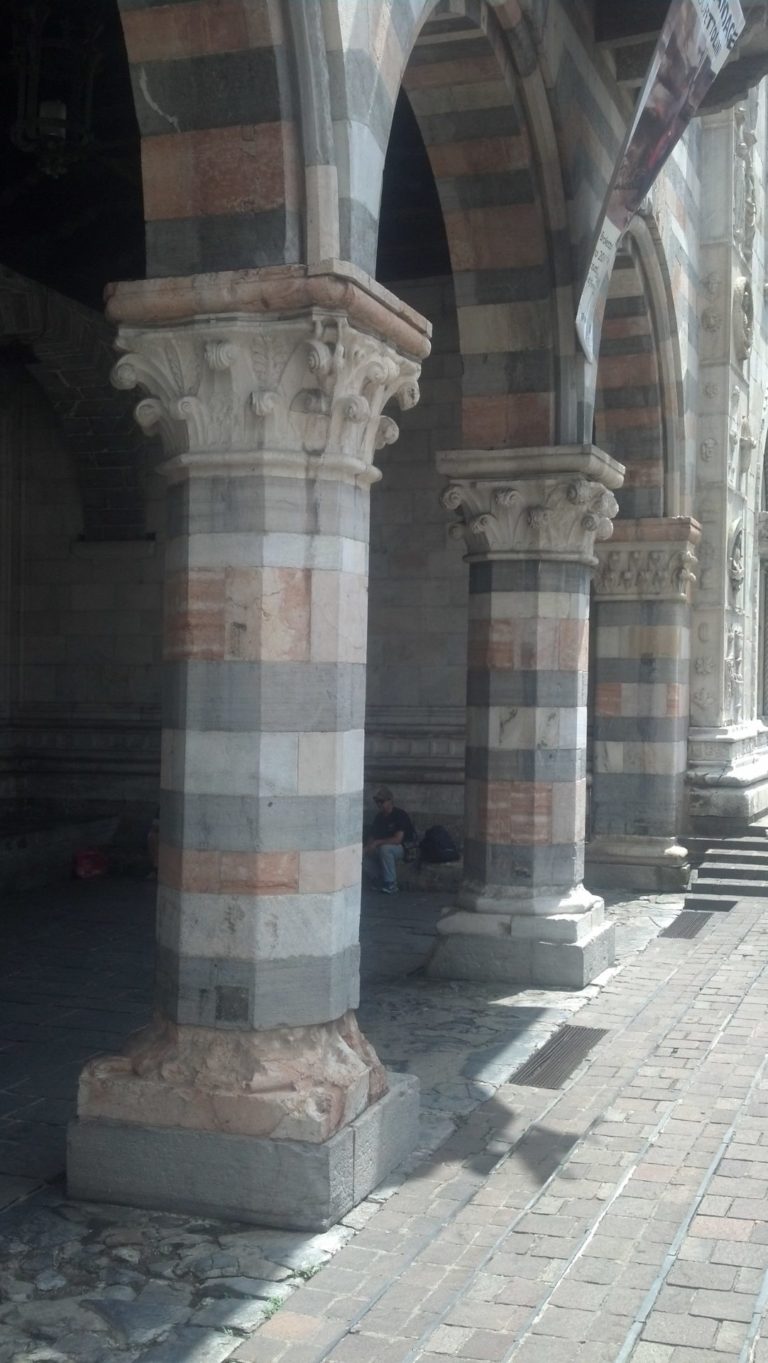 Como, Italy
This is a building called the Broletto or Town Hall in Como, dating back to medieval times. I was fascinated with the multi-color stone construction. I'm sure somebody more knowledgeable than me about architecture would be able to say something more intelligent about that style.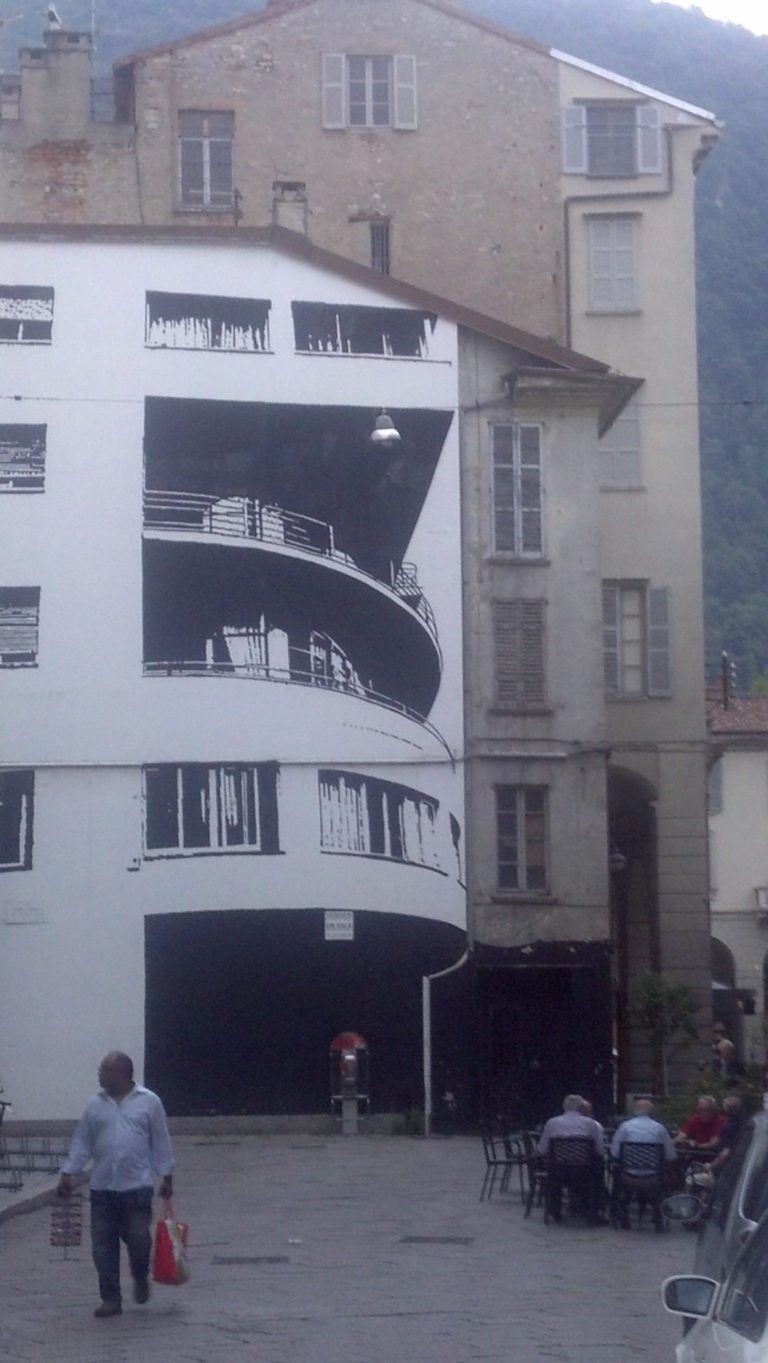 Como, Italy
I loved this trompe l'oiel mural. Look closely. There is no balcony. That is a flat wall.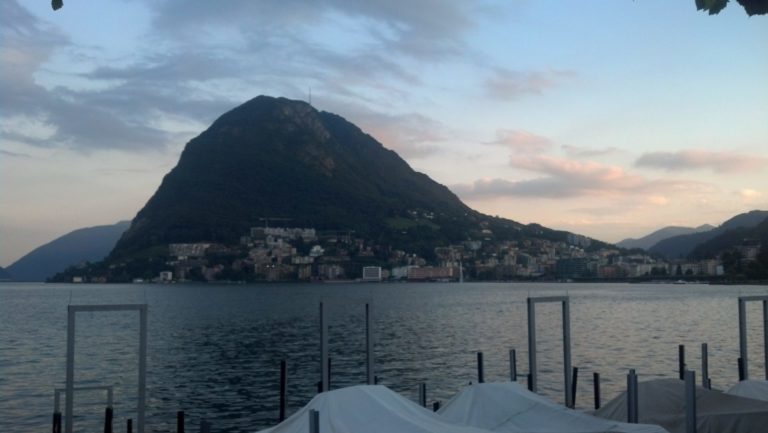 Lake front, Lugano, Switzerland
And now on to Switzerland. Lugano is a short distance north of Milan, located in the Italian-speaking Ticino canton of Switzerland. The train ride from Milan to Lugano is about an hour and a quarter. While it's geographically very close and very similar to the area around Como (the next lake over to the northwest from Lake Como), there is something unmistakably Swiss about the scenery. You're riding the train through the mountains and all of a sudden the buildings and the gorgeous lake views just scream "Switzerland!" It's truly breathtaking.
The train arrives high up on a hillside above the town, overlooking Lake Lugano. You can then walk down the streets into town or take a cable car. That takes you to the water front, which has this view of the Lake.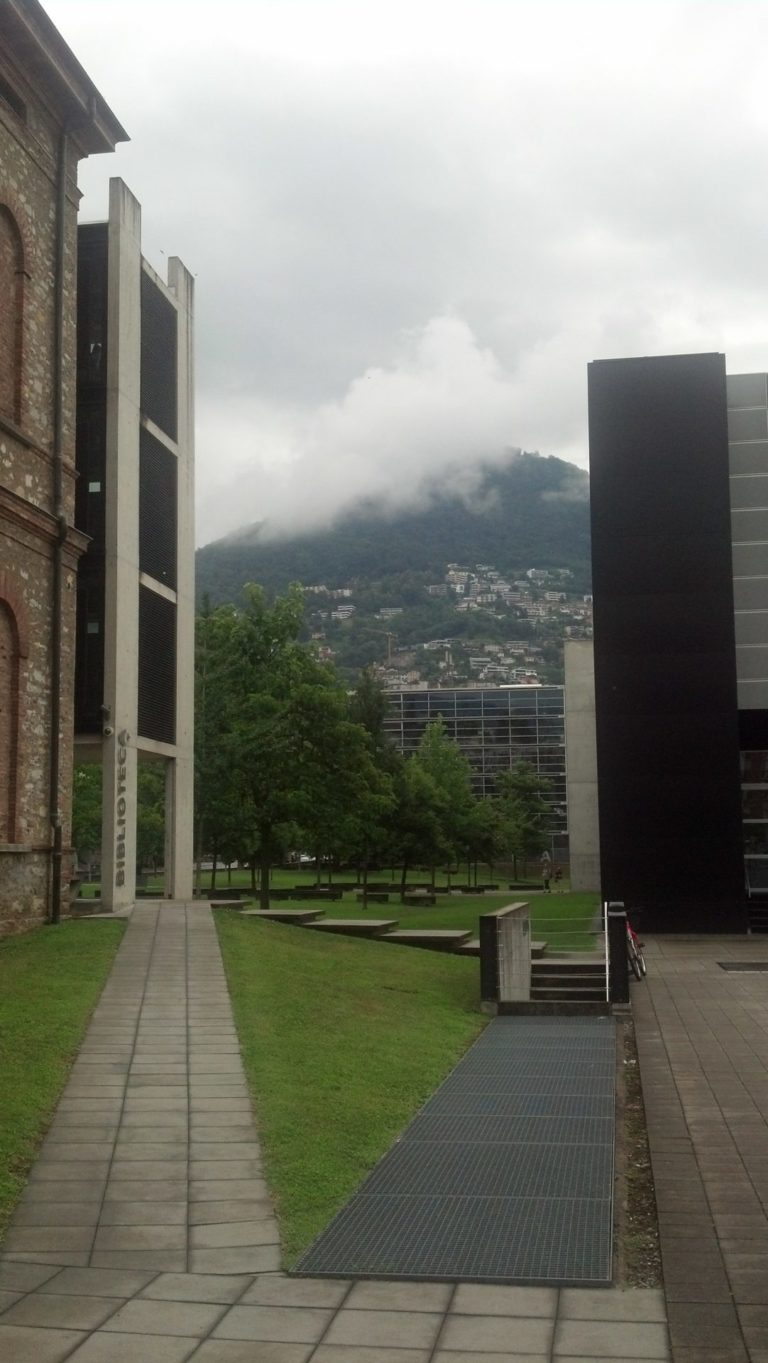 University of Lugano, Lugano, Switzerland
I thought you might be tired of looking at waterfronts, so here is a view of the University of Lugano, showing the library (Biblioteca). What a great place to go to college!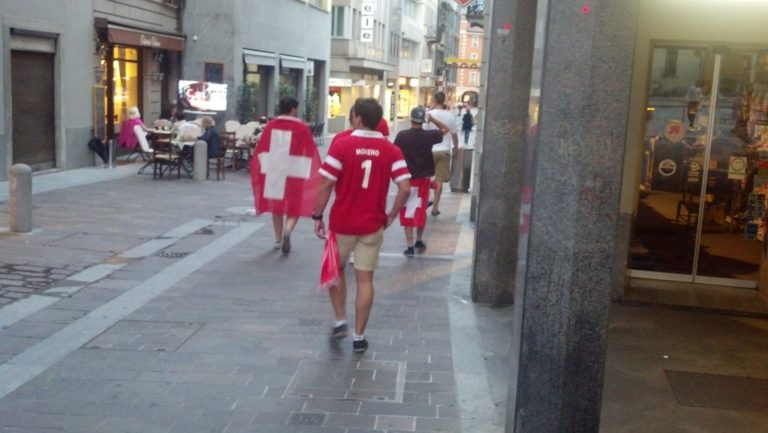 Lugano, Switzerland
My last shot: Some Swiss soccer fans. We have had a habit of being in European cities not only during a World Cup or Euro Cup, but of unknowingly choosing host cities.
Checking the records, it seems World Cup 2014 was in Brazil so we missed the city at least. We seem to have arrived in Lugano just as Switzerland was defeating Honduras 3-0 to advance to the round of 16.