On the Road is a weekday feature spotlighting reader photo submissions.
From the exotic to the familiar, whether you're traveling or in your own backyard, we would love to see the world through your eyes.
BigJimSlade
No, not dancing crowds, but you can find plenty of those… My wife and I hike every Saturday morning, but there were going to be some passing showers right at hiking time. (We haven't had rain in LA in FOREVAAAR!) So we waited an extra hour… and that's when it was announced that BIDEN had WON! WoooHooo!!! :-) My wife said that the rain we got felt like it was washing us clean of that future Rikers Island resident, Hair Furor.
As an added bonus, we had actual weather! For 6 months in LA, most days look pretty much the same, either clear but hazy, or we have some overcast, too. So when big cauliflower clouds come through it is such a treat for the eyes. (We get so many high clouds here, when I moved to Boston for a while I was astounded at how close the clouds seemed – you could just reach up and grab them!)
Some of this hike is along the same trail that I posted pictures from at the beginning of the pandemic when we were asked to post pictures from our walks. We couldn't see Mt. Baldy today. (And the trail we did today was the same one we did on the day when the lockdown was announced – we were an hour into the hike when we found out that the trails were now closed.) On a side note, hikes go much faster and easier when it's in the upper 50s, instead of uppers 70s into the 80s, it was a joy to go 9 miles.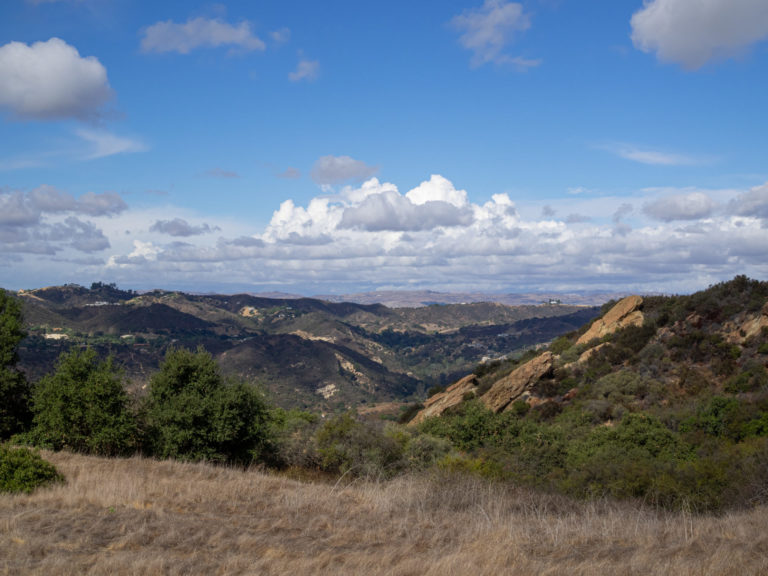 PACIFIC PALISADES
November 7, 2020
This is in Topanga between Trippet Ranch and Eagle Rock (the rock, not the community about 15 miles away), looking across the Santa Monica Mountains towards and over the valley.
November 7, 2020
In November there are only a few flowers left around on some small scraggly plants, but I always keep an eye peeled for them.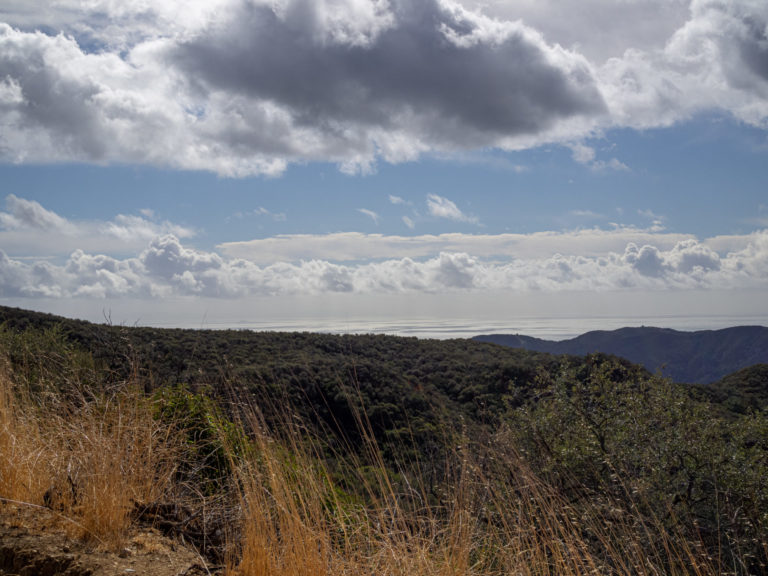 November 7, 2020
This is looking out towards where Sunset Boulevard hits the Pacific Coast Highway and the Santa Monica Bay.

November 7, 2020
Looking east along the Santa Monica Mountains with the Los Angeles basin on the right. Downtown is in the background in the mid-right.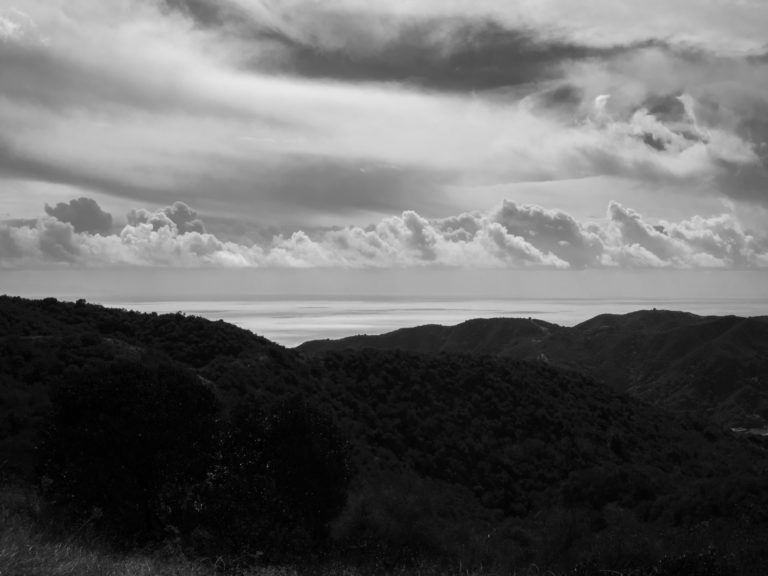 November 7, 2020
Looking out towards Santa Monica Bay, I went black and white with this one for a little drama.
November 7, 2020
Similar shot, but a little further down the trail, and I left it in color.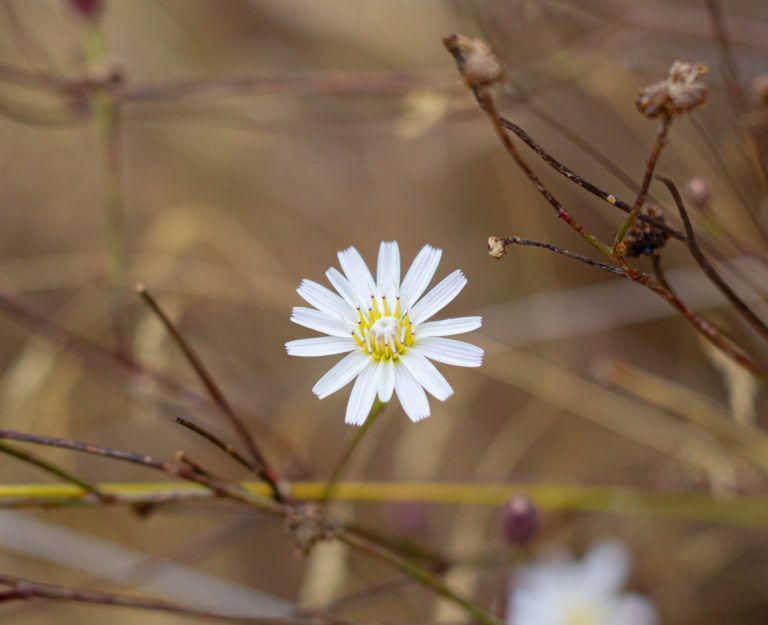 November 7, 2020
A little dandelion sort of thing – perhaps the most reliable flower around here. They have some great details. I took my first good flower picture of one of these things.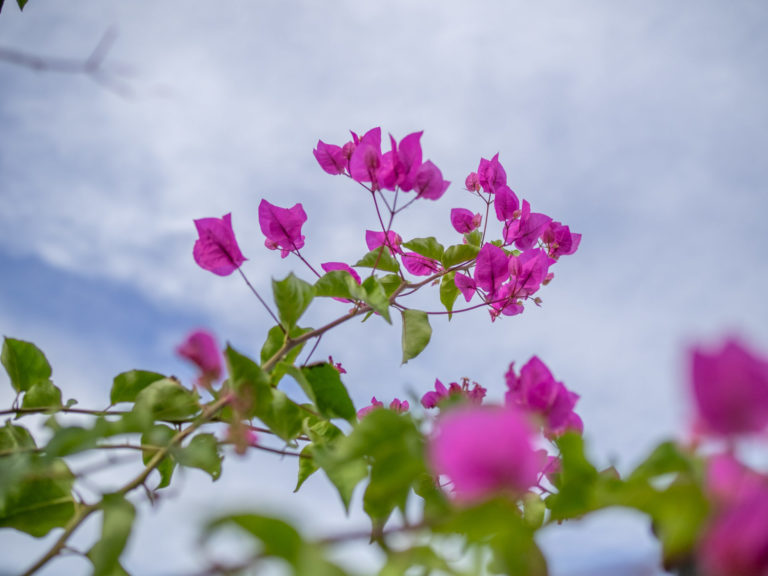 November 7, 2020
Coming back into the neighborhood we came across some bougainvillea reaching for the sky.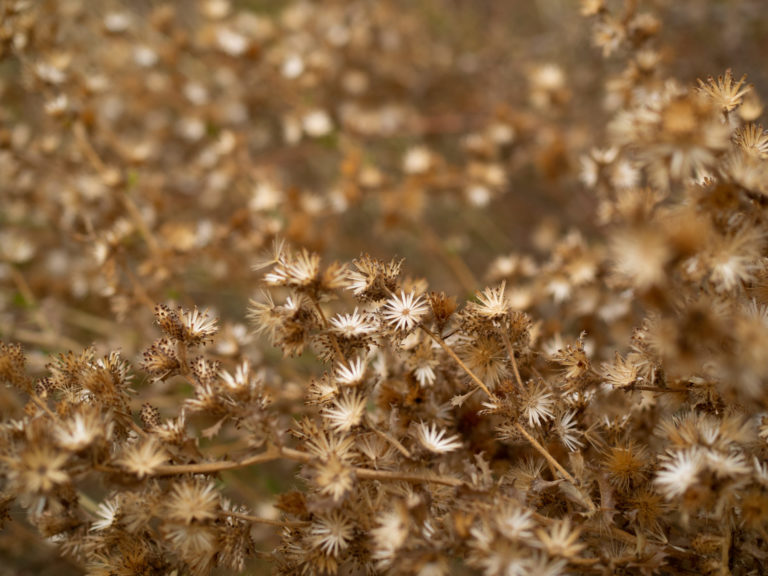 November 7, 2020
Hey, ex-flowers count, too.