There was discussion on Balloon Juice earlier this week of how/why the Republican vote was as high as it was this year, and there was some speculation about whether less in-person contact because of COVID might have played a pivotal role, since Republicans registered a surprisingly high number of new voters and had a much higher turnout than expected.  There was talk of whether we should be organizing all the time, not just for elections.
We talked of the amazing organizing by Stacey Abrams and Fair Fight, and also mentioned  some of the other groups besides Fair Fight that helped deliver the victory in Georgia.  The promised post on those Georgia groups will be later this week.
✨  Tonight I thought we could talk about some other organizing heroes – this time in Wisconsin!
It seems like months ago, but it was only 3 weeks ago that we had this Balloon Juice post: Wisconsin: Tireless, Persistent, Tenacious, Dogged, Determined Efforts To Bring It Home.  Now for some follow-up.
Kudos to Omnes for his faith in Wisconsin this year.
We all know about the amazing job the Wisconsin Dems and Ben Wikler did.  Now let's look at Milwaukee, which played a pivotal role, boosted by BLOC, Souls to the Polls, and Voces de la Frontera Action.  

In Milwaukee, an inner-city group tackles a key Democratic need: Turning out black voters  (includes video)
Thirteen months before the next presidential election, national Democratic leaders are once again talking about black voter turnout. But in battleground states such as Wisconsin, Pennsylvania and Michigan — which all flipped to vote for Trump after decades of backing the Democratic presidential nominee — the task of doing something about it has often fallen on local activists such as Lang.

With the help of local lawmakers and union organizers, Lang launched Black Leaders Organizing for Communities (BLOC) in November 2017 to focus on voters in Milwaukee's most impoverished neighborhoods, places where paid canvassers for campaigns often don't go because they deem it too dangerous or because many residents, with criminal records, are not eligible to vote. Persuading those who are eligible to participate in elections often requires addressing decades of neglect.
Read the whole thing when you get a chance.  We have a lot to learn!
✨
VidaLoca, an activist from Milwaukee and a volunteer with Voces de la Frontera Action was kind enough to send me an inspirational article about their role in the Wisconsin win.  But first – some of the faces that helped bring in the win for all of us.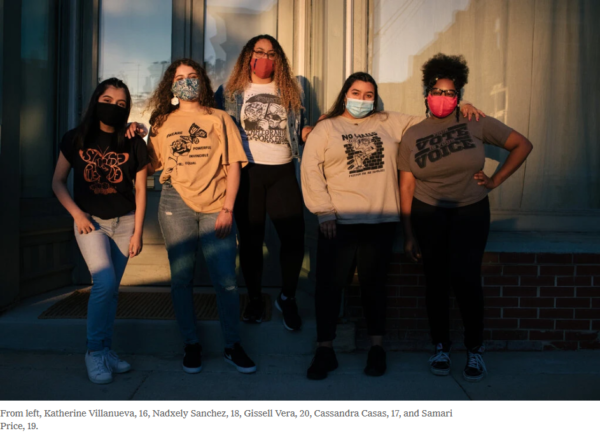 In Wisconsin, Latinx & Multiracial Voters Play Crucial Role in Delivering Biden/Harris Win
A lot of the article is worth quoting, but I don't want to make this too long, so I'll include some snippets and hope you read the whole thing, either now or later.  From their press release (bolding mine):
MILWAUKEE – Voces de la Frontera Action (VDLFA) is proud to have galvanized a strong voting network of nearly 20,000, including new and infrequent Latinx and multiracial youth voters, to help deliver Wisconsin for the Biden/Harris ticket, and seven state Assembly and state Senate candidates. This is a historic win that centers around unity and cooperation instead of division and hatred.

The multi-prong grassroots voter outreach of VDLFA demonstrates the importance of year-round and relational organizing.

Wisconsin experienced an impressive turnout of * 74% of Latinx voters – and 77% voted for Joe Biden.  That's 135,000 people. *(preliminary numbers; actual numbers may not be that high, but still an impressive turnout)

VDFLA contacted more than 100,000 Latinx voters, and close to 60,000 voters who had either never voted or had only voted a few times in the last three elections.

Phone calls and texting : Over 765,000 calls to more than 200,000 potential voters were made. The electoral team had more than 26,000 conversations with potential voters.
Door-to-door canvassing: Electoral team knocked on over 56,000 doors during more than 780 canvassing shifts in 4 cities across the state, targeting heavily Latinx wards.
Media campaign:  VDLFA along with its national partners, Win Justice and People for the American Way (PFAW) , invested more than $800,000 in both English-and-Spanish -language television, radio and digital ads, in Milwaukee & Racine Counties, Brown County, Dane County,  and outreach  targeting rural areas of Walworth County, Manitowoc County, and Trempealeau County.

The key takeaway from VDLFA's electoral organizing work is that mobilizing people of color voters who are not easily targeted by a traditional voter model requires starting early and building from grassroots relational organizing based in community relationships. Short-term transactional voter-mobilization is not an effective model and rooted permanence in the community matters.
VidaLoca plans to be in the comments, so I hope she will speak to their experiences organizing this year, to this map, to how segregated Milwauke is (apparently the most segregated city in the country) and how that impacts organizing, and, well, probably everything!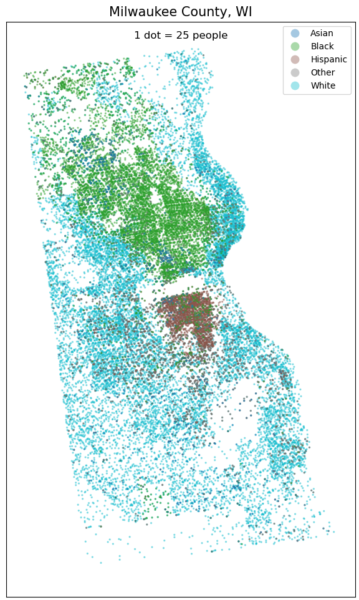 Open thread.