From our resident cat-whisperer WereBear:
Who rescues whom?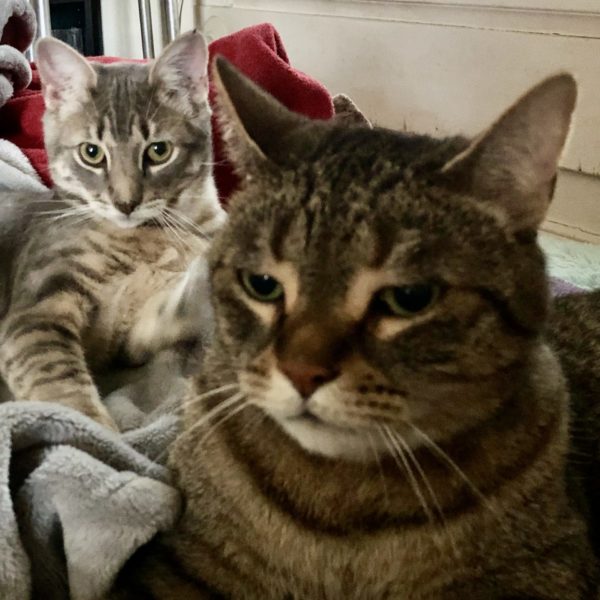 There's a common saying among rescue fans, expressed as, "Yes, they also rescued me." This is a heartwarming sentiment. Right now, we can't have too many of those.
In the span of my time in rescue, more-or-less my entire adult life, I have seen incredible advancement. I looked up some statistics to show how far.
When a lost, stray or abandoned pet entered an American city's animal shelter 10 years ago, there was a good chance it would not leave.

But in a quiet transformation, pet euthanasia rates have plummeted in big cities in recent years, falling more than 75 percent since 2009. A rescue, an adoption or a return to an owner or community is now a far likelier outcome, a shift that experts say has happened nationwide.

Why euthanasia rates at animal shelters have plummeted in US
Now my area has no-kill shelters. These have entirely replaced the old-style shelters, where unwanted animals were treated like garbage to be disposed of. This is, no question, a humanitarian advance.
We adopted pair-bonded kittens a little over a year ago. Their story illustrates these developments. They were rescued from a large feral colony, spent time in a foster home for socialization, and then displayed at my vet's office so more people could see them.
When I started in rescue, all of this was far less likely to happen at all. Best case scenario would have been a dedicated lone person whose home was already full. She might have been able to trap and neuter as she slowly shrank a colony humanely. The cuddly treasure, which is Bud Abbott and Lou Costello, would have stayed hidden.
These two kittens also created a rescue situation which was actually new to me. Unlike showing up at a local shelter because we had a slot open, we were already at four cats. Unlike a "me or a kill shelter" situation, these kittens had already been rescued, multiple times.
The danger was from the humane decision to keep pair-bonded cats together. I knew that was the right decision, even though it meant they would be highly likely to grow up in a cage. Their socialization gains would be dependent on a busy shelter making enough time for them. Waiting until someone was willing to go for the two-fer. With the additional gamble of the plea/warning of "they warm up fast." According to the sign on their cage.
I moved on the anticipation that they would be delightful, and so they were. Mr WayofCats was initially in the camp named Are-You-Out-Ofyereverloving-Mind?  But while coerced initially, he became a willing convert, within days.
He understood now. These were Magic Kittens.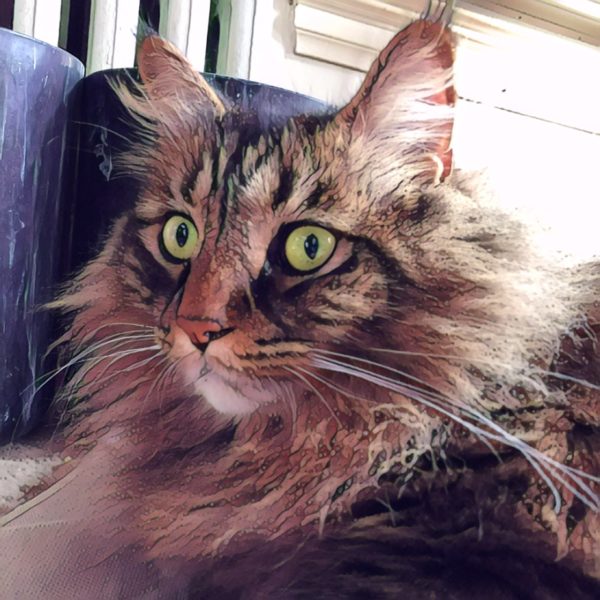 But what I didn't anticipate was how this move did not cause, but did accelerate, the regrettable and the inevitable. Which was the emergency re-homing of our other feral rescue, Mithrandir.
Looking back through my photo archives, I can see how the shy kitten transformed over six years. He slowly thawed into enjoying people. He quickly became eager to cuddle with our other cats. He evolved into utterly recovered-feral. To the point that he transformed into an Only Cat.
I did not see that one coming.
But I never argue with any cat's true destiny. Now I can see how our other cats gradually dropped out of his photos as he journeyed to a long-coming maturity. Big cats take much longer, so he didn't get off the train until the age of six. When he communicated his new status by turning into a bully of his former friends.
I thought he was just slow to adjust, due to his abundant Persian heritage, as seen in his mutant-sheep coat which required regular lion cuts. Once we realized how he was mean to the other cats when our back was turned, I was so shocked I got him an emergency vet visit. Working under the assumption that he had developed a neurological disorder.
Our long-time vet's diagnosis made it all clear. "I think you should rehome him as an Only Cat." Which we sadly did. I brought him up to date on everything medical that would make him utterly adoptable. Then I let the vet choose an emergency foster home.
Suddenly, a six-year relationship turned into an extraordinarily long fostering. Which, after all, did not fail. Someone is going to treasure the heck out of him. As we did.
The worst part is how we had to suddenly part ways. The good news is how we are all healing from the stress of Mithy's constant sadness. Everyone is now happily settled in Kitten Country. Except for our tortie, Olwyn. But she is coming along, recovering her appetite, and rebuilding.
We have a diplomatic envoy in the person of our actual failed foster, Sir Tristan (pictured at top) First Lord of Pickledish, Duke of Gherkin. He was found in a field at the age of three weeks. He has become our Teen Cat Mentor. Whether he likes it, or not. But he mostly likes it.
Like Reverend Jim, Olwyn, Tristan, Mithrandir, Bud, and Lou, we are all dependent on the kindness of strangers. That's how people become no longer strangers. By connecting to fight cruelty and injustice.
Linking together to build an unbreakable chain of rescue love. For any being who needs it.
That, of course, turns out to be… everyone.
———
The Way of Cats first book (yes, +Follow me to know when the next one is published) is available with the choice of paperback or Kindle.  Gift idea for the holidays! Get the paperback personalized and autographed.  Get fast help for stubborn cat problems with my guide, Cat 911: Fixing Their Care, in an instant-download PDF.  Visit the Way of Cats fun blog.
———
TaMara here – I love these missives from WereBear. And we can really use the respite. Sorry for the delay with this one, I actually received it right before the election, but things were so crazy I didn't want it to get lost.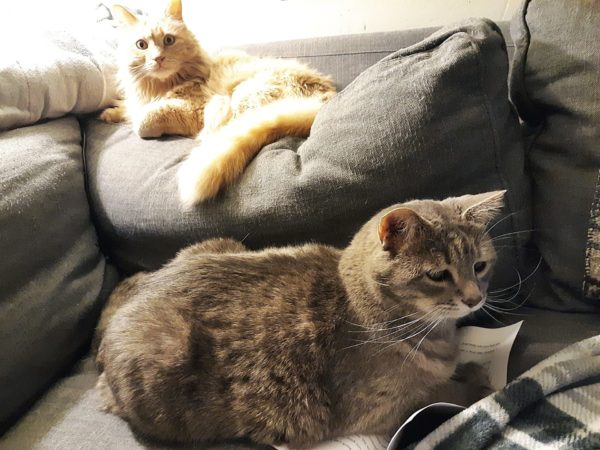 Someone asked about Gabe so here he is reviewing my latest chapter, while Zander looks on. He's been here two years Nov 2 and he is now a 4-year-old. I have to say it took him almost the full two years to decide this was home. He and Zander are inseparable and he adores his dogs, but it always felt like he was holding himself back, in case we were going to give up on him.  It was my first time having a rescue that took more than a few months to settle in, but that's okay, he had permission to have whatever journey he needed.
WereBear will be around for any cat questions…