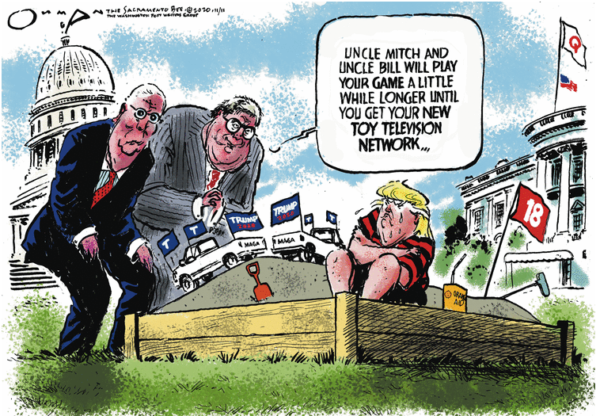 Odds are every one of these 'plans' is the random fantasizing of a defeated narcissist, but still: ROOTING FOR INJURIES.
this ends in tears but not for fox

— kilgore trout, four seasons appreciator (@KT_So_It_Goes) November 12, 2020
One p.s.:

Fox News could very easily reverse the situation by blowing smoke up Trump's ass about needing to "team up".

He'd just shift to saying he was "taking on corrupt mainstream media".

He doesn't care what the excuse is. He just needs one.

— The Hoarse Whisperer (@TheRealHoarse) November 13, 2020
Unsure who's going to win here because OOH, Murdoch is an infinitely better businessman but OTOH, what's Fox gonna do, tell its audience "So… that guy we've been telling you to believe over the rest of the world for years in the face of all evidence? About that…" https://t.co/v5XTFhGp9N

— Starfish Who Just Wants To Grill (@IRHotTakes) November 12, 2020
Thread, but I would add here: Most damaging thing Fox might do to him post-election is just *not engage with him.*

Right now, they have incentive to cover "Media/Dems are being v unfair to Trump!" But then there'll be other targets: Biden admin, AOC &c. They may just… move on https://t.co/uglQWFrKJI

— James Poniewozik (@poniewozik) November 12, 2020
it's also sort of saying the quiet part loud about fox news. a president should never be able to say "I'm the one who made you successful" to a news network https://t.co/GVb5jIJUV1

— Gerry Doyle (@mgerrydoyle) November 13, 2020
I hope Trump goes back to hosting celebrity apprentice but this time whenever he tries to fire anyone, they sue him and refuse to leave

— Sarah Cooper (@sarahcpr) November 13, 2020
The GOLDEN GOOSE EGG, two-time loser of the popular vote!
He has come up with a new nickname for himself. And now I have a mental image of him laying eggs. https://t.co/UFb2ptLn41

— Slava Malamud (@SlavaMalamud) November 12, 2020