On the Road is a weekday feature spotlighting reader photo submissions.
From the exotic to the familiar, whether you're traveling or in your own backyard, we would love to see the world through your eyes.
JanieM
I grew up in northeastern Ohio, which has beautiful fall color but lacks the mountain vistas of New England. In later life I've lived on the same property in central Maine for thirty-three years and counting, so I've got thousands of fall color pics in my folders. It's hard to choose just a few!
Every year is different. Some years there are tiny patches of deep red scattered here and there in early August. Other years, like this one, there's no noticeable color until well into September. Some years the color comes gradually, other years – the rarest, and most stunning – it all explodes at once. This year it started late, but between summer-long drought and early frost it's moving much faster than usual.
Regardless of annual variations, there are predictable phases: an early period when trees are turning but there's still a lot of green mixed in, and then a phase when there's no more green but also not a lot of bare trees yet. Then there's the time – a few days or a couple of weeks – right after most of the trees are bare, when the ground is colorful and the sunny days are much brighter, because the shade is gone. (Then there's November, which doesn't bear thinking about, unless you're a deer hunter.)
I haven't tried to represent all the phases, just to capture a variety of moods. As you'll see, I love reflections. Luckily, central Maine has a wealth of lakes and rivers to provide them.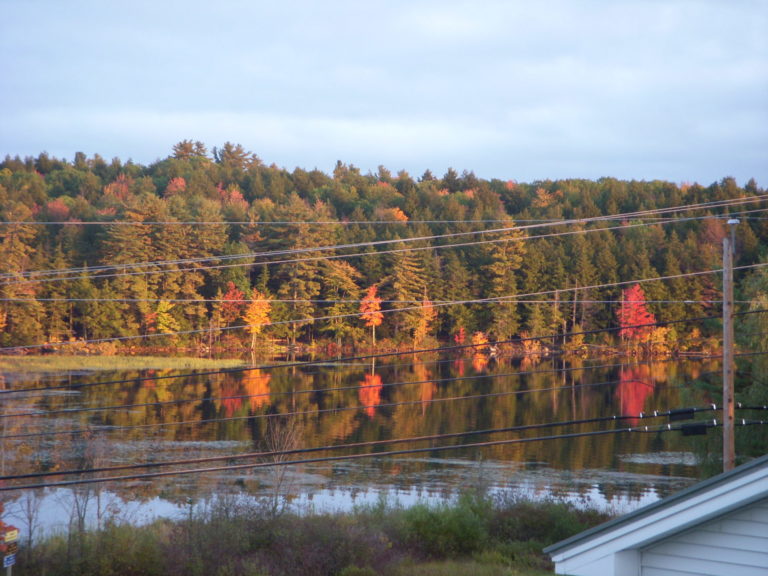 A lake in Maine
September 4, 2009
This is the end of a five-mile long lake, across the road from my house. Early evening. This shot was taken from my living room, hence the wires.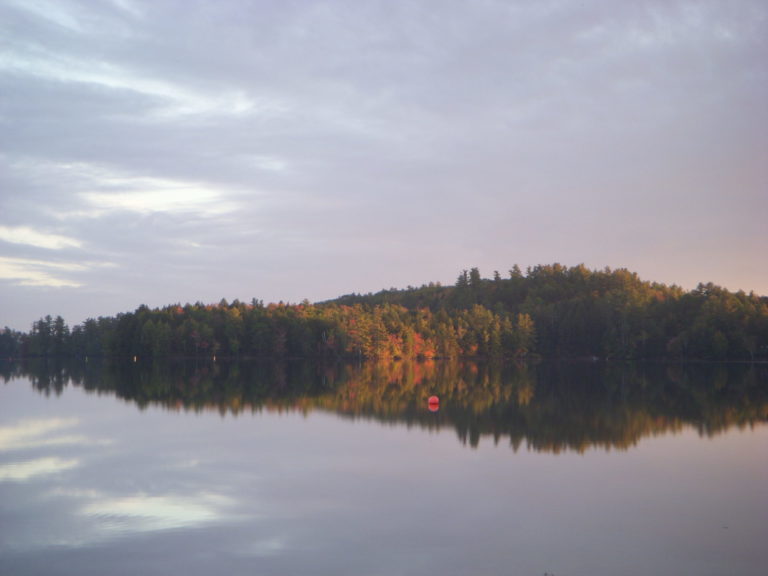 Same lake, different vantage point
October 3, 2014
Taken from the town beach.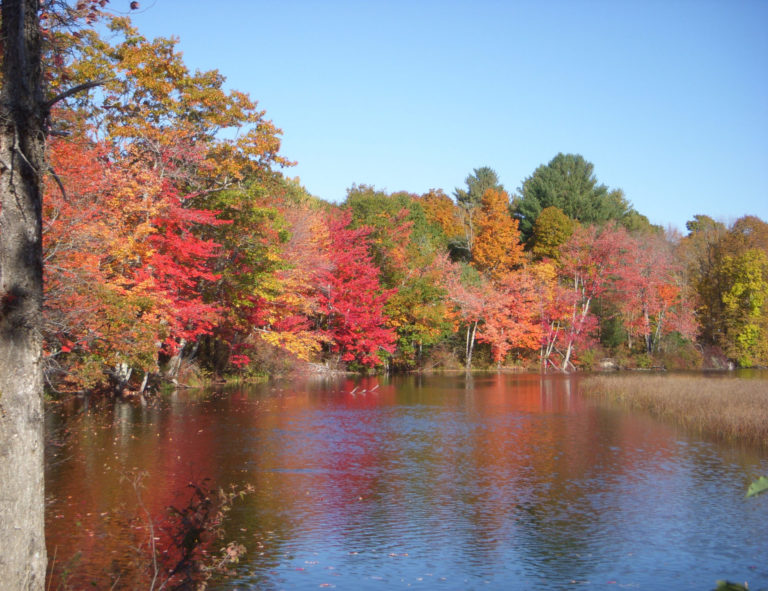 Belgrade Stream along the Belgrade/Mount Vernon line
October 15, 2015
Morning sun, a bit of breeze.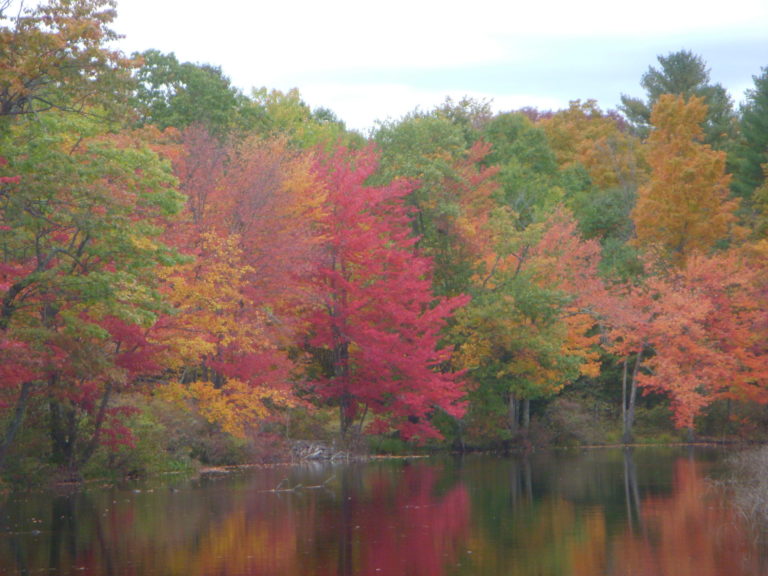 4 Belgrade Stream, same spot, the previous day
October 14, 2015
Different weather, different zoom, afternoon instead of morning.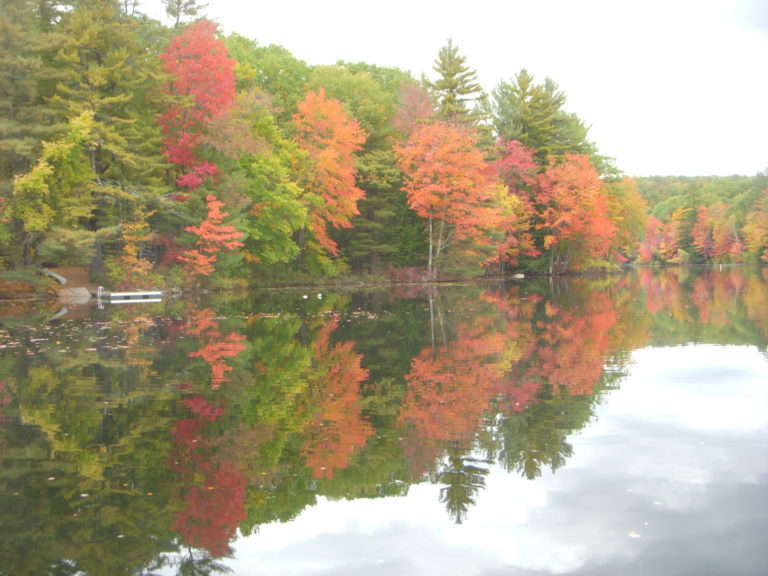 The south end of Torsey Pond in Readfield
September 14, 2015
Near a boat landing, but almost always a quiet spot.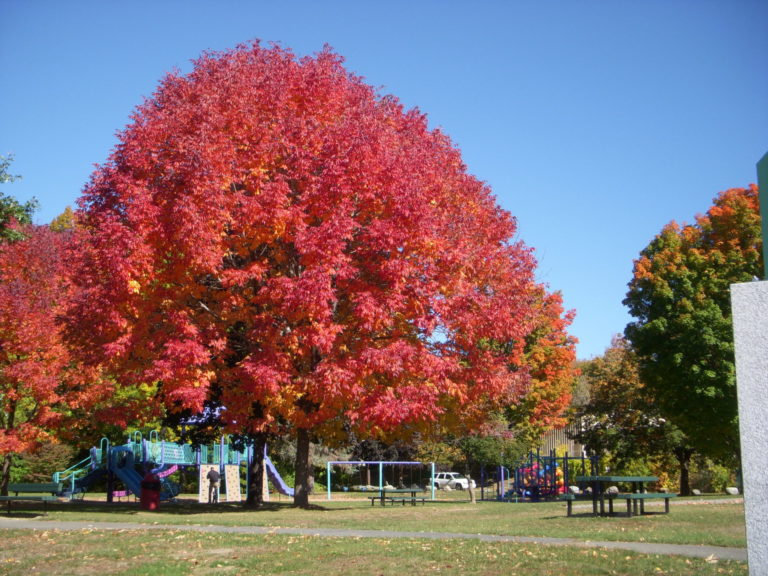 Augusta Waterfront Park (the east side boat landing)
October 11, 2017
Sometimes I get in the car and drive to find vast vistas of color, but more often I just take pics of the gems that show up along my normal rounds. I have favorite trees scattered all over central Maine by now. This is one of them.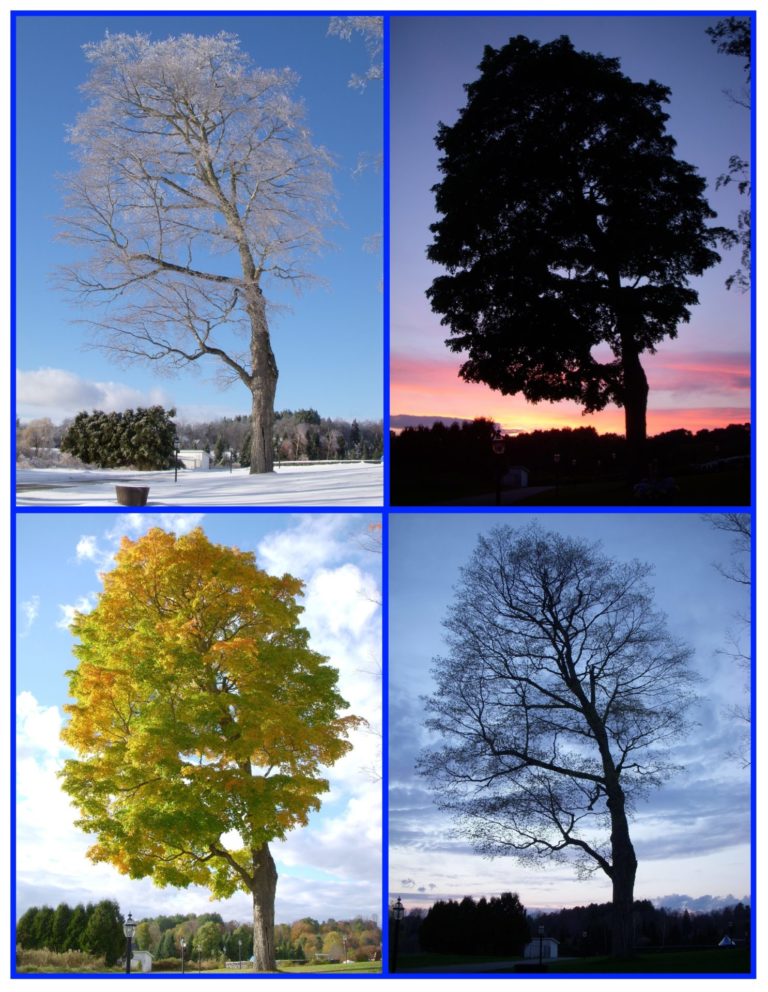 My front yard
This was one of the ancient maple trees that stood for maybe a century and a half in the front yard of the property where I live. A few years ago the power company, with the collaboration of the owner, took them down. It was a couple of years before I could walk around to the front yard without getting tears in my eyes. (My apartment is around the back.)
Related shots:
— the once and future landscape — one of the remnants, and a couple of rows of young maples;
— looking up into the heart of the matter;
— tapped.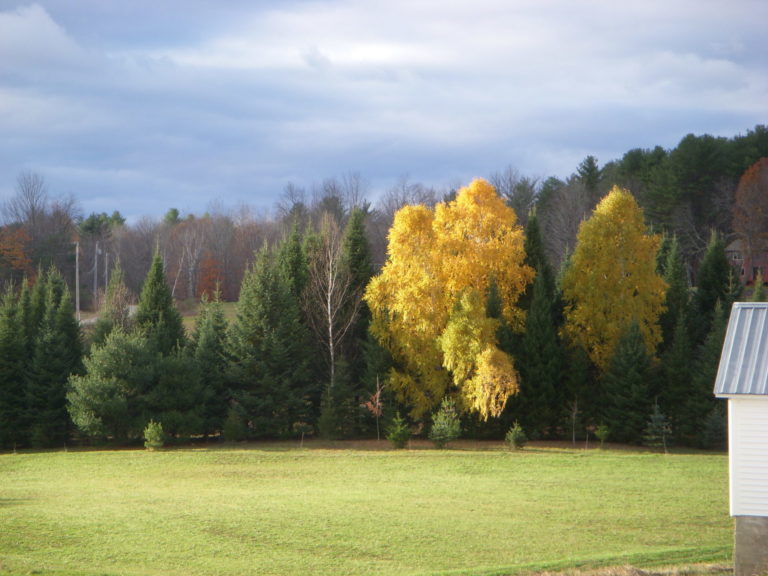 View to the west
November 6, 2017
Birches, always late to the party.