Party of Death. https://t.co/WWBCGn2i6u

— James Palmer (@BeijingPalmer) November 14, 2020
If your loved ones and/or family have decided that 'Thanksgiving is too important *not* to celebrate as usual', it's probably too late to change their minds. But maybe some gentle advice from, say, the CDC, might at least help them minimize the aftereffects…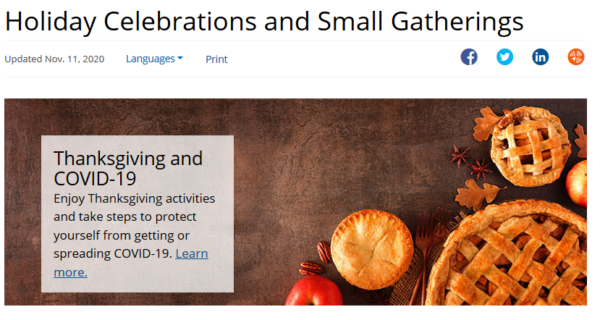 The COVID-19 pandemic has been stressful and isolating for many people. Gatherings during the upcoming holidays can be an opportunity to reconnect with family and friends. This holiday season, consider how your holiday plans can be modified to reduce the spread of COVID-19 to keep your friends, families, and communities healthy and safe.

Unfortunately, the COVID-19 epidemic is worsening, and small household gatherings are an important contributor to the rise in COVID-19 cases. CDC offers the following considerations to slow the spread of COVID-19 during small gatherings. These considerations are meant to supplement—not replace—any state, local, territorial, or tribal health and safety laws, rules, and regulations with which all gatherings must comply…
Considerations for Hosting or Attending a Gathering
If you will be hosting a gathering during the holiday season that brings people who live in different households together, follow CDC tips for hosting gatherings. If you will be attending a gathering that someone else is hosting, follow CDC Considerations for Events and Gatherings. Below are some general considerations for hosting a gathering that brings together people from different households. Guests should be aware of these considerations and ask their host what mitigation measures will be in place during the gathering. Hosts should consider the following:

Check the COVID-19 infection rates in areas where attendees live on state, local, territorial, or tribal health department websites. Based on the current status of the pandemic, consider if it is safe to hold or attend the gathering on the proposed date…
If setting up outdoor seating under a pop-up open air tent, ensure guests are still seated with physical distancing in mind. Enclosed 4-wall tents will have less air circulation than open air tents. If outdoor temperature or weather forces you to put up the tent sidewalls, consider leaving one or more sides open or rolling up the bottom 12" of each sidewall to enhance ventilation while still providing a wind break…
Encourage guests to avoid singing or shouting, especially indoors. Keep music levels down so people don't have to shout or speak loudly to be heard…
Provide and/or encourage attendees to bring supplies to help everyone to stay healthy. These include extra masks (do not share or swap with others), hand sanitizer that contains at least 60% alcohol, and tissues. Stock bathrooms with enough hand soap and single use towels.
Limit contact with commonly touched surfaces or shared items such as serving utensils.
Use touchless garbage cans if available. Use gloves when removing garbage bags or handling and disposing of trash. Wash hands after removing gloves.
Plan ahead and ask guests to avoid contact with people outside of their households for 14 days before the gathering.
Treat pets as you would other human family members – do not let pets interact with people outside the household.
That last item — dogs and cats can get COVID-19, and while they probably won't pass it on to humans, it's only fair to remind guests not to snuggle Rover or Muffy without washing their hands first, and afterwards.
Unfortunately, one of every pandemic's greatest weapons has been the universal human insistence that 'MY people are clean and strong; *we* couldn't possibly carry or spread this plague.' Also, too many people will tell you — will even believe — that they've been 'totally self-isolated'… except for the housekeeper. Or that visit to the hairdresser. Or their condo's book club. Or their golf foursome!
If you think a negative test result means you don't have coronavirus, you could be wrong. Here's what you need to know. https://t.co/jHISjjTMPa

— CNN (@CNN) November 17, 2020
People are infectious two days before showing symptoms.

That means you can't tell if someone is sick by looking at them or asking them how they feel.

Stay 6' apart and masked. https://t.co/xfTAoZ8s3x

— COVID19 (@V2019N) November 15, 2020
hello america this is what happened with canadian thanksgiving pic.twitter.com/iZd1Bok4j0

— patrick (@patwmurray) November 15, 2020
Another way to think about these lags is that some of the people who are infected on Thanksgiving will enter the hospital in the middle of December, and the morgue around Christmas. pic.twitter.com/S9kqHW981l

— Ed Yong (@edyong209) November 15, 2020

To be continued…