On the Road is a weekday feature spotlighting reader photo submissions.
From the exotic to the familiar, whether you're traveling or in your own backyard, we would love to see the world through your eyes.
Pharniel
Back in 2019 my spouse and I crossed off a bucketlist entry and went to Japan.
We spent two and a half weeks and hit most of the 'big' cities. We timed our trip to hit peak foliage and it did not disappoint.
For those wondering how Big A Deal fall in Kyoto is – there are signs at the train station letting you know which temples are at what level of peakness and…whoa. Mindblowing what a few hundred years to shape a garden can do.
While Osaka was more our speed, Kyoto is a big sleepy town. It's also laid out in a sensible manner which really helps when getting around.
This batch will be various temples in Kyoto in fall. I've got pictures of when we climbed up a monkey mountain, but that really deserves its own entry.
These are all daylight shots, I'm saving the night time for the next submission because shooting at night, on a cell phone, in shoulder to shoulder crowds was a significant challenge.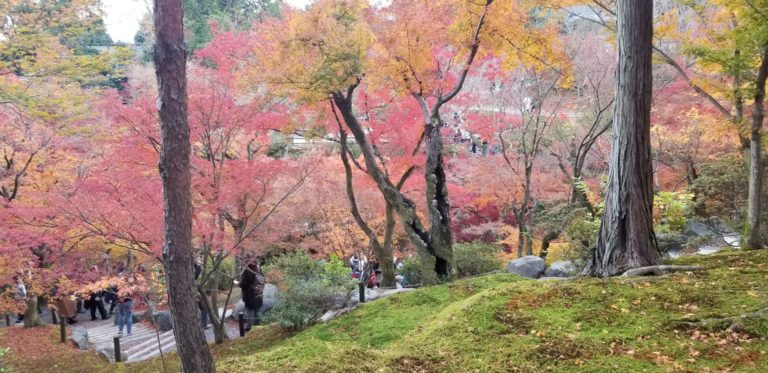 Tokufuji Temple, Kyoto Japan
November 26, 2019
A slight hill gives a shot of the gardens, and just how well they are planned. Also how crowded things were.
One of the most famous temples in Kyoto, Tokufuji has its own subway stop. The trick, according to the travel guide, is to circle the temple from the outside, then work your way in.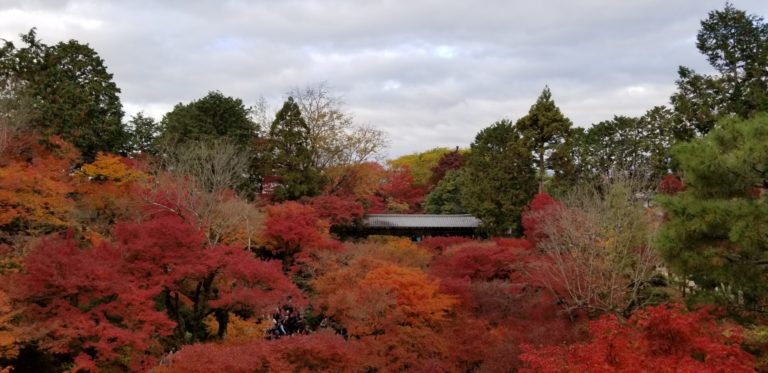 Tokufuji Temple, Kyoto Japan
November 26, 2019
Part of why we trusted the travel guide.
The sea of trees you can see here is amazing, and the bridge is in the Temple proper, this is another bridge that overlooks it all.
Entrance to most temples isn't free, and can be quite expensive.
Rates ran 500 to 1,000 yen for daytime admission, and night shows could get up to 2,000 yen a person.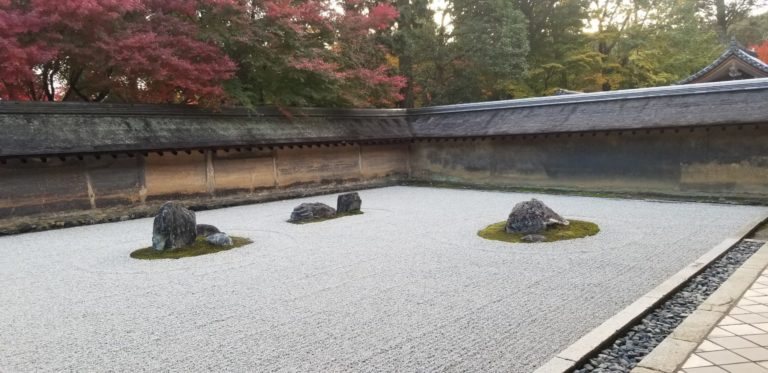 Ryoan-Ji Temple, Kyoto
November 26, 2019
This is a picture of the oldest zen garden in Kyoto, if not the oldest surviving period.
The walls were made of clay infused with oil and over hundreds of years the oil has seeped out, staining the walls.
This was super peaceful, if also crowded. Less visually arresting than the other gardens, it was still very impressive.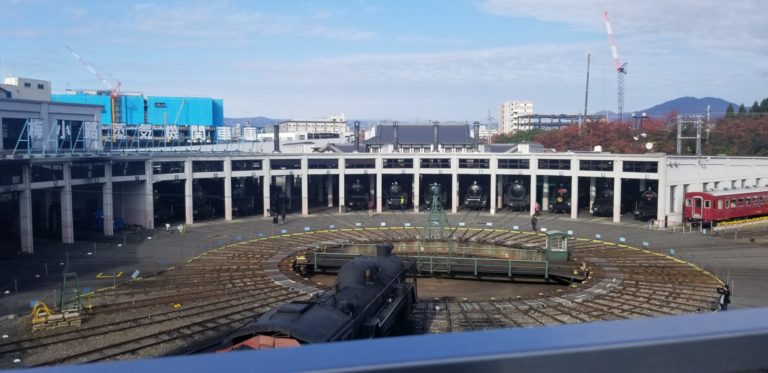 Kyoto Railway Museum
November 26, 2019
A shot of the roundhouse in the back yard.
Just…I can't emphasize how awesome this museum is.
Just lots of full size trains, and plenty of guides.
I'm used to Greenfield Village and the Ford's obsession with trains, and this blows it all away.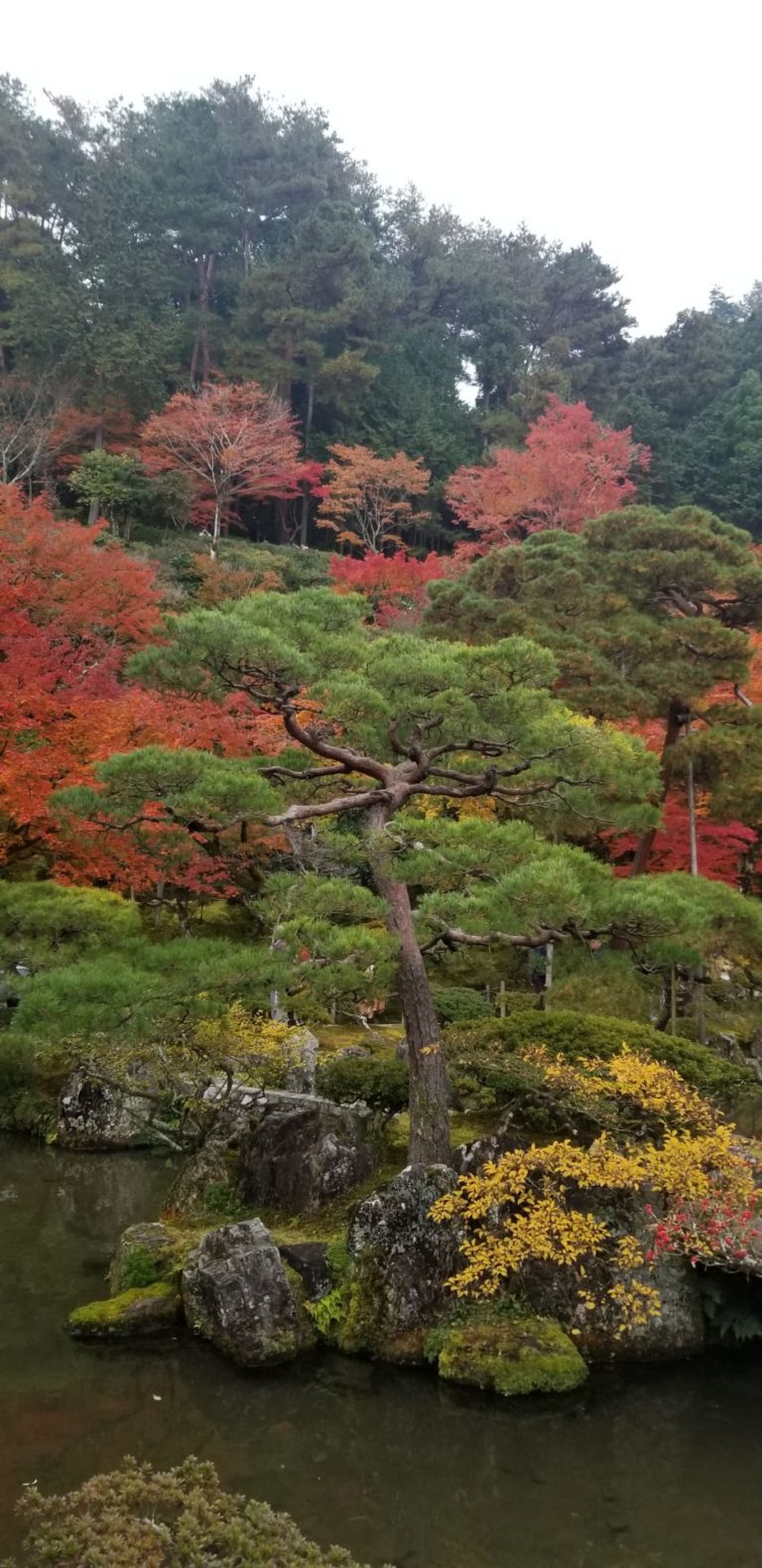 Honen-In Temple
November 25, 2019
Not my best composition, but it suits the sculpted chaos that is the average temple garden.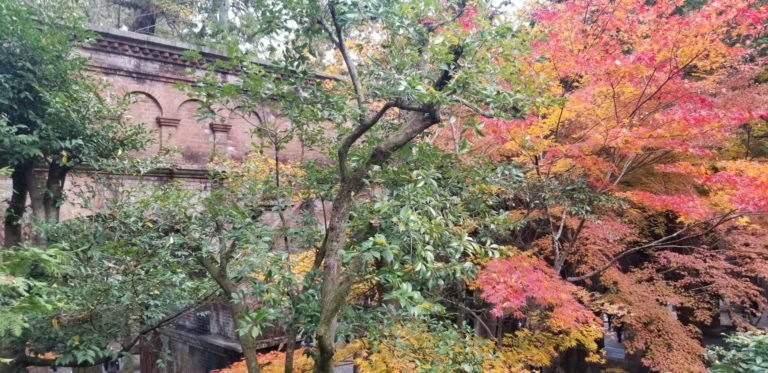 Nanzenji Fukuchicho Temple, Kyoto
November 25, 2019
For some reason (plenty of reasons, but better expressed here) the Nanzenji Fukuchicho temple has a Roman-style aqueduct. A fully functional, currently in use, aqueduct. That you can climb on top of.
It's quite beautiful.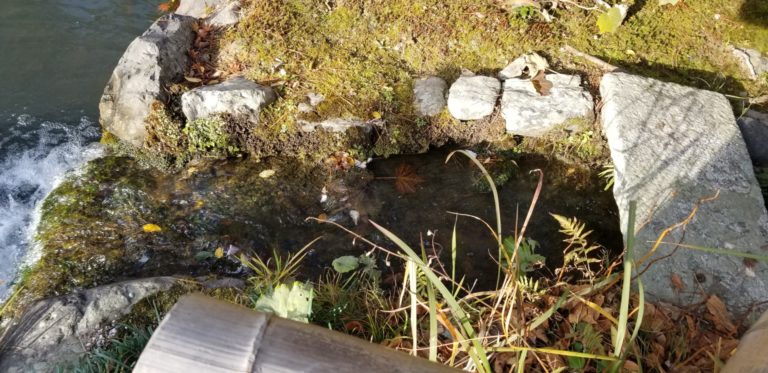 Tenryuji Temple, Kyoto
November 24, 2019
Just a shot of the nifty little streams all over the garden.
There's just details like this nestled in every corner. Easy to get lost and, well, that's sort of the point.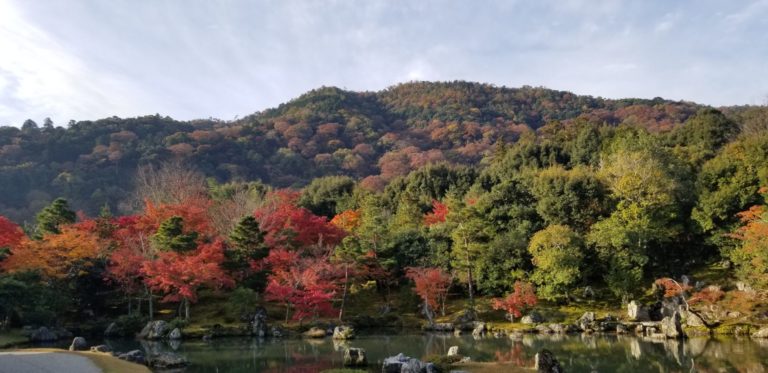 Ten Ryuji Temple, Kyoto
November 24, 2019
I took hundreds of photos, and this is the only one that even comes close to capturing the scale, detail, and beauty of the temple gardens.
You can see the reflection in the pool, the use of mounds behind to give the appearance of unified mountains, and the variety and color in the trees.