On the Road is a weekday feature spotlighting reader photo submissions.
From the exotic to the familiar, whether you're traveling or in your own backyard, we would love to see the world through your eyes.
Albatrossity
This is the last set in this series, as fall is slowly giving way to winter here in flyover country, with migration slowing down and winter residents settling in. To me much of the joy in fall migration is the return of our winter hawks, a diverse mix of Red-tailed Hawk subspecies, falcons, and the occasional Rough-legged Hawk. I have yet to see the latter this season, but here are some pics of some of the others, as well as a winter-resident sparrow or two.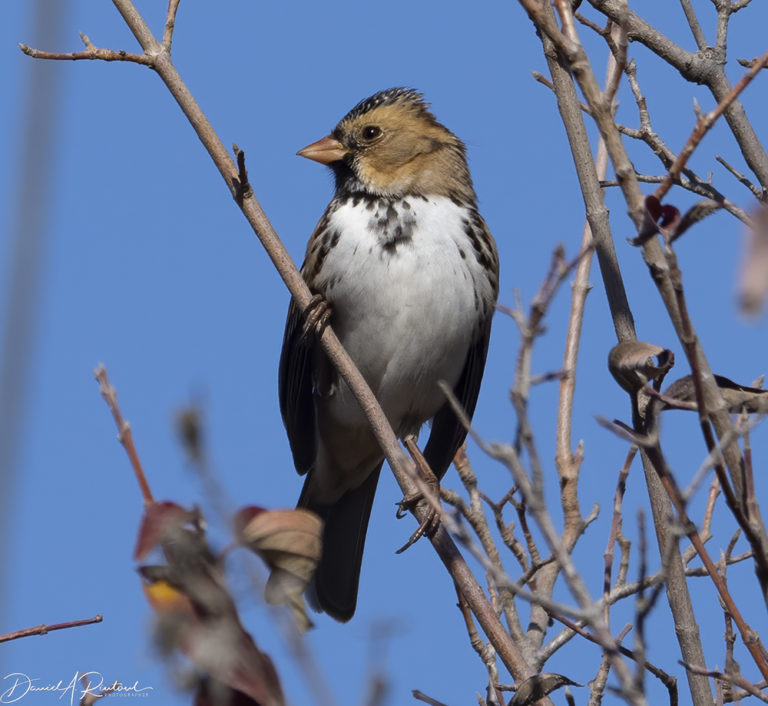 Near Manhattan KS
November 6, 2020
Harris's Sparrows are abundant and vocal specialty birds of this part of the country. They nest in virtually inaccessible parts of Canada, and they are one of the last passerine species in North America to have their nest and eggs described. When they appear irregularly outside of the Great Plains they are rare enough to attract crowds of birders, but here they are an expected and welcome part of the winter bird scene.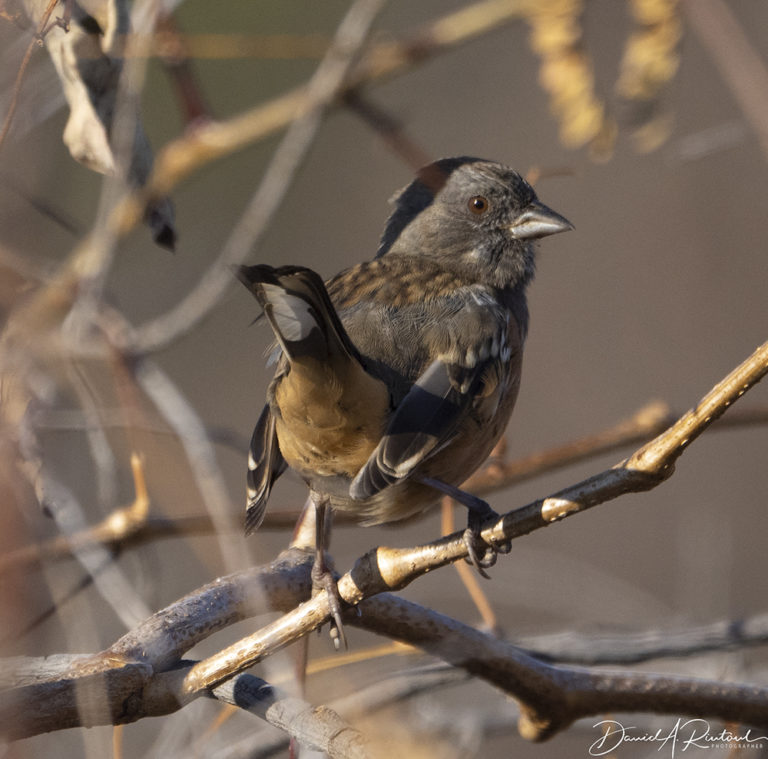 Near Manhattan KS
November 7, 2020
Another winter resident, and one that seems particularly abundant this fall, is the Spotted Towhee. This species ranges widely across the west, but it is likely that our winter birds come mostly from the northern plains of the Dakotas, Wyoming and Montana. Starting in late September these birds slowly replace our summer-resident Eastern Towhees, and they will leave in April just as those more southern residents return to my patch of flyover country.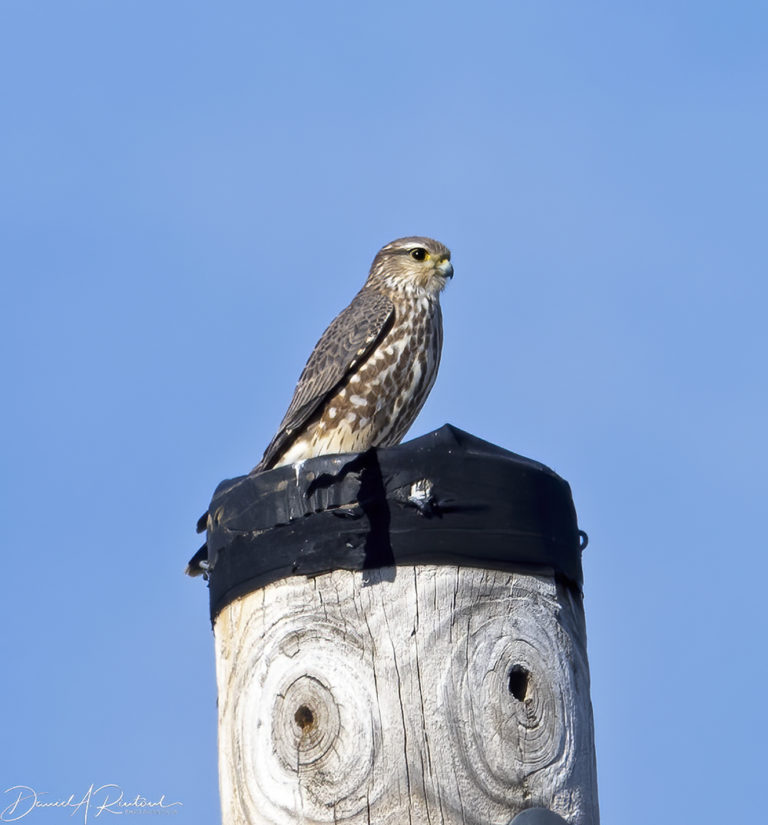 Near Manhattan KS
November 12, 2020
Following those sparrows south are birds like this Merlin, whose ability to grab sparrow-sized meals is critical for its winter survival here. This is a female of the Taiga subspecies; the paler prairie subspecies also can be found here in winter. And now that we know that the closest relatives to falcons are the parrots, when I look at this picture it's hard to overlook that parrot resemblance!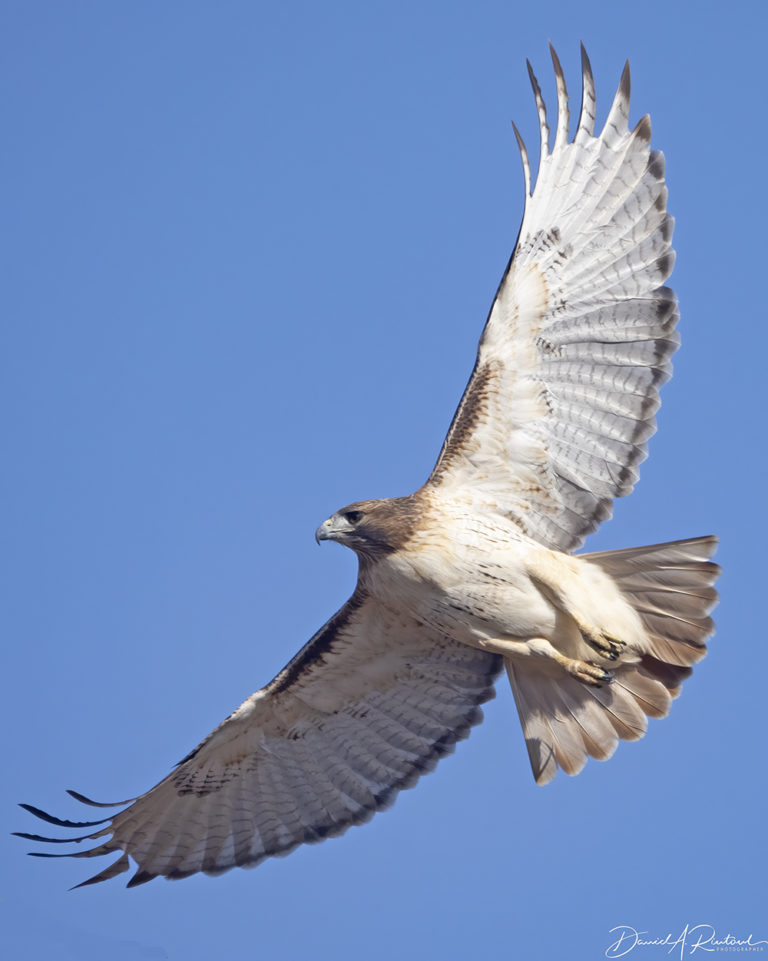 Near Manhattan KS
November 6, 2020
Red-tailed Hawks are a species that really intrigues me, since their plumage variation seems almost infinite. The next few images should help make that point. This one is fairly typical of the birds who stick around here for the summer breeding season; all of those are members of the eastern (borealis) subspecies. Note how pale it is underneath, but with a dark head and a pronounced dark bar extending from the shoulder to the "wrist" (the so-called patagial mark). This is a classic adult light-morph eastern Red-tailed Hawk of the paler races that we see on the plains.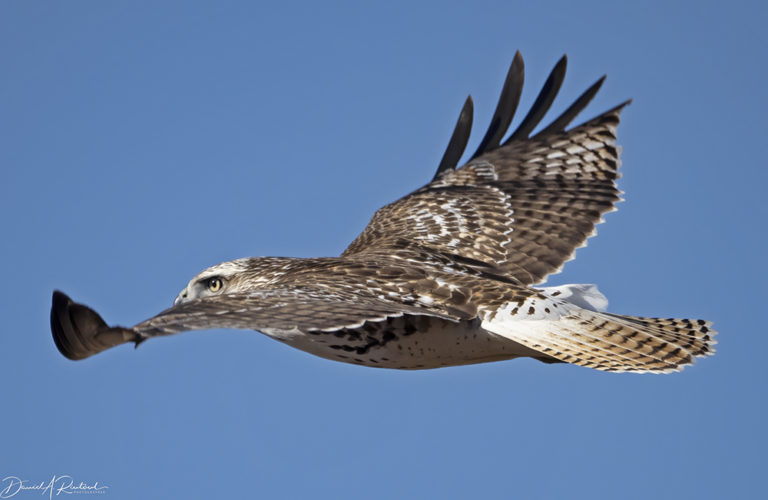 Near Manhattan KS
November 11, 2020
Young Red-tailed Hawks are distinguished by a light yellow iris and a well-banded tail that may be (but usually is not) red. Here is a light-morph youngster that probably hatched out around here someplace, but maybe not. Most young Red-tailed Hawks are difficult to identify down to subspecies.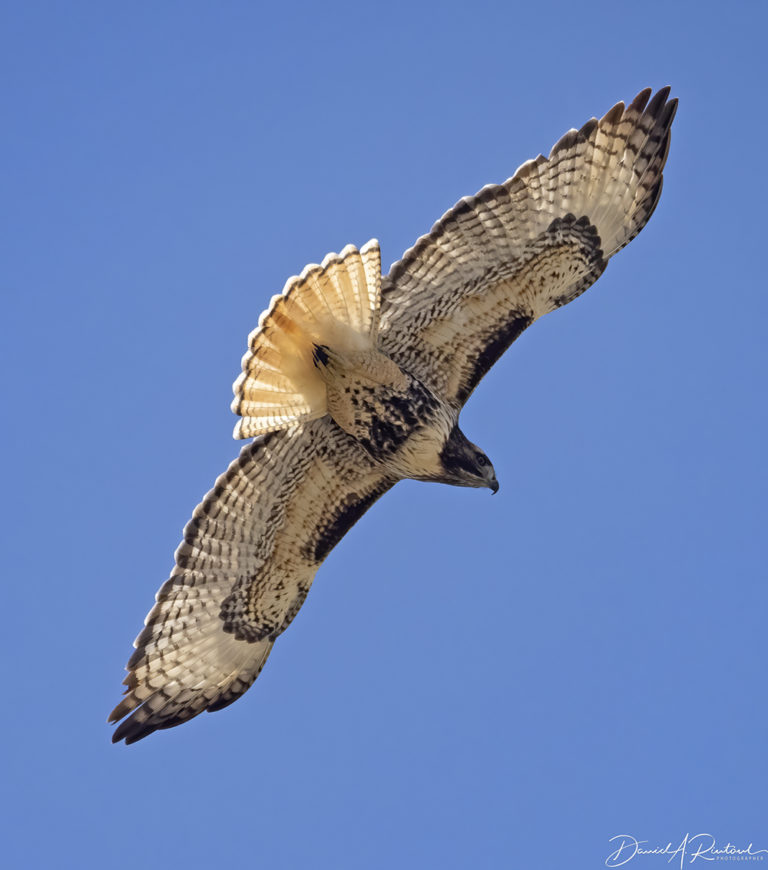 Near Manhattan KS
November 6, 2020
This adult bird would also be classified as a light-morph, but is obviously a much darker bird. Lots of pigment on the underwings, a very deep and dark patagial mark, and a wide, dark, and blobby band across the belly of the bird mark this one as a member of the northern (abieticola) subspecies. This bird migrated to Kansas from the boreal forests of Canada, most likely. In the winter here this is a very common sight.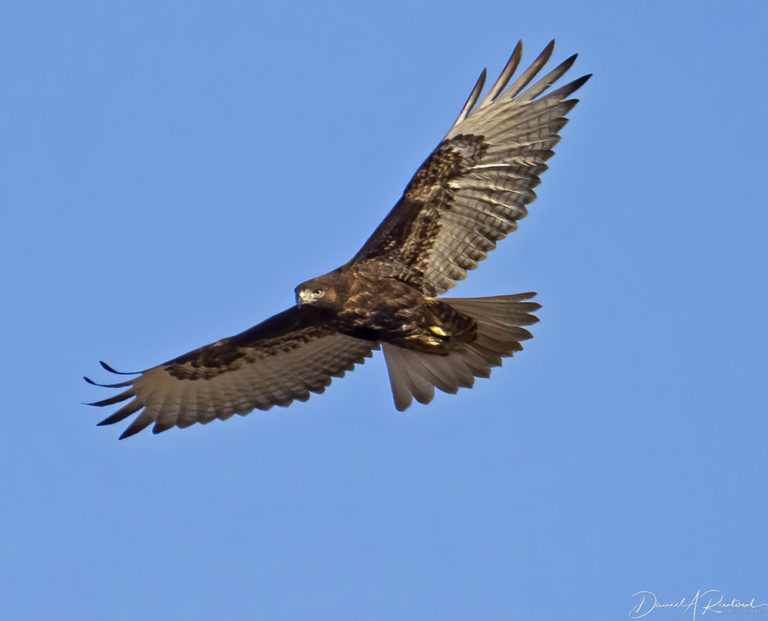 Near Manhattan KS
November 5, 2020
Dark-morph Red-tailed Hawks come in many flavors as well. Here's a young bird of the western (calurus) subspecies. If you squint you can still see a darker belly band and a darker patagial mark, but the overall plumage above and below is dark brown or rufous. The location of the breeding sites for this sort of dark-morph bird that winters on the Great Plains is currently a matter of some dispute, but work is ongoing to try to test some of the hypotheses that folks have come up with.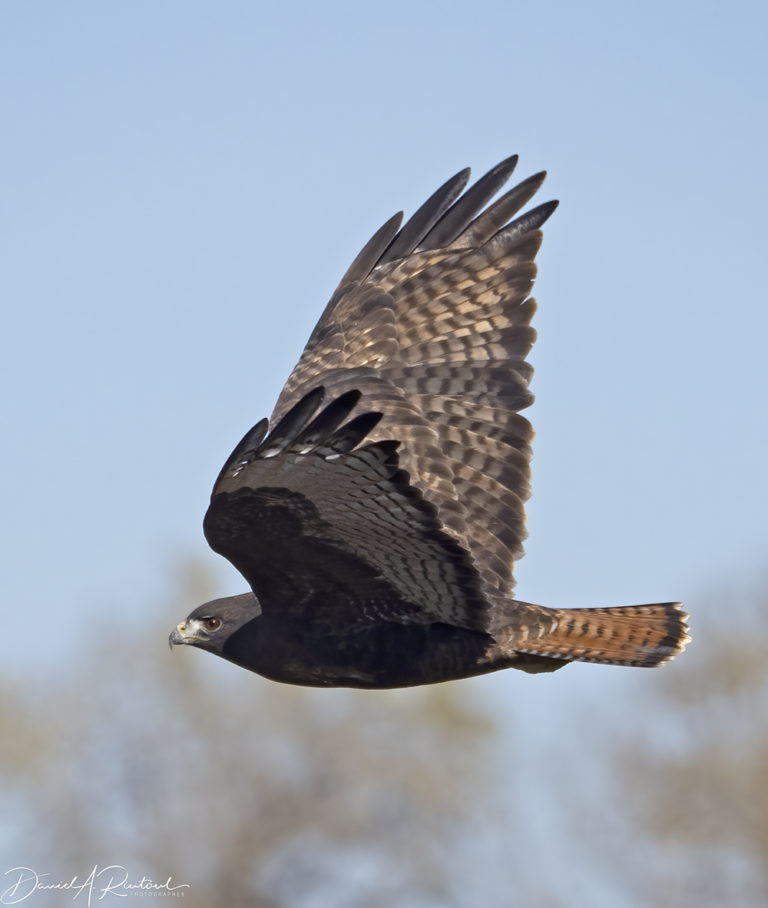 Near Manhattan KS
November 3, 2020
Here is an adult of the dark-morph western subspecies, with a gorgeous banded red tail and a nearly coal-back head and back. There are a few of these birds that have regularly wintered in my area, and most of them are back this season, but this one was new to me, and I sure hope it sticks around!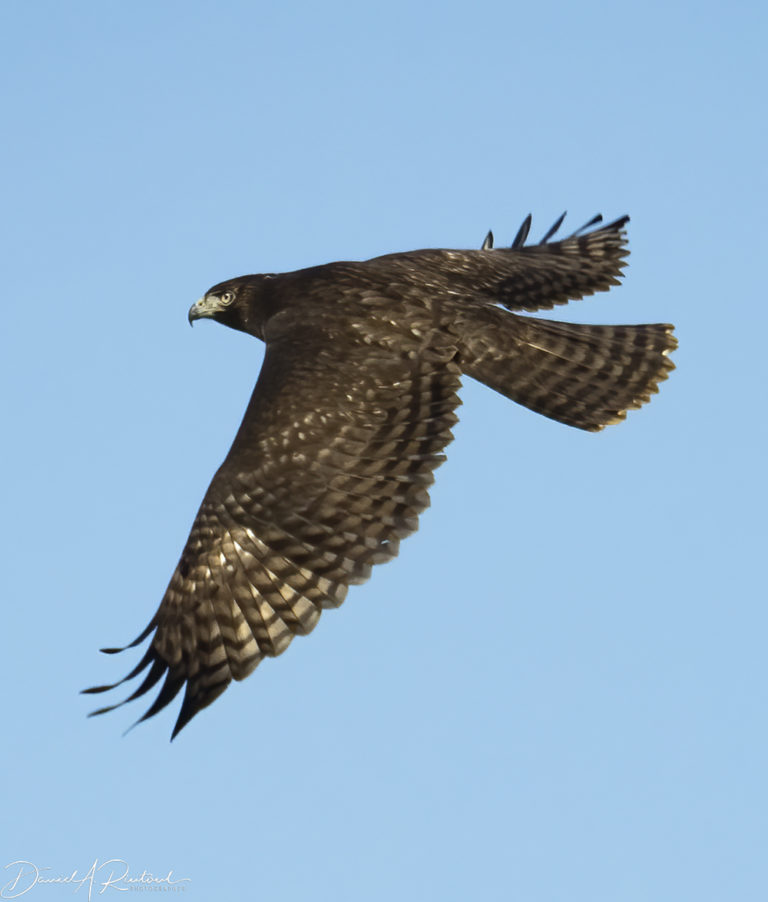 Near Manhattan KS
November 3, 2020
The classic dark-morph bird, of course is the Harlan's Hawk. I am fortunate to have several regular birds of this type in my area, and most of them are back this season as well. But this is a new one, a youngster in his first winter on the planet, and I really hope he makes it through the winter, the migration north, a summer in Alaska or the Yukon, and then back here again.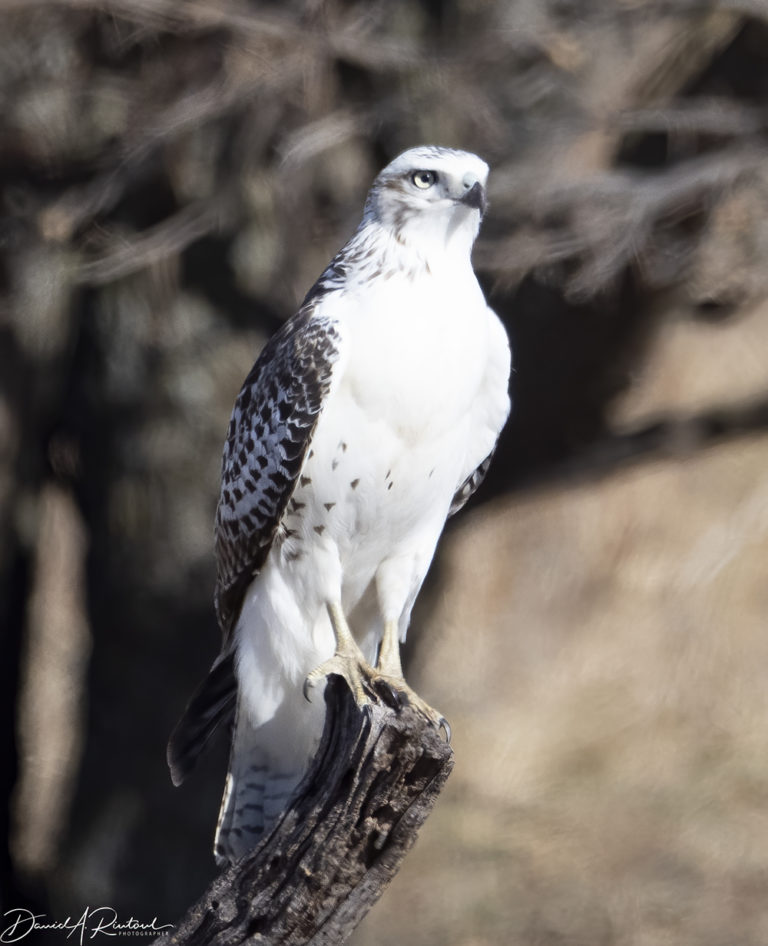 Near Manhattan KS
November 5, 2020
Finally, a surprise. This very light bird is not a member of the eastern or western subspecies, but is actually a light-morph Harlan's Hawk. Birds that look like this might be a member of the other very pale subspecies, the Krider's Hawk, but this one can be IDed as a Harlan's Hawk by the use of some field marks that do not appear in this portrait. We assume that these birds breed in Alaska and the Yukon just like the dark-morph Harlan's Hawks. Again, I hope this bird makes it through its first winter here in the south, migrates successfully back home, and returns to Kansas for many winters to come.