On the Road is a weekday feature spotlighting reader photo submissions.
From the exotic to the familiar, whether you're traveling or in your own backyard, we would love to see the world through your eyes.
J R in WV
My last trip to Arizona was January-February, 2019. My last WV cousin flew out with me and spent a week, which was how long he was willing to leave his puppy Indica in the Puppy guest ranch back home.
So his last day we drove into Tucson and spent the night at the Westwood Look Guest Ranch, which I had never stayed at as a guest before, although I had visited the resort for mineral specimen shows which are held there in early February each winter as part of the huge Tucson Gem and Mineral show, which does several billions of dollars of business in collectable rocks every winter over about 3 or 4 weeks, culminating in a huge show at the Convention Center downtown.
There are literally dinosaur and mastodon skeletons, precious gem stones, crystals, crafts and collectables from all over the world, in most every hotel in town. I have bought rocks from guys who spoke Zero English, we used a calculator we passed back and forth to show asked price and bid price until we came together. To this day I'm not sure which continent he was from!
So while we waited for dinner to be delivered to the room, I went out and took a few pictures of the gardens, which are quite different in feel from Lodge on the Desert, but surely as well done. A larger ranch with horses, pools, golf, etc, the Westward Look is about 6 miles north of the Lodge into the foothills of the Catalina Mountains. Tucson is squeezed in a basin between several mountain ranges, and two National Parks east and west of town.
I picked out these 8 pictures because they're different from the Lodge on the Desert photos, yet similar in some ways.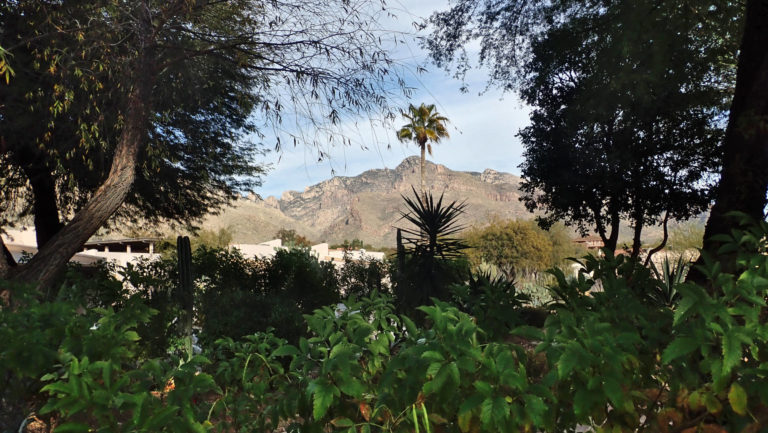 Westward Look Guest Ranch
January 28, 2019
A very shady spot, unusual for Arizona, obviously the Westwood Look is much newer than the Lodge on the Desert, uses more modern building methods, but has good taste in gardens on the grounds.
Taken with an Olympus TG-5 camera, f3.2 for 1/640 sec at 32mm, ISO 100. I tuned exposures with an editing tool to get both the sunlit mountains and the shady foliage to look OK. You learn something every day!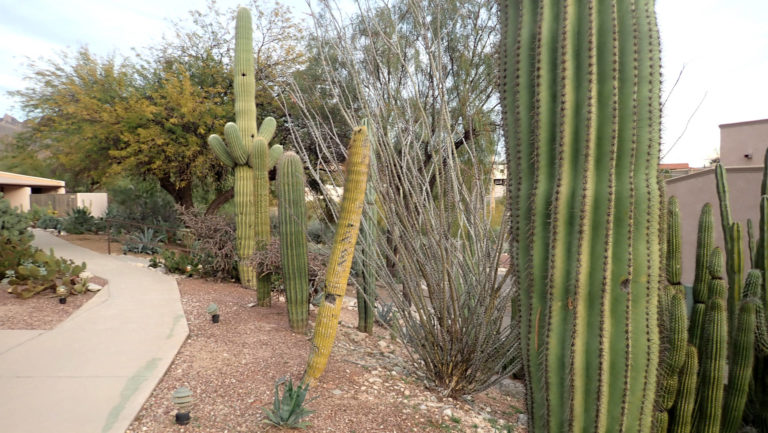 Westward Look Guest Ranch
January 28, 2019
Saguaro cacti, organ pipe cacti, and a really thriving Ocotillo bush in the middle ground.
I understand the Apache tribe used to tie Ocotillo together and spread hides over the cactus to create shade in the long ago. You would learn not to raise up too far in a shelter like that!
Later in spring ocotillo sprout bright red flowers on the ends of those sticks, covered with thorns, even though it isn't technically a cactus to a botanist. Saguaro also bloom and produce fruit that were used by the first peoples of the area. Pollinated by bats and moths, IIRC.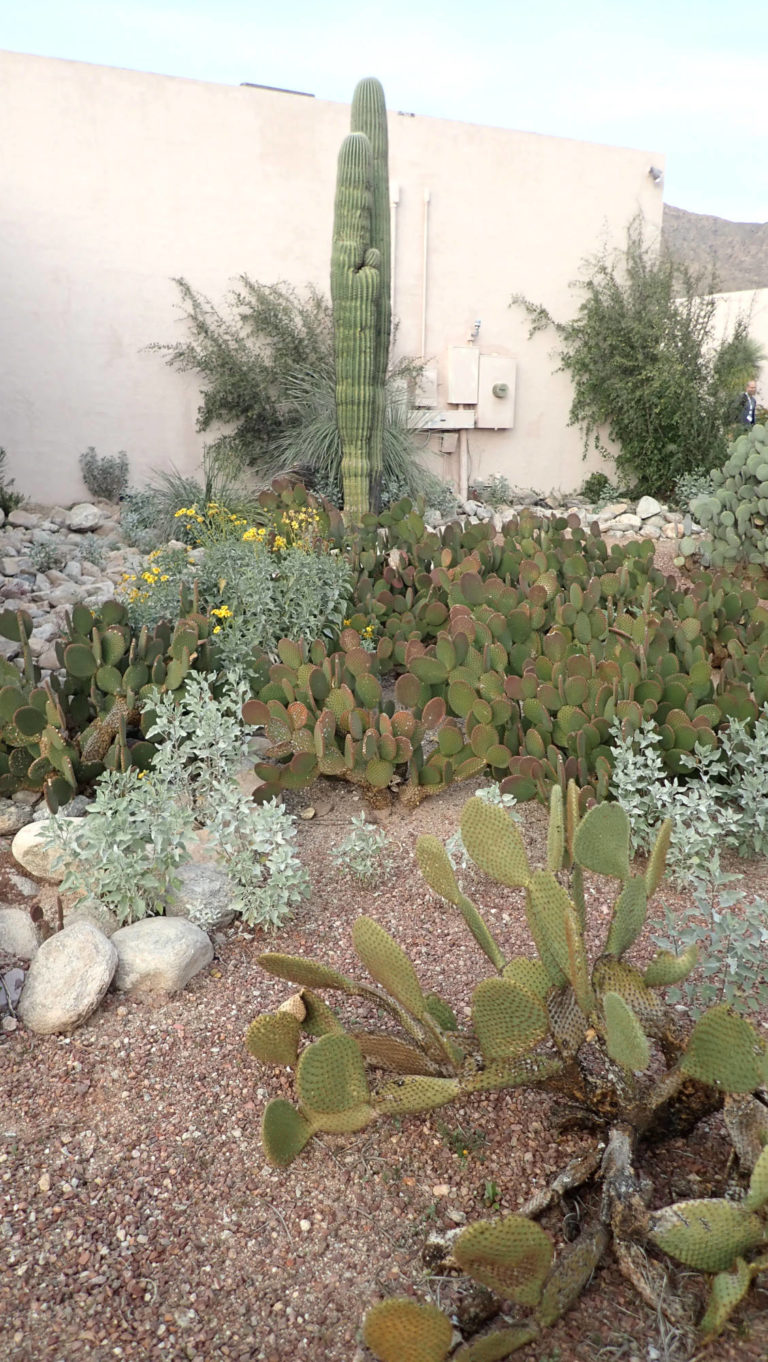 Westward Look Buest Ranch
January 28, 2019
A rare opportunity to take a vertical photo in a horizontal world! Great work on the power supply, too~!  ;~)
Another saguaro cactus, surrounded by dozens of Sonoran Desert plants, far too many for me to describe them, but every one interesting and beautiful.
Cacti are easy for experts to hybridize, and many of these are like that, produced by a nursery by tinkering with cross-pollination. Unique to this garden, potentially, but I speculate.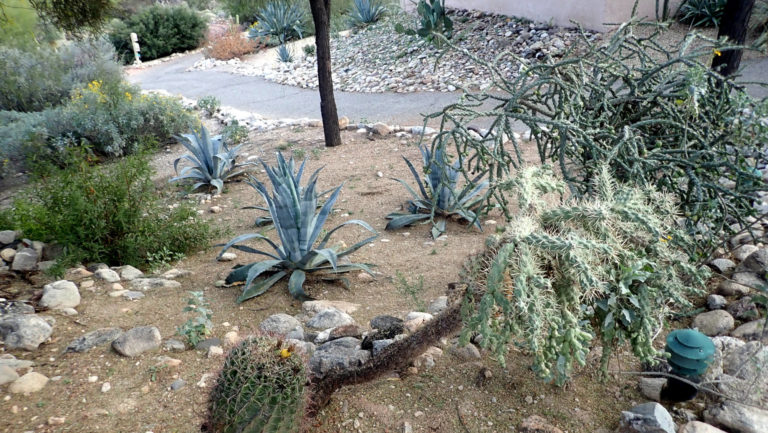 Westware Look Guest Ranch
January 28, 2019
The right half of this photo is chollo cholla cactus, which had a lot of nicknames all involving don't get too close to these or they will reach out and grab you in a bloody manner. Jumping Cactus is just one of their serious nicknames, intended to help you know to stay from these bad boys.
In the bottom right corner is a rare urban thing called a down light. In Cochise county code prohibits lamps that don't shine down to provide dark sky for astronomy. Arizona has a dozen serious observatories, and Cochise county actually has a subdivision with no outdoor lighting at all, just for astronomers to live in with their own observatories in the back yards. The Vatican actually  has an observatory which I can catch a glimpse of way far north of the Sulfur Springs Valley.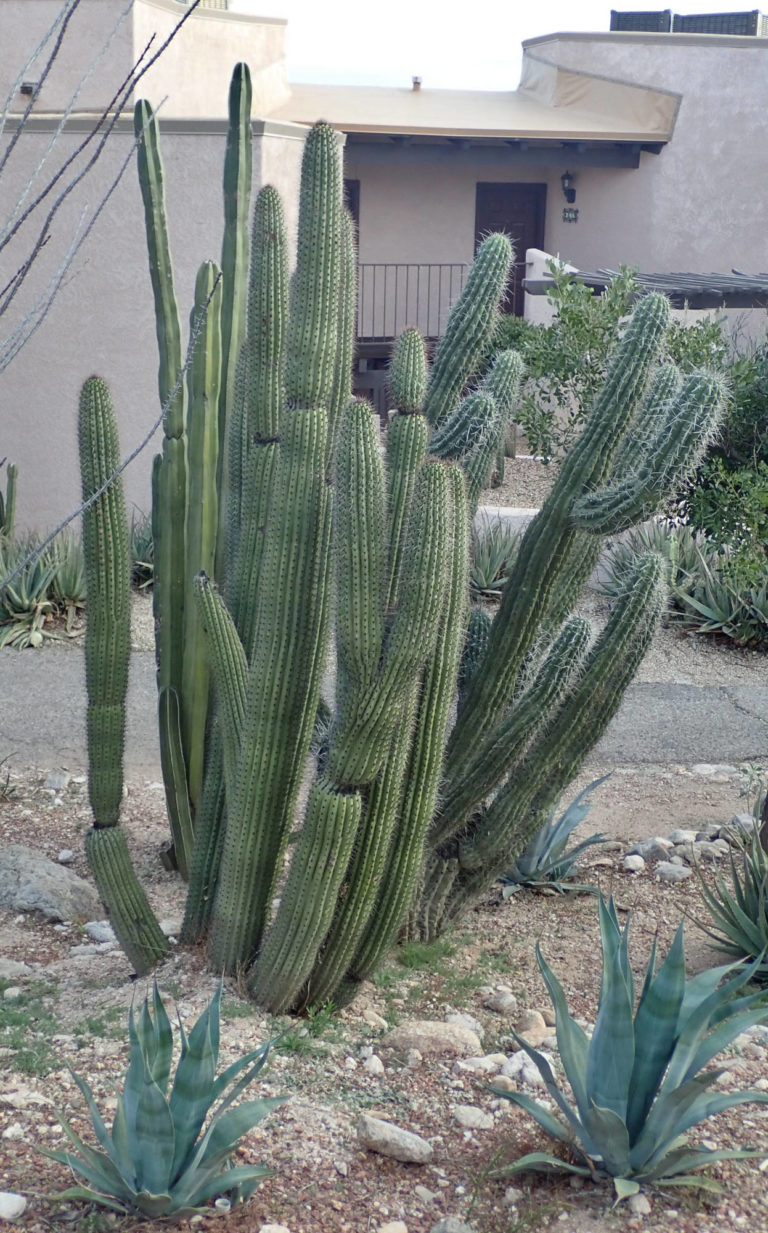 Westward Look Guest Ranch
January 28, 2019
These are (I think, anyone with actual knowledge jump in with corrections) Organ Cactus, which has its own National Park SW of Tucson on the Mexican Border. A couple of little agave in front of the big guys, and a few branches of a big Ocotillo cactus slanting across from left to right.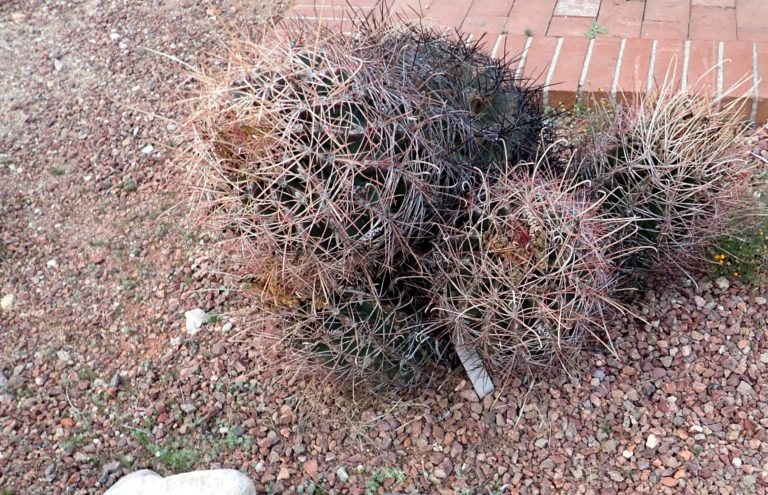 Westward Look Guest Ranch
January 28, 2019
This is a Red Fishhook barrel cactus, a hybrid of some sort with traditional barrrel cacti. The two on the right are bowling ball size, the big one is pretty good sized, a couple of feet across at least, judging from the brick pavers behind them. Probably much sharper than they look, too!!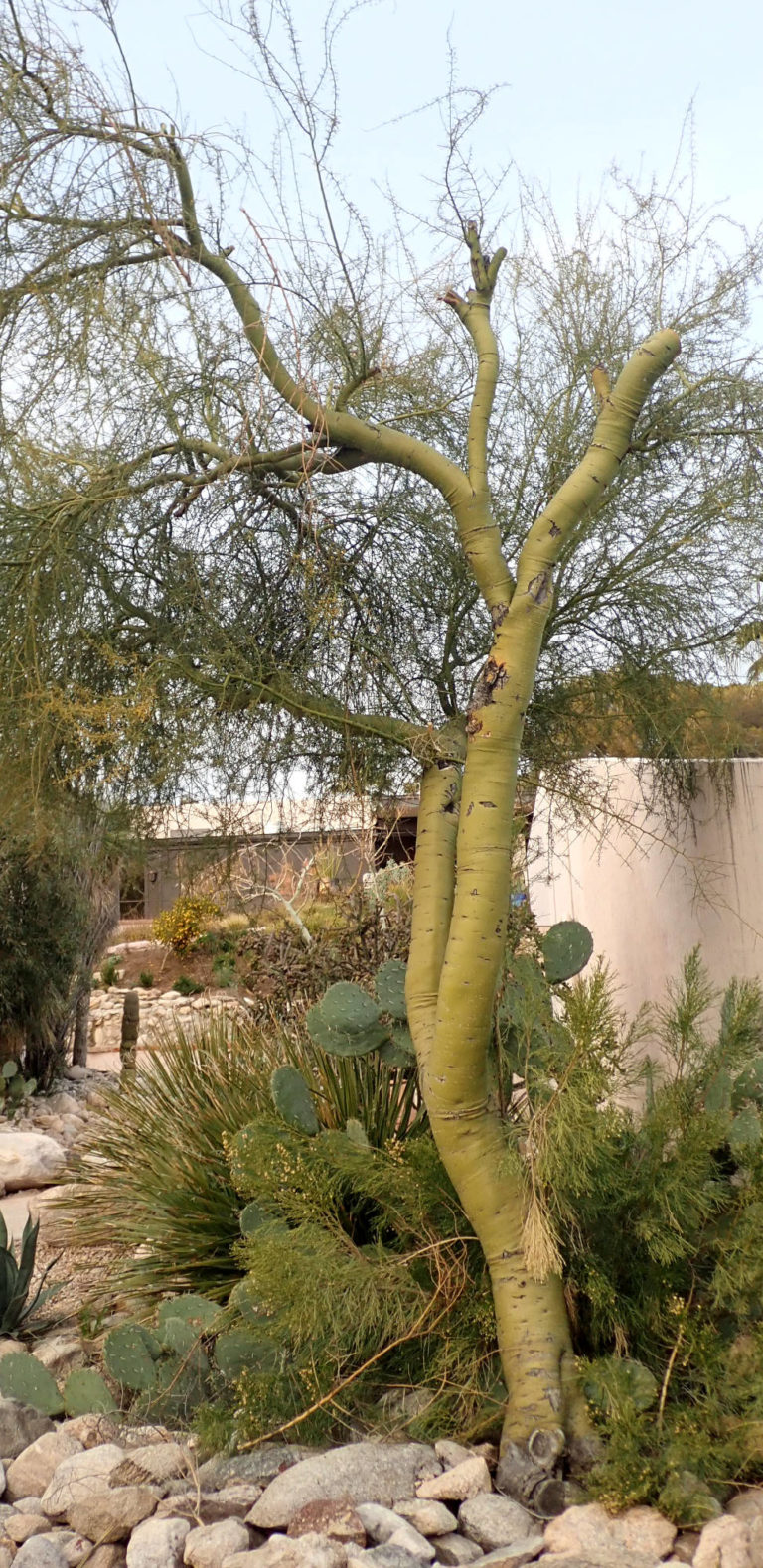 Westward Look
January 28, 2019
This is a Palo Verde tree, which means Green Stick in Spanish. In the heat of the summer they can drop their leaves to stop moisture loss, and just operate on the green bark that photosynthesizes. Yellow flowers, very pretty.
There are a lot of these in Tucson, kind of rare up at the elevation of the camp.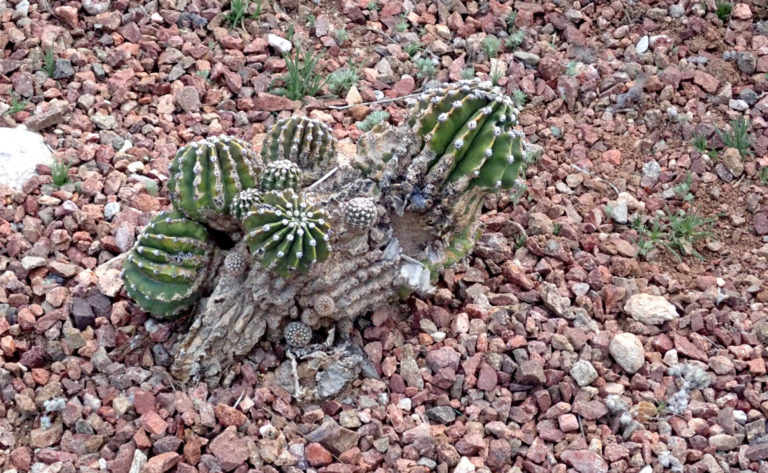 Westward Look resort
January 28, 2019
No idea what the name of this guy is, but really interesting little cactus, so here it is for the Jackals to tell us all about. As I mentioned, they hybridize a lot, and if you aren't in a garden planned to be educational, but intended to be ornamental, no telling what you might see.