On the Road is a weekday feature spotlighting reader photo submissions.
From the exotic to the familiar, whether you're traveling or in your own backyard, we would love to see the world through your eyes.
Steve from Mendocino
1978 was a year of particularly high drama, even for me.  I had just gotten my MBA, I was uncertain in my personal relationships, I was feeling a need to vastly expand my liberal arts education, and I wanted to explore life on my own, without oversight from all those whom I'd grown up with.  At the beginning of January, I packed my 66 VW bug with a large orange crate of books, a nice collection of cassettes, some pot, and a huge sense of adventure, and drove from Los Angeles to Provincetown.  I'd rented a tiny room in the back of a house that was unoccupied during the winter, and I settled into a routine of reading 8 hours a day, 7 days a week for the two months I was there – mostly classical literature from the late 19th century and first half of the 20th century.  I made no effort to get to know anybody — just settled into an increasingly isolated world of American, British, Russian, and French writers.  It got rather strange.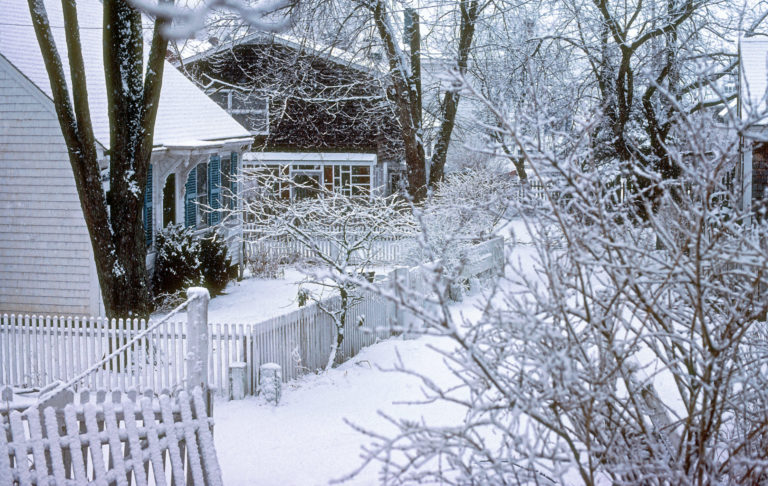 I arrived at night, in the middle of s snow storm to a strange little town at the tip of Cape Cod, chosen for its extreme contrast from the Los Angeles world I needed a break from.  VW bugs don't do real well on slippery surfaces, so when I arrived after more than 2 days on the road with only a couple of quick naps, I was both exhausted and terrified of sliding off the road in an unknown world.  I found the house ok, and managed to let myself in, and collapsed.  The next morning, I woke up to this.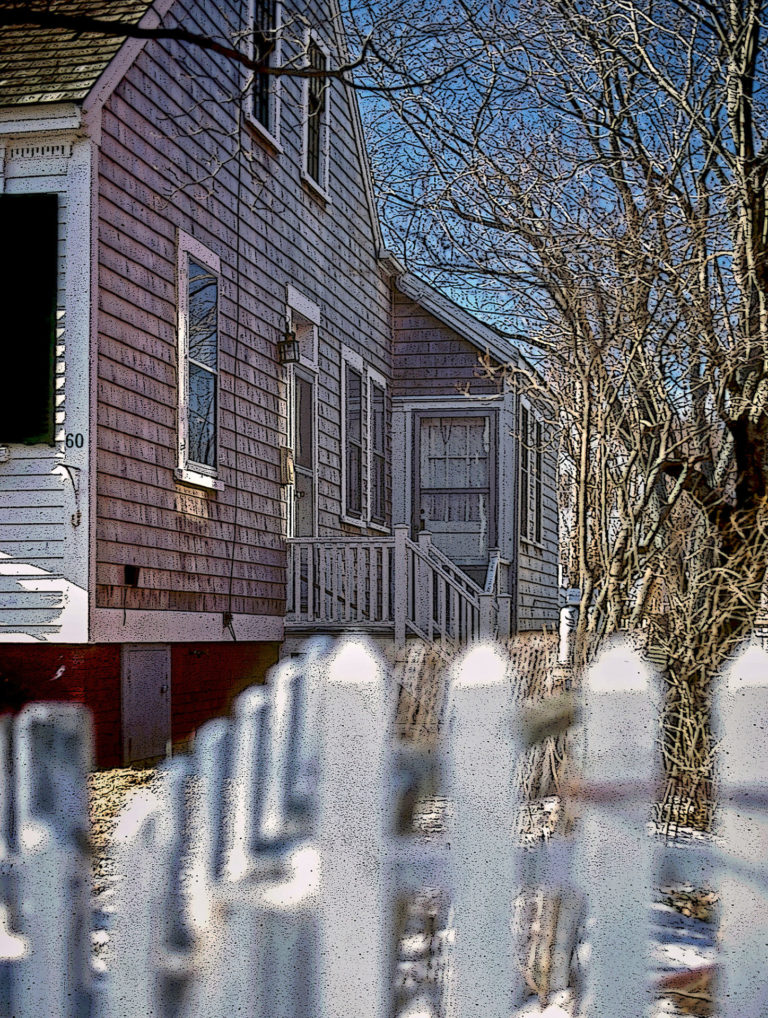 This is the doorway onto my world, roughly 25 feet by 25 feet including bathroom and kitchen.  It was furnished with a convertible sofa, a director's chair, and a table plus a broom, a dustpan, and a couple of cooking pans.  Heat was controlled by a thermostat in the main house, and I had no access to that.  The first month was quite cold, but the owner came out from Boston and set it higher for me such that I had to crack the window to cool the place.  For lunch I would pan fry some kind of meat accompanied by a sauté reduction.  Dinner was a large plate of a vegetable, most often blanched and tossed with butter and lemon.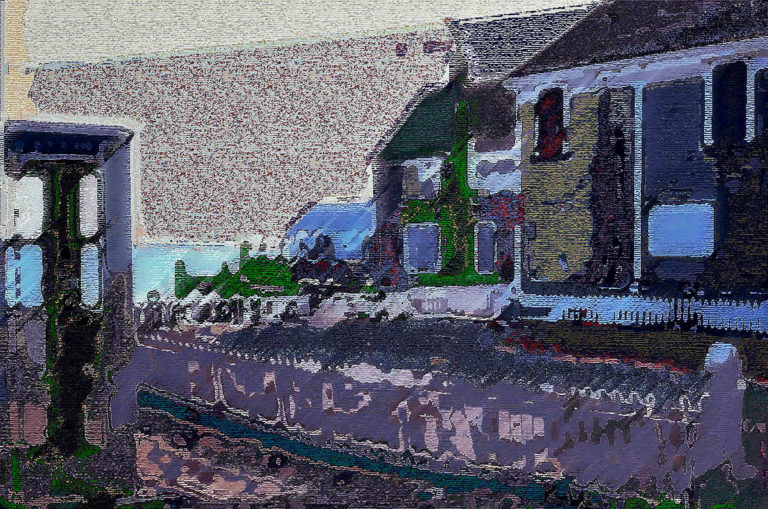 Color substitution of the scene across from my little dwelling.  Since I had no phone, I would use the pay phone on the left of the picture for a weekly collect call to Anne-Marie to keep in touch with goings on in Los Angeles and vice versa.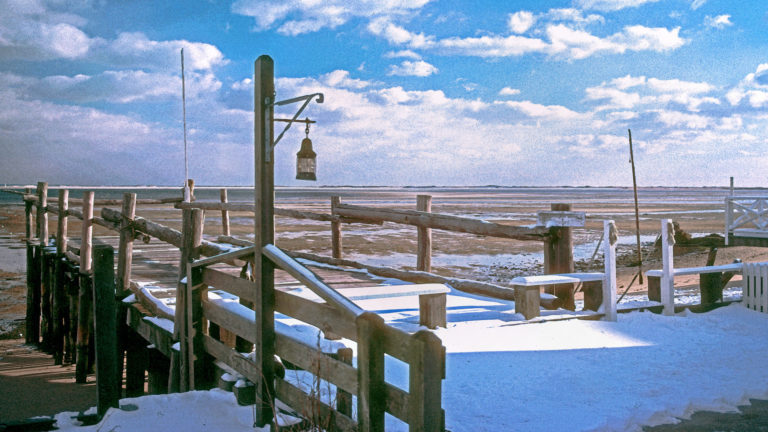 Provincetown was my first exposure to tides that empty the mud flats.  We are looking vaguely toward Boston here, but, as usual, my notion of where I am is mostly dictated only by how to get to where I want to go.  I suspect someone here can give a precise orientation.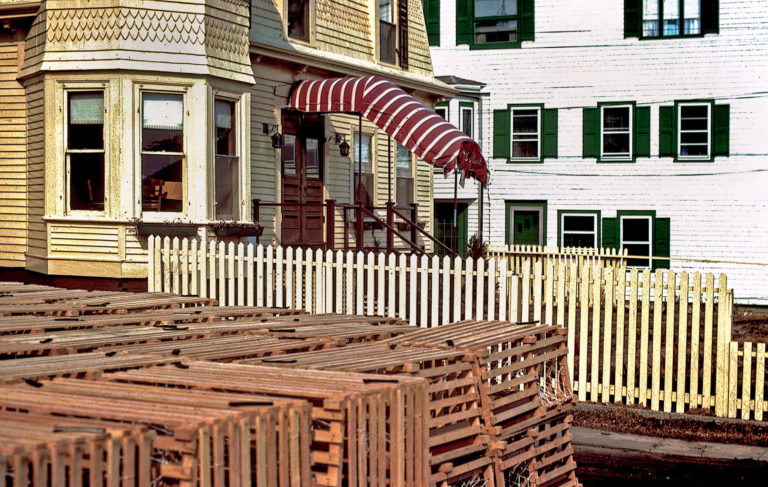 This gives you a notion of the architecture, and it shows off the stacks of lobster traps waiting to be deployed as conditions permit.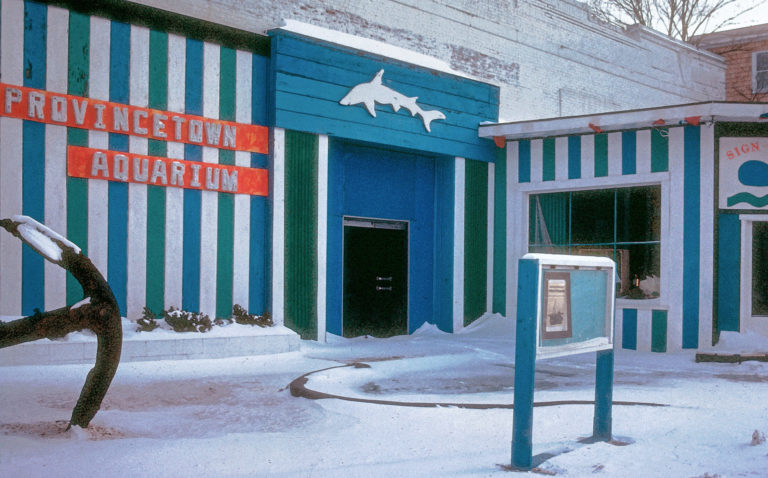 I love these little amateur exhibitions.  They couldn't possibly make much money.  I'm reminded of a time in Brittany when we stumbled across a little zoo of poisonous snakes.  It was feeding time, and we were the only ones there.  Baby chickens were on the menu, and I watched as different kinds of famous deadly snakes would strike and kill the chicks.  The only one to instantly kill the chicken was some kind of tarantula.  It jumped, hit, and dropped the chick instantly.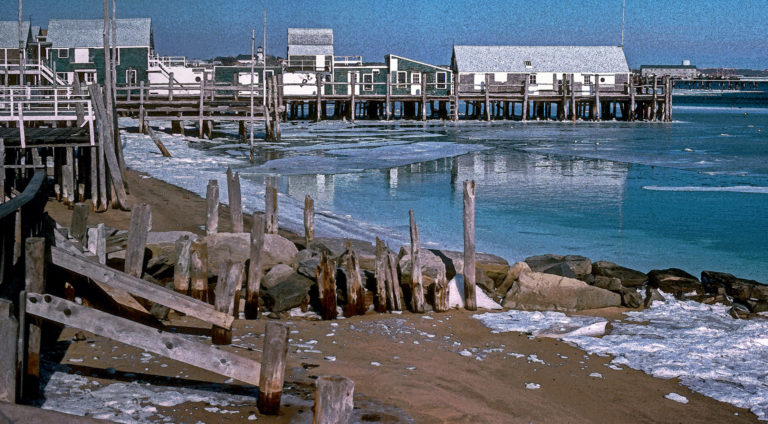 Some of the support infrastructure for the fishing industry.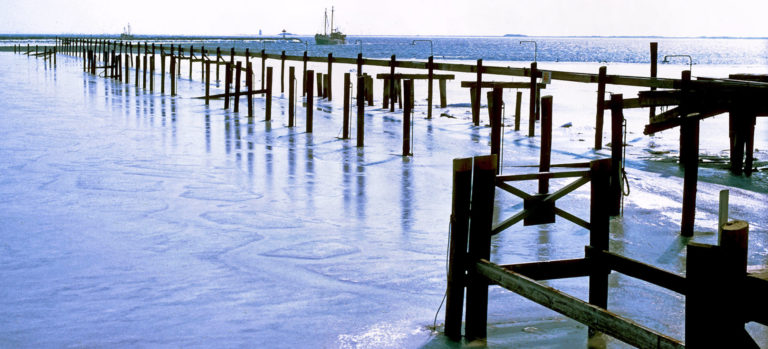 It was a very cold winter.  Not being used to this sort of thing, I was very impressed that the salt water froze like this.  That didn't stop the fishing boats.