On the Road is a weekday feature spotlighting reader photo submissions.
From the exotic to the familiar, whether you're traveling or in your own backyard, we would love to see the world through your eyes.
Dagaetch
Many years ago I took a bit of a personal sabbatical and traveled around the world. One of my stops, and probably my favorite, was New Zealand. I spent a month there, driving around with a rented car, enjoying a place that truly does feel like a natural movie set. It was actually so beautiful that in some ways, I found taking pictures difficult – there was such an abundance of scenes that I couldn't focus on specific compositions, and found myself just looking around with a smile on my face. Nearly every spot in the world has some form of natural or human-made beauty, but I can't think of any other place where the beauty is quite so endless.

Mountain fields near Mt. Cook
I arrived in New Zealand after 2 months in southeast Asia, mostly in cities. I was prepared for culture shock, but I wasn't prepared for the utter peace that hiking in these open valleys would bring. At one point I simply sat on the ground and looked around, content to enjoy the serenity and allow myself, however briefly, to set my cares aside.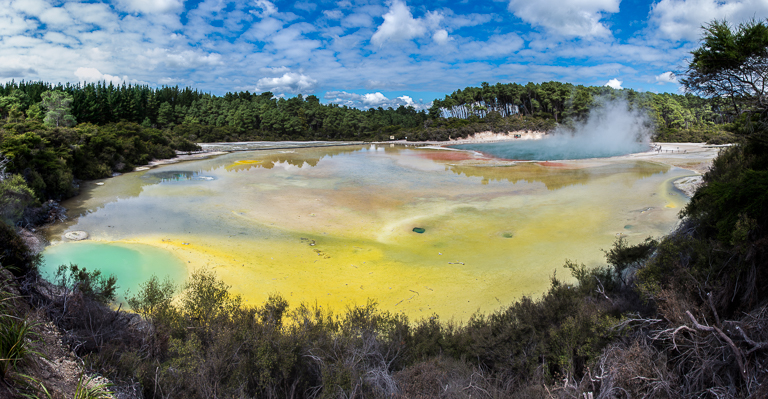 Painters Lake, Wai-O-Tapu
So called because of its resemblance to a palette, this lake is one of the main features at the geothermal park. The colors are less impressive close up, but when you find a spot to step back, they jump out at you. (and yes, the smell was…something)

somewhere in New Zealand
Even many years later, I cannot get over the sheer endlessness of the natural beauty throughout the islands. Everywhere you look, anyway you turn, is another beautiful scene. I could very happily have spent a month just walking with no destination in mind.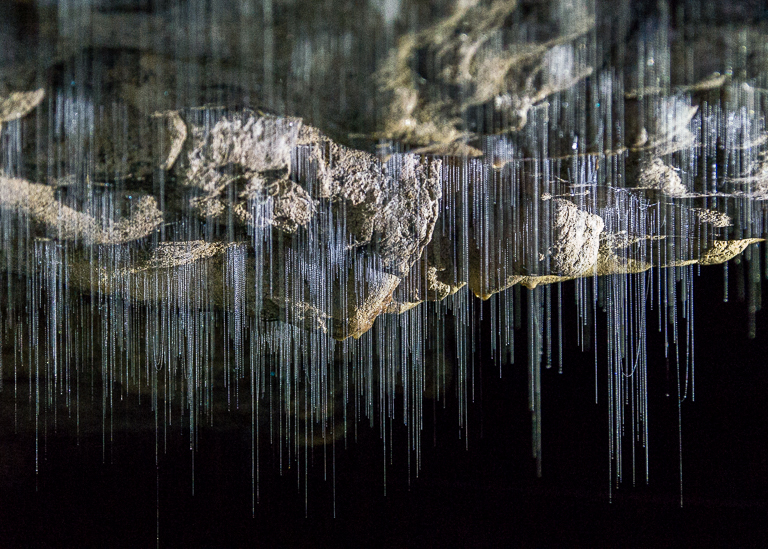 Glowworms in the Waitomo Caves
At the beginning of the trip into the glowworm caves, we were warned that no camera flashes were allowed (not sure if that's for the worms or for our eyes), and I wondered if my heavy camera was worth carrying. Towards the end of the tour, our guide carefully shined a low wattage light for us to see some of the worms close up. This is the luckiest photo I've ever taken, since I couldn't see well enough to actually check any settings, but I really feel like it represents the extreme coolness of these little creatures. Natural jewelry for Mother Earth, perhaps?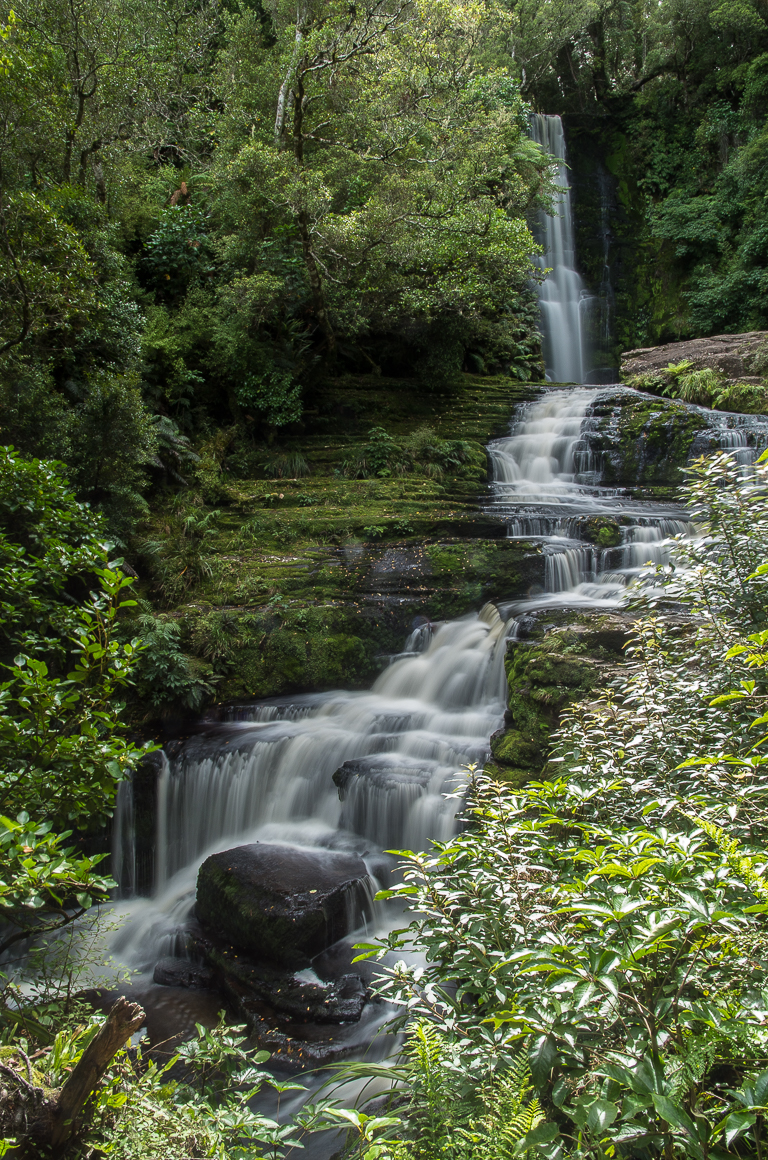 McLean Falls, Otago
I love waterfalls. I think it's a nice reminder for me of the sheer power and implacability of nature; this water has carved a path over hundreds of years, and will continue to be carve deeper long after I'm gone. These falls were just a short hike from the road, as so much of the natural beauty of New Zealand proved to be.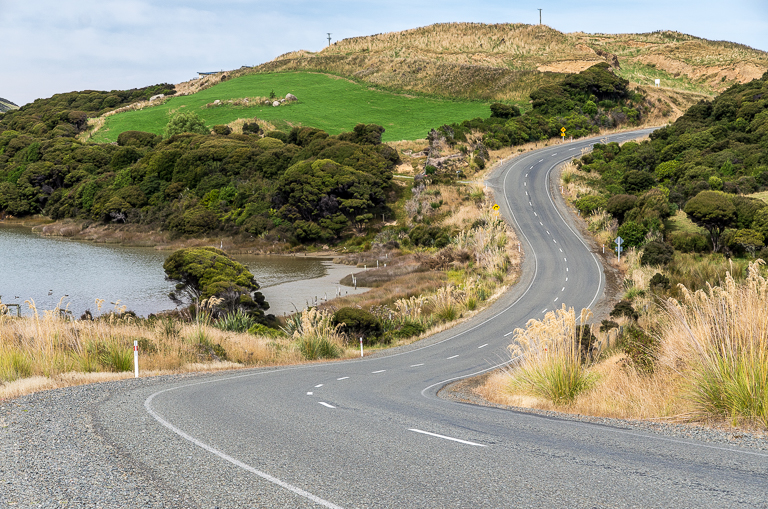 somewhere in New Zealand
Another roadside shot (literally!). One interesting thing about traveling in NZ was the hitchhikers – it was very common and accepted [this was a few years ago, don't know if that's still true]. I was able to provide lifts for a few folks, and it was nice to get a couple of hours of conversation with a stranger. Although I think I confused them when I would randomly stop and hop out of the car with my camera, barely remembering to mutter "be right back".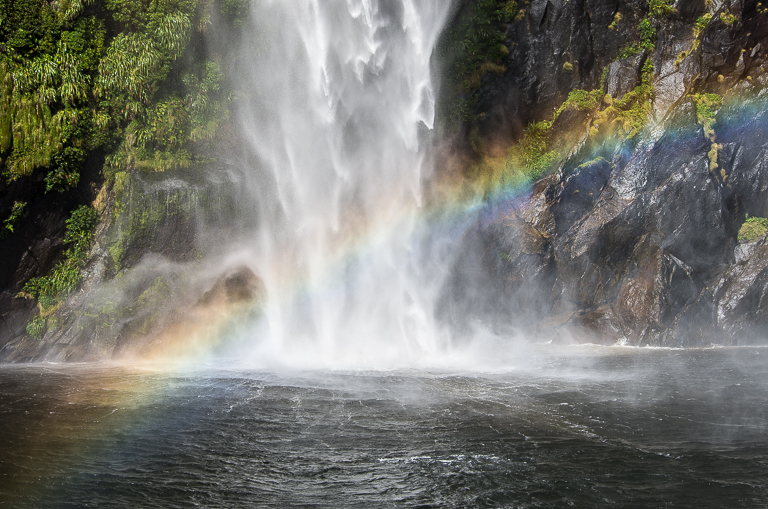 Doubtful Sound
I did a boat tour of the sound, and it was honestly…a little less impressive than I was expecting. I think perhaps the rest of NZ had overwhelmed me, to the point where something that would have dropped my jaw a couple weeks earlier now felt standard. For evidence, I present this waterfall, which was several hundred feet high, falling with enough energy and spray to form a constant rainbow. Looking at it now with several years separation…yep, pretty impressive.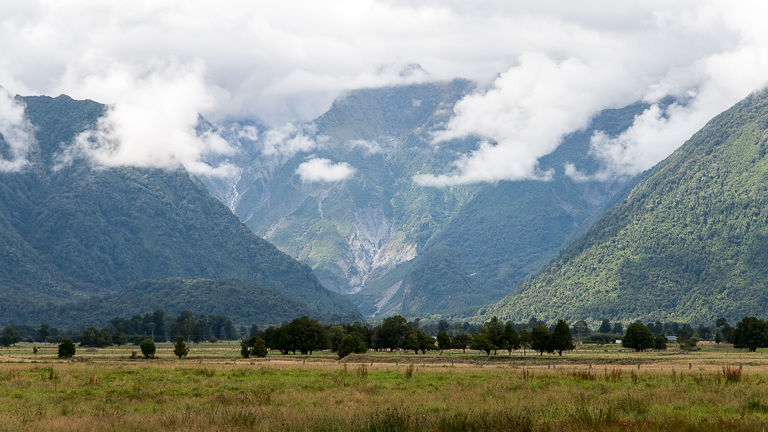 somewhere in New Zealand
I've traveled lots of places, and there's always something to see. But usually you have to go there intentionally. I've never been anywhere other than New Zealand where you could quite literally pull your car off the road, roll down the window, and take a picture of a scene like this. I would plan my days driving, assuming that I could make several hundred miles if I wanted, only to discover that I was averaging about 20 miles per hour, due to the number of times I was stopping. I confess to missing the freedom I had when I was there. It may not be the way to live a life, but it was a wonderful way to live a month.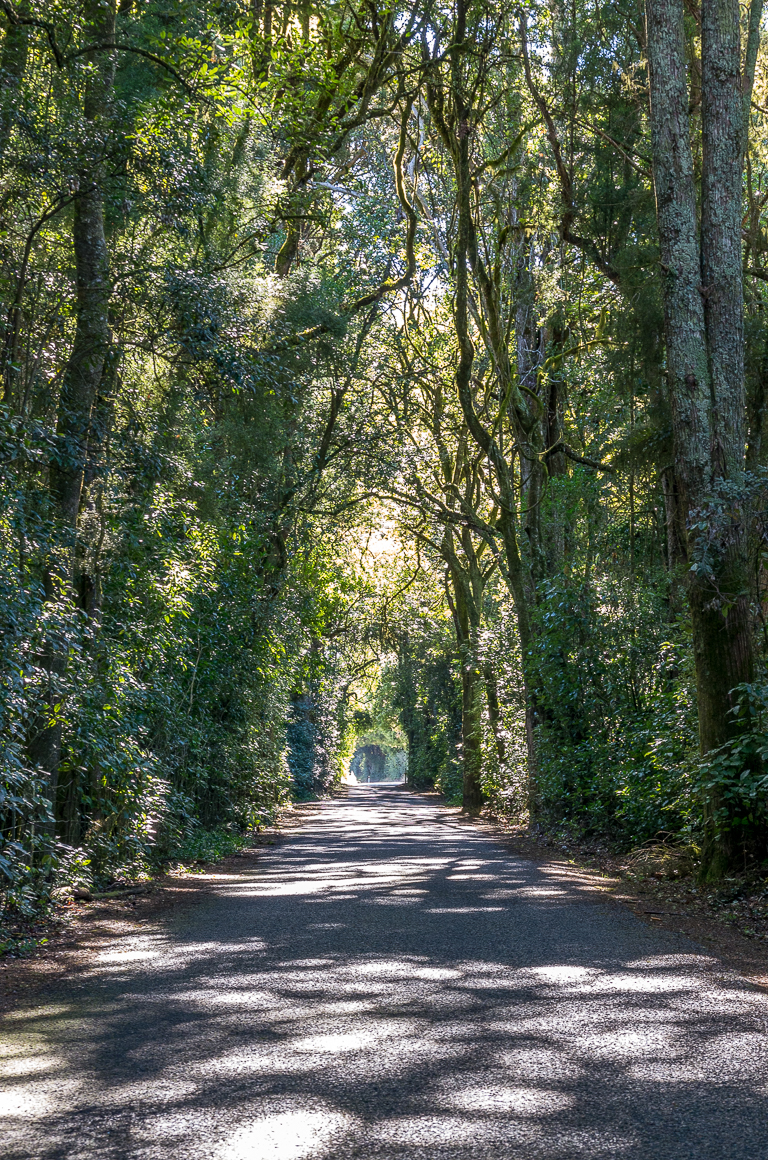 somewhere in New Zealand
Driving on a main road, you take a turn. Then you take another turn, and suddenly you are lost in a canopy of trees, wondering if you will still be in reality when you reach the end, or if you will have entered the Shire. Every road was exciting. Every turn was an adventure. And I was always eager to see what came next.

somewhere in New Zealand
While I'm grateful to live in an era of modern medicine and computers, there's always been a part of me wishing there were worlds left to explore. But just because it's not undiscovered doesn't mean it's not new to me. So I'll pick up my camera and go down a new road, knowing that even if there's a storm building, the sun will rise tomorrow, and there's a new day on the horizon.