On the Road is a weekday feature spotlighting reader photo submissions.
From the exotic to the familiar, whether you're traveling or in your own backyard, we would love to see the world through your eyes.
Captain C
After two great nights in Osaka, I took the shinkansen back to Tokyo for the last three nights of my trip. This stretch would include some great parks and music shops, more good food, and a baseball game!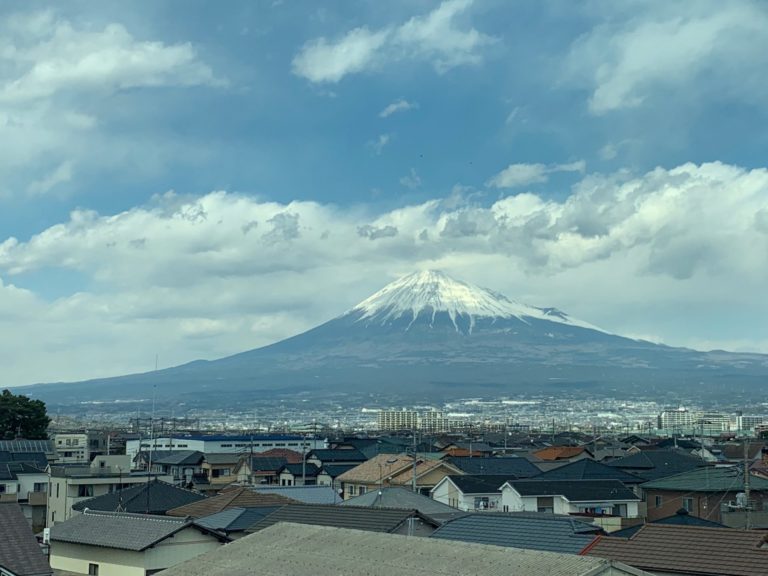 On the Shinkansen near Mt. Fuji
April 2, 2019
One of the reasons to take the shinkansen is that its route passes near Mt. Fuji, Japan's most iconic and venerated mountain. On both trips, I made sure to reserve a window seat on the Mt. Fuji side of the train. On the way to Kyoto, it was partially obscured by clouds, but on the way back, it was a perfect day.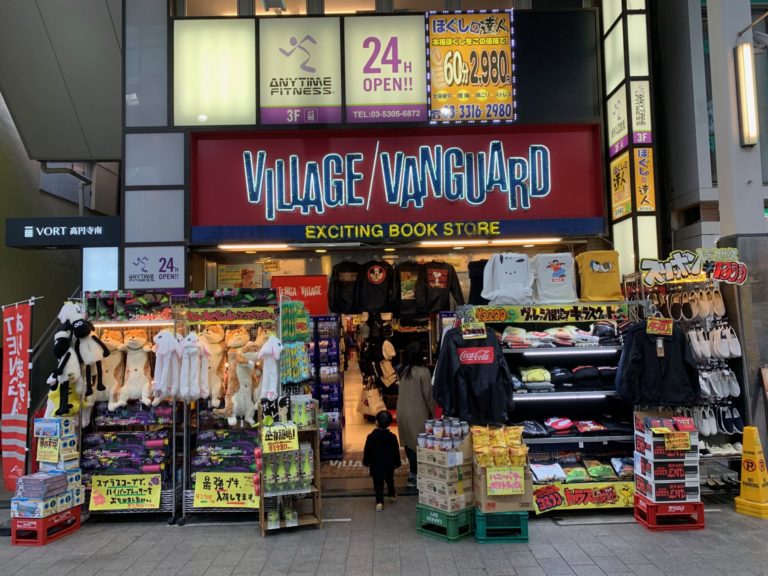 Koenji, Tokyo
April 2, 2019
The evening I returned, C took me for a walk through Koenji, the next neighborhood from his home in Nakano and the place he had previously lived. One of the weirder stores we saw was this, the Village Vanguard. It has nothing to do with the famous Greenwich Village jazz joint. Inside, there was a bewildering array of products, from shirts to silly socks to backpacks to books to manga to snacks (Moominvalley-themed cookies, anyone?). Also, they had tons of…clashing…music playing in various areas of the store, and if you're like me, you could find a point where you can hear two completely different songs making for a great John Cage moment.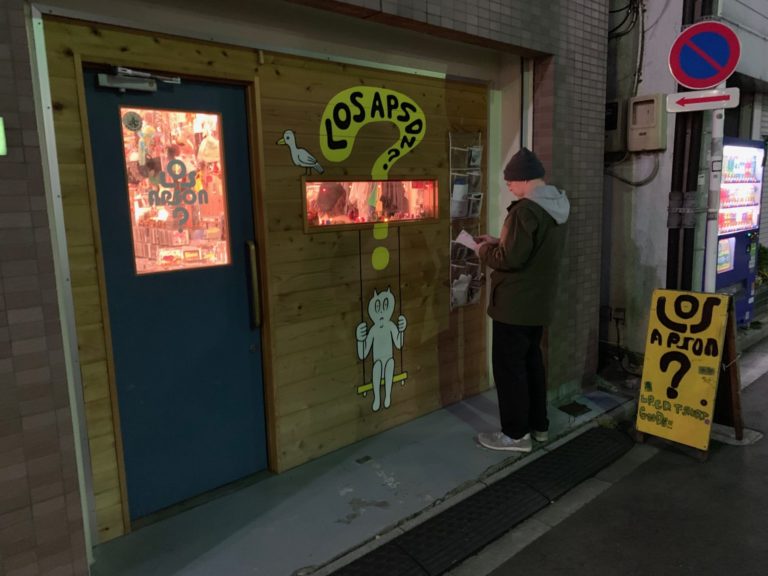 Koenji, Tokyo
April 2, 2019
This is C outside his favorite record store, Los Apson. C has made me some of the most far out mix CDs that I've ever been gifted, and I have done the same for him. So when we enter a record store, look at each other, and say, "damn, there's some far out shit in here," well, you know it's way out there. I showed great restraint, and limited myself to three CD purchases: a Sun Ra collection; an album called Each Organ by someone called Asuna, which had interesting cover art of a farfisa-looking organ and turned out to be delicious minimalist noise music; and an old-style double CD called Howling Wolf by a fellow named Seijin Noborikawa which looked like a '60s jazz or blues album. It was inexpensive, so I bought it, figuring that at worst case it was a great looking piece with forgettable music. When I got back to the USA and listened to it, it turned out to be a mix of about 50% what I'm guessing is Japanese folk music's analogue to the blues, and 50% what I'm guessing is the artist shooting the shit with his friends about the music, so I highly enjoyed it. All in all, great pickups.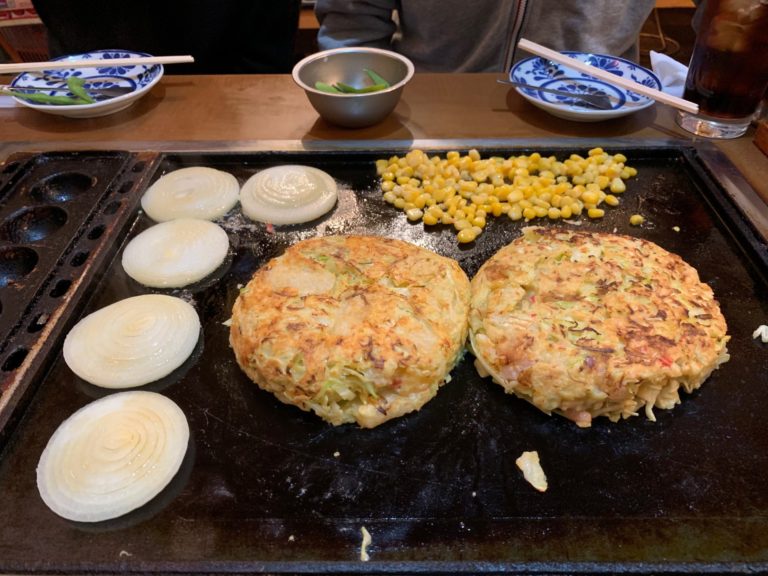 Nakano, Tokyo
April 2, 2019
That evening, C, his wife Y, and I went out for okonomiyaki, a savory pancake with a variety of options for the ingredients. Often in Japan, the okonomiyaki are prepared right at the table, either by the diners themselves, or in the case of 2/3 of the party being Anglos who look like they may not have a clue, by the friendly wait staff. This was one of my favorite meals of the trip.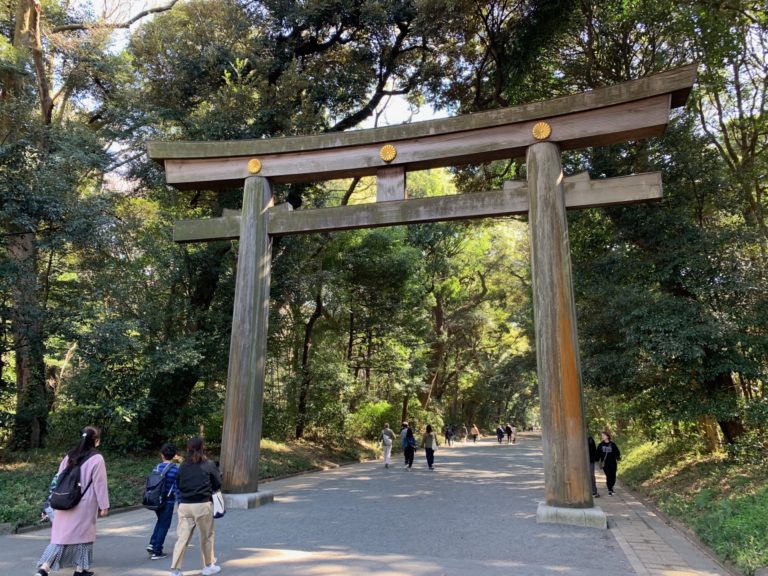 Meiji Jingu Gyoen, Tokyo
April 3, 2019
The next day, C and I spent a good chunk of the after noon in Meiji Jingu Gyoen, a lovely park which surrounds the Meiji Jingu shrine. This is one of the entrances, which leads to a pathway down which many an Imperial procession passed.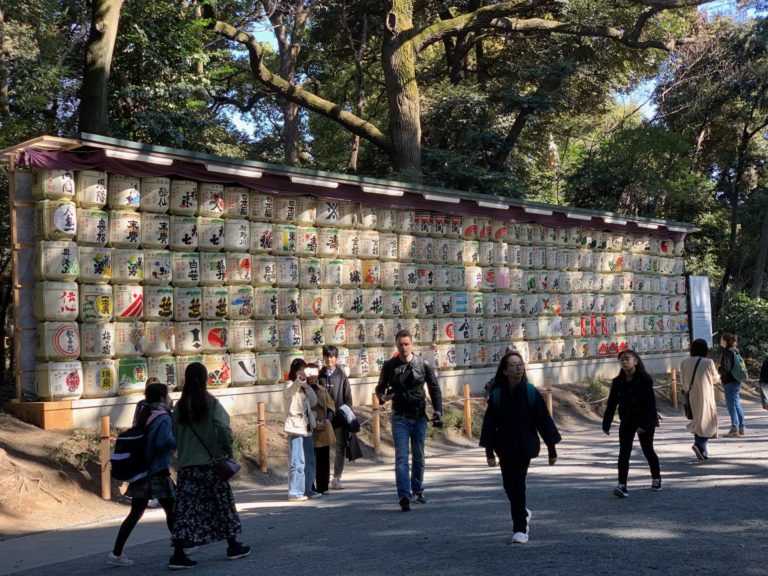 Meiji Jingu Gyoen, Tokyo
April 3, 2019
Barrels of sake near the shrine.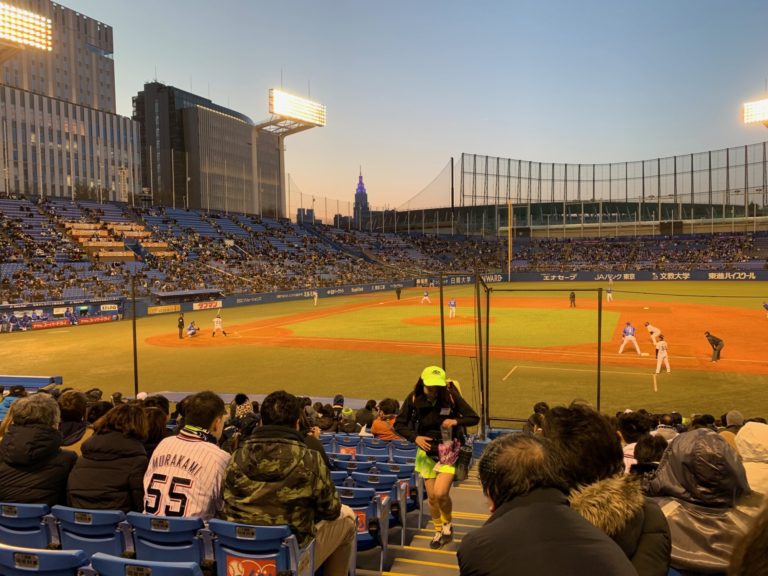 Meiji Jingu Stadium, Tokyo
April 3, 2019
Baseball is huge in Japan, and as a baseball fan, I really wanted to see a game while visiting. C arranged for tickets for a Yakult Swallows game, one of two teams in Tokyo proper (there are a number of others in the greater metro area), the other being the famous Yomiuri Giants, team of legendary slugger (and world home run champion) Sadaharu Oh. C desribed the Swallows as being like the Mets to the Giants' Yankees, so I felt right at home. The Swallows play in a lovely old school bandbox of a stadium, Meiji Jingu Stadium, and this night we saw them play the Yokohama Stars. Note the beer server coming up the stairs; the vendors here were all young women with mini-kegs on their backs so you could get a freshly poured draft at your seat. I got to chat a little with the one who served us. C said this was unusual, but as a University student studying English, she probably saw a chance to practice.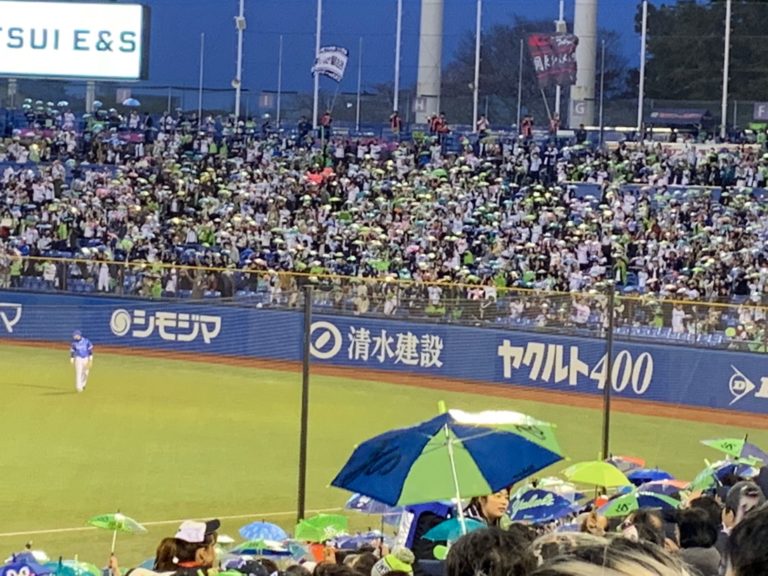 Meiji Jingu Stadium, Tokyo
April 3, 2019
How to describe the experience of a Japanese baseball game? I would guess, "like a European soccer game minus the violence" is a good start. The fans are knowledgeable and enthusiastic, and each team has a section of hardcore fans complete with a band. The visiting Stars fans were in left field, and the Swallows' were in right, singing and playing drums for most of the game. Rather than having walk-up music, each batter had their own chant and drumbeat which the hardcores would sing and play. The umbrellas seen here are specific to the Yakult Swallows, they come out in the 7th inning stretch, and every time the Swallows score.
The game was a tight one, and in the end, the Swallows won 5-4 on a walk off walk in the bottom of the 9th. We left the park, delighted, and also glad to get out of the coldest weather of the trip.