On the Road is a weekday feature spotlighting reader photo submissions.
From the exotic to the familiar, whether you're traveling or in your own backyard, we would love to see the world through your eyes.
For the next couple of weeks, we are having Ghosts of Holidays Past instead of the usual On the Road After Dark.

So send in your pictures!  Either as a full set for a post, or just send one or two that will go into a group post.  Be sure to include some text so we know what we're looking at.  If you want to send photos but not have them identified as yours, let me know that, too.

We haven't declared war on Christmas, but we did switch to Holidays so all celebrations are welcome!
My father was a professional photographer, so there are lots of pictures of the family Christmases, as well as home movies etc. It's hard to pick just a few, and I also don't want to embarrass myself or my siblings, so here some that I chose with that parameter in mind. Be forewarned, I'm officially old, and grew up in the middle of the country, so some of these items and customs might be novel for some of you youngsters! But I'm still impressed by Kodachrome; some of these slides are over 60 years old, and they look great, color and tone-wise!
Montezuma KS
One of the family traditions when I was young was a Christmas Day trip to my aunts house in the tiny town of Montezuma KS, about a half hour away. Here we would gather with my dad's parents and some of his siblings (most of whom were still in that part of KS), have Christmas dinner, wash a lot of dishes, and open presents. We took turns opening one present at a time, starting with the youngest and proceeding to the oldest, so my grandfather was always the last to get to open his first present. But he always had more than anybody, so he could keep opening presents long after the kids had completed theirs. Here's a pic of my sister "helping" my grandmother open a present; other relatives can be seen in the background.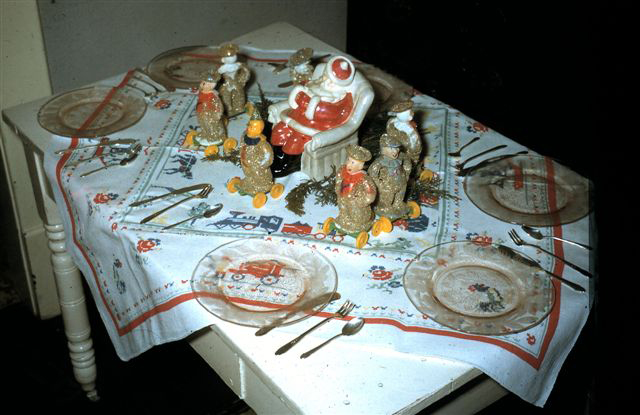 Montezuma KS
Another tradition at these family Christmases was a table for the adults and a table for the kids (my siblings and cousins). Here's one of the kid's tables, probably in 1953 or 1954.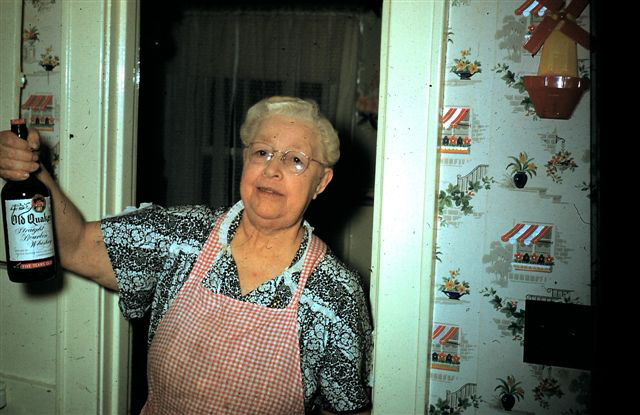 Montezuma KS
And here's one of the reasons there was a separate table for the adults. My grandmother with one of her presents.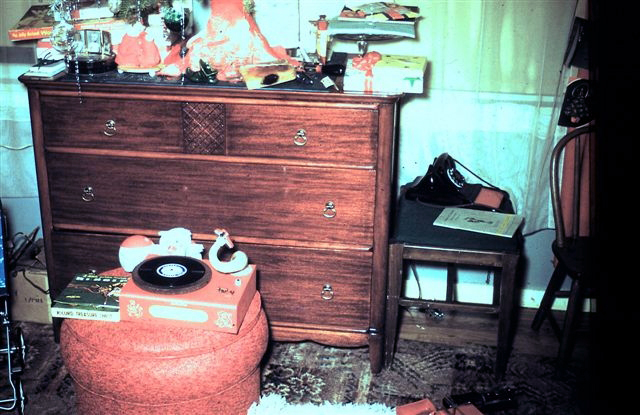 Garden City KS
Because we spent most of Christmas Day with the relatives, my sibs and I would have only early Christmas morning to play with our gifts from Santa. Some of them could travel to Montezuma, but the car was pretty full and so most of them stayed home. Here's a look at some gifts from Santa, waiting to be opened on Christmas morning, about 1953.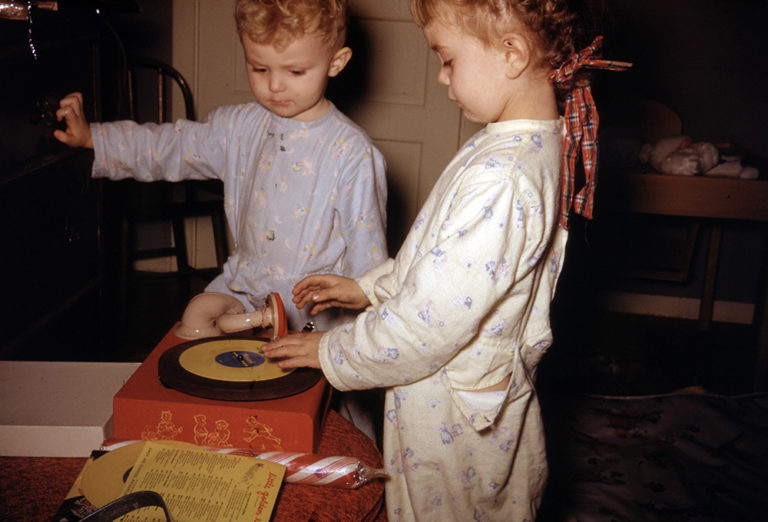 Garden City KS
My sister and myself, in pajamas, figuring out how to use the new record player shown in the previous pic.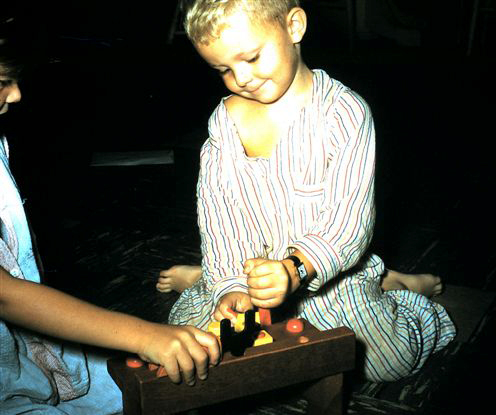 Garden City KS
One of my gifts, a year or so later, was this wooden workbench, which I probably didn't get to take to the big family Christmas in Montezuma!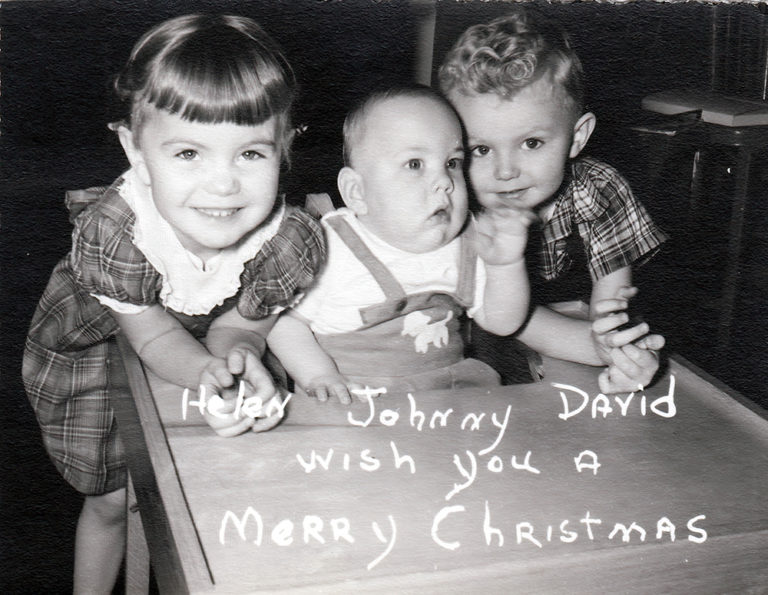 Garden City KS
My father would also make us all pose for a Christmas card image, which he would send to friends and relatives, but would also use them as an example when he advertised this opportunity for others in the community. So the next three images are some of those. This one is 1952.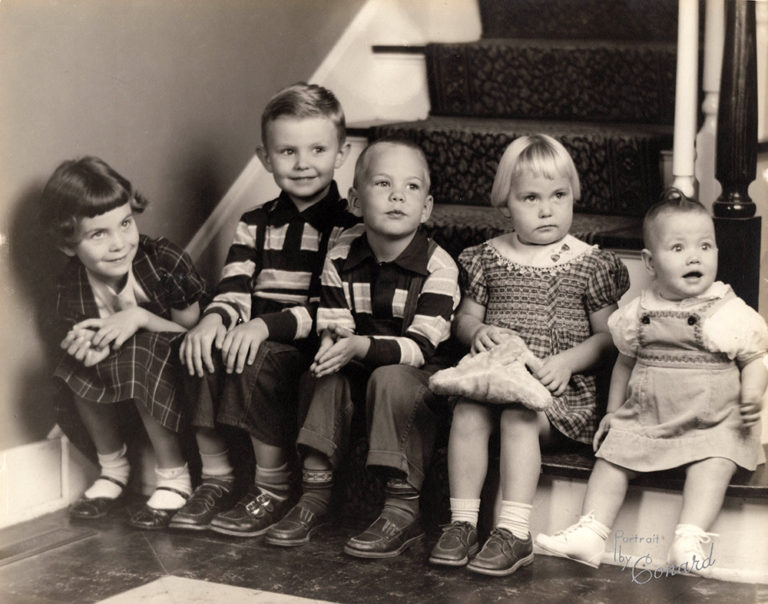 Garden City KS
December 1, 1955
1955. Five kids in 6 years… Sheesh. But we were still cute! This was posed on a fake staircase in Dad's studio; it led nowhere, but made a great posing spot for pics like this.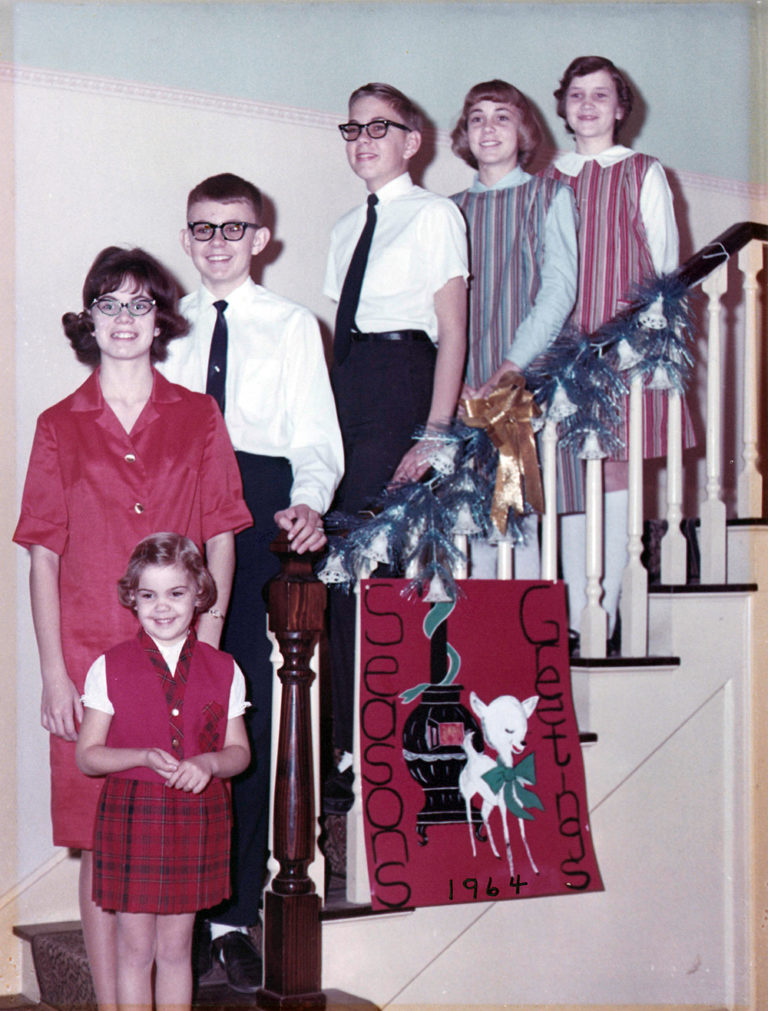 Garden City KS
1964. Color Christmas card this year! Same staircase, one more kid, and some of us were decidedly into the "not-so-cute" phase of adolescence.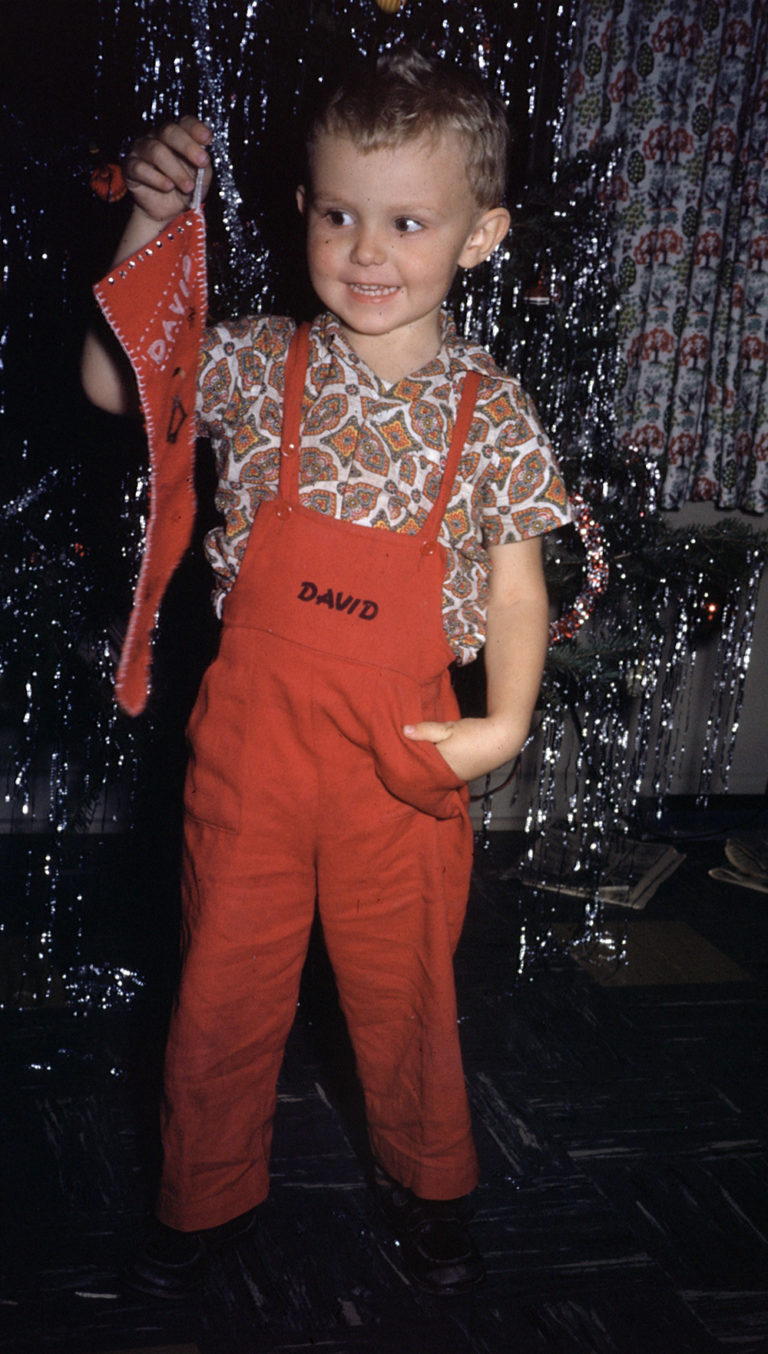 Note from WG: I had to add this one to what Albatrossity put together.  In case you missed it last week, this is an adorable 4-year-old Albatrossity.