On the Road is a weekday feature spotlighting reader photo submissions.
From the exotic to the familiar, whether you're traveling or in your own backyard, we would love to see the world through your eyes.
On the Road: Week of December 28  (5 am)
Albatrossity – Winter Hawks of 2020
Kody Kastel – California Photos
?BillinGlendaleCA – The Great Conjunction
Captain C – Goes To Japan: Second Tokyo 2
Steve from Mendocino – Provence, France

On the Road: After Dark: Week of December 28  (10 pm)
Origuy – Road Trip 2006 Part Two
Mike in Oly – Mt. St. Helens National Volcanic Monument
KarenH – Great Sand Dunes National Park
Ghosts of Holidays Past – Christmas Snippets
Ghosts of Holidays Past – Christmas at Rockefeller Center
?  And now, back to Albatrossity, for Winter Hawks of 2020.
Albatrossity
Time for another installment of the Winter Hawks of Kansas, methinks. As you know if you have driven through the state in winter, we are blessed with a tremendous number and variety of raptors at this time of year.
Some are residents, many are migrants from the north. Some return to the same territory year after year, while others, particularly the youngsters who hatched out last summer, have to work hard to find an unoccupied territory and survive the winter. And every year, some don't return, having succumbed to one of the myriad hazards of migration between here and, in some cases, Alaska or the Canadian Arctic.
So here's a sampler from the season so far, with some familiar faces and lots of new ones.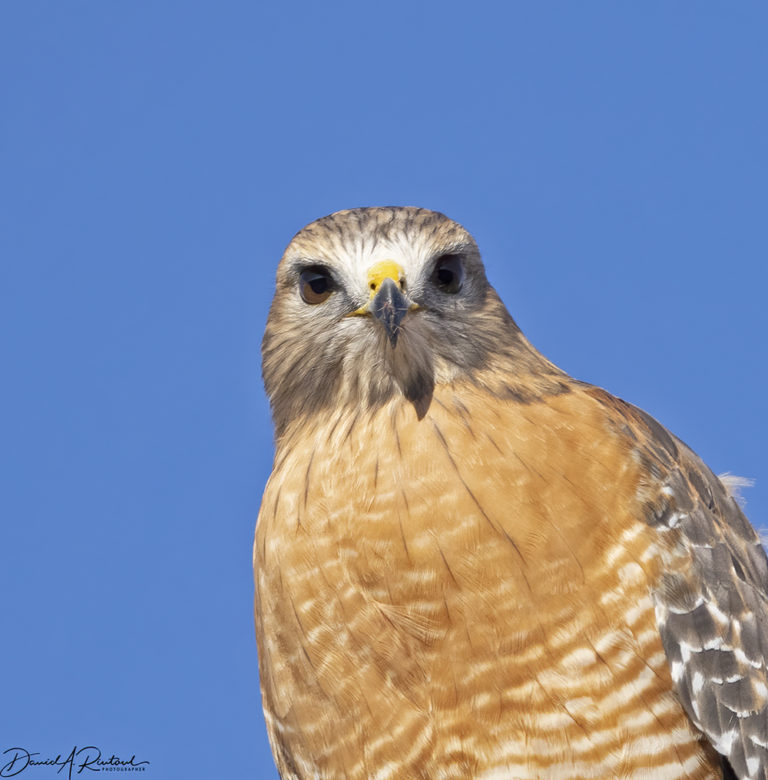 Near Keats, KS
December 19, 2020
Red-shouldered Hawks (Buteo lineatus) are one of the resident species, and are becoming quite common in my area, This one was photographed on our annual Christmas Bird Count, and was one of three I saw that day. But 30 years ago it would have been a hotline bird, and a report of this bird on the CBC would have earned me a grilling from the compiler about the details of the sighting, how I eliminated other species, etc. Today it is not exactly a ho-hum bird here, but the fact that I found three in my area tells you that they are doing quite well here.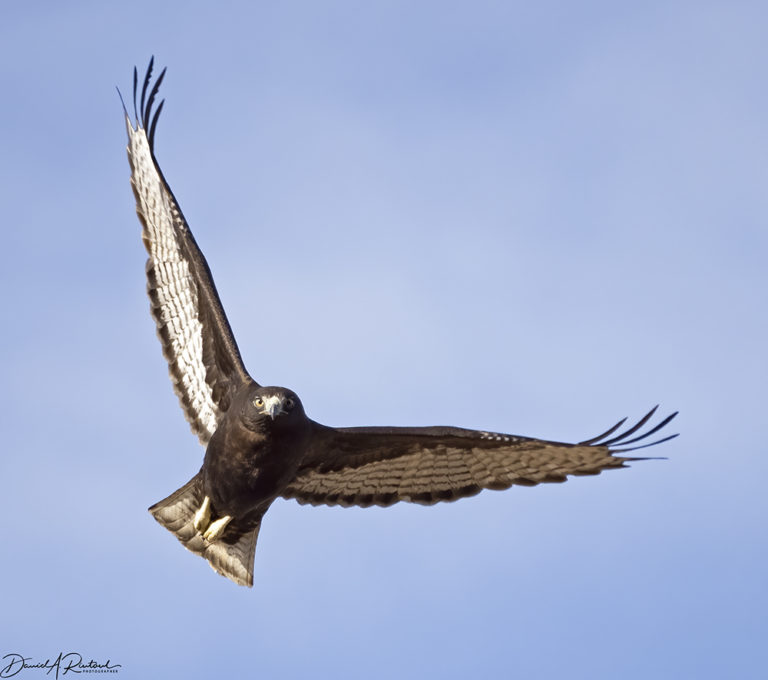 Near Manhattan KS
December 26, 2020
One of the most spectacular winter migrant hawks here is the dark-morph version of the Red-tailed Hawk subspecies known as Harlan's Hawk (Buteo jamaicensis harlani). This one might be a returnee from the Yukon or Alaska; it is a second-year bird and was in an area where I sighted a first-year bird several times last winter. Audubon dubbed this the Black Warrior, and it is easy to see why that name is apt.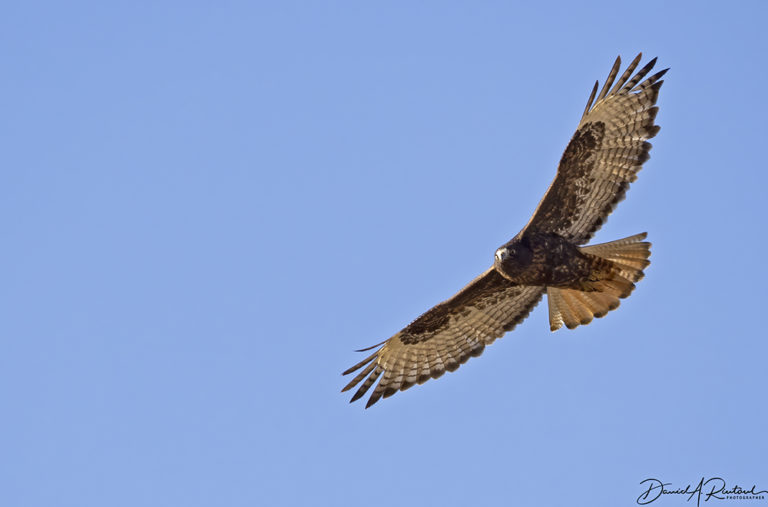 Near Manhattan KS
December 19, 2020
Another dark-morph, but a different subspecies. This western Red-tailed Hawk (Buteo jamaicensi calurus) is also a second year bird, and is trying to fit into a spot on the edge of an established Harlan's Hawk territory. So far this season they are co-existing, though not always amicably!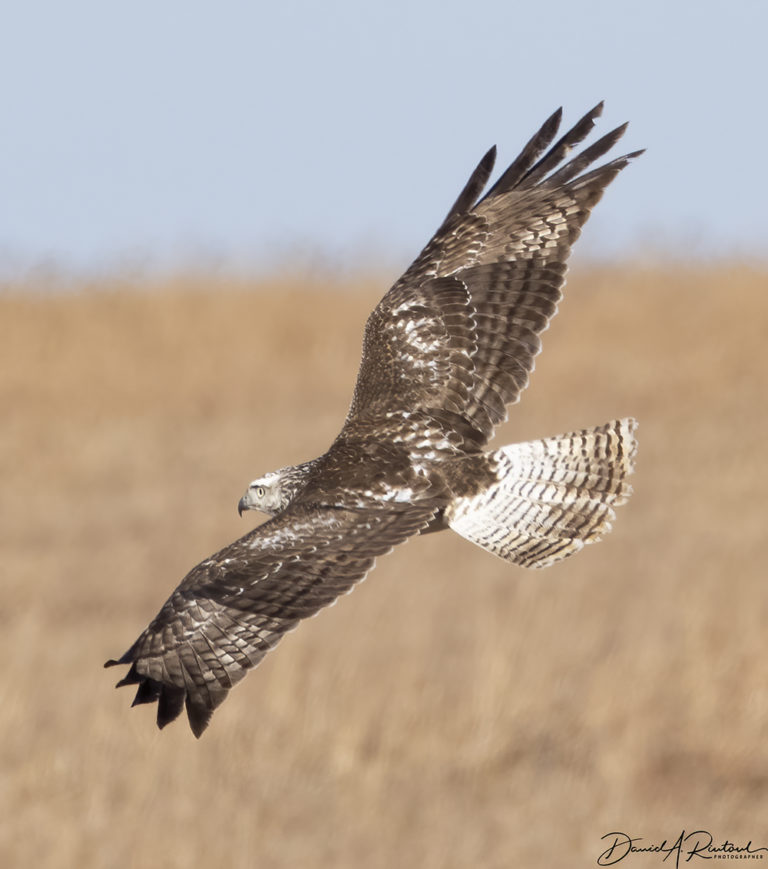 Near Alta Vista KS
December 22, 2020
On the opposite end of the spectrum, pigment-wise, is the subspecies known as Krider's Hawk (Buteo jamaicensis kriderii) . This is also a migrant from points north, although not as far north as the Harlan's. This one was identified as a juvenile Krider's Hawk, perhaps with some genes from the eastern redtail (B. j. borealis) side of the family.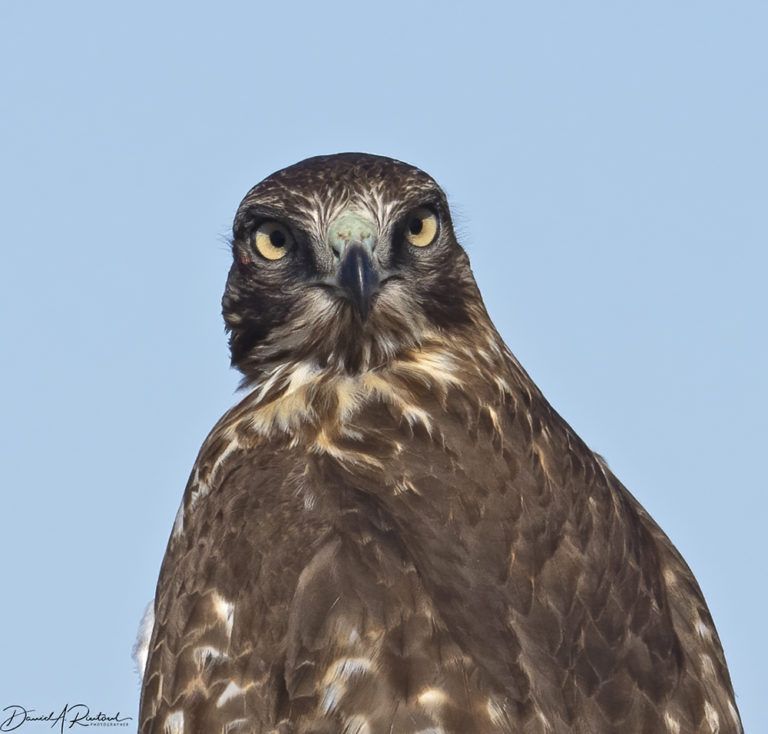 Quivira NWR
December 9, 2020
Young hawks are routinely more tolerant of photographers, in my experience. This young Red-tailed Hawk not only tolerated me, it tolerated another photographer at the same time, and mostly stretched, loafed, and pooped while we were photographing it.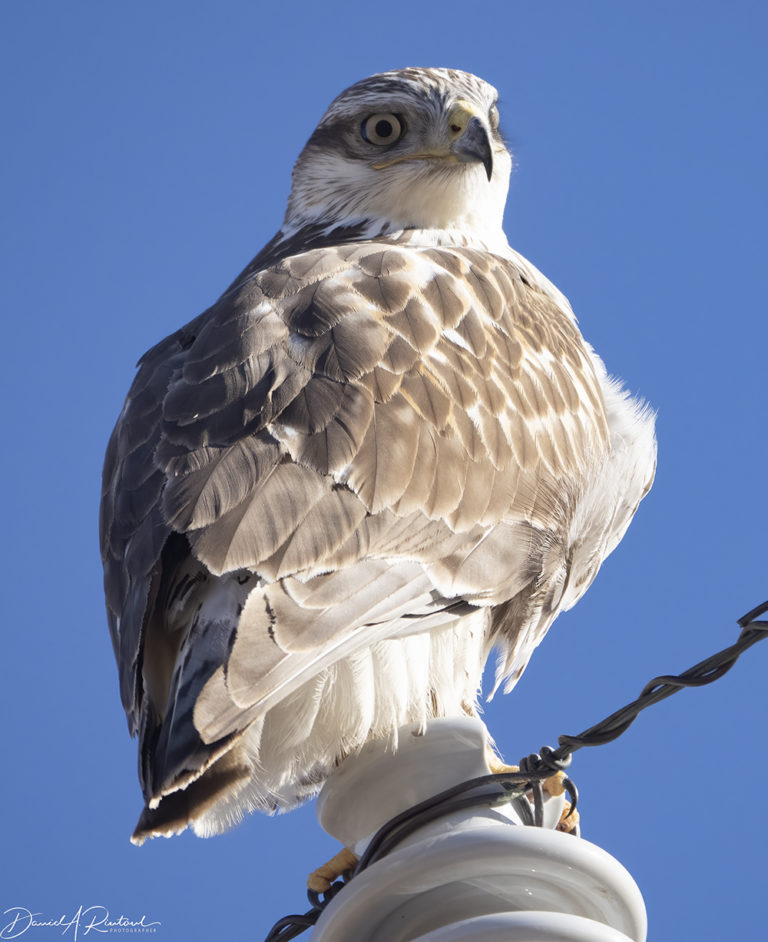 Quivira NWR
December 1, 2020
Just like the young redtail above, this first-year Ferruginous Hawk (Buteo regalis) mostly was content to watch me, perhaps sizing me up as a potential meal.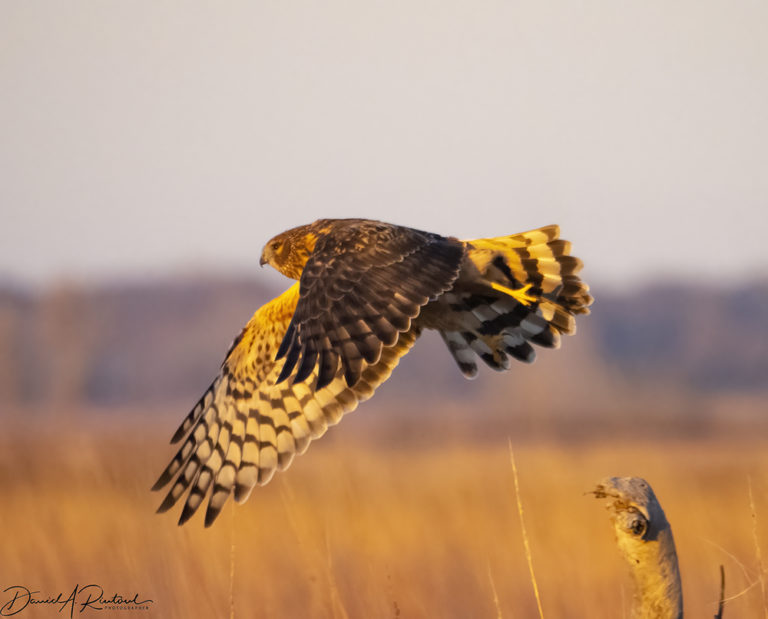 Quivira NWR
December 1, 2020
Northern Harriers (Circus hudsonius) do stay for the summer in western KS, but they are winter birds in my part of the state. They are constantly on the move, and thus are a challenge to photograph, but this female Northern Harrier in dawn light was worth a shot.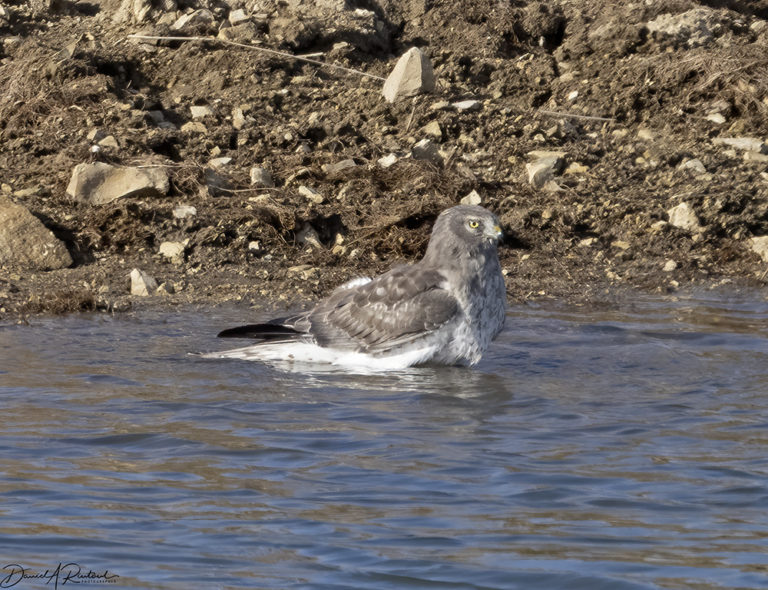 Near Manhattan KS
December 21, 2020
This is a sight I have not seen before. As noted above, Northern Harriers are constantly on the move. It is rare to see them on the ground, and even more rare to catch them in an unguarded moment like this. This male was very cautious, first perching on the shore of this pond, then, after a few minutes, he moved out into the water. After a few more minutes, he moved to slightly deeper water and proceeded to dunk and splash and bathe vigorously for a bit. I felt a bit like a voyeur, but it was a unique opportunity and I wanted to document it!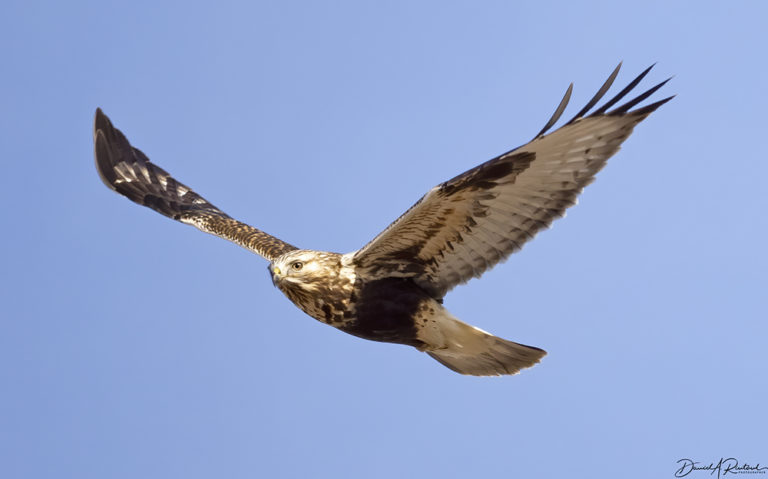 Near Manhattan KS
December 26, 2020
Another migrant from the far North, a first-year Rough-legged Hawk (Buteo lagopus). In some winters they are scarce here, perhaps because there is ample food up north in Nebraska or Iowa. Last year, for example. I found exactly three all winter long. This winter is different, I have already seen 8-10 of these striking birds, and it's not yet 2021!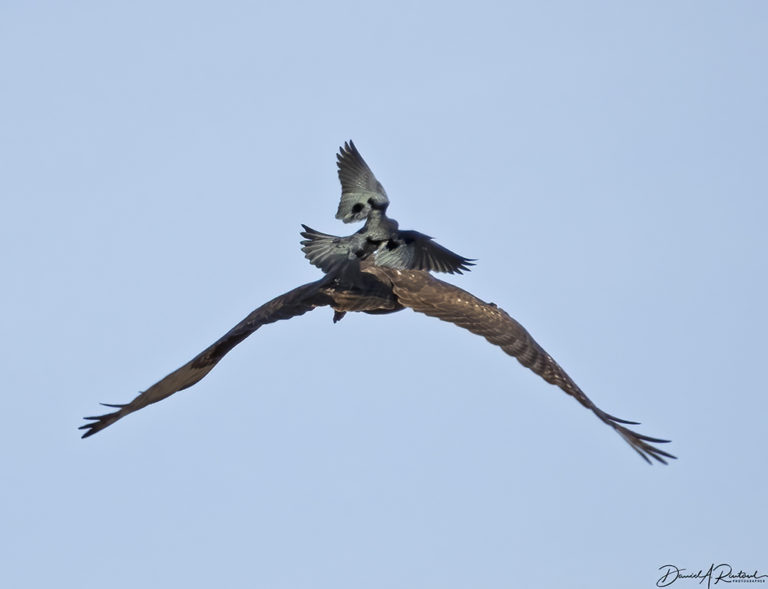 Near Manhattan KS
December 21, 2020
Finally, here's a shot that shows how it ain't easy being a hawk. This Harlan's Hawk was being hassled by a Common Grackle (Quiscalus quiscula), who lit out after the hawk as soon as the hawk took off. He smacked the hawk at least a couple of times, and there really wasn't much that the hawk could do about that.