On the Road is a weekday feature spotlighting reader photo submissions.
From the exotic to the familiar, whether you're traveling or in your own backyard, we would love to see the world through your eyes.
Albatrossity
In late December 2017 I had an opportunity to visit Big Bend National Park with Elizabeth and another couple who were in the College of Architecture at KSU. We had traveled with them before (to New Zealand), and it sounded like fun. Additionally, I had always wanted to visit that national park, which is huge, diverse, and perched next to Mexico along the Rio Grande in west Texas. The days had long passed since I was tempted to hike the canyons there, but the opportunity for some warmer weather, bird-watching, and time with some good friends sounded great to me!
It is a two day drive from where I live in Kansas to the park entrance, and we also planned to visit Marfa for a day before we got to the park. Marfa is an interesting place in its own right, and the Chamber of Commerce slogan "Tough to Get Here. Tougher to Explain. But Once You Get Here, You Get It" is pretty accurate. There are art galleries galore, but the real reason our architect friends wanted us to see it was the Chinati Foundation, founded by the minimalist artist Donald Judd. I do have pictures of the installations there, but they don't do it justice. So we'll go with some birds and scenery instead!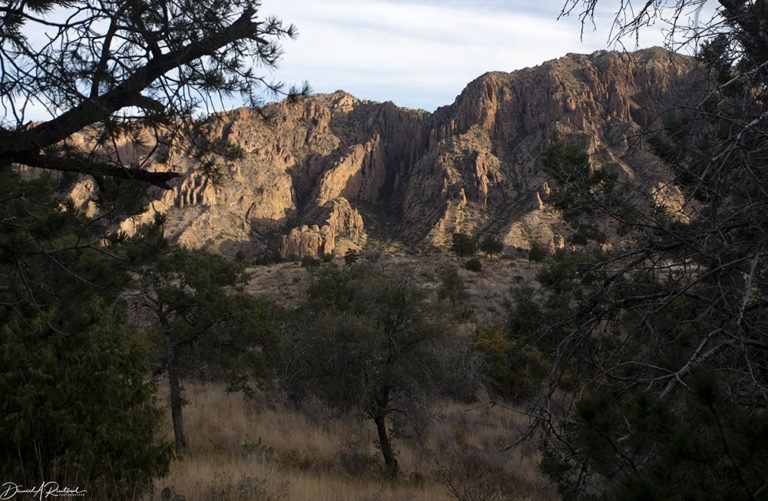 Big Bend National Park
December 24, 2017
We got to the park at sunset, and were able to stay in some of the rustic cabins near the lodge in Chisos Basin, the administrative center of the park which is nestled in the Chisos Mountains. This was our view of the mountains at dawn the next day.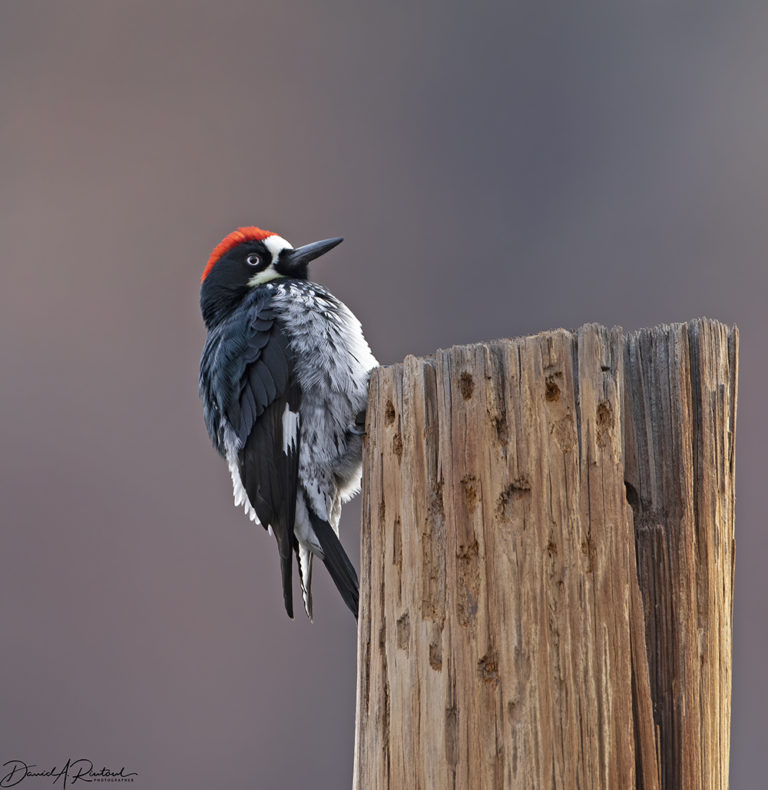 Big Bend National Park
December 24, 2017
There were lots of birds near the cabin; I didn't even have to get off the porch to see this Acorn Woodpecker (Melanerpes formicivorus). These clown-faced birds store acorns in large "granaries", which are basically just acorn-sized holes in a handy dead tree. They are gregarious and have a complex social structure, with young birds from last year helping to raise the young, joint-nesting by multiple females, etc. One of my favorite birds, and very raucous as well!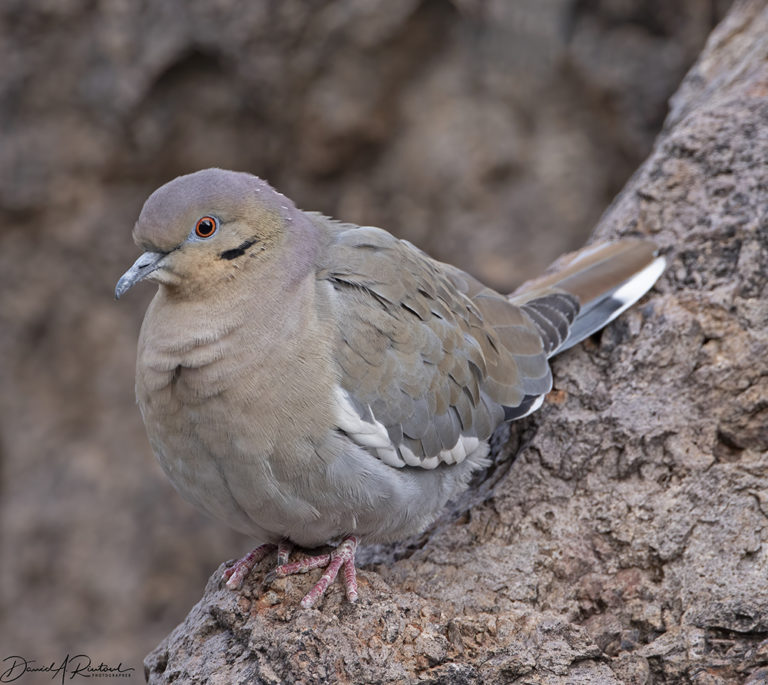 Big Bend National Park
December 24, 2017
Another bird near the cabin was this White-winged Dove (Zenaida asiatica). Large, noisy, and currently expanding its range northward, they can be distinguished from the familiar Mourning Dove by the larger size, white upperwing coverts, and shorter rounded tail rather than the pointy tail of the Mourning Dove.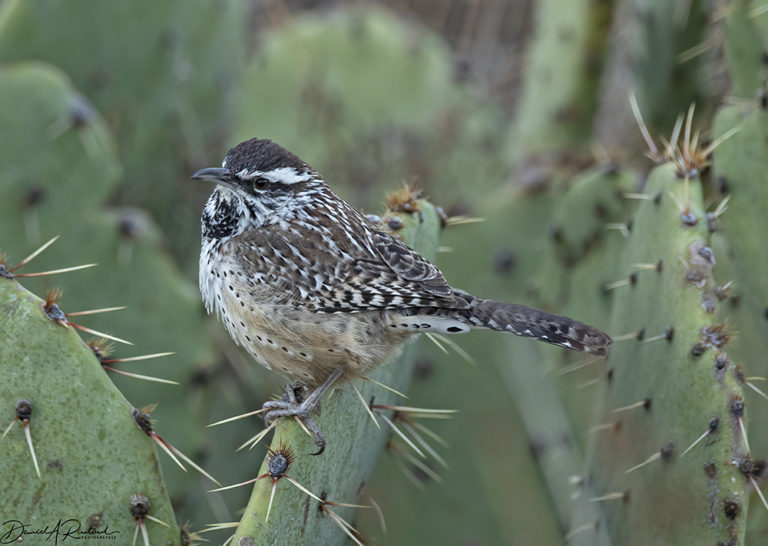 Big Bend National Park
December 26, 2017
The area around the lodge has lots of hiking trails, which are home to lots of interesting southwestern birds. This Cactus Wren (Campylorhynchus brunneicapillus) obligingly perched on a prickly pear cactus and showed off its eponymous brown cap.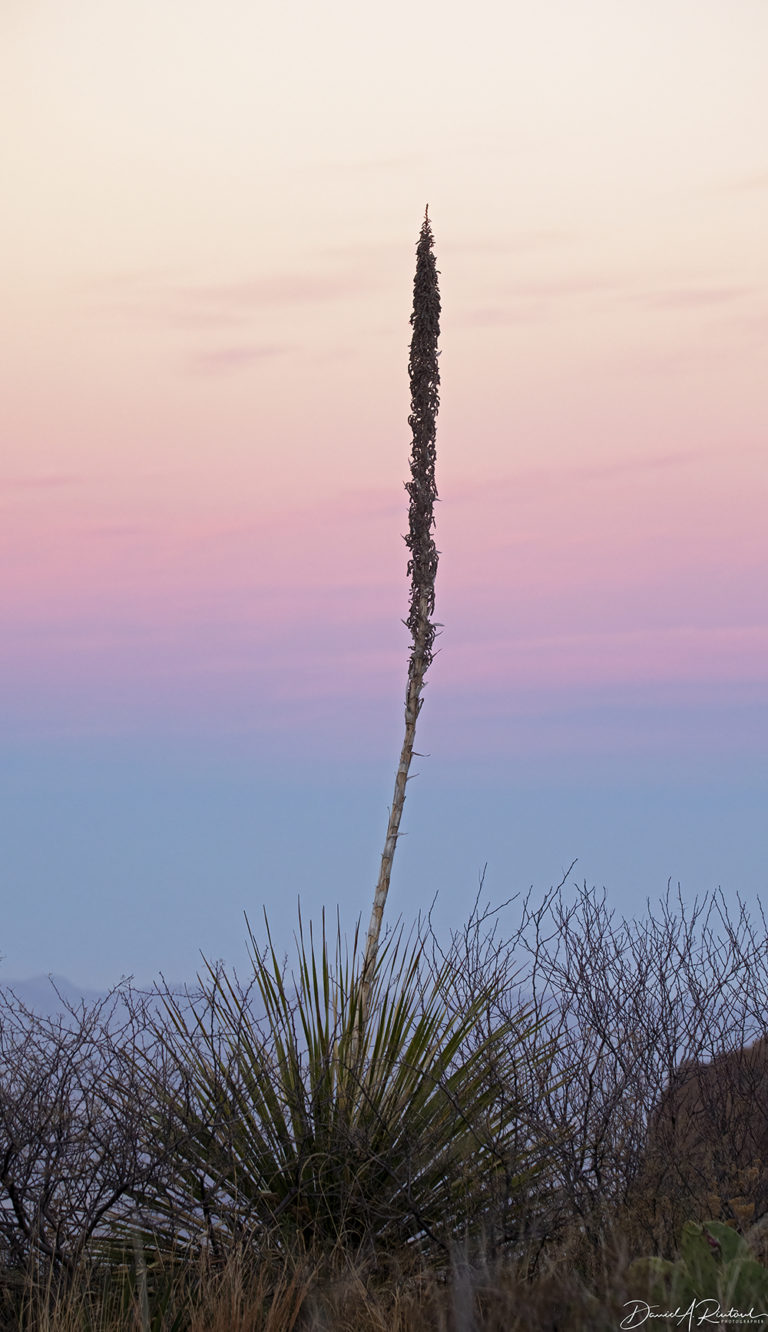 Big Bend National Park
December 26, 2017
One of the iconic geological sites in the park is a feature called The Window, a slotted canyon at the end of a hiking trail that starts near the lodge, and is a gorgeous place to view the sunset. But at dawn this view of the sunrise also presented itself, set off by this flowering stem of the Sotol (Dasylirion sp.). This spiky plant can be used for fiber, livestock food, and even to make a liquor called sotol, which involves roasting flowerheads like this one for 24 hours and then distilling the juice. We couldn't find it in the stores, but it sounds, ummm, interesting.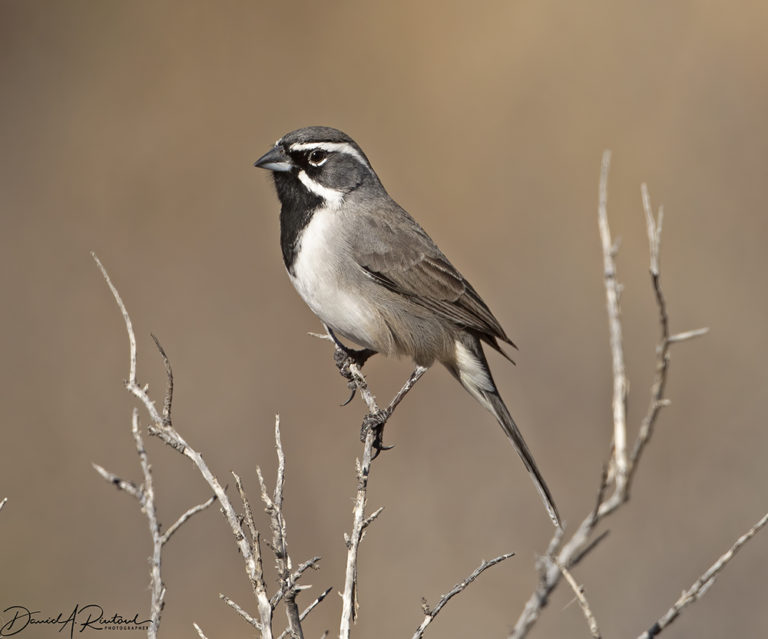 Big Bend National Park
December 24, 2017
In the lower desert (which makes up most of the park) there are also some interesting birds. Black-throated Sparrows (Amphispiza bilineata) were abundant, and familiar to anyone who has birded in the American Southwest.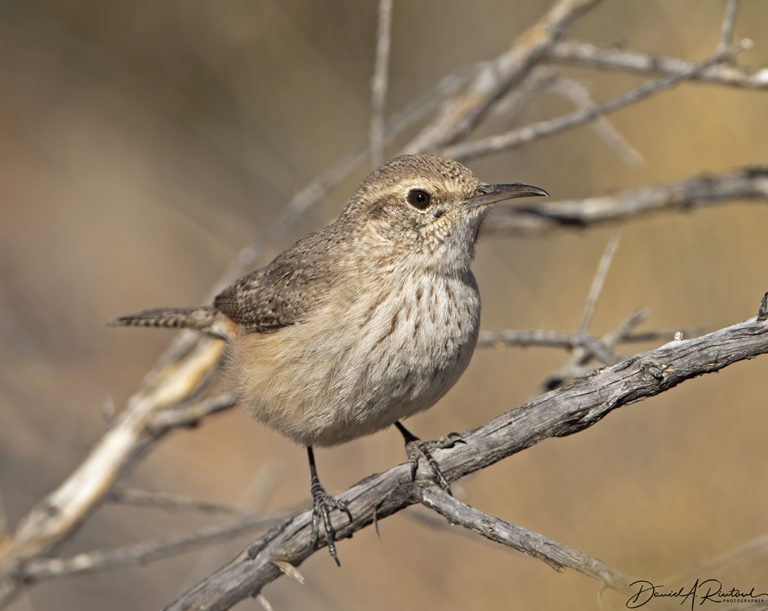 Big Bend National Park
December 24, 2017
Another abundant denizen of the lower desert is the Rock Wren (Salpinctes obsoletus), It is aptly named, as it is nearly always found near rock jumbles and canyon walls.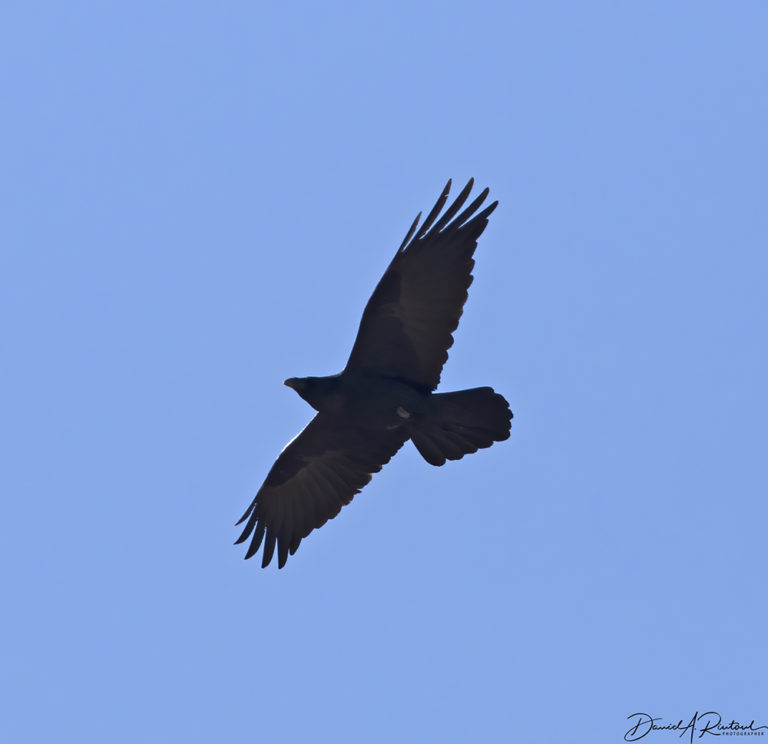 Big Bend National Park
December 24, 2017
Common Ravens (Corvus corax) also live in the low desert areas of the park, as well as in the upper more mountainous parts. They are hard to photograph, wary and mono-colored, so I try to get a decent picture of them every time I have the chance. That broad wedge-shaped tail is the best field mark for identifying soaring ravens, which are actually larger than many Red-tailed Hawks.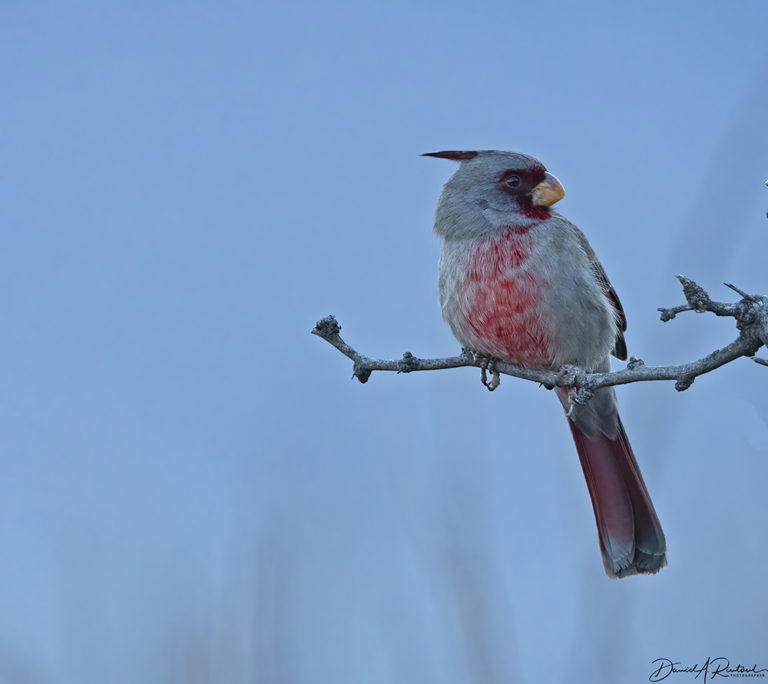 Big Bend National Park
December 25, 2017
Finally, one of the target birds for many visitors to the American Southwest is this Pyrrhuloxia (Cardinalis sinuatus). A member of the cardinal and grosbeak tribe, also known as the Desert Cardinal, it is easily distinguished from the more familiar Northern Cardinal by the stubby yellow bill and the wispy pointed crest. Based on the rosy color on the chest and breast, this one is a male.