On the Road is a weekday feature spotlighting reader photo submissions.
From the exotic to the familiar, whether you're traveling or in your own backyard, we would love to see the world through your eyes.
We're back in Paris, After Dark, for the next two weeks!
Steve from Mendocino – Paris
Since WaterGirl cancelled Paris (I expect her to cancel Christmas, next), I've decided to keep Paris alive with a number of posts of my own Paris photos. Kidding, WaterGirl. You breathe so much life into our Balloon Juice experience. Thank you.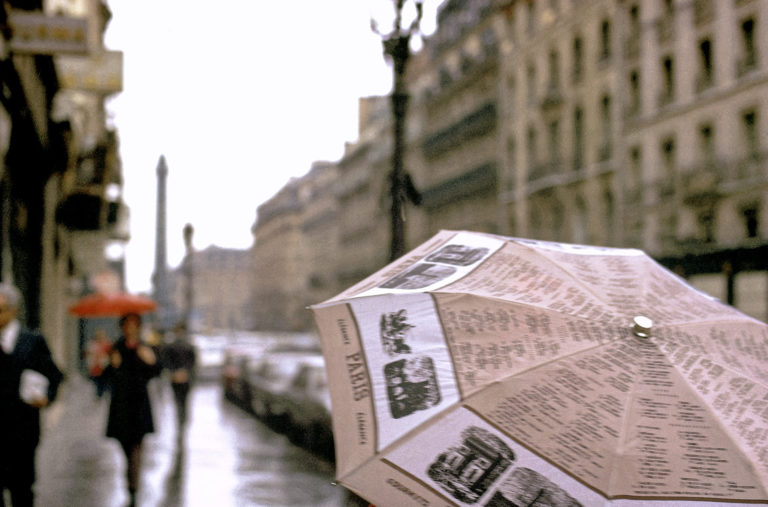 As I mentioned in an earlier post, I would have loved to be situated in Paris – for the restaurants, for the urban beauty, for the French culture, for the sophistication, for the energy. Mendocino has worked well for me, though.
While Mendocino restaurants lack particular interest, the food resources are at least as good as Paris's but with different strengths and weaknesses, and my kitchen is far better than I could hope for in a Paris apartment. The natural beauty in Mendocino provides a spectacular counterpoint to the curated beauty of Paris. Mendocino's small-town community is warm and progressive. And I have the ocean. Life has been good to me here.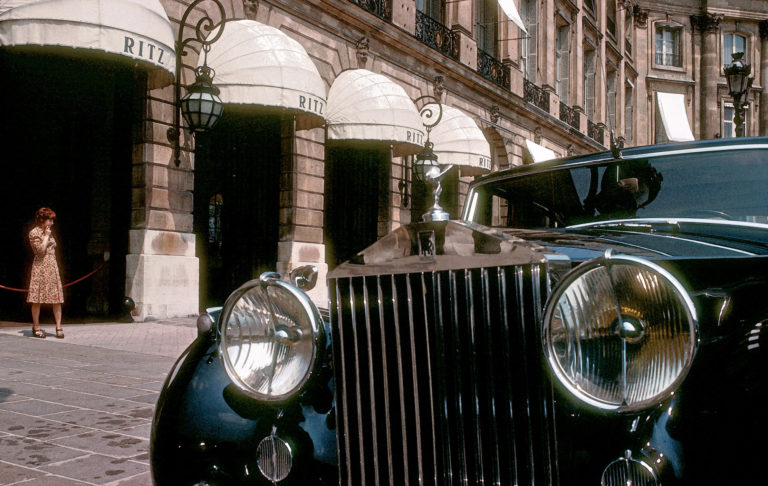 A close friend gave me a tip for quiet relaxation during a long day of tramping around Paris: The Ritz has a lovely garden as well as a cozy bar. Regardless of the weather, there is a special spot here where one can spend a leisurely hour or so sipping an obscenely expensive beer. If you consider the purchase of the beer as merely a table rental in a lovely setting, it's really rather reasonable. The Crillon works equally well as do a number of other high-end hotels.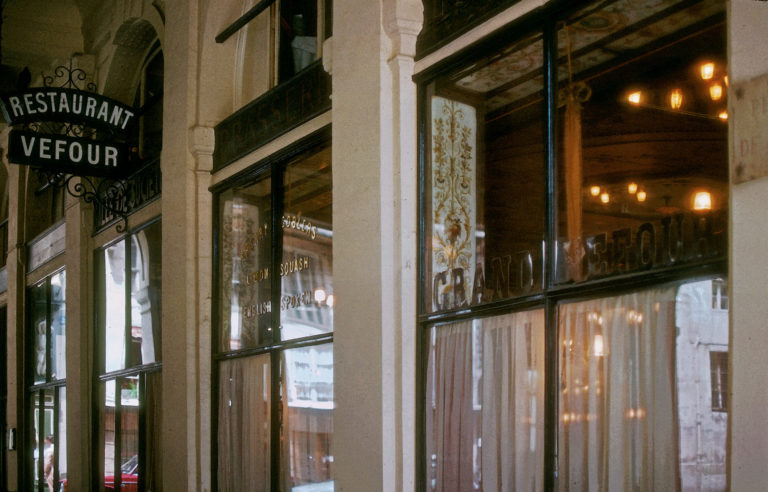 Restaurants range from cheap student dives to overpriced tourist formula eateries to bistros of various sorts to regional and ethnic offerings to the fanciest of luxury palaces. I've found that most of the Michelin 3 star restaurants in Paris are more expensive, more formal, and less exciting in the mouth than their counter parts in other parts of the country, but in Paris there is a vast choice at one's finger tips.
Grand Vefour in 1969 was my first Paris 3 star experience. It was a window on another time. Raymond Oliver was still walking the floor. The cuisine was straight out of Escoffier. The trust between restaurant and diner was unlike anything I've experienced since. We ordered a bottle of 1959 Brane Cantenac (reasonable at the time), and it arrived decanted with the moist cork tucked into the handle of the decanter. We never saw the bottle.
There was an implicit confidence that I, the diner, would recognize and accept the wine and that I would consider the restaurant staff to be trustworthy in the handling of the bottle. Alas, these days even the president of the United States will lie and cheat and damage people throughout every single day that he lives.
Beyond Grand Vefour, I've been 7 times to Jamin, twice to Robuchon's newer eponymous restaurant (where I got food poisoning on the second visit from a single, tiny toxic oyster), twice to Laserre, once to Tour d'Argent, once to l'Espadon, twice to Les Ambassadeurs, once to Ducasse, twice to Lucas Carton, once to l'Archestrate, once to Dutournier, and once to Taillevant. All of these had 3 Michelin stars at the time I went. Robuchon was easily the best chef in Paris, and his first 3 star restaurant, Jamin, was relaxed and attractive and the food consistently dazzling and yummy.
I took notes at each of my 3 star meals, analyzing the preparations so that we could incorporate the ideas into our own cooking. Yes, the allocation of our budget was odd, but in overall numbers it was typical of a childless professional couple with advanced degrees. In Paris we stayed with family. Outside of Paris we either stayed with family or in a car camping tent on a $7 camp ground plot with bathrooms, warm showers, and typically beautiful surroundings. Occasionally we'd put our tent up in a pasture used by a friend or relative to graze goats or sheep.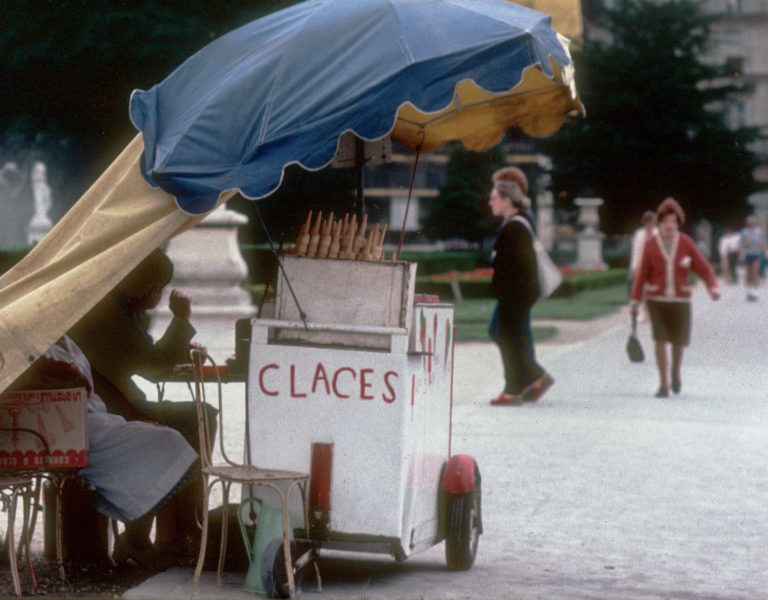 Paris has greenery everywhere, but, in addition, there are numerous gardens, big and small. The Tuilleries were quainter when I first visited Paris. I remember kids sailing toy yachts in the fountains while their mothers or nannies looked on from one of the public chairs that festooned the gardens throughout the city. Vendors operated mostly from homemade carts like the one pictured here.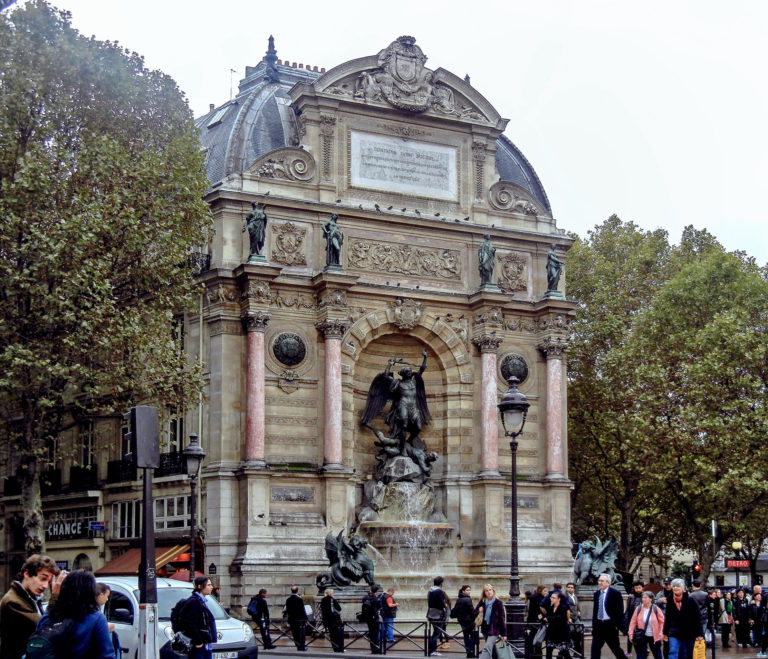 The Saint-Michel fountain is on the edge of the Latin Quarter with its bustle of the college community and the restaurants and shops that service it. I rarely get to see it, despite it being one of my favorite fountains. I just don't have much to do in that neighborhood, and the structure of the metro station is inconvenient for its depth underground. You have a choice between waiting to be packed into enormous elevator cars or hoofing it up the equivalent of 4 stories of stairs. It's exotic the first few times, but it gets old.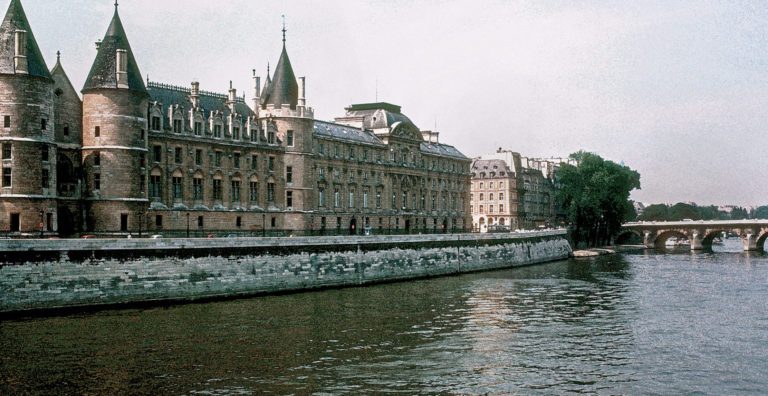 The river is what keeps me from missing the ocean when I'm in Paris. This is the Conciergerie, where Marie Antoinette was imprisoned prior to her encounter with the guillotine. I would wish a similar fate on Trump and his enablers, but once the guillotine gets fired up, it's hard to shut down.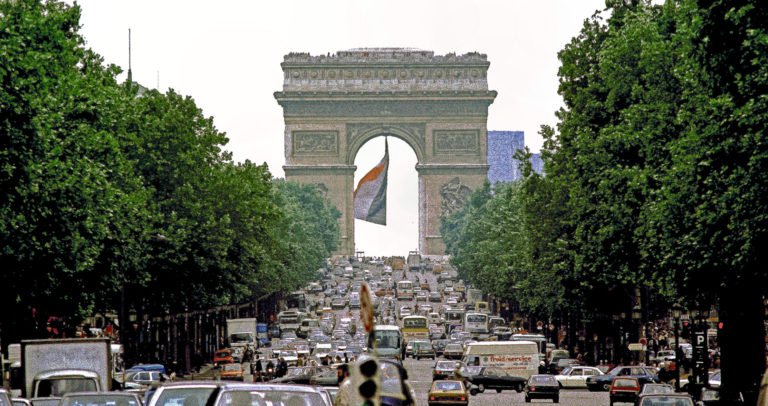 Looking up the Champs Elysees at the Arc de Triomphe. Generally speaking, there isn't a shop or restaurant on the Champs Elysees that is worth visiting, although there are (were?) a couple of excellent and very expensive restaurants in garden settings near the Concorde end of it.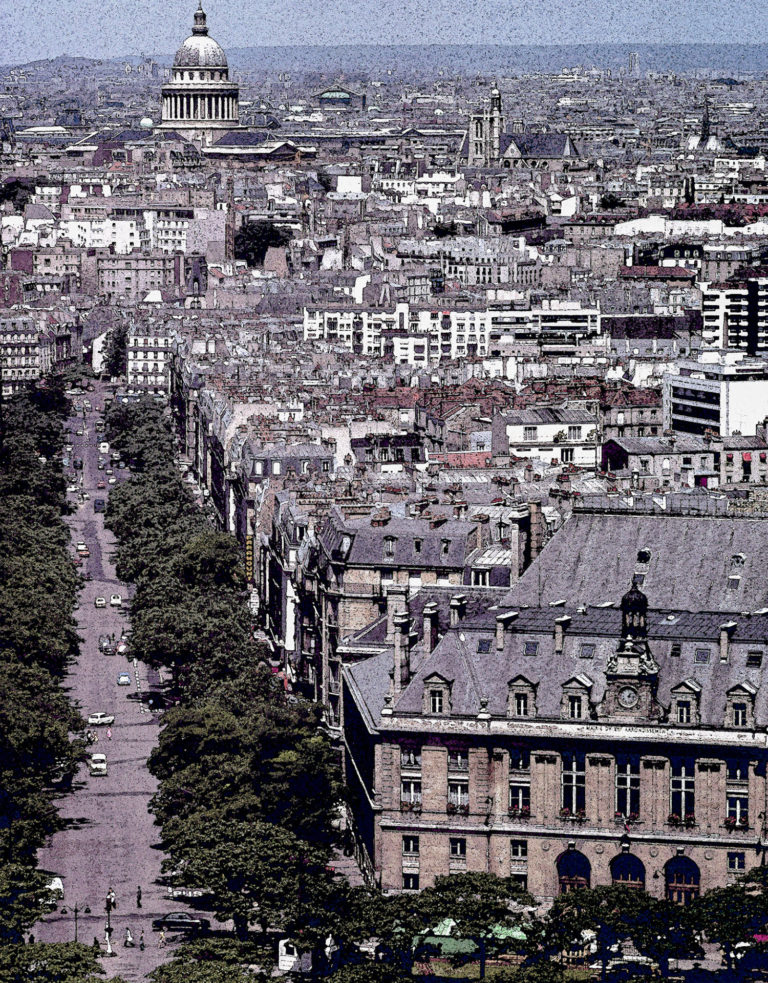 Anne-Marie's sister and brother in law had an apartment at the top of the highest building in the Place d'Italie area. Pompidou had eliminated height restrictions during his tenure and they were reimposed after he left office. The consequence was that the scheduled construction that would have compromised this view from Place d'Italie never materialized. Lucky them.