On the Road is a weekday feature spotlighting reader photo submissions.
From the exotic to the familiar, whether you're traveling or in your own backyard, we would love to see the world through your eyes.
way2blue
I visited Croatia with my husband In 2009. I'd read somewhere that Italians vacationed in Croatia as it was cheaper and less crowded than Italy. A friend who toured Eastern Europe with her accordion gave me some tips on where to go… After a visit to Plitvice Lakes, we drove south and caught a ferry from Split to the island of Vis, off the Dalmatian Coast. Vis had served as a communist military base after WWII and had been closed to foreign visitors until 1989.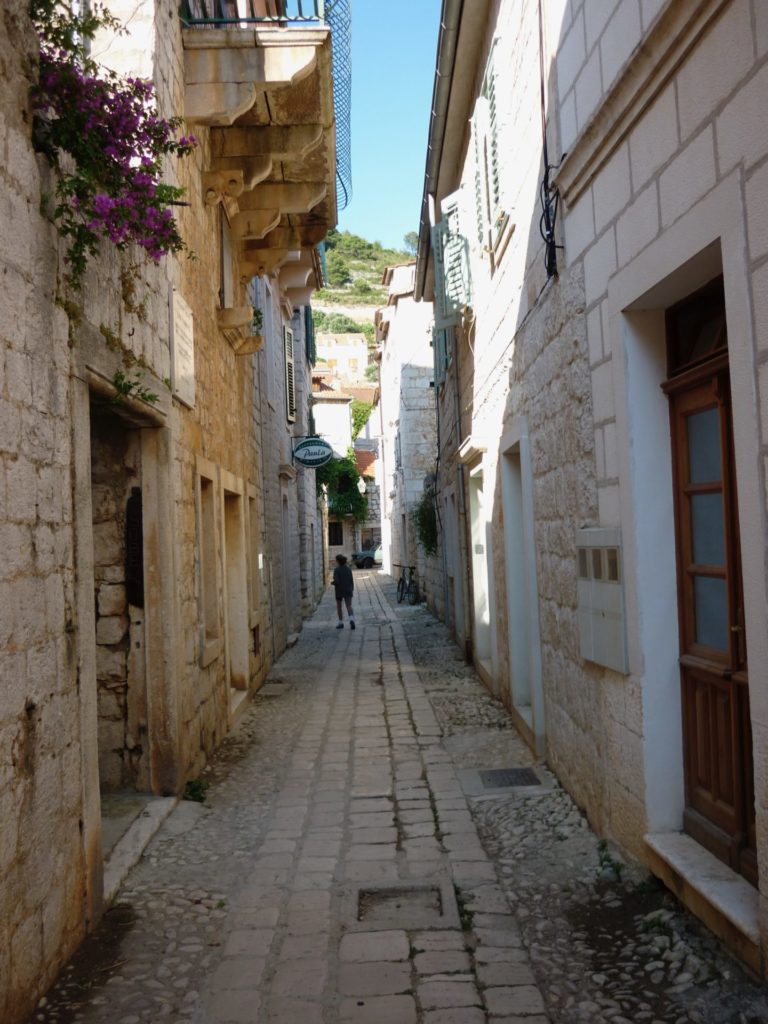 VIS, VIS, CROATIA
Cars park above the limestone village of Vis (on the island of Vis) which is transected by narrow lanes such as this one. Our hotel is marked by the small green sign on the left.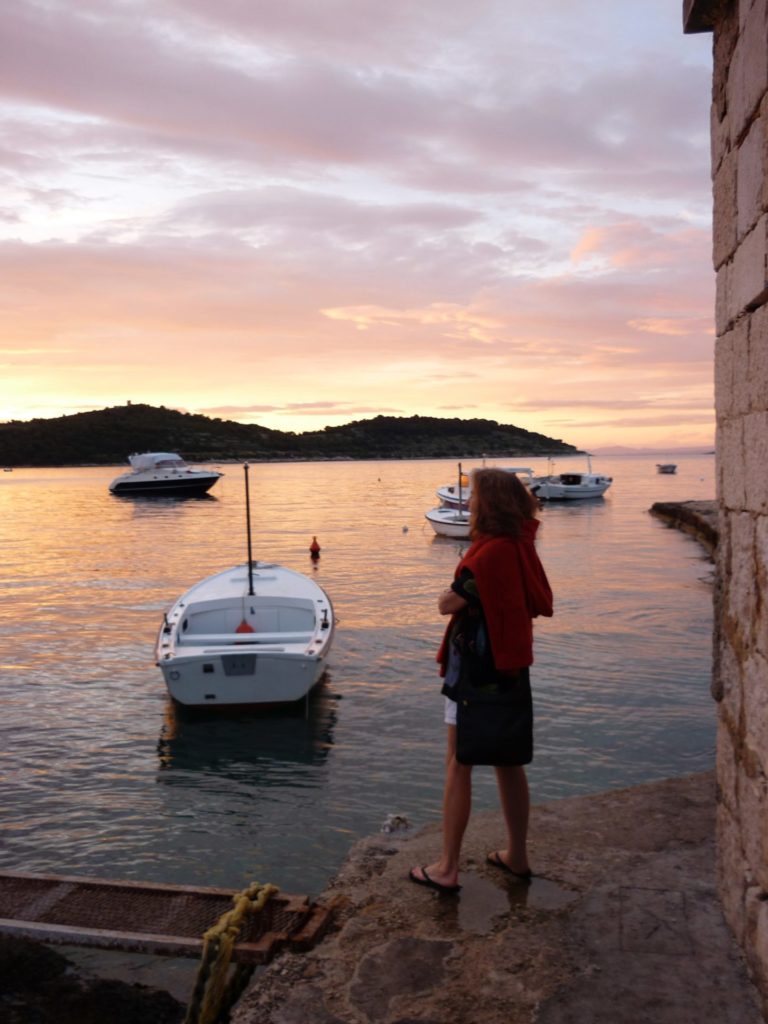 VIS, VIS, CROATIA
Me, viewing our first sunset on the quay at the end of our lane.
VIS, VIS, CROATIA
James Bond style yachts would tie up each evening, complete with uniformed staff to wash the windows. (Our first night, rowdy Russians—who had apparently just won a regatta—partied well past midnight in the dining room downstairs… )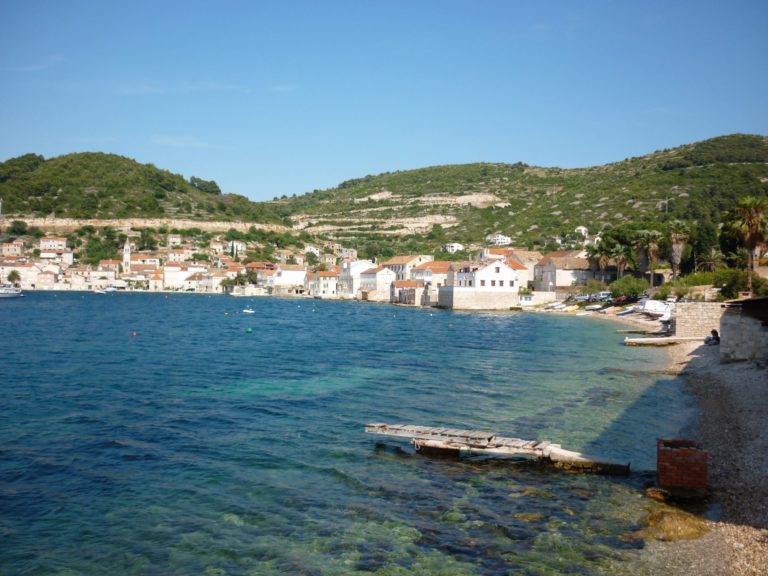 VIS, VIS, CROATIA
View of the village from the opposite (NW) side of the bay.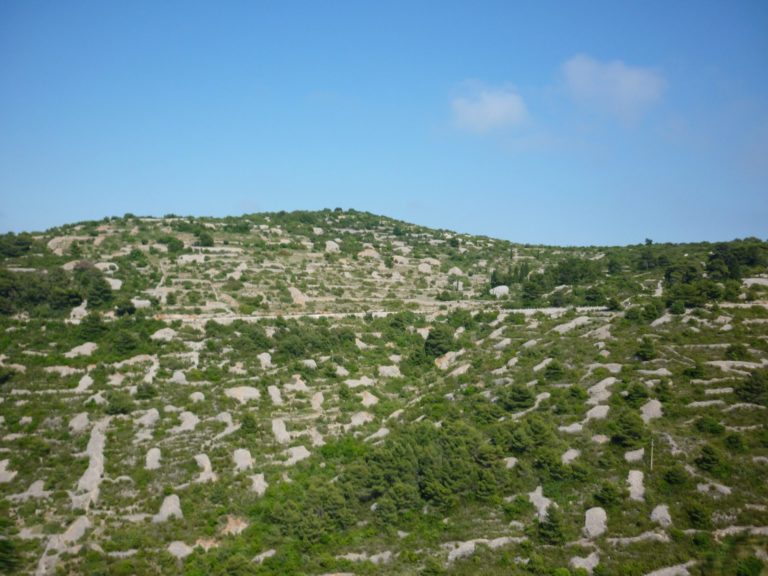 VIS, VIS, CROATIA
I was intrigued by these odd stone hummocks. If anyone knows their purpose—please let me know…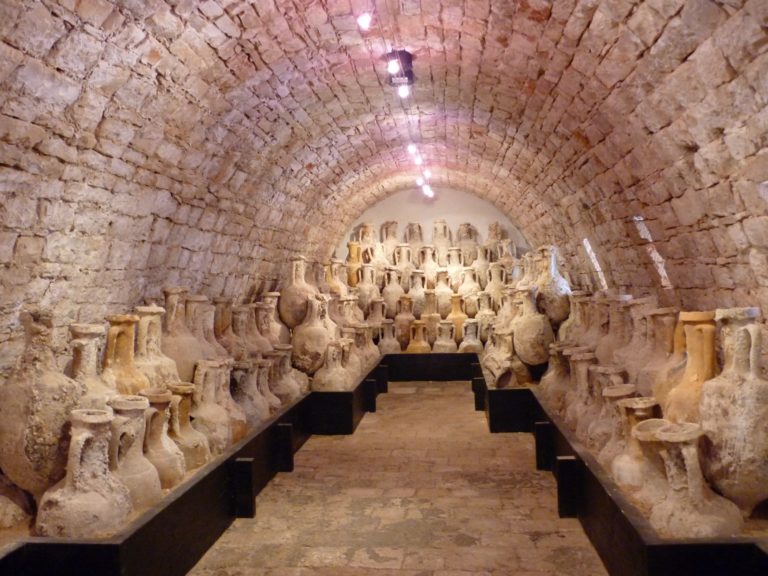 VIS, VIS, CROATIA
The island has a rich, long history. This display, in the town's Archaeological Museum, is a collection of wine casks (amphorae) retrieved from an ancient shipwreck.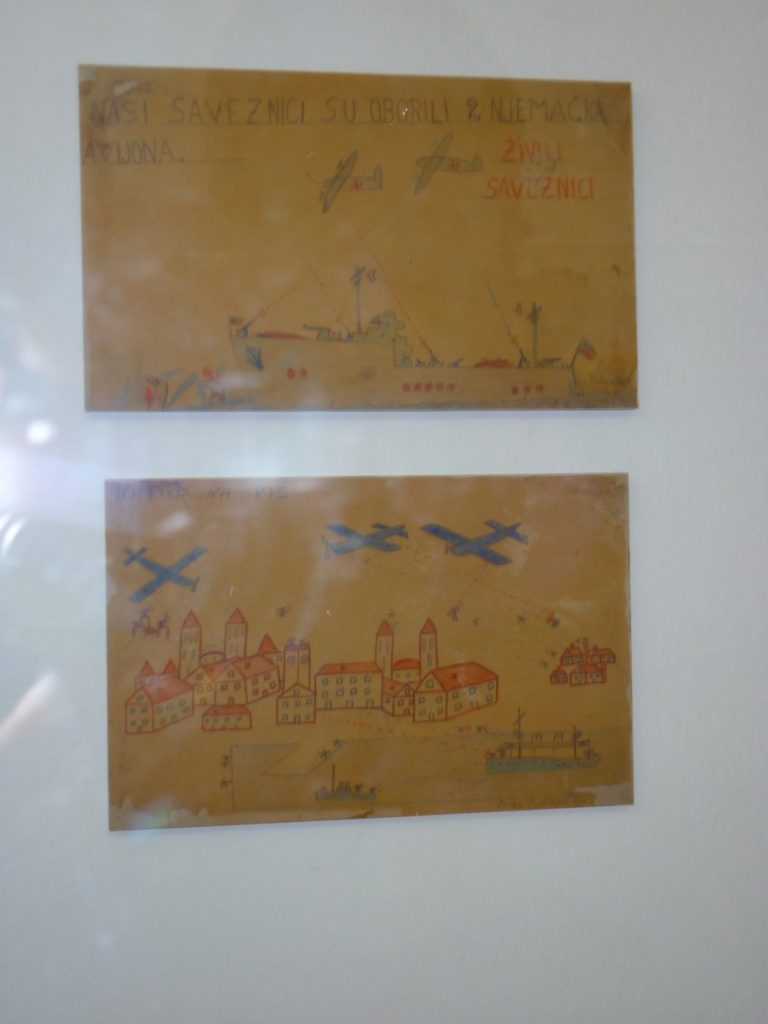 VIS, VIS, CROATIA
Not the best photo, but I was intrigued by these children's drawings from WWII. At first I thought they celebrated an Axis victory, but when I translated the Croatian, I found the child celebrated the opposite.
NEAR HUM PEAK, VIS, CROATIA
Locals told us that Josip Broz Tito (who'd led a resistance force of partisans against the Axis during WWII) hid out in a cave on the island at the end of WWII. So we decided to hike up to his cave on the island's highest point, Hum Peak, for a look. [" …Tito's Cave, which the leader used as a Partisan hideout from the invading Nazi forces during the Second World War"; www.independent.co.uk] The hotel staff warned us to stay on the trail as a few years earlier someone had a leg blown off by stepping on a land mine left over from the Croatian War of Independence. Needless to say, the trail wasn't well marked so it was slow going. We ended up walking on the tops of (ancient) dry stone walls, but called it quits at 4PM since we needed daylight to return to our car. Tito's cave is in the rocky bluff in the center right of the photo.