On the Road is a weekday feature spotlighting reader photo submissions.
From the exotic to the familiar, whether you're traveling or in your own backyard, we would love to see the world through your eyes.
On the Road: Week of January 18  (5 am)
Albatrossity – Winter in Flyover Country #1
ChasM – Beginning at the Beginning – Rustic Canyon 1980
?BillinGlendaleCA – Inauguration Day
Steve from Mendocino – Rorschach
Lapassionara – Paris, Paris

On the Road: After Dark: Week of January 18  (10 pm)
Looks like we will be treated to an interesting series next week, with Mike in Oly.
?  And now, back to Steve from Mendocino, thank you for taking us back to Paris!
Steve from Mendocino
So long and thanks for all the fish!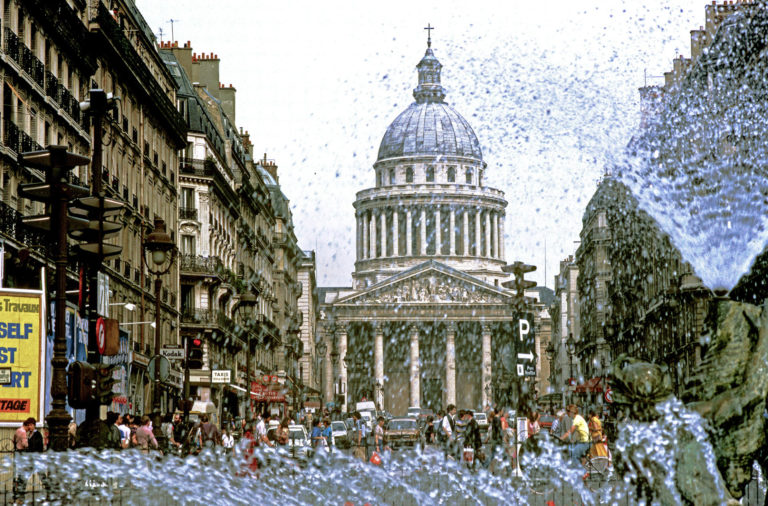 Once again, I have a photo of a building I can't identify.  It was taken 45 years ago at a time that I relied on Anne-Marie to know the wheres and whats relating to my pictures.  I'm pretty sure I took this on my way to lunch with a friend who worked in the financial district, but I have no idea what that building is.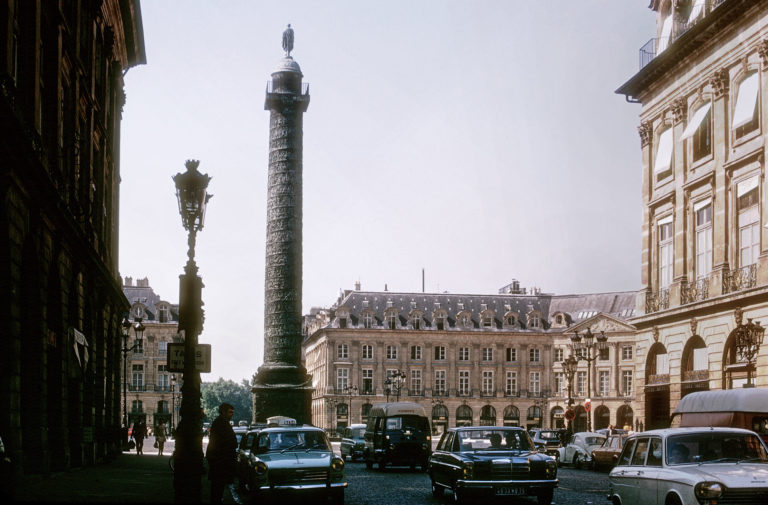 Place Vendome, location of the big jewelry stores like Van Cleef & Arpels, Dior, etc., as well as the Ritz hotel.  Fun to window shop, but the idea of real jewelry seems daffy to me.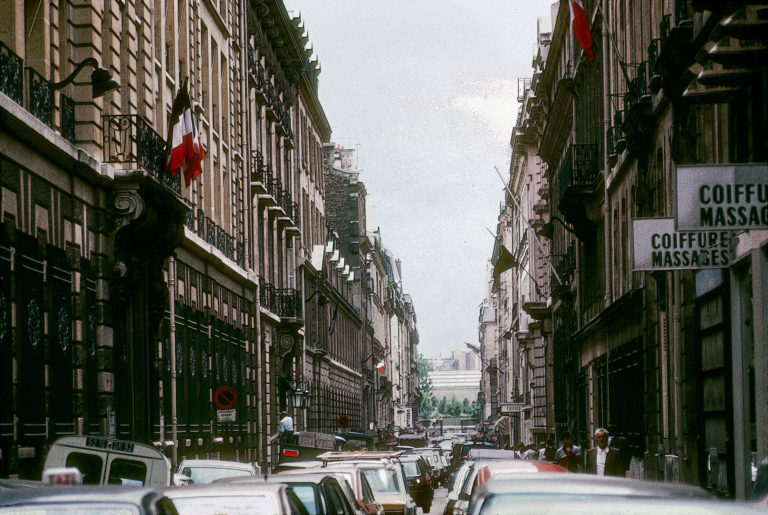 More narrow street with lots of cars.
A shopping arcade 50 years ago.  I look at this and wonder what it must have been like 100 years ago.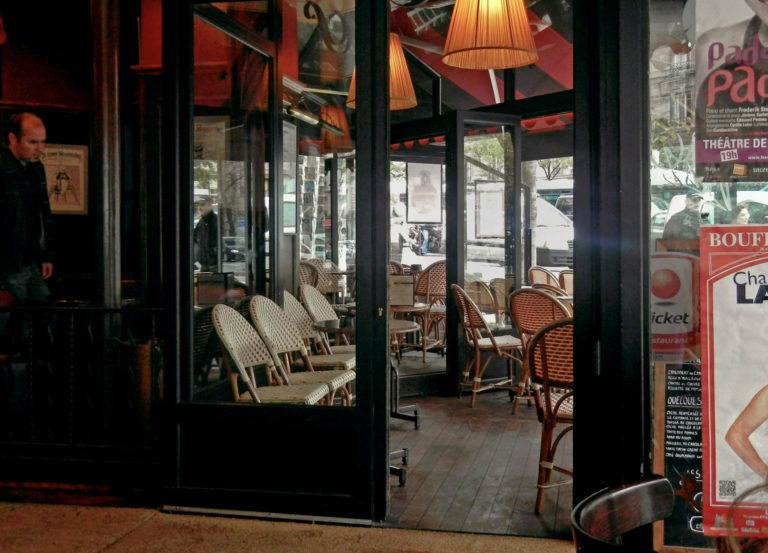 Paris bistro interior.  There are many many like this in Paris, and they are frequently very pleasant spots to rest one's legs and get a little something to eat or drink while soaking up the neighborhood activity.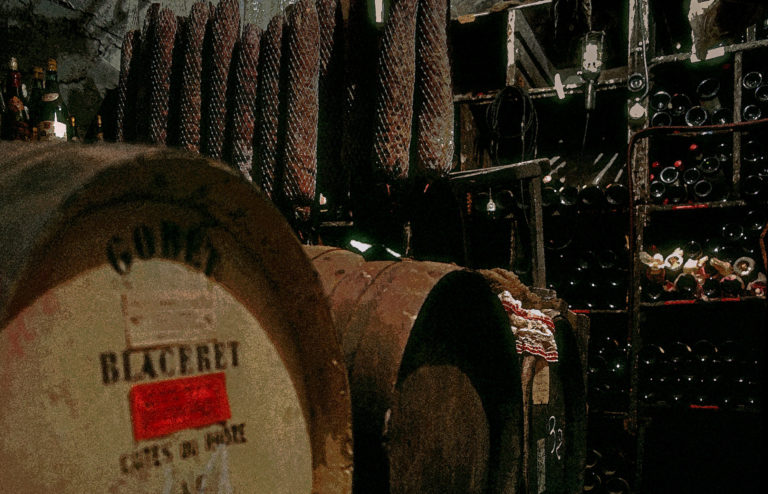 Anne-Marie's aunt and uncle's restaurant had a ladder behind the bar that dropped down to this cellar where supplies were stored – sausages brought in from Burgundy, barrels of wine from Morgon, Beaujolais and from Cotes du Rhone, and other goodies.  Shipments came in through a door accessible from a back courtyard, but during service, the aunt would occasionally climb down the ladder to get some supplies.
On Sundays, the uncle would sit down there refilling bottles from the barrels.  The floor was dirt.  The whole operation was an eye opener to me in 1968.  Glasses at the bar were "cleaned" after use by dipping them in cold water and wiping them thoroughly with a dish towel.  Nobody ever got sick to my knowledge, but those practices were unheard of in the U.S. at that time.
There was a premium horse meat store across the street from the restaurant, and for lunch one day the uncle prepared a pepper steak for me substituting horse without telling me until afterward.  That sort of thing doesn't freak me out.  The meat was very similar to beef, indistinguishable if you're not expecting it.  For me it struck me as "why bother".  I suspect it was cheaper, and a hold over from the hardships of the war.  I'm sure those shops are now long gone.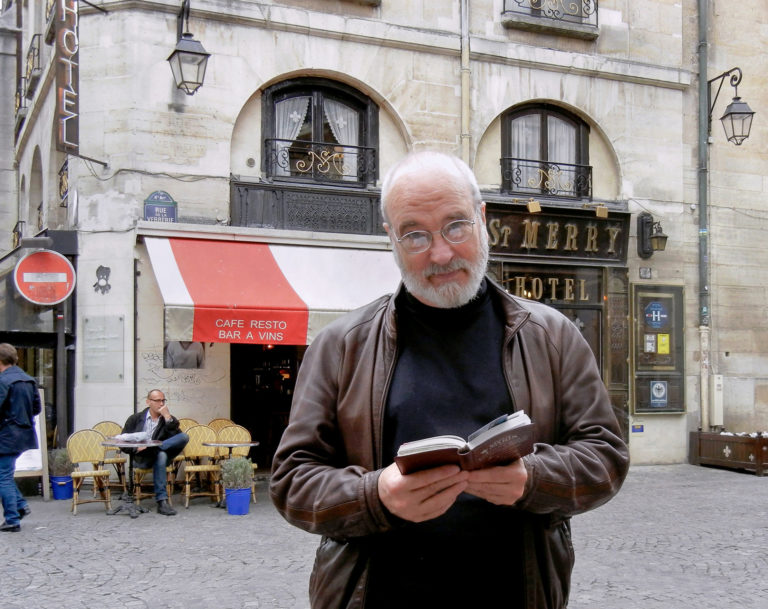 Your befuddled tour guide struggling with the Paris street guide, trying to find a recommended falafel restaurant in the warren of short, tiny streets in the Marais.  My daughter took this.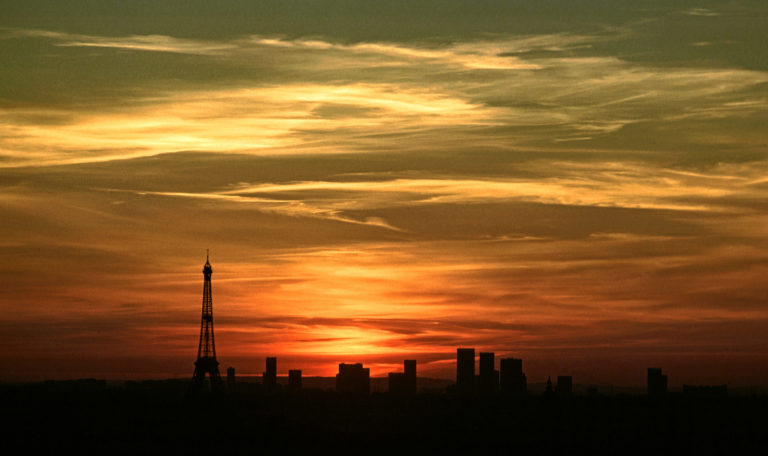 My other sunset photo marks the end of my Paris.  I hope it provided some of you with entertainment.  I'll see you all again in some other place in France or in Mendocino or someplace else I dig out of my archives.
Thanks for joining me.
Steve