On the Road is a weekday feature spotlighting reader photo submissions.
From the exotic to the familiar, whether you're traveling or in your own backyard, we would love to see the world through your eyes.
Albatrossity
One more batch of winter pics from my patch of flyover country this week. We are forecast to get 7-10 inches of snow today, so it seemed like a good project. Spring is on the way, but not yet within waving distance, I fear.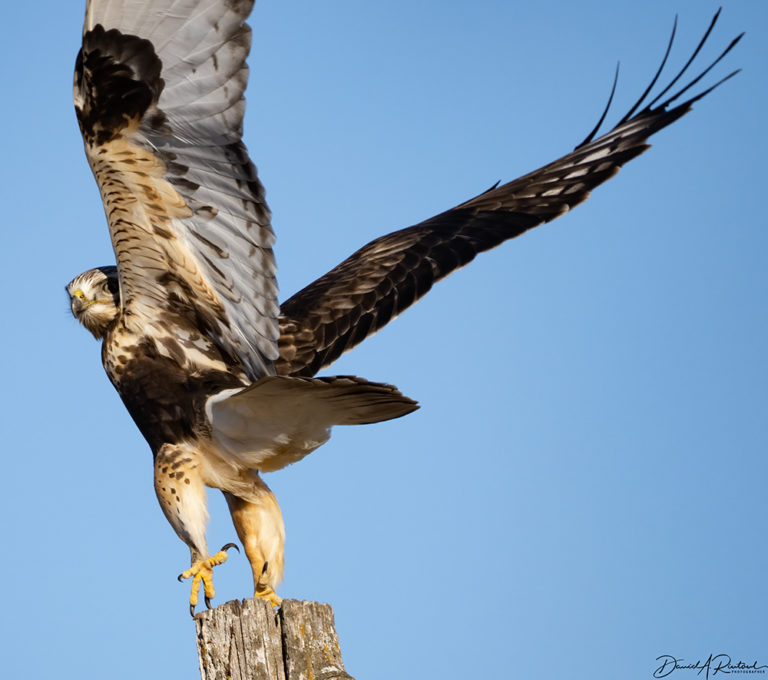 Near Manhattan KS
January 17, 2021
On my Facebook page I have been posting a picture every evening with the caption "Bird Butt Before Bedtime", aka BBBB. Birds don't like situations where people are pointing long black objects at them, so they often skedaddle while I am trying to photograph them. Thus I have a large collection of bird butt pics, and this is one of them. A Rough-legged Hawk (Buteo lagopus) giving me the side-eye and taking off at the same time.

Near Manhattan KS
January 13, 2021
Bald Eagles (Haliæetus leucocephalus) are now seen here year-round, and there are several nests that I drive by regularly in my peregrinations around my home town. This is one of a pair that nests on a creek about 10 miles south of Manhattan KS, and that nest has produced young eagles in most years of the past 10 or so. I was fortunate to have it fly directly over me, and into a southerly breeze so that it was moving relatively slowly.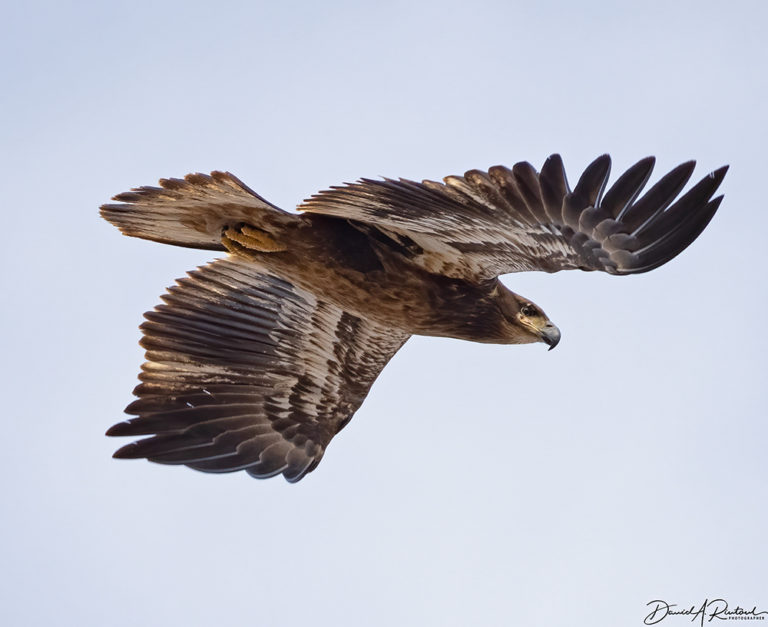 Near Manhattan KS
January 22, 2021
I don't know if this is a local Bald Eagle or not, since we get residents and migrants here in the winter. But it is a young bird, hatched in the spring of 2020 somewhere, and it too decided to circle back and fly directly over me one overcast morning.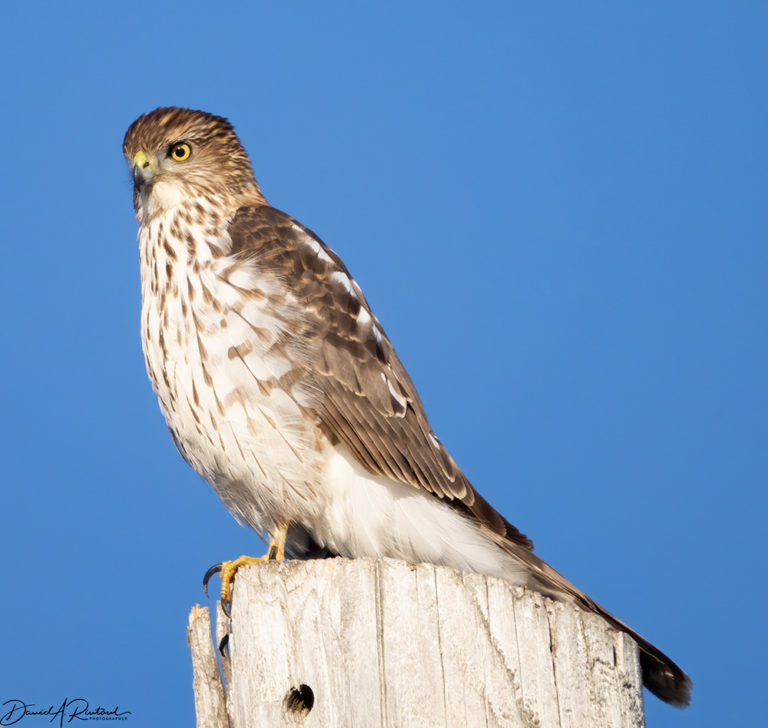 Near Manhattan KS
January 12, 2021
This is a Cooper's Hawk (Accipiter cooperii), and it is another youngster hatched out in the spring of 2020. It was too young to know that people with long black objects sometime mean to do you harm if you are a hawk, and so it sat for a portrait. I've observed, over the years, that first-year hawks are often quite accommodating for photography. Older birds rarely are. Natural selection at work, I fear.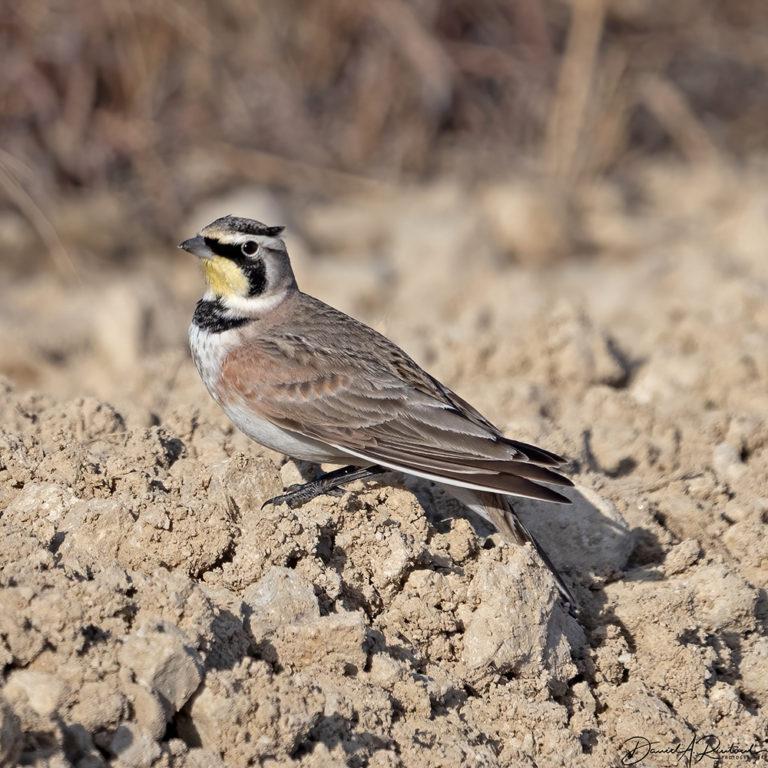 Near Manhattan KS
January 13, 2021
Lest you think I only photograph hawks, here is another common winter resident in Flyover Country, a Horned Lark (Eremophila alpestris). This species has a holarctic distribution, and is found across North America, Europe, and Asia (as well as a relict population in Colombia!). It is the only member of the large family Alaudidae that is native to North America, and in Europe and Asia it is known as the Shore Lark (or Shorelark). In parts of its range it is abundant (e.g. North America), in others it can be very rare. I once was birding with a visiting scientist from Japan, and Horned Larks are apparently very rare there. He asked repeatedly throughout the morning if we were going to see some, and I kept saying that it was likely, but not guaranteed. We came upon a large flock of them and he literally was out of the vehicle before I got it fully stopped. I think he had been looking for these guys for many years!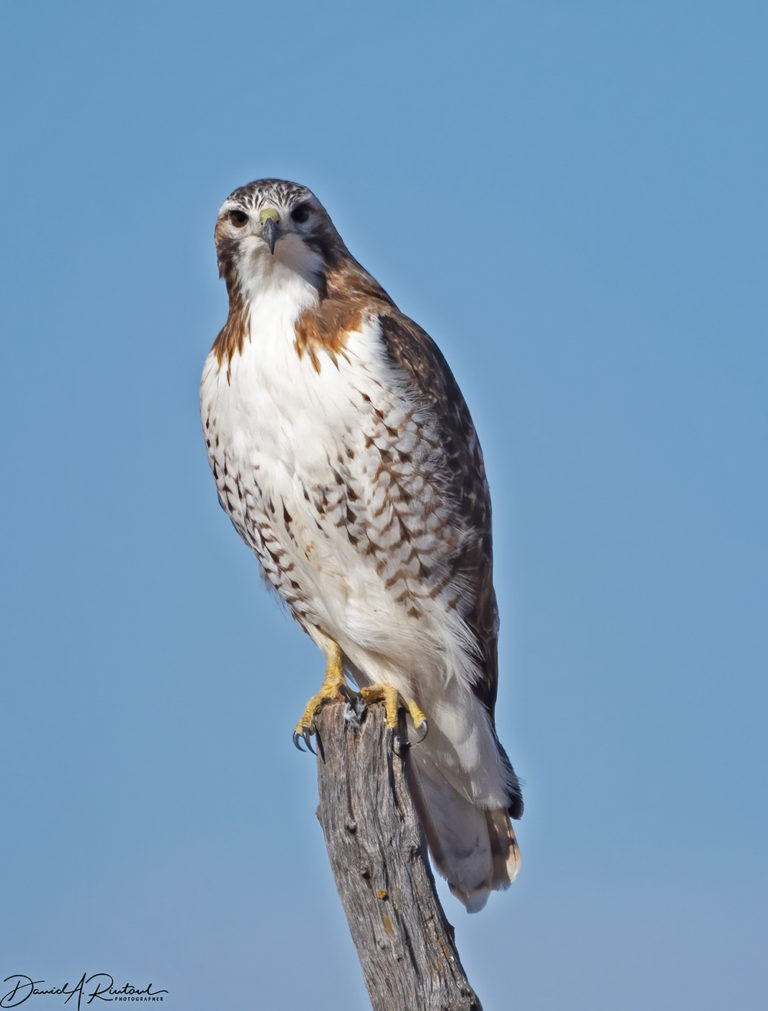 Near Manhattan KS
January 21, 2021
Now back to hawks, and some photos of the wide variety of Red-tailed Hawks (Buteo jamaicensis) seen here in the winter. Although it is an eastern (borealis) bird, this beauty is a type not often seen in my part of Kansas, with a bright white throat and extensive rufous collar. I have seen similar birds in OK and TX, but not in my home state, so this one caught my eye immediately.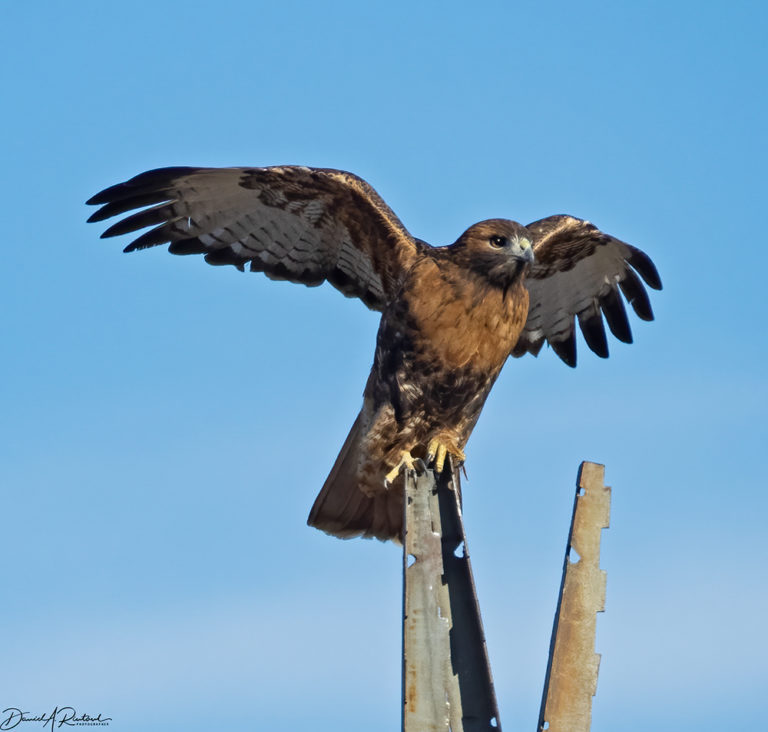 Near Manhattan KS
January 21, 2021
Another relatively rare type, this is what is known as an intermediate-morph western (calurus) Red-tailed Hawk. The deep rufous colors are very striking on this gorgeous adult bird, contrasting with the white flight feathers and black trailing edge of the wing.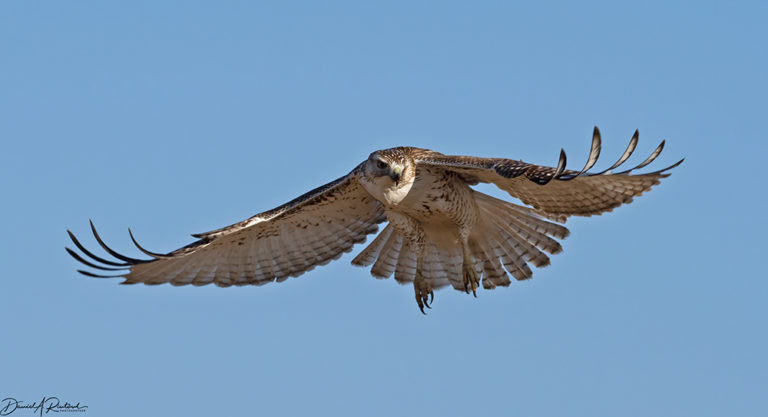 Near Manhattan KS
January 11, 2021
This is not a rare type of Red-tailed Hawk; a member of the eastern (borealis) subspecies in its first winter on the planet. It was hovering in a breeze, hunting voles or mice, and ignoring me for the most part.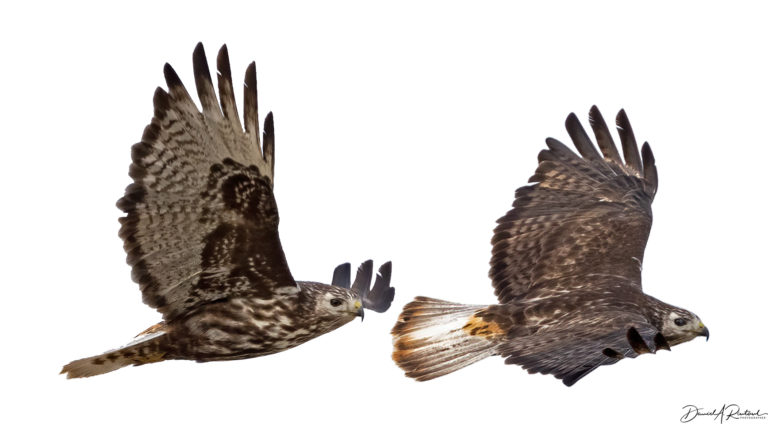 Near Manhattan KS
January 22, 2021
The final two images are composites just to show some features of some of our winter hawks. This is an adult intermediate-morph Harlan's Hawk (Buteo jamaicensis harlani), dorsal and ventral views. All adult Harlan's Hawks have funky unique tail feather patterns, and this one is no exception. It was seen on a cloudy day, so it was easy to remove the monochromatic background to make this composite image.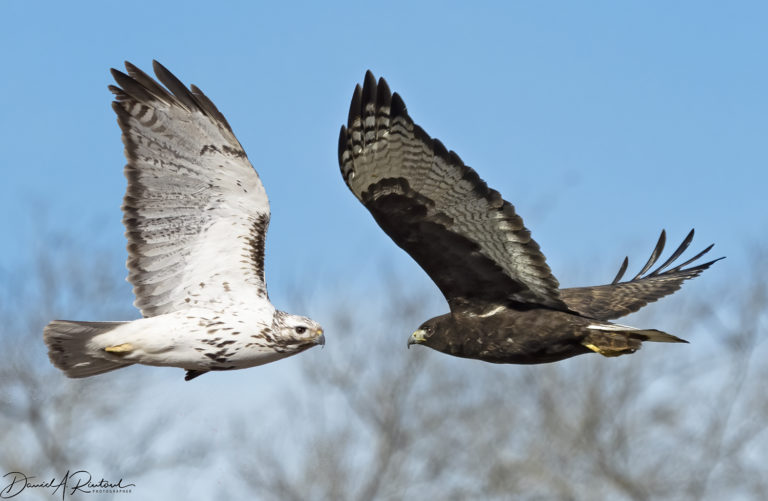 Near Manhattan KS
January 20, 2021
This composite illustrates the extreme plumage variation in the other two color morphs of the Harlan's Hawk. Both are adult birds, and the dark-morph bird at right is among the darkest Harlan's Hawks I have ever seen. The pale bird on the left, overlaid onto the sky from the dark bird photo, is one of the lightest light-morph birds I have ever seen. These birds might summer in the same region of Alaska or Yukon, but they are very different representatives of that far-north subspecies.