On the Road is a weekday feature spotlighting reader photo submissions.
From the exotic to the familiar, whether you're traveling or in your own backyard, we would love to see the world through your eyes.
cope
These images are from a 1978 trip I made to Britain with my great friend Dave.  It struck me that photo submissions at BJ generally lack human subjects and a story so I thought I would try to gather some human-centric images and spin a tale.  This is the result.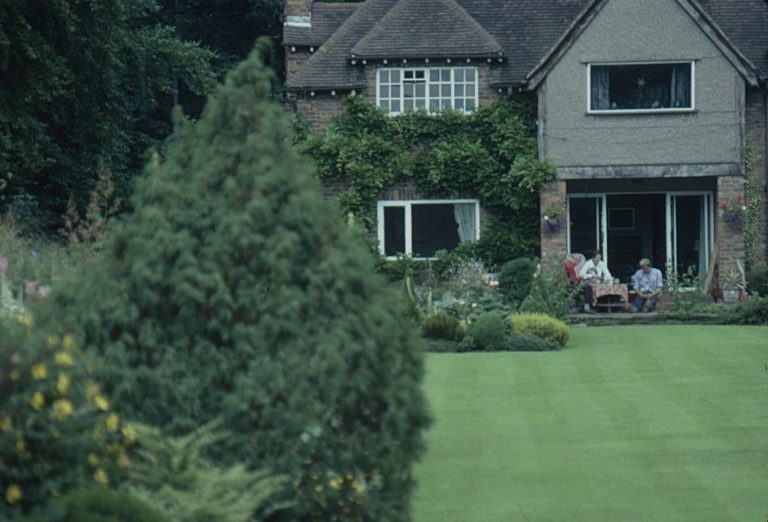 Northern England
Dave rebelled against his well-off family in England by heading to Scotland to become a shepherd. Years later, he made his way to America and when he came to visit me in Colorado, he ended up getting a job wrangling cattle. In the summer of '78, though, he felt the pull of his former life and the two of us went back there to shear sheep. This is the backyard of Dave's parent's house.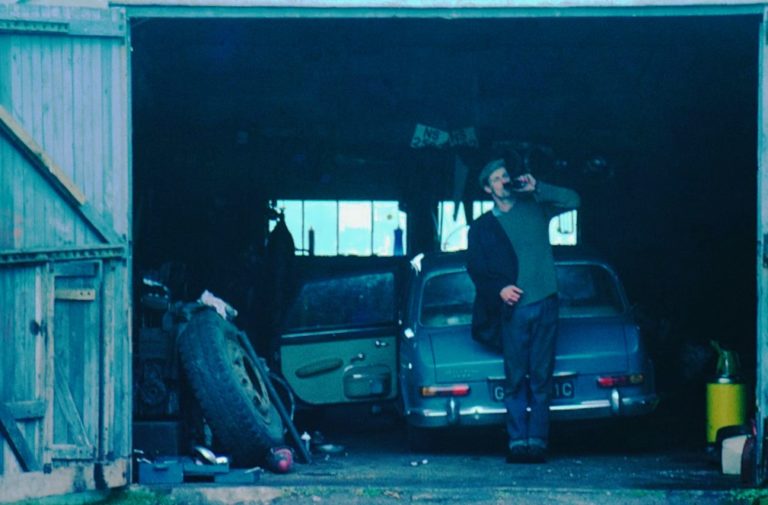 Scotland
Dave's folks bought us a used Austin to get around for the summer and sold it when we left.  At one point, the hydraulic line that supported the suspension on the passenger side burst, giving the car a decided list to port.  This is the car before Dave and I fixed it with a spare hydraulic line that Norman Achlyness (see below) had salvaged from a car he unintentionally drove into the loch.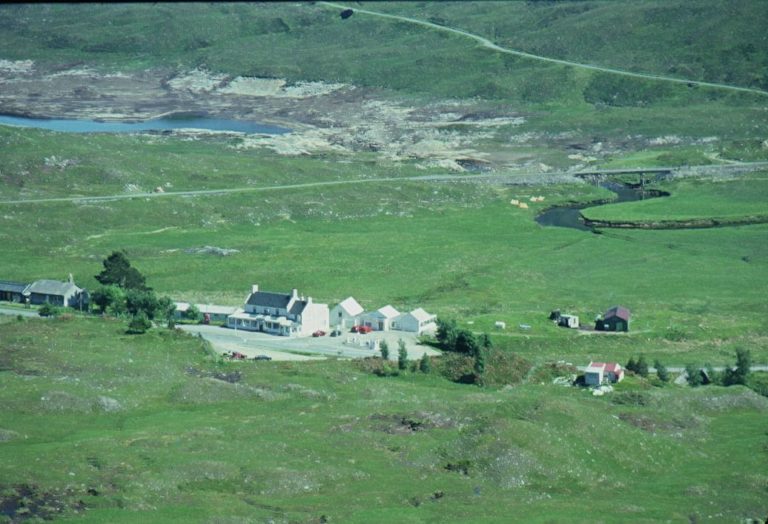 Near Loch Cluanie, Scotland
The weather in Scotland that summer was unusually wet and since sheep need a couple of weeks to dry out before shearing, we had time to kill. He wanted to drive back to England to get his favorite sheep dog whom he had given to friends when he came to America. Since I had no money and had been counting on working sheep to earn my keep, he got me a job at the Cluanie Inn on the road between Loch Ness and what was then the ferry (now bridge) to The Isle of Skye. I tended bar and pumped gas for tourists making a last stop before Skye. This is a picture I took of the Cluanie Inn from the hillside opposite the inn.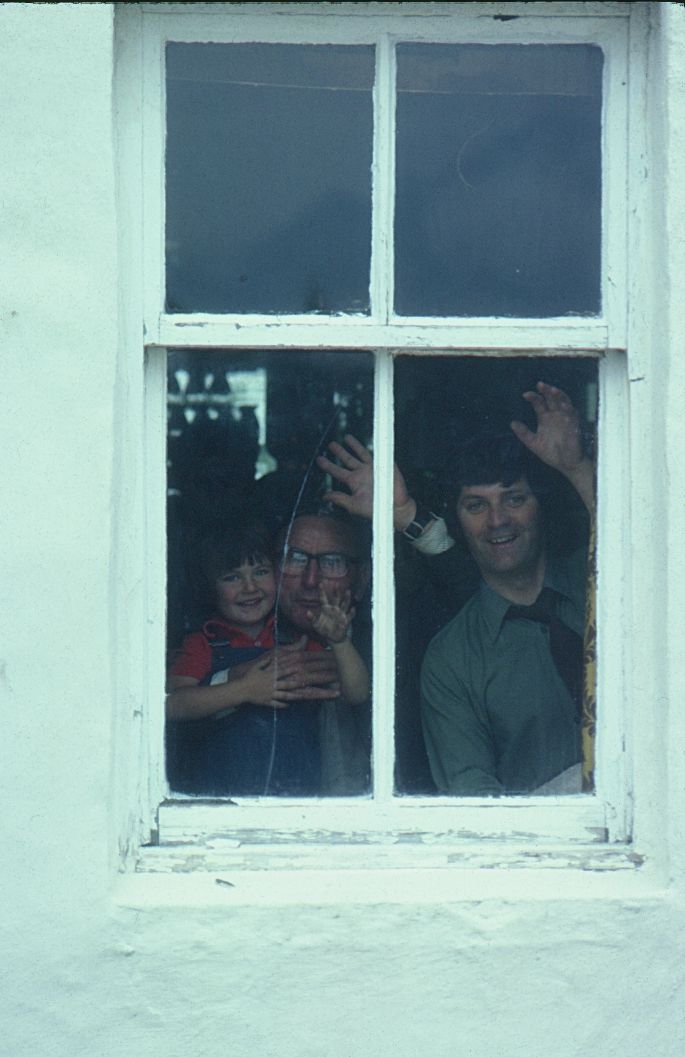 Near Loch Cluanie, Scotland
Danny and his whole family had come from England to manage the inn for the summer. He was my boss. Everybody treated me like family and I loved working there. I wasn't paid directly but room and board was provided for me. This is Danny, his father and his son.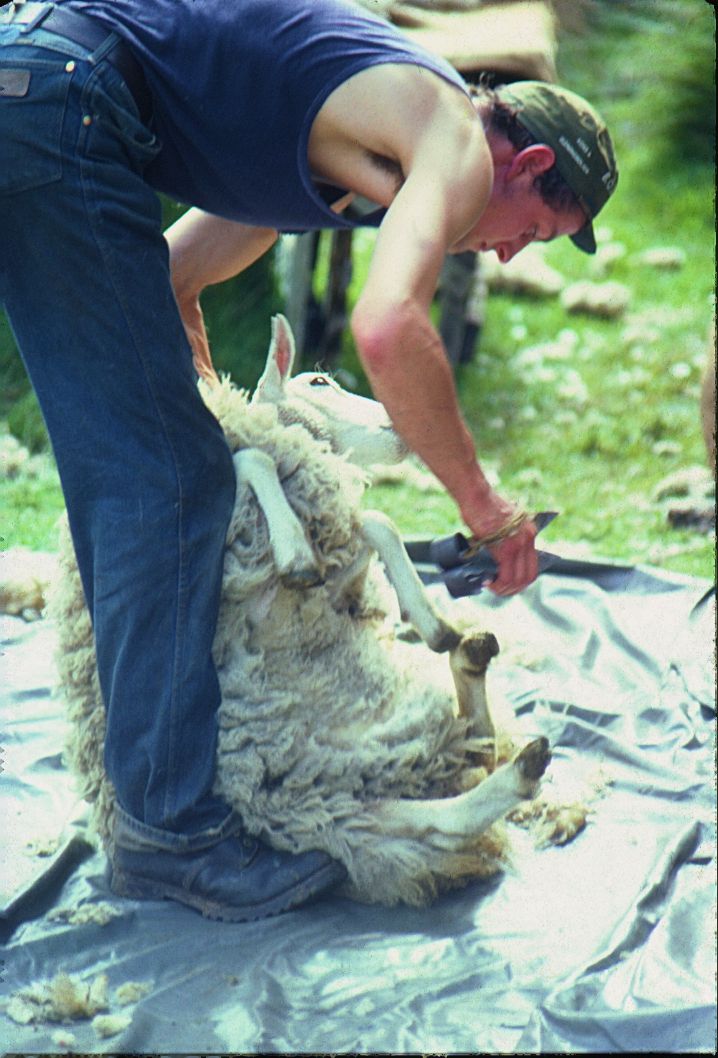 Scotland
The sheep finally dried out and the shearing began. My job was to catch sheep in the fank (pen) and bring them to the shearers. They let me shear one sheep. It was both literally and figuratively a bloody mess. This is Dave hard at work. You might notice that his shears are not powered.
Scotland
After being sheared from the sheep, the wool is rolled and stuffed into a huge burlap sack. I was allowed to do this since there was little potential for bleeding injury. A day spent handling sheep and their wool leaves one's hands remarkably smooth and soft. Here's wool being rolled for stuffing.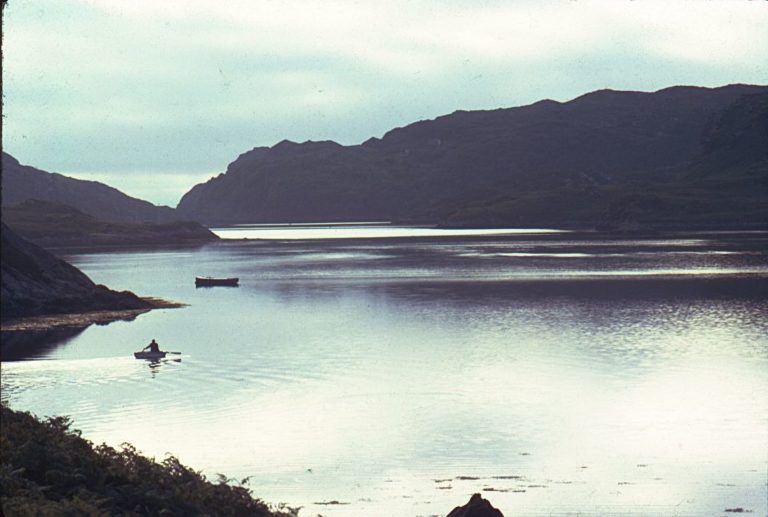 Undisclosed location, Scotland
Shearing sheep is not particularly lucrative so Dave and I supplemented our income fishing salmon. We sold them to local hotels and bed & breakfast places. Since this was illegal (all this land is owned by rich absentee English landlords who don't like people taking their fish without paying for an expensive salmon license), we stealthily set out gill nets at night and reeled them in early in the morning. We also kept our fair share to eat. This is Dave at either 11 at night or 5 in the morning rowing out to tend our nets.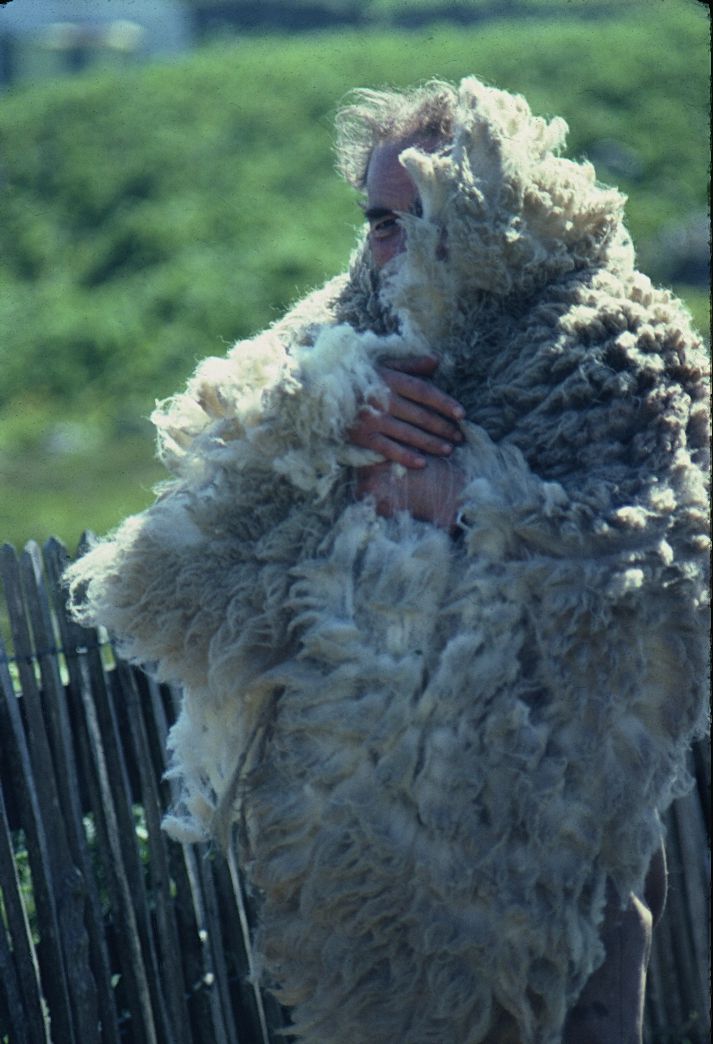 Scotland
It was fairly common up there for people with a common first name to be differentiated from each other by the place from which they came rather than a proper last name. This is Norman Achlyness in sheep's clothing. Guess where he lived?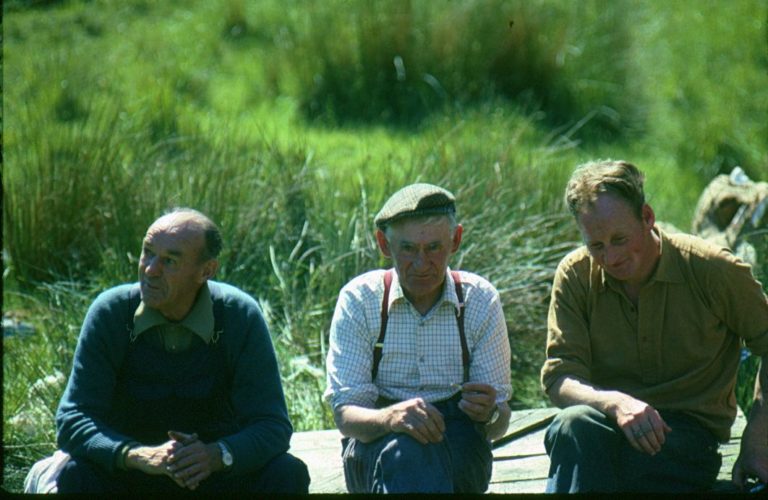 Scotland
These are three of the locals at the end of a day's shearing.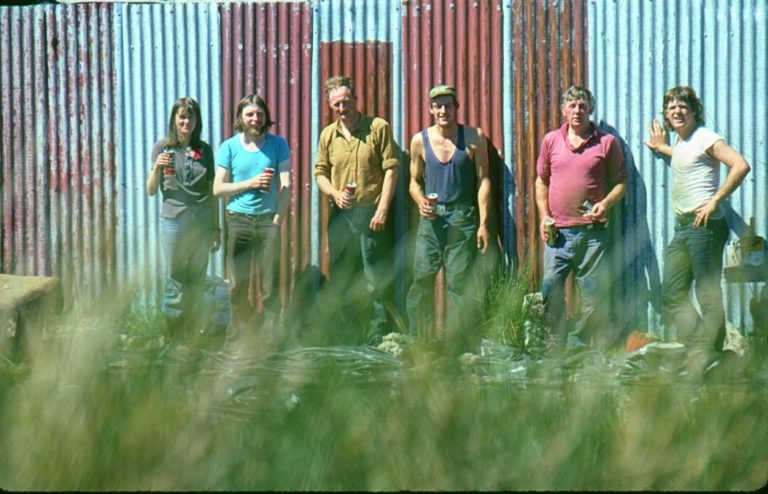 Scotland
This is a tired group of people who have been working hard all day. I set my camera in the grass to take this picture and because I had to hustle back to get into the shot, I don't have a well deserved can of McEwan's in hand.