On the Road is a weekday feature spotlighting reader photo submissions.
From the exotic to the familiar, whether you're traveling or in your own backyard, we would love to see the world through your eyes.
randy khan
Boats and where to put them and some miscellany.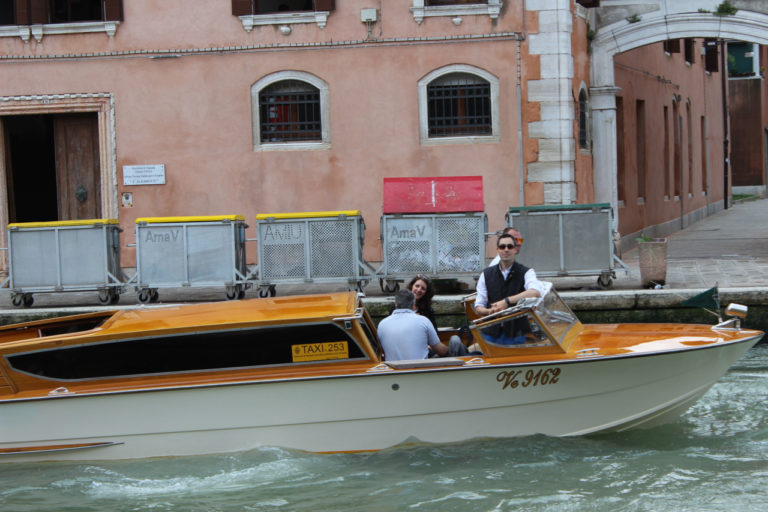 Venice, Italy
May 26, 2015
I've mentioned the water taxis, and this is one of them. They all look pretty much like this. They're pretty zippy, and they have cabins in back that hold maybe 8 or 9 people if you're good friends. The best way to ride in one is to stand up in the sunroof and get the breeze in your face.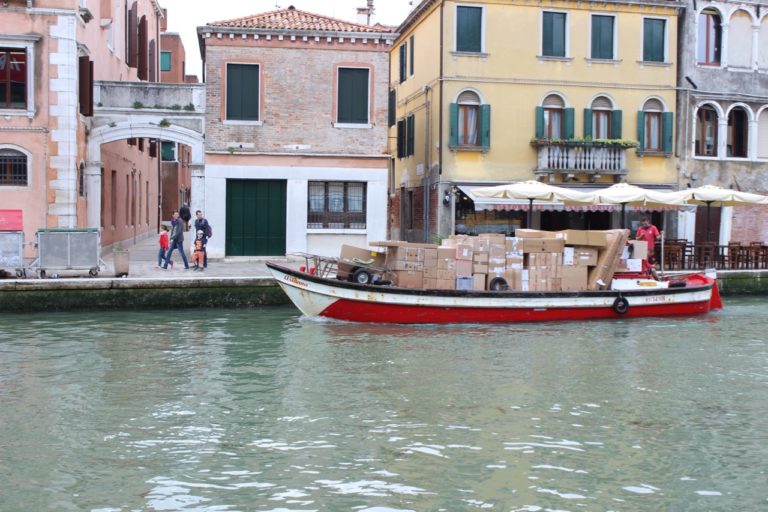 Venice, Italy
May 26, 2016
In a city where the roads are canals, everything gets delivered by boat, so here's the smallest freighter you'll probably ever see.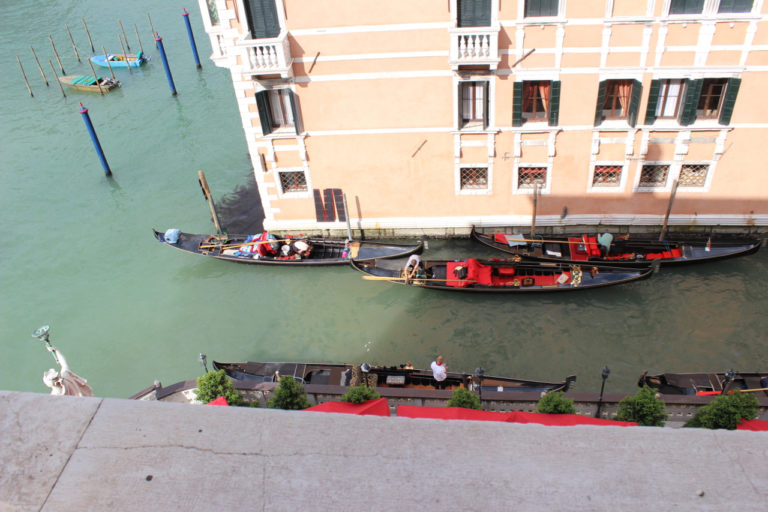 Venice, Italy
May 28, 2015
Yes, there still are gondolas, entirely for tourists, and not cheap. Because it's obligatory, our group had a gondola ride from one side of the Grand Canal to the other, which probably didn't really take much more time than the water taxis would have. Here are a bunch of gondolas waiting in a canal.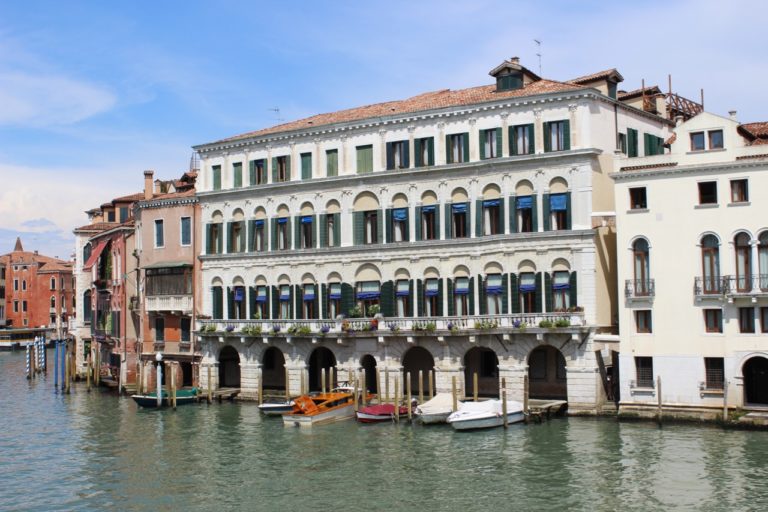 Venice, Italy
May 26, 2015
Where most people have garages, Venetians have docks. Some of them actually inside the buildings, so you can get in and out of your boat under cover.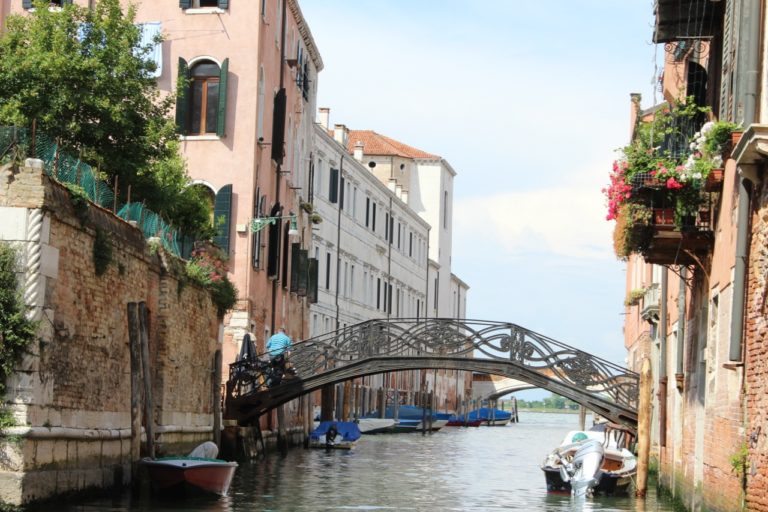 Venice, Italy
May 26, 2015
A nice little metal bridge.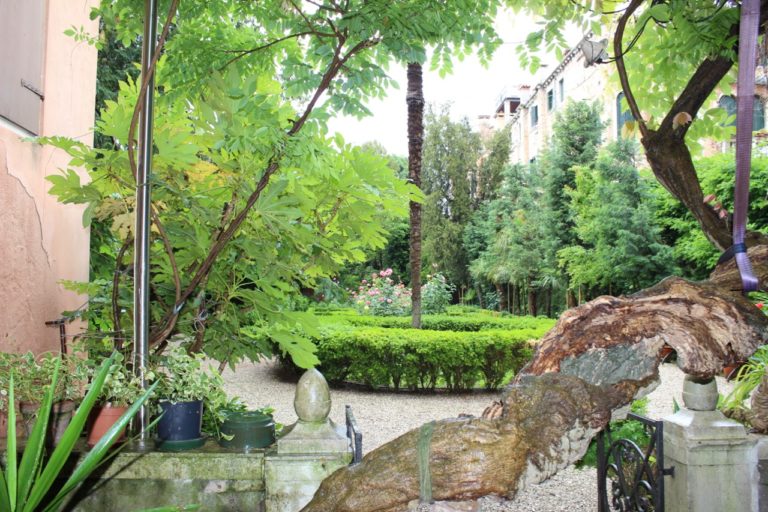 Venice, Italy
May 26, 2015
This garden was kind of a surprise. Venice is not a city of gardens; it's a city of stone. This was in the back of a palazzo where we had lunch one day. (Venice seems to have an endless supply of contessas who will open up their palazzos for lunch, presumably for a fee. At one point we were joking about contessa conventions where they could see vendors selling bric-a-brac for their palazzos because we saw several bits of décor in more than one palazzo.)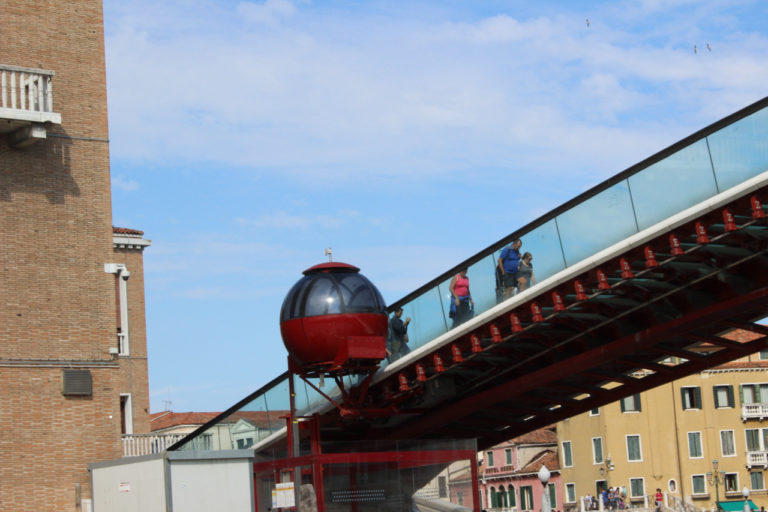 Venice, Italy
May 26, 2015
This is one of the newest bridges in Venice, used by people who come in on cruise ships. Venetians are not entirely thrilled about the cruise ships, which bring lots of people and, Venetians fear, cause damage to the city because of their wakes. The bridge isn't anything special, but it has one extremely unusual feature – that round thing, which is for people who have trouble going up and down the bridge, including people who use wheelchairs. It was literally the only accessibility feature we saw anywhere outdoors during our entire trip.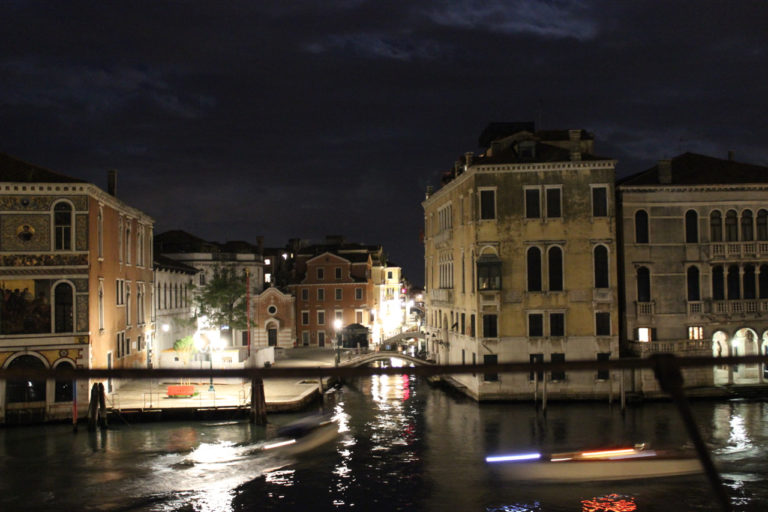 Venice, Italy
May 27, 2015
This is a view across the Grand Canal at night. It was really lovely. Sadly, all of my photos from here have a railing going across them, but I think you'll still get the idea.