On the Road is a weekday feature spotlighting reader photo submissions.
From the exotic to the familiar, whether you're traveling or in your own backyard, we would love to see the world through your eyes.
On the Road: Week of Feb 15  (5 am)
Albatrossity – Winter in Flyover Country #5
Gin & Tonic – Stockholm #1
?BillinGlendaleCA – Year of the Ox (Huntington)
UncleEbeneezer – Southeast Asia Valentines (Part 1): An Lam, Saigon River
TheOtherHank – Raptors
?  And now, back to Albatrossity!
Albatrossity
Looks like I have at least one more post in this series of winter birds in flyover country, since it is still winter, and then some! As I write this, the forecast for the next week looks distinctly unpleasant, as a fickle finger of frostbite has penetrated the polar vortex, and is poking into the Great Plains right now. Apparently it plans to stay here for a while. So I doubt I will get out much for photography in the next week: highs in the teens, lows below zero, and windchills that remind you how nice it is to be indoors.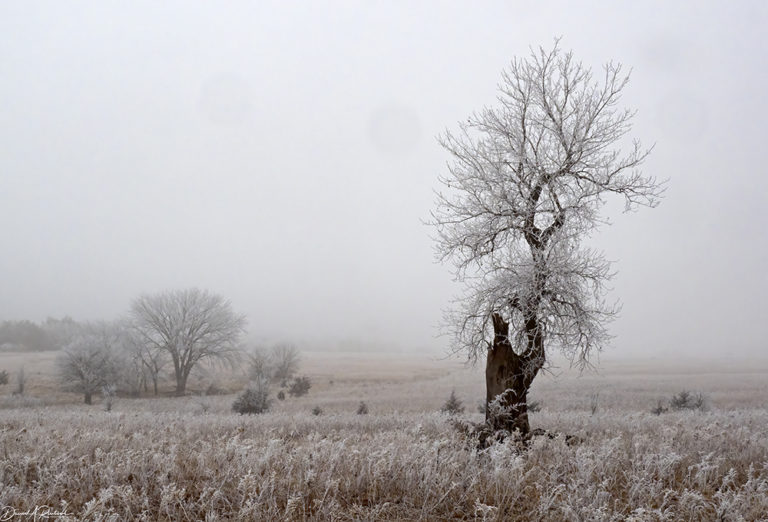 Near Manhattan KS
February 1, 2021
A while back we had an interesting morning of hoarfrost on the upland prairies here. Hoarfrost is basically the frozen equivalent of dew. Water vapor in the air is deposited on surfaces that are cooled below freezing, skipping the water droplet stage and going directly to ice. Depending on the relative humidity and the speed of cooling, it can be quite spectacular. It seems that our upland prairies were in the clouds that morning, since there was no hoarfrost down in the river and creek bottoms. This is one of the vistas that greeted me as I drove up and out of the Kansas River valley town where I live.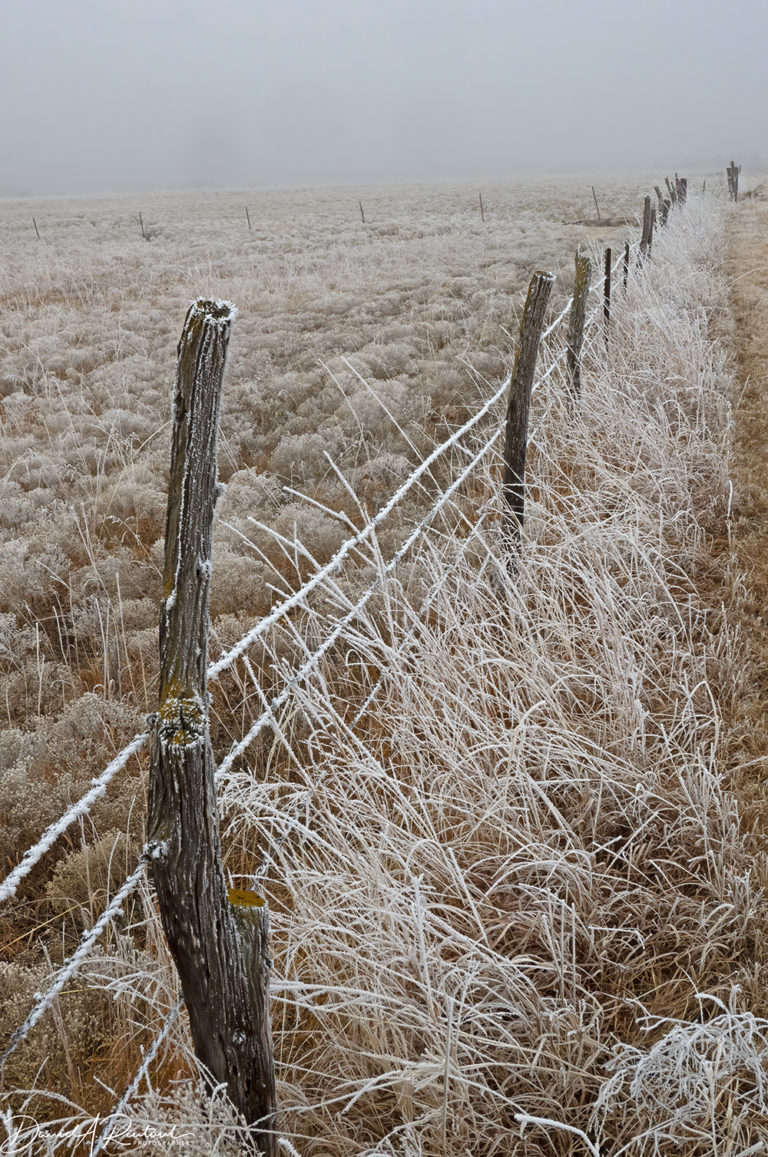 Near Manhattan KS
February 1, 2021
More hoarfrost along a fenceline.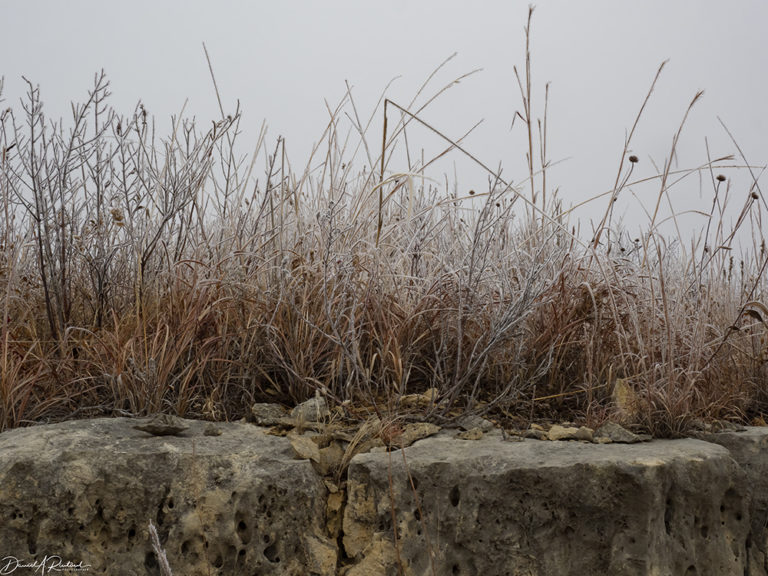 near Manhattan KS
February 1, 2021
This is my favorite picture from that morning, but that might be because of what it means to me. The Flint Hills, where I live, have never been plowed because the soil is too thin, overlaying rocks that are usually only 1-3 inches below the surface. Nevertheless the grasses find purchase in that thin soil and send down amazing root systems to get to the groundwater below. On a hoarfrosty morning this scene lays bare all that things that make the Flint Hills special.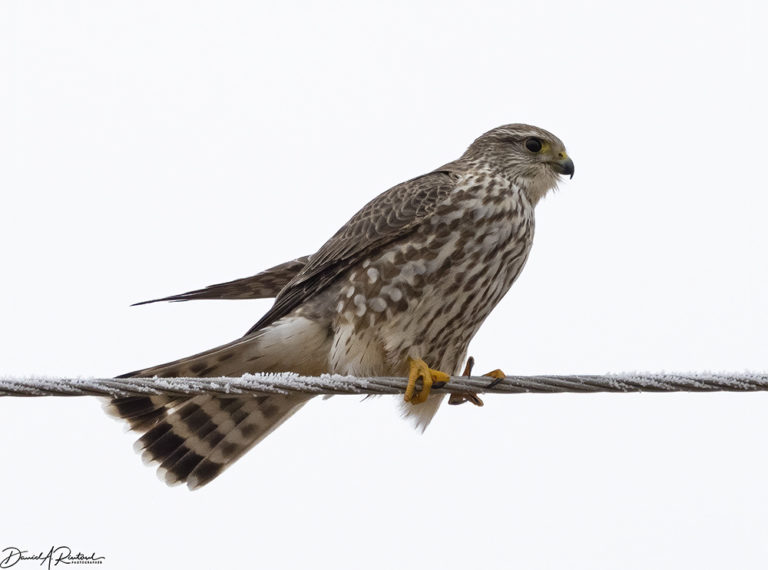 Near Manhattan KS
February 1, 2021
Some birds were out and about that morning as well. Here is a charming female Merlin of the paler prairie (Falco columbarius richardsonii) subspecies, perched on a frosty wire.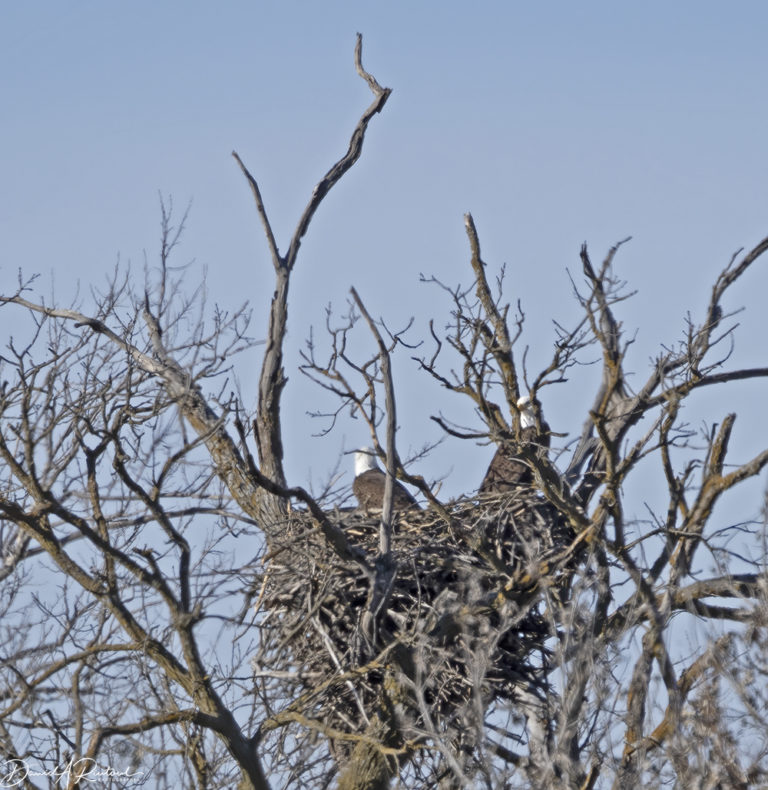 Near Manhattan KS
February 5, 2021
Spring is on the way, however. The Bald Eagles (Haliæetus leucocephalus) have started working on their nest redecoration projects, and some other pairs are even incubating eggs already. This large nest, photographed from several hundred yards away, has been occupied for at least the past 6 seasons, and it looks like young eagles can be expected there sometime within the next couple of months.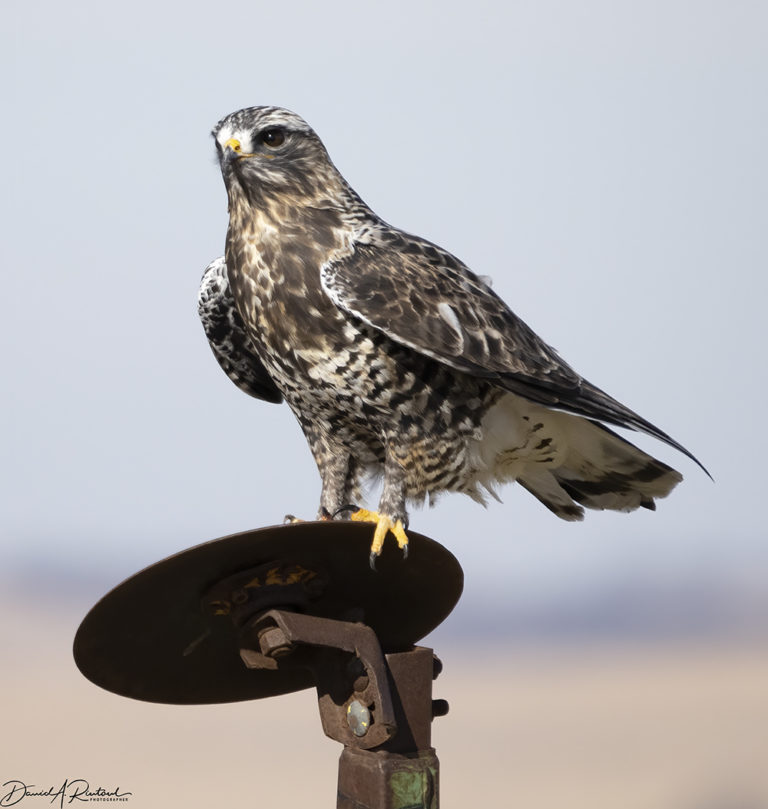 Near Manhattan KS
February 3, 2021
Rough-legged Hawks (Buteo lagopus) continue to be plentiful here, unlike some years. That might be due to a combination of factors, including a hefty rodent population here this year and/or fewer rodents in the prairie states north of us. This handsome dusky male found an old farm implement to perch on for his portrait.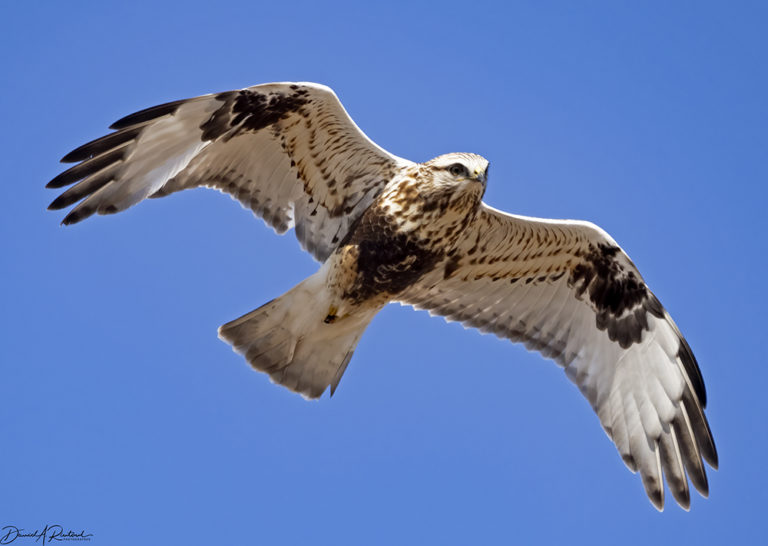 Near Manhattan KS
February 5, 2021
Another male Rough-legged Hawk, but a lot more pale than the one above. He was hunting over some CRP (Conservation Reserve Program) grasslands, and came over to check me out when I got out of the car to photograph him. A video of this bird hovering, which is a standard hunting technique for this species, can be found here.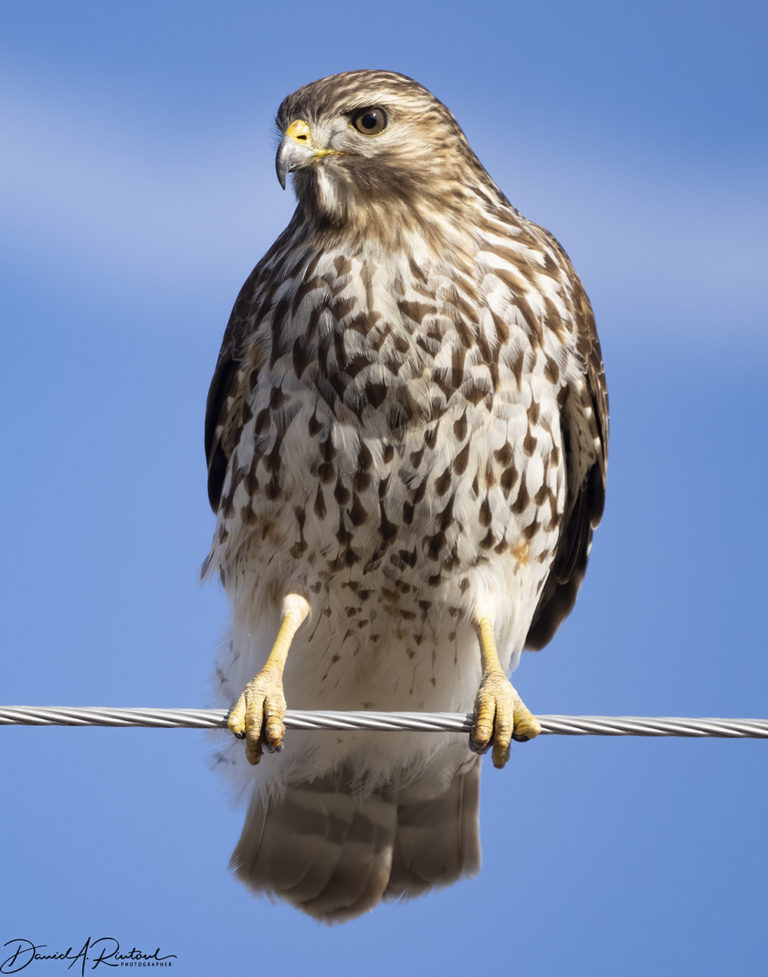 Near Manhattan KS
February 3, 2021
Red-shouldered Hawks (Buteo lineatus) are familiar to folks east and west of here, but have really only been making incursions into the plains in the last couple of decades. Now they are common birds, year-round, and this youngster probably hatched out right here in Kansas.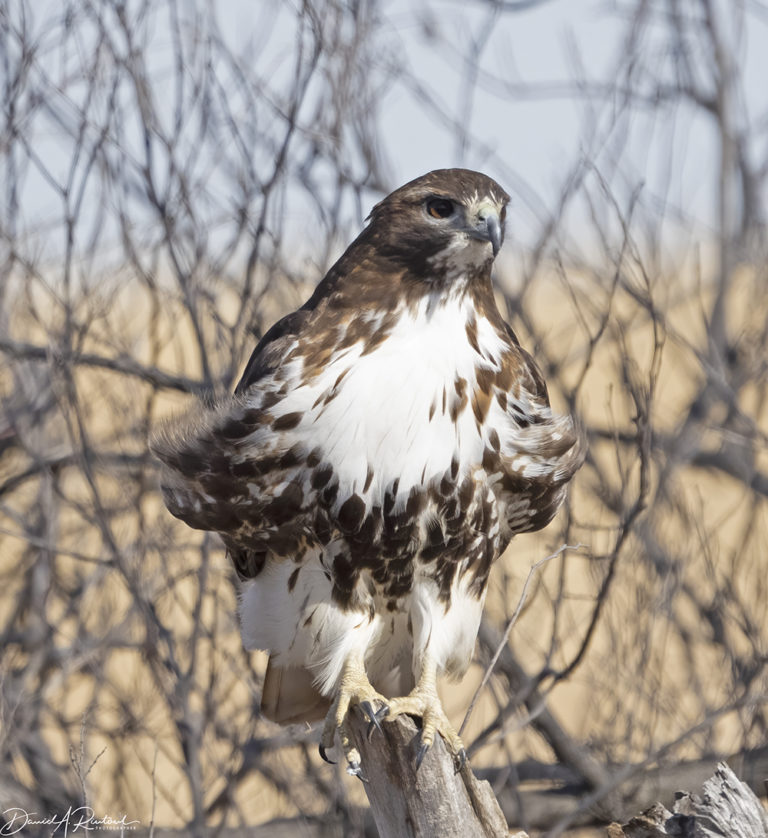 Near Manhattan KS
February 3, 2021
Finally, a couple of Red-tailed Hawks (Buteo jamaicensis). This bird is a candidate for "Red-tailed Hawk with the darkest bellyband and whitest chest" award this year. She is a representative of the northern (abieticola) subspecies, and a fine representative for sure.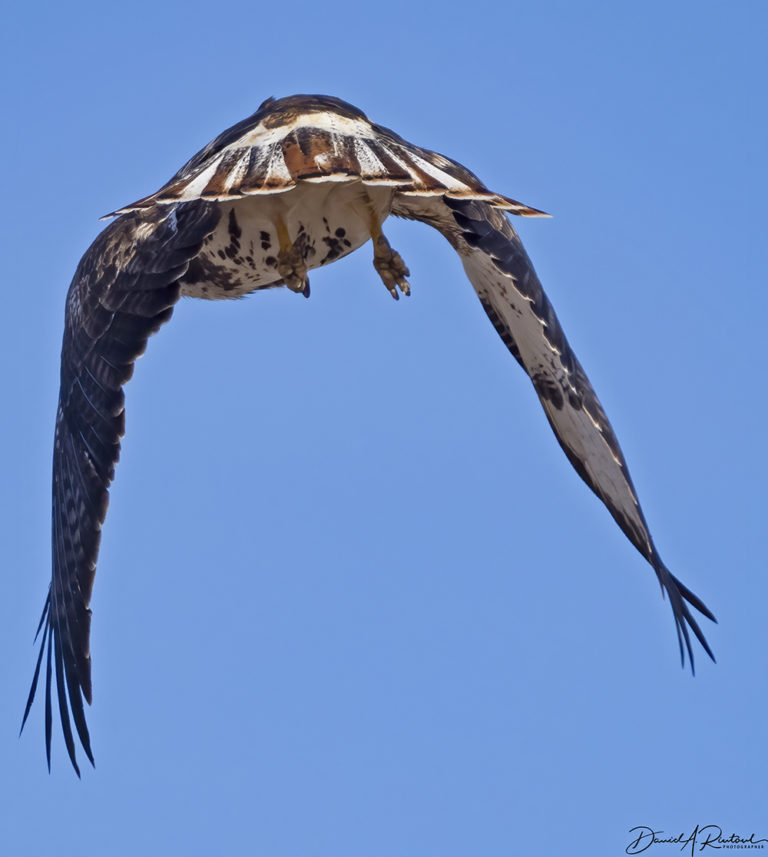 Near Manhattan KS
February 5, 2021
This light-morph Harlan's Hawk (Buteo jamaicensis harlani) has the prettiest and funkiest tail colors and patterns I have ever seen. And I've seen a lot of them. I want a t-shirt with this pattern!