On the Road is a weekday feature spotlighting reader photo submissions.
From the exotic to the familiar, whether you're traveling or in your own backyard, we would love to see the world through your eyes.
way2blue
After Siracusa, we drove west across Sicily to Agrigento.  And again struggled with navigation.  Most road signs again had several towns listed, and often not any that we recognized.  We'd drive into a vlllage to find no road signs at all.  One village, we kept to what we thought was the main road but found ourselves headed downhill on a narrow road of hairpin turns making it impossible to turn around.  The road kept getting narrower and rougher, then around one turn was a parked van for an electrical company facing uphill.  A relief, because I figured if they had come from below—there had to be a way through.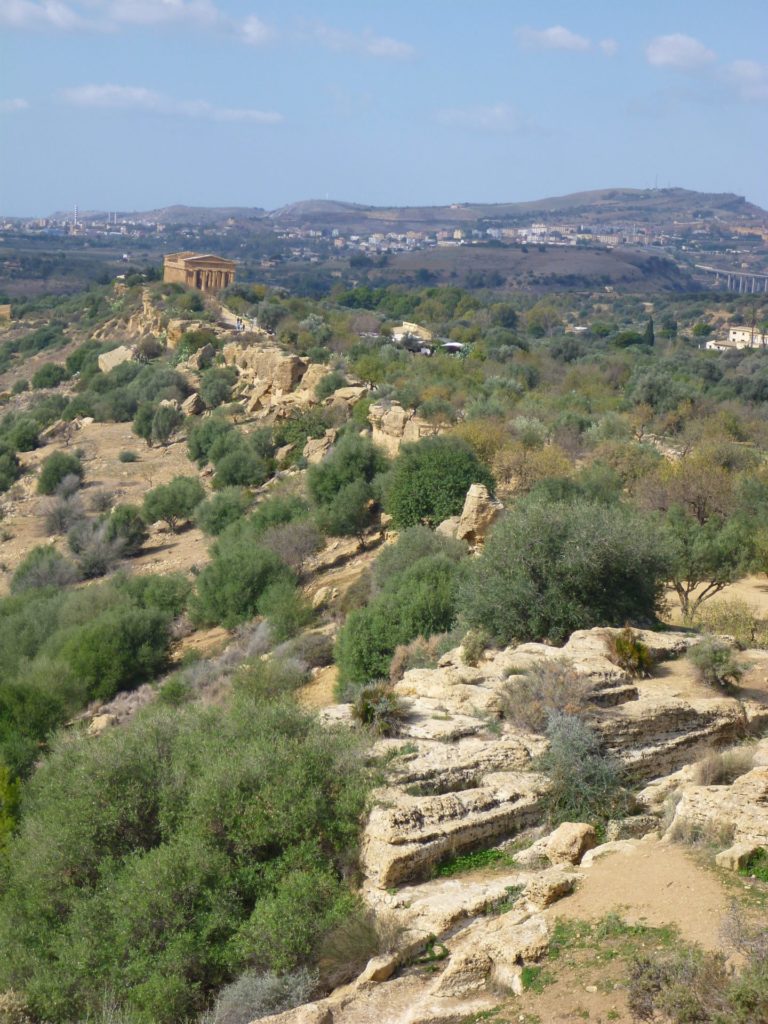 VALLE DEI TEMPLI, AGRIMENTO
Valle dei Templi (Valley of the Temples) is just west of the town of Agrigento.  As you can see it's not actually a valley, rather a ridge with seven Greek temples constructed during the 6th & 5th centuries BC.  We stayed in a small hotel built around a 16th century watch tower which had been constructed for protection against Turkish invasions.  Our window looked across to this ridge, with the main temple illuminated at night.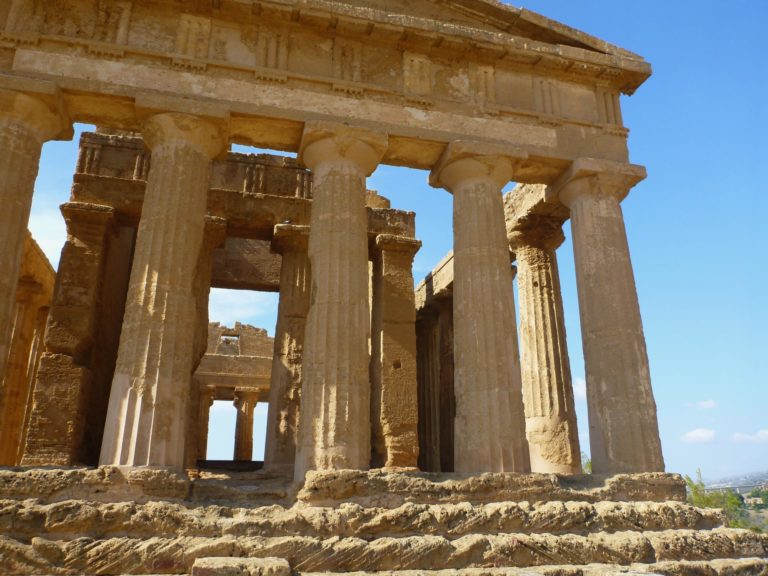 TEMPIO DELLA CONCORDIA, VALLE DEI TEMPLI
Tempio della Concordia (Temple of Concordia) built ~440 BC, together with the Parthenon, is considered one of the best perserved Doric temples in the world.  Because the local stone wasn't the favored white marble, most of the temple was orIginally covered with white stucco.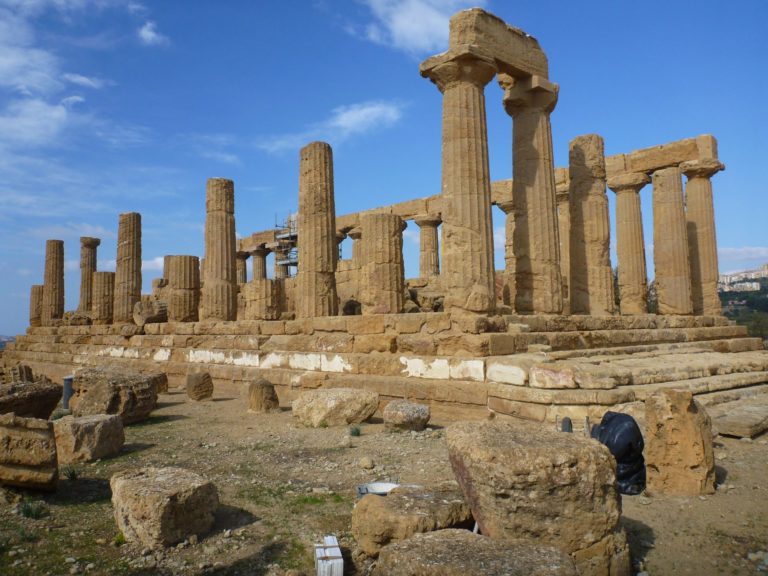 TEMPIO DI HERA LACINIA, VALLE DEI TEMPLI
Remains of Tempio di Hera Lacinia (Temple of Hera Lacinia), built ~450 BC.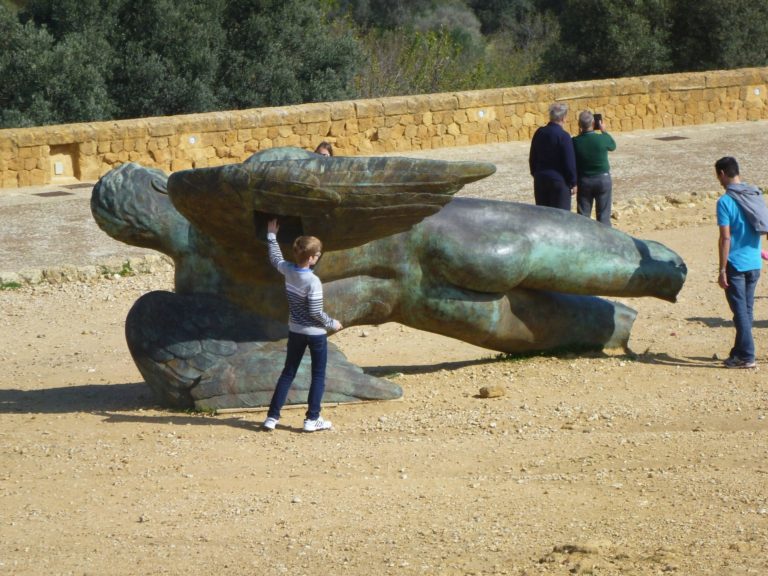 STATUA DI ICARO CADUTO, VALLE DEI TEMPLI
Statua di Icaro Caduto (fallen Icarus), a mesmerizing bronze statue created by the Polish sculptor Igor Mitoraj and installed in a fitting location as In mythology, Agrigento was founded by Daedalus & his son Icarus following their flight from Crete.  Thus, Icarus 'with the broken wing' lies discarded on the ground adjacent to the Temple of Concordia.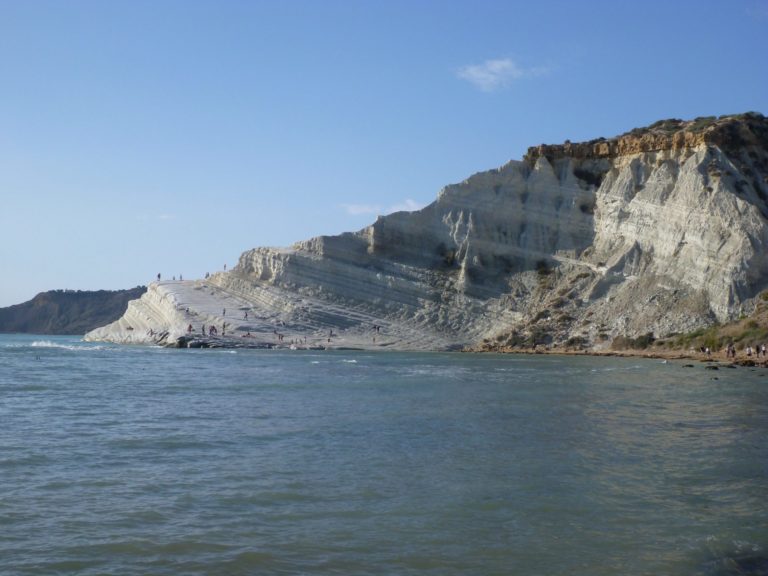 SCALA DEI TURCHI, REALMONTE
Scala dei Turchi (Turkish Steps) is a bluff of marl, west of Agrigento, resembling a giant stairway from the sea to the clifftop.  Apparently Saracen pirates docked their ships by the scala, and climbed these steps to raid nearby villages, hence the watch towers.  The marl was slippery when wet, and some kids used a puddle to 'whitewash' each other…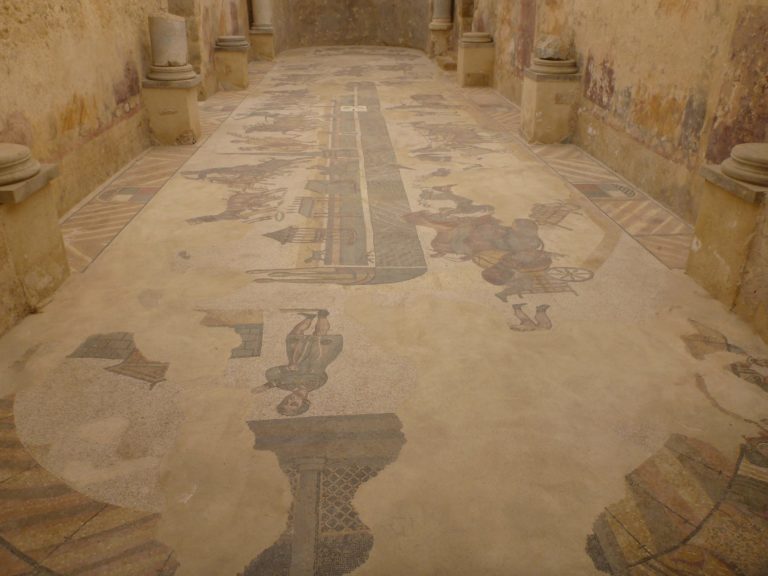 PALAESTRA, VILLA ROMANA DEL CASALE
On our drive back to Catania, we stopped at the Villa Romana del Casale—thought to have been the country retreat of Marcus Aurelius Maximianus, Rome's co-emperor during the reign of Diocletian (AD 286–305).  Rooms in the villa are floored with elaborate, beautifully preserved Roman mosaics—more than 37,000 sq ft of mosaic—most depicting scenes from Roman life.  We viewed the mosaics from a network of catwalks above the rooms.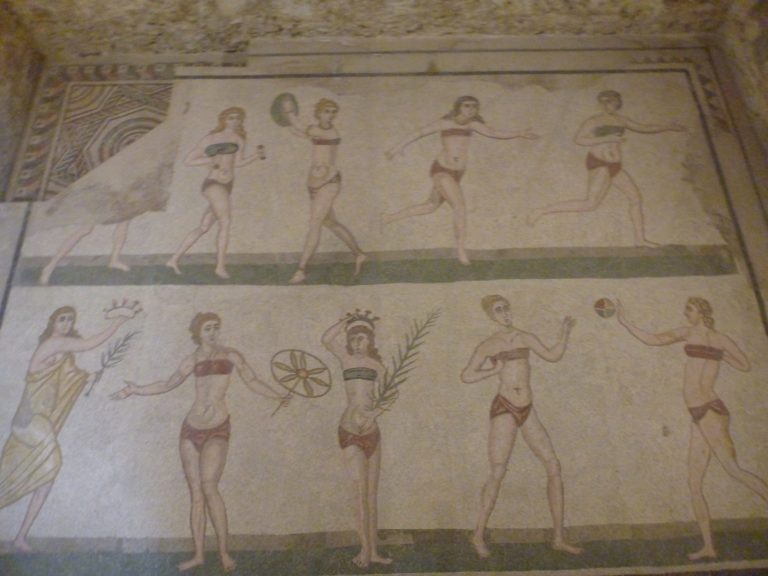 SALA DELLE DIECI RAGAZZE, VILLA ROMANA DEL CASALE
Sala delle Dieci Ragazze (Chamber of the Ten Maidens or Room of the Gymnasts) was my husband's favorite…  from Wikipedia »  "women athletes are shown competing in sports that include weight-lifting, discus throwing, running, and ball-games.  A toga-wearing official on the bottom left holds the victor's trophies (a crown and a palm frond), and the victor herself appears crowned in the centre of the mosaic."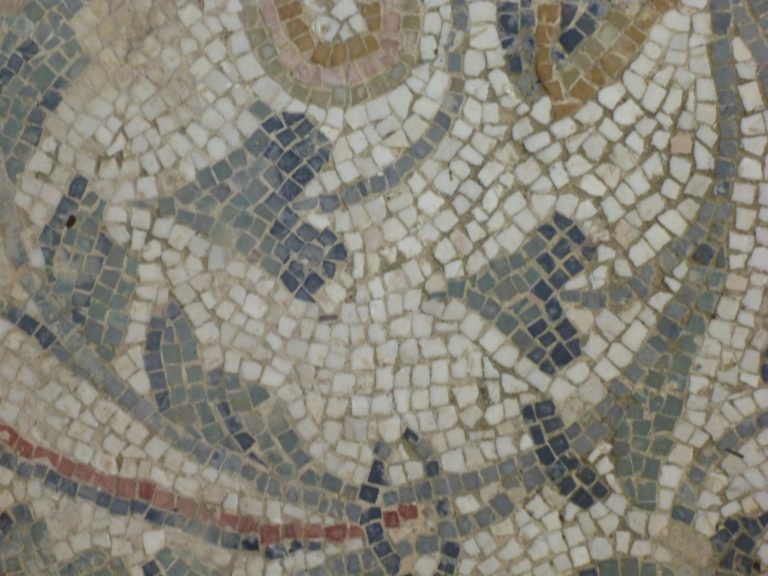 VILLA ROMANA DEL CASALE
A close-up to show some of the amazing detail.  These mosaics are attributed to skilled North African artists, because the use of color wasn't typical in Roman mosaics during this era.