On the Road is a weekday feature spotlighting reader photo submissions.
From the exotic to the familiar, whether you're traveling or in your own backyard, we would love to see the world through your eyes.
On the Road: Week of March 1  (5 am)
Albatrossity – Yucatan #2
Scott – Mendocino 4th of July Parade
?BillinGlendaleCA –
Steve from Mendocino – Provence France 2/3
Mike in Oly – Snapshots of Western Washington
?  And now, back to the Yucatan!  
Albatrossity
This is the second and final installment of my account for a trip to the Yucatan in March 2011. Mayan ruins, astronomy, and, at the end of the tour, birding!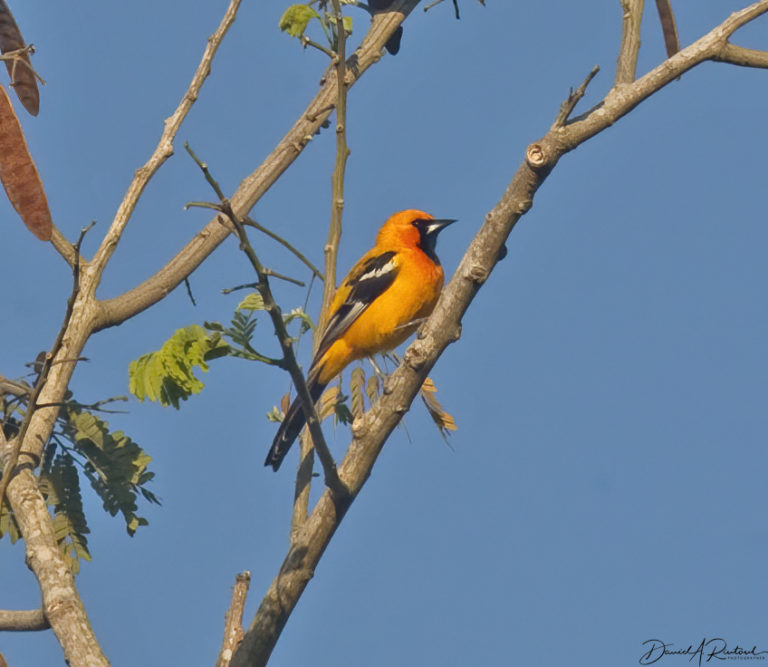 Uxmal
March 19, 2011
Birding in the Yucatan in March gives you an interesting mix of local birds and migrant birds (e.g. Magnolia Warblers, Cerulean Warblers) on their way to spend the summer in North America. Here's one of the residents, and a bird that is endemic to the Yucatan Peninsula, an Orange Oriole (Icterus auratus). This was a life bird for me, and is still the only one I've ever seen. So that's a good reason to get back down there sometime.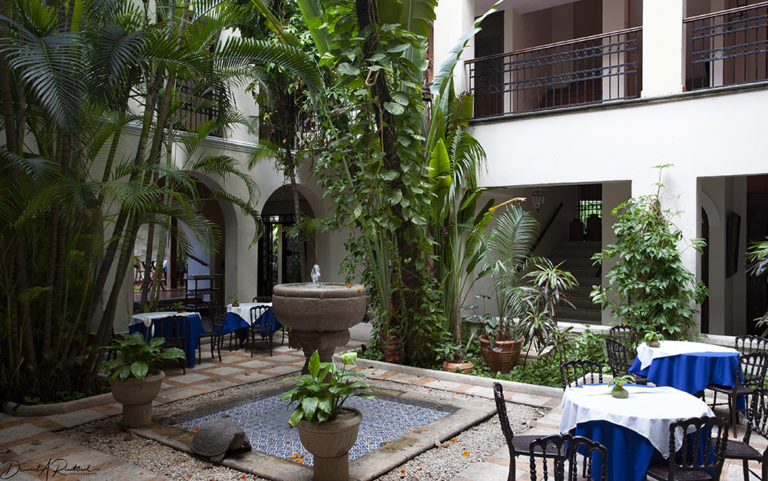 Merida
March 20, 2011
After Uxmal we headed to Merida, where we stayed in a lovely hotel near the central plaza. This is the open courtyard of the motel, which we spent some time appreciating!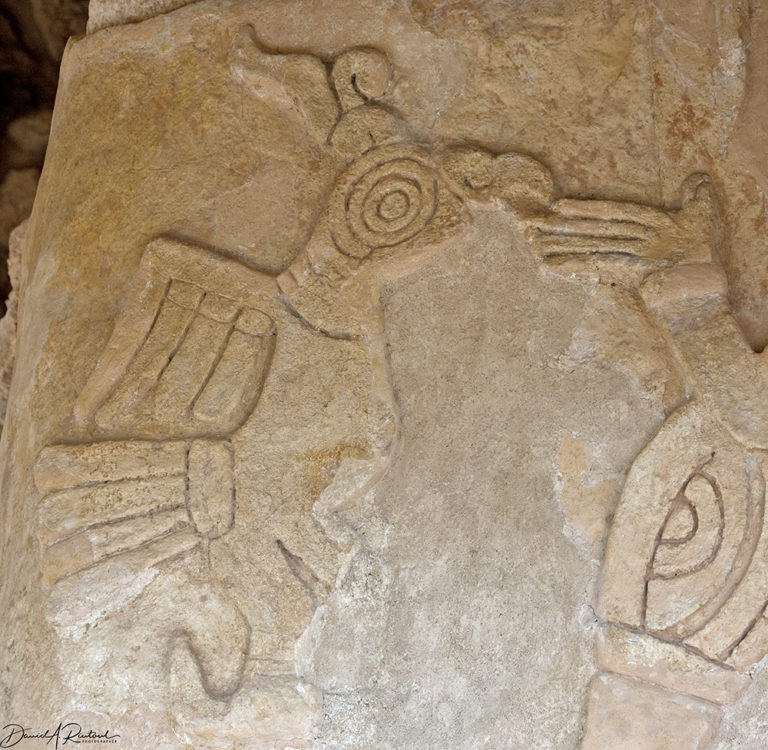 Mayapan
March 20, 2011
One of the Mayan sites we visited near Merida is the Mayapan Archaeological zone, which was one of the last Mayan cities built. Founded about 1000 AD, it has some stunning temples as well as an observatory. This interesting glyph of a bird was found on one of those.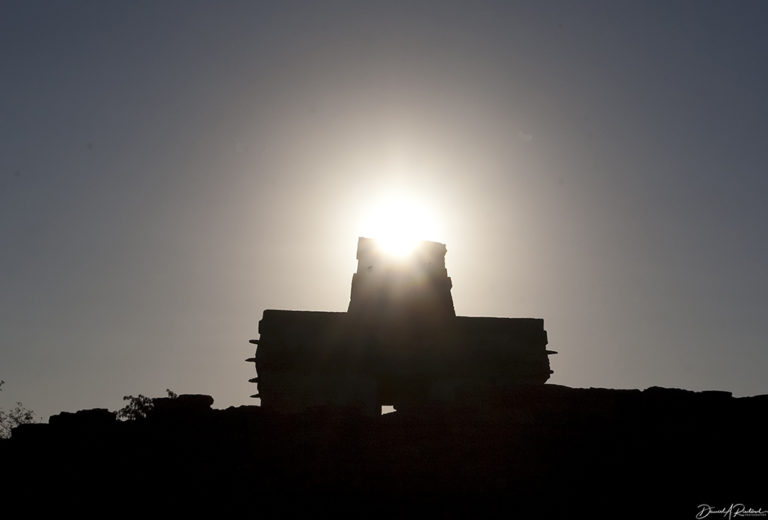 Dzibilchaltun
March 21, 2011
The day of the equinox dawned bright and clear, which was good, since this day's activities were the major reason we took this tour. We ate breakfast in the dark and headed to the Dzibilchaltun Ruins, just a bit north of Merida. This was a thriving Mayan city, and much of it remains unexcavated. This building, known as the Temple of the Seven Dolls because of the seven small figurines found there during excavation, was actually covered by another temple. It is a site for viewing the equinox sunrise, where light from the rising sun comes into a door on the east and passes out of a door on the west to illuminate a platform which was, on this day, covered in tourists. It also has a restored sacbe (white road) connecting this temple to the central plaza, where there is an extraordinarily fine cenote (sinkhole filled with fresh water), Cenote Xlakah. Here's a link to some other pictures (not mine) from that site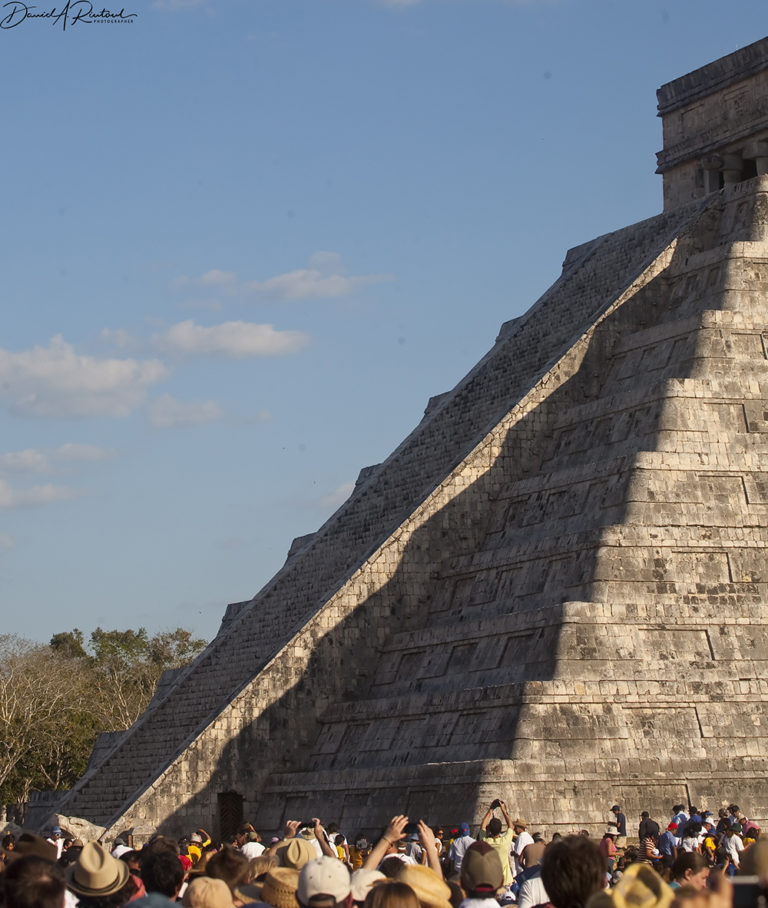 Chichen Itza
March 21, 2011
The Kulkulkan pyramid at Chichen Itza is a site that many have seen, many want to see, and where many were congregated on this equinox day. I would guesstimate the crowd at over 50,000, and they all were there to see this, the Descent of the Serpent. As the sun heads toward the western horizon, shadows of the pyramid edge travel down the side of the pyramid steps to make a serpentine figure that culminates in the great carved serpent head at the foot of the stairs. It was amazing. Normally I don't like crowds, but somehow, being here for this solstice festivity, this was a powerful reminder of what these cities must have been like a thousand years ago, filled with crowds who all shared the awe of this architectural and astronomical tour de force.
More here, including a time-lapse video shot (not by me) on March 20, 2011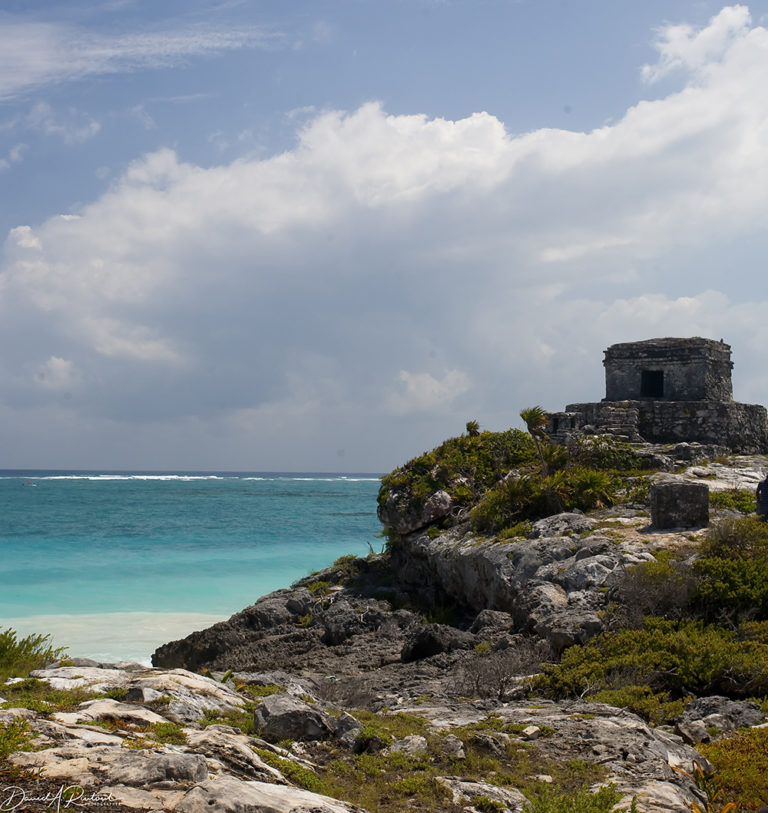 Tulum
March 22, 2011
The final stop on the archeological tour was Tulum, on the Caribbean coast of the Mexican state of Quintana Roo, north of Belize and south of Cozumel. This is another Mayan observatory, against a backdrop of white sand beaches and turquoise water.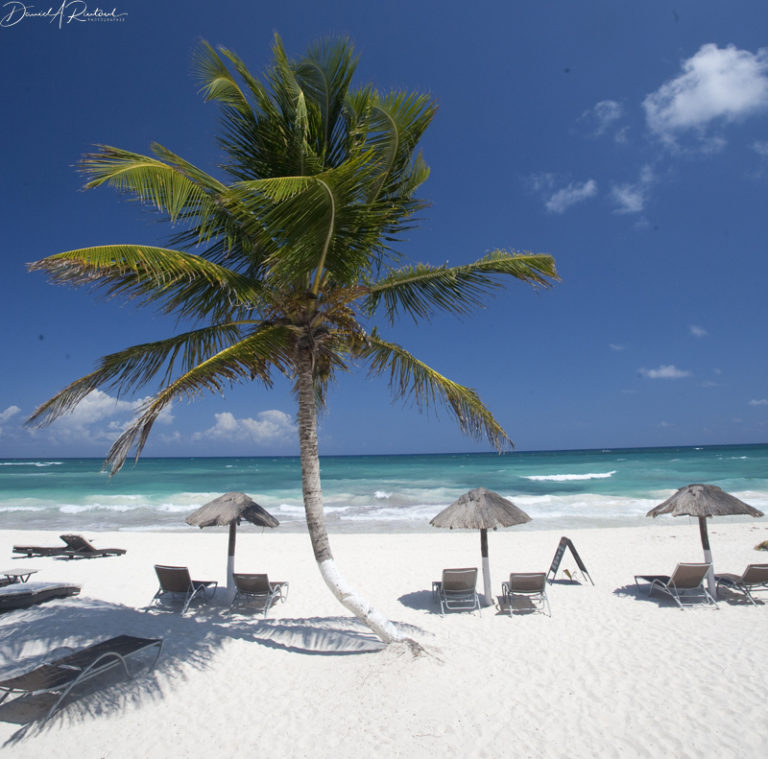 Tulum
March 24, 2011
Although we left our tour group after Tulum, our time in the Yucatan was extend for another couple of days. I had arranged for a birding tour, guided by David Bacab, a friend I had met in Mexico a few years earlier. We stayed in a hotel right on the beach in the town of Tulum, and each evening for dinner we would stroll up or down the beach to find a seaside café, where we could eat seafood and drink margaritas. It was paradise, and also the best paella I have ever had in my life.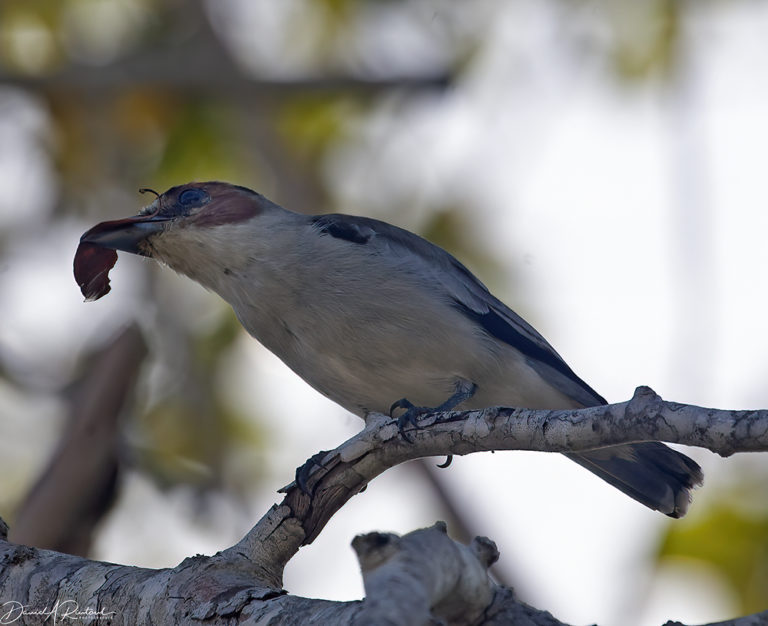 Quintana Roo
March 23, 2011
The birds cooperated as well; David is an excellent guide and this is his home turf. Here's a Black-crowned Tityra (Tityra inquisitor), one of many life birds seen in those two days touring Quinta Roo with him. We also saw a few more Mayan archaeological sites, combining birding with even more learning about this fascinating corner of the planet.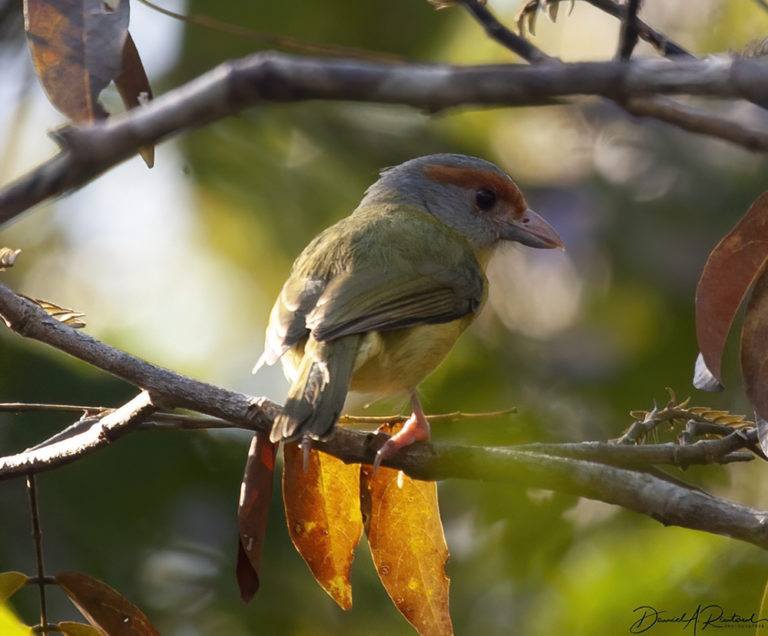 Quintana Roo
March 23, 2011
Another life bird, the Rufous-browed Peppershrike (Cyclarhis gujanensis), a chunky member of the vireo family. This bird has an extensive range, from Mexico to Argentina, but this one was the first one I had ever seen.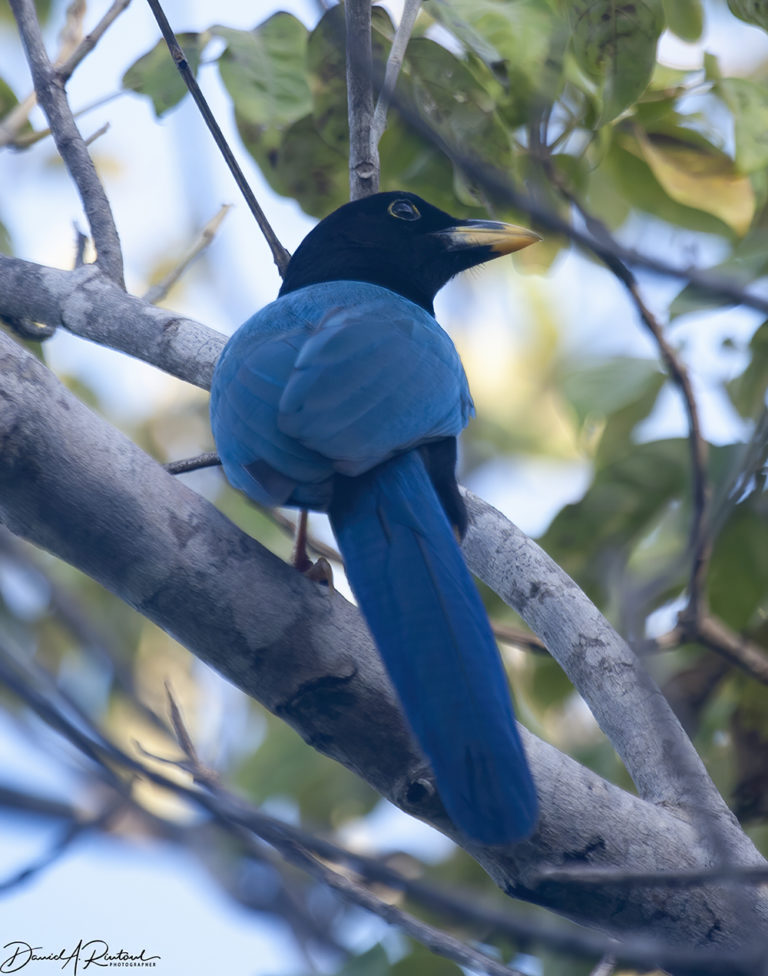 Tulum
March 25, 2011
The final bird, seen on our final day in Mexico, was a Mexican endemic species, the Mexican Jay (Cyanocorax yucatanicus). This is a first-year bird, based on the yellow bill; adults have black bills. Like all jays, these birds are inquisitive and fun to watch.
Interestingly, as we were waiting in the Cancun airport for our flight home, I spotted not Ted Cruz, but a family wearing familiar colors and logos, K-State purple and the athletic mascot, the Powercat. I chatted with them a bit, and found out that one of the daughters had just been accepted into the university, and was enrolled in a class that I would be teaching the next fall. Since there were 10 sections of the course, I never imagined that she would be in the one I taught, but on the first day of class there she was. So we reminisced about our trips to the Yucatan. She graduated years ago of course, but we are still friends on Facebook, and she is now a new mom. Say what you will about the Zuckerborg, it is an excellent way to stay in touch over the years!