On the Road is a weekday feature spotlighting reader photo submissions.
From the exotic to the familiar, whether you're traveling or in your own backyard, we would love to see the world through your eyes.
pat
Golden Eagles are found primarily in the west, but some of them spend the winter here in the Driftless region of Wisconsin, Minnesota and Iowa.
The National Eagle Center in Wabasha, MN, organizes a Golden Eagle Survey each January. For the past few years I have been fortunate to accompany a survey participant who knows where to look for these rare birds. (This year's survey found a total of 126 Goldens. We reported 4 of them.)
This year, after our survey, I returned to one of the spots where we have most often found one or two birds, and I waited, with camera, long lens (400mm + 1.4x extender) and tripod.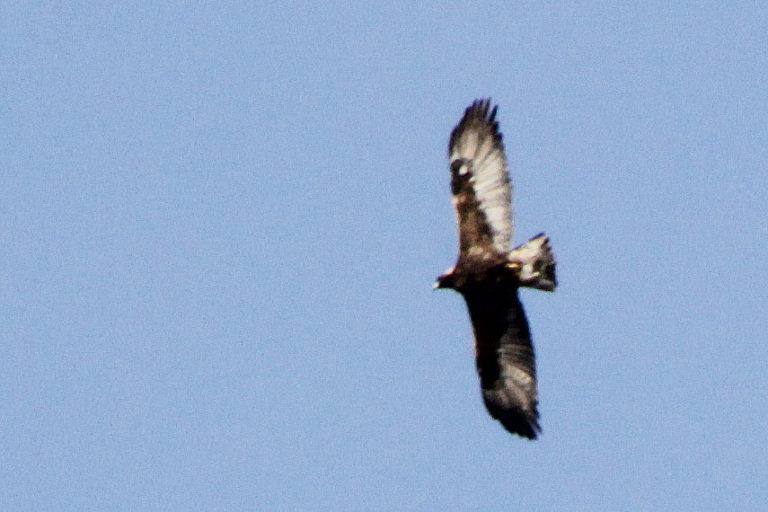 western Wisconsin
January 27, 2021
This is the first shot I got.
It's always exciting to see one of these birds soaring over the ridge and above the valley. I have managed to get a few shots, but because they were always very far away, it is very difficult to get a sharp photo.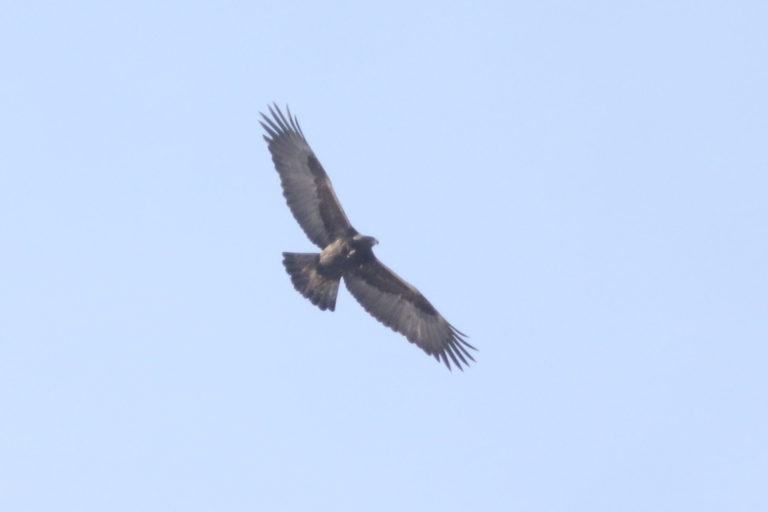 western Wisconsin
February 19, 2021
A few days later. This is most likely the same bird, still too far away for a good shot.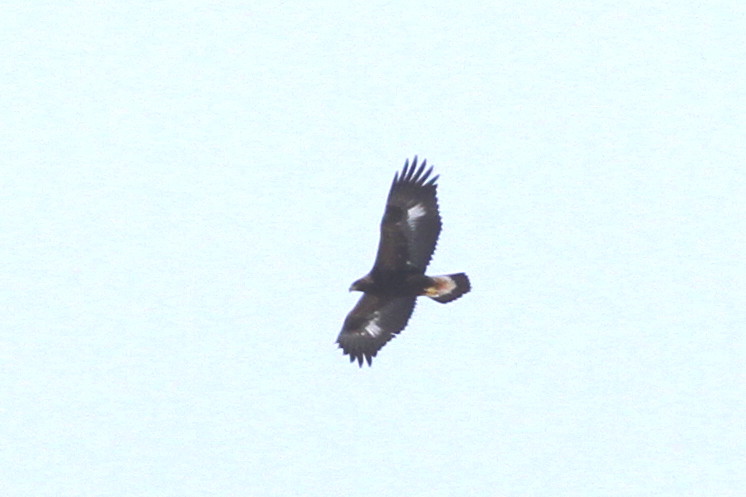 near Wabasha, MN
February 13, 2011
When I went looking at photos from past years, I unexpectedly found another Golden, taken when I was photographing Bald Eagles on the Mississippi. This might have been around Wabasha, MN, near the National Eagle Center.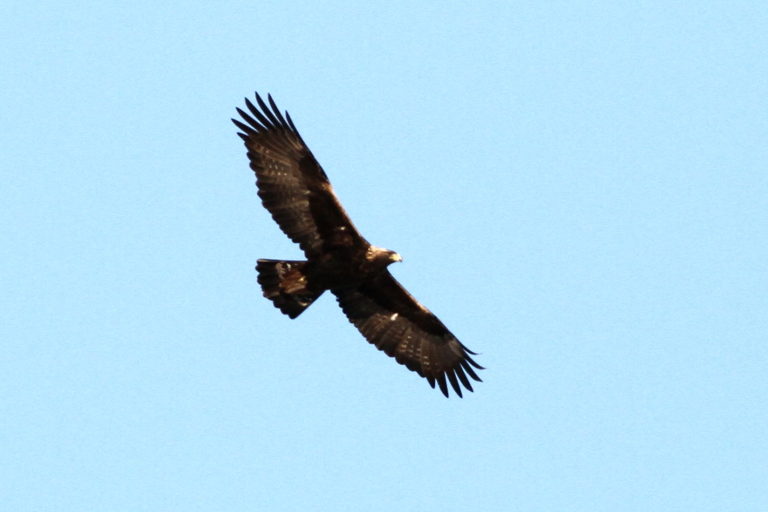 western Wisconsin
January 4, 2011
Then I found this. I had attended a Golden Eagle program at the Eagle Center, and after the presentation we drove out in the hills and our guide and presenter took us to a place where we were pretty sure to see a Golden, and sure enough there it was.
Note the golden nape of the neck.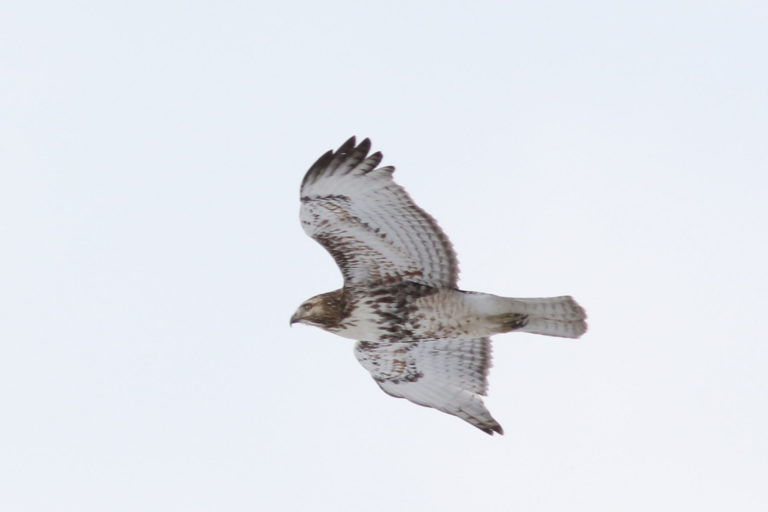 western Wisconsin
February 3, 2021
Back to the present, one day as I was waiting for the Golden to appear, this Red-tailed Hawk was flying around the valley. So I photographed it.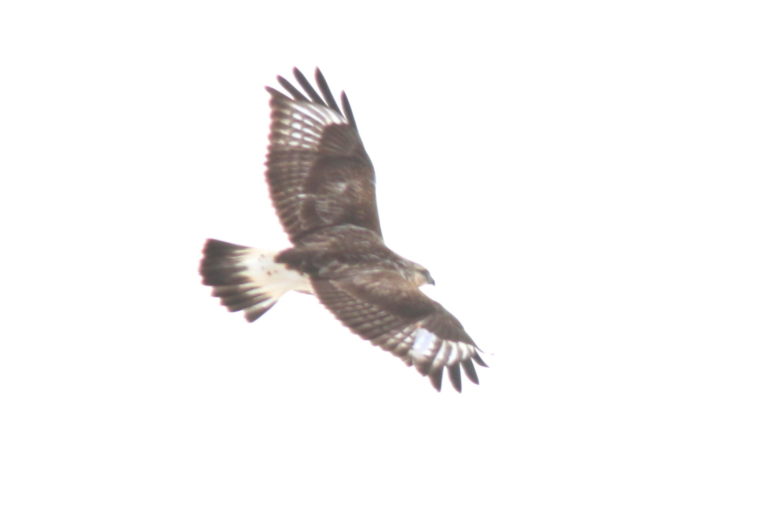 western Wisconsin
February 18, 2021
And one day, frustrated that there was no sign of the Golden, I stopped on the side of the road to photograph some wild turkeys in a field. As soon as I had the camera positioned on the beanbag on top of the car, this is what I saw in the viewfinder.
I got several shots, a bit too far away to be sharp, but I was able to ID it as a light morph juvenile Rough-legged Hawk. We always find several in these valleys, but this is the first one I have photographed and identified.
They breed in the Arctic and come down here in the winter to be counted in our Golden Eagle Survey. This year there were 154 reported, the highest since the survey began. There were only 54 reported in 2017.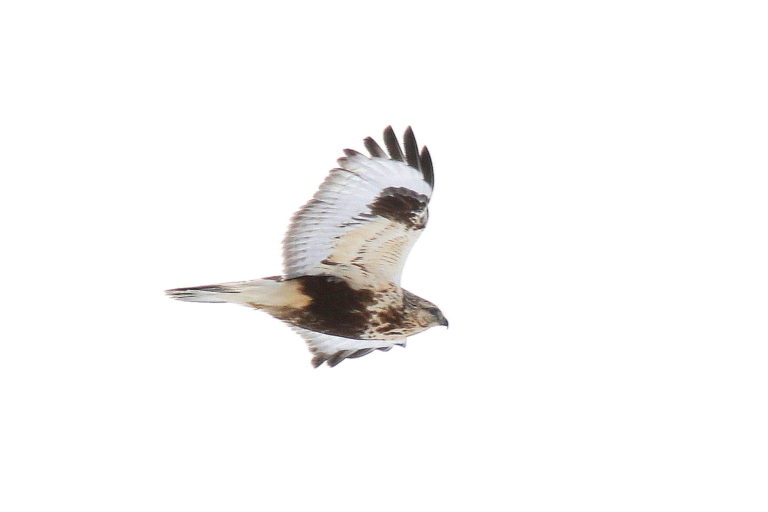 Another photo of the Rough-legged Hawk.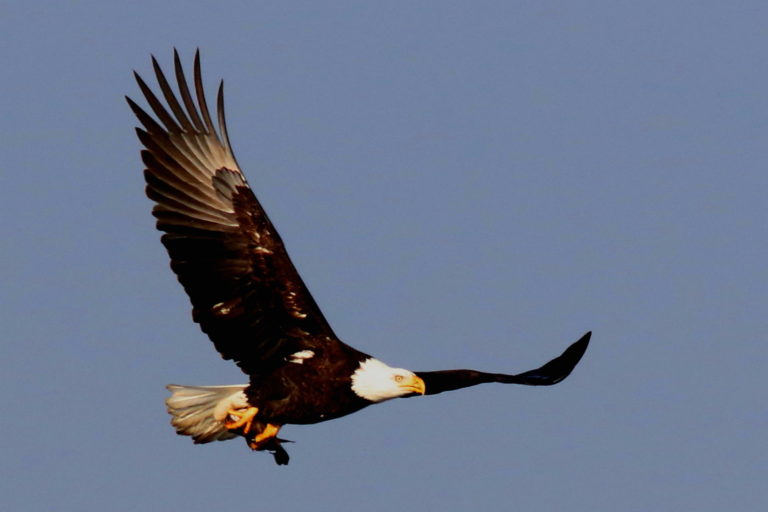 Lake Pepin, MN
January 13, 2019
Bald Eagles are common on the Mississippi, and I have been able to get a lot of photos of flying eagles. Here's one with a fish in his claws.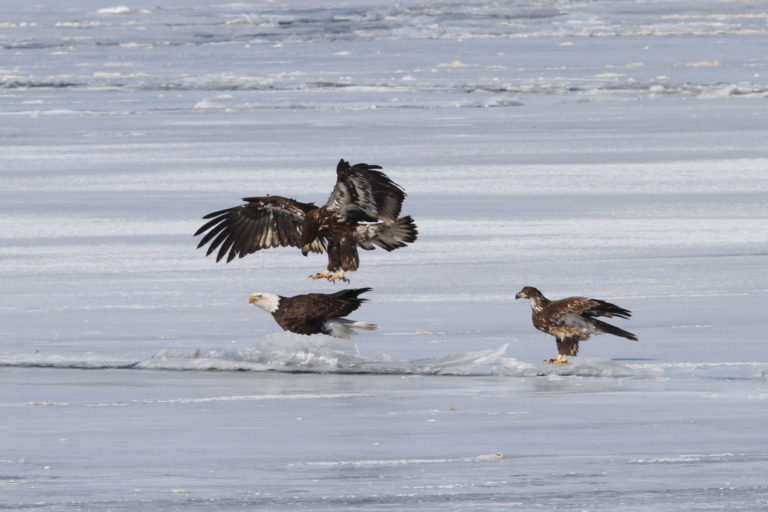 Mississippi River, La Crosse, WI
February 13, 2013
And one year we had a fish-feeding frenzy of eagles on the river next to Riverside Park.
I sat for hours getting some great photos.
Here a couple of juveniles begin to harass an adult.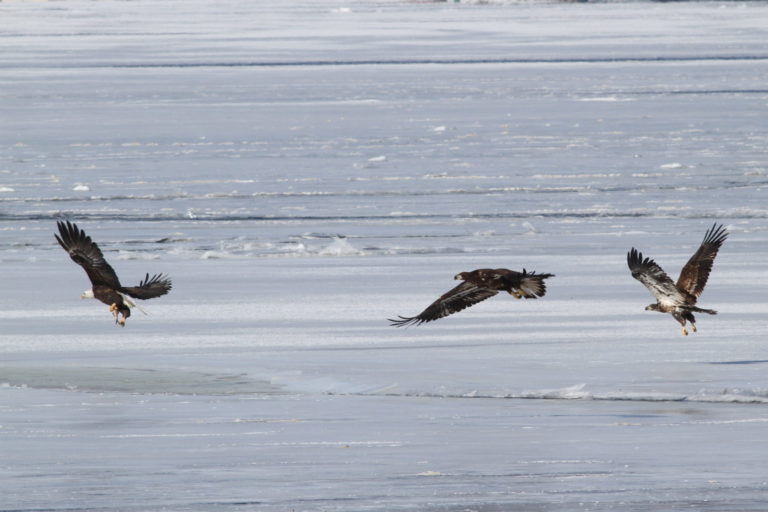 Finally, the adult flies away with his fish, and the juveniles in hot pursuit.