On the Road is a weekday feature spotlighting reader photo submissions.
From the exotic to the familiar, whether you're traveling or in your own backyard, we would love to see the world through your eyes.
ChasM
Moskva, 1985: the final stop on our Russian Tour. During our four days there, we stayed at two different hotels – first at the Hotel Kosmos, across the street from the Russian Space Museum, then down the street from Red Square in what may or may not now be the Ritz-Carlton. Unfortunately, my friends and I did not get a chance to visit the museum, and really only had one full day of touring because we spent our days running around the city trying to procure our way out.
Our specialist travel agency, the one that had booked our Russian itinerary, had failed to include in the package visas for travel through Poland by train to Berlin, you see, and without said visas we would be stuck in the USSR. On the 4th July, no less. The story of our encounter with Soviet bureaucracy follows, along with pictures of some other stuff.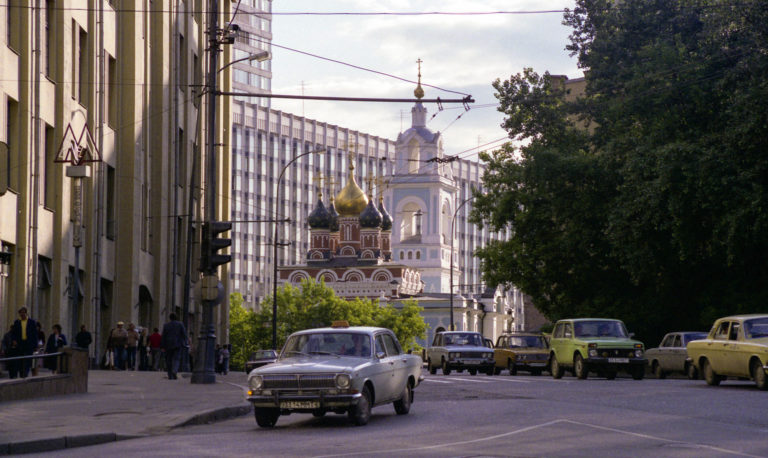 A Volga model taxi on the streets of Moscow. Volga's were the 'nicer' of the two main Russian automobiles, the other being the infamous Lada.
I think this picture was taken on the day we landed in Moscow, during our first look around. I don't remember if it was on this evening or the next that our Moscow minder told us that there was a problem in that our visas in Russia expired on the 4th but we didn't seem to have travel visa for our trip by train through Poland, which would be required in order to, you know, leave. This seemed ridiculous to us because a) Poland was still somewhat of a puppet of the USSR at the time b) this whole thing was supposed to be a professional operation and c) we're AMERICANS from America! Don't you know who we are!!?? We want to talk to the manager!.
'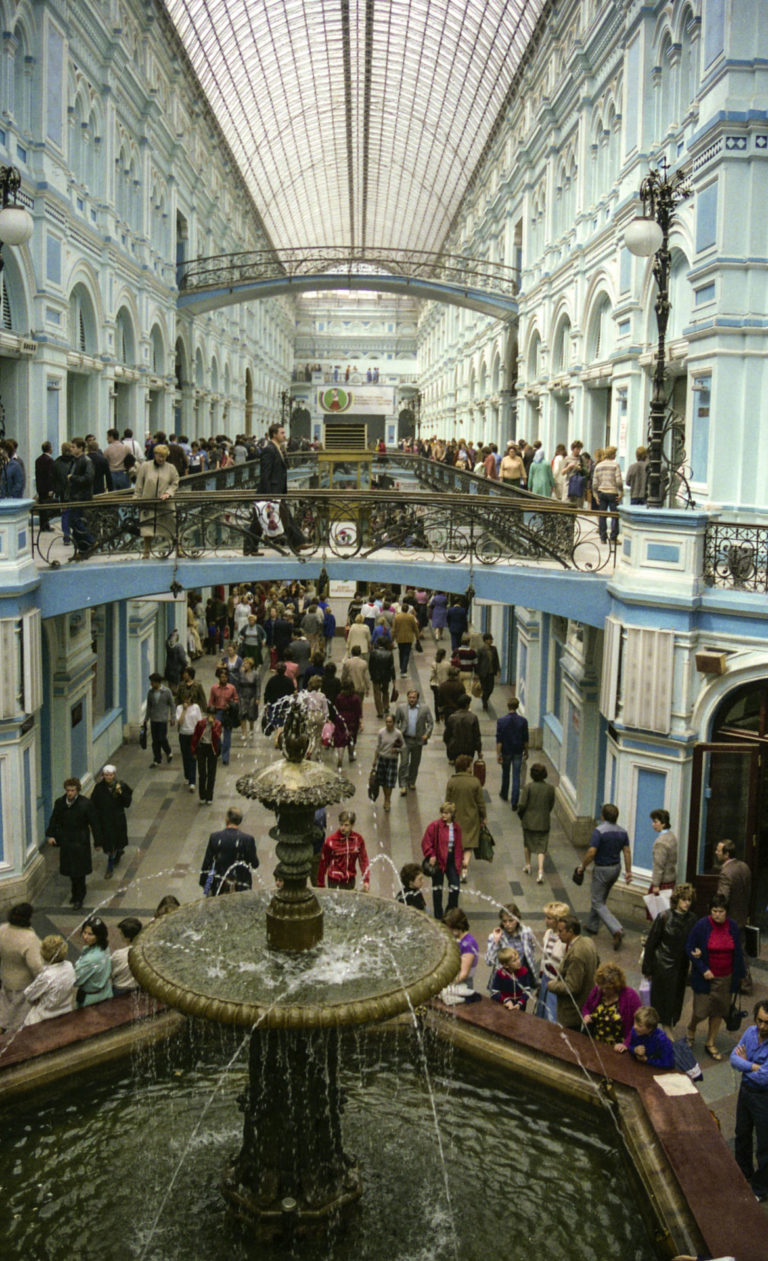 GUM Department store opened in 1893, so I really have to laugh when it is suggested that The Mall was invented in the United States. Although it's crowded with people, there's really not much to buy in the shops, unless one has 'hard' money, which none of these people do probably.
Our first task was to get pictures taken for our Polish visa's, so after getting directions we headed off on the subway to another part of the city and found the photographers studio in the basement of an apartment building. The camera was a huge bellows type 8×10 on a rail-mounted tripod. It was awesome.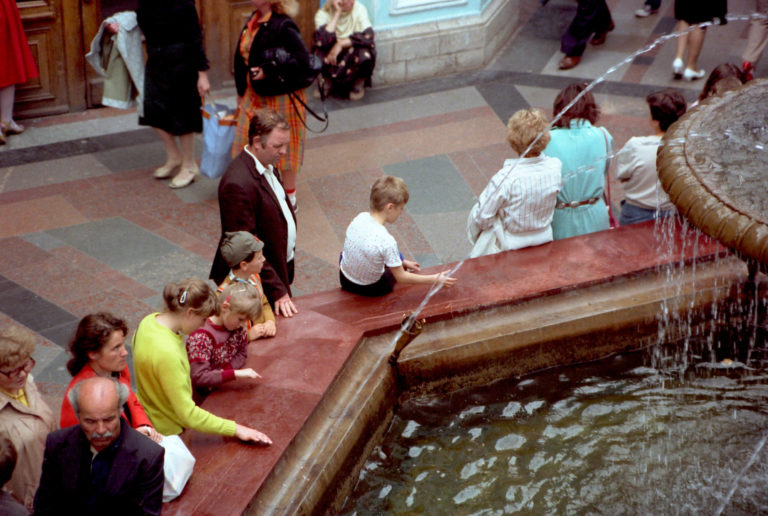 The fountain at GUM. I think this shot captures the listless boredom of Moscow at the time.
The next morning, photos in hand, we headed out to the Polish Embassy to get our travel visas, though things did not go as planned. Apparently, not getting the required paperwork is common as there were approximately 600 people, the vast majority Ugandan, already in line ahead of us at the Embassy. We stood in line for 6-hours and didn't even get inside the gate of the complex.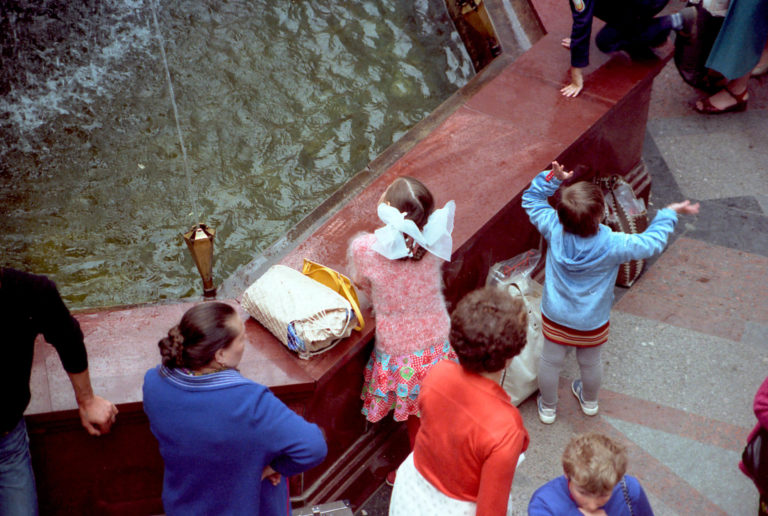 Companion shot to the previous. Love the 'poofy' on this little girl. Children were the only happy people in the USSR.
As mentioned in the first article of this series, one of our crew was of the "Ugly American" variety, so of course this meant that his parents were rich and he and his buddy were the first to break off from the Embassy vigil and start looking for another way out. Hours later when it became clear that the rest of us weren't getting visa's that day either we had to regroup that evening for the uncomfortable inevitable phone calls home begging wire money for plane tickets to East Berlin. The Rents were not impressed.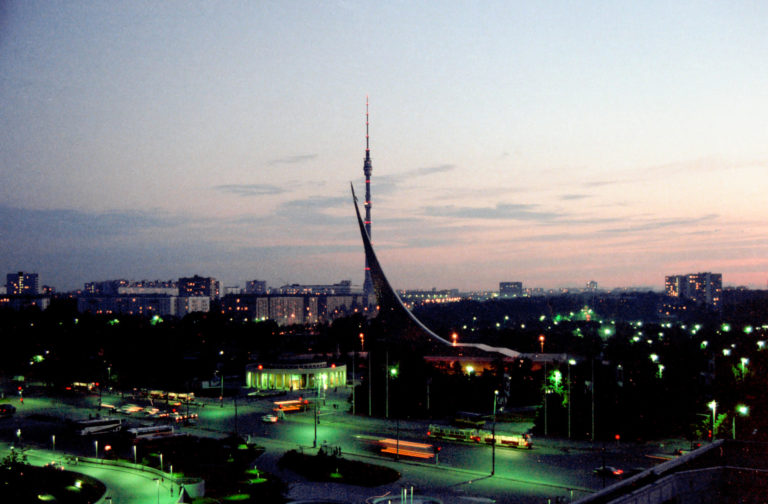 This is the Museum of Cosmonautics taken with the c-clamp mount from my room at the Hotel Cosmos.
Through our hotel we were able to reserve tickets on a flight to East Berlin for the next morning, July 4th. We had our last meal of Champagne, Caviar, and Chicken Kiev (we had lots of mandatory rubles leftover which we couldn't exchange back to hard currency, and would obviously be worthless outside the USSR), and drank Stoli with our local trading friend well into the night.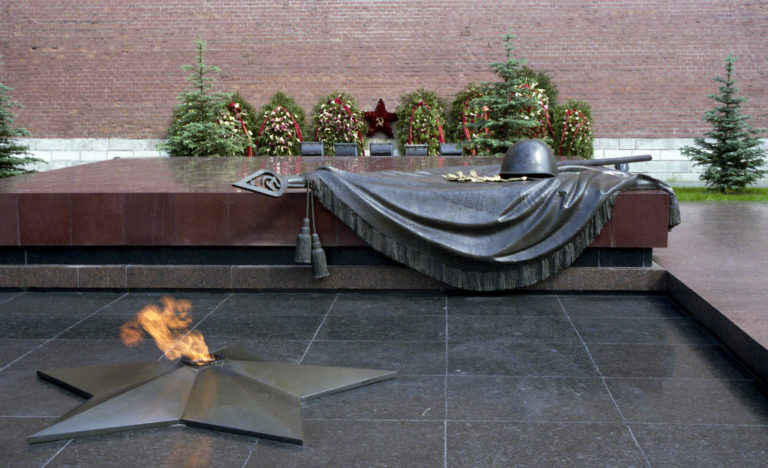 Tomb of the Unknown Soldier.
We did meet and make friends there. Upon the advice of my Russophile buddy, I had brought half-dozen or so surf-shop branded t-shirts to trade for such as a Soviet flag and a couple of those authentic lacquer boxes that were so rare and beautiful at the time. Making trades was really as easy as walking thru Red Square until some guy in jeans approaches, "Hey, you Americans? Wanna trade for boxes?". We'd invite him to our hotel, and he'd sweet talk his way past the babushka floor monitor and we'd trade stuff. And I totally forgot about the wild marijuana growing in the middle of a street island in Kiev, which was promptly ripped up to the astonishment of our local acquaintance who could not believe that, yes, this was in fact weed and we're going to go dry and smoke it now.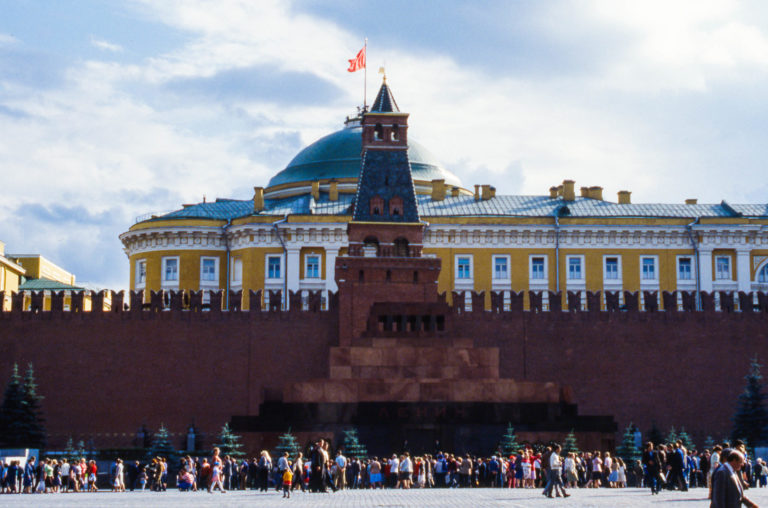 Lenin's Tomb, the Kremlin and Red Square.
Back at the airport, it turns out the ticket counter where we need to get out boarding passes is not so much the western-style que that we're accustomed as it is a single, very, very old post-pensioner woman, locked in an ornate kiosk in the middle of a vaulted marble room surrounded by a mob of people and no discernable order. Luckily we had our minder and interpreter, but it still took a couple of hours to push our way thru the mob and watch this molasses-paced woman stamp our visas and such as the seconds ticked to the very minutes of our departure.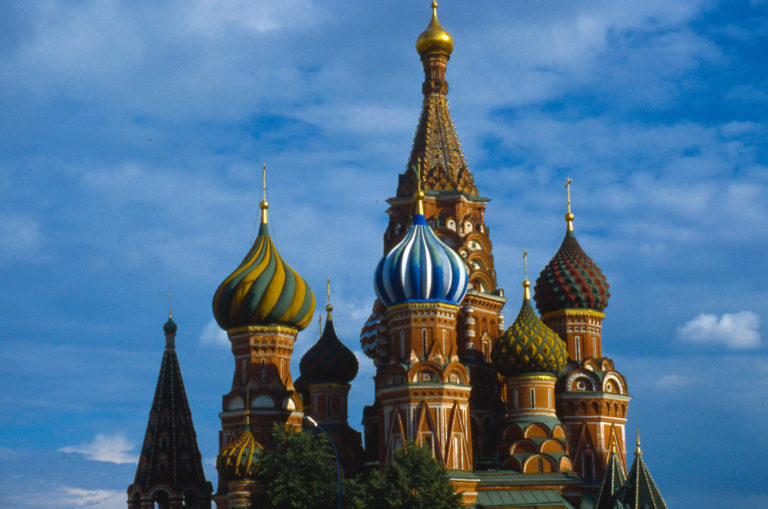 Obligatory shot of St. Basil's Domes.
With seconds to spare, we were whisked thru the checkpoints and had to sprint to the gate which they held open for us despite getting to the airport 3 hours before departure. Ah, Russia. Our "Ugly American" companion literally kissed the tarmac after we disembarked from the plane. As we were still in East Berlin at the moment, I felt this was a tad overdramatic, but it was July 4th and soon this fellowship would split apart. We departed for the West…
Thanks! Hope you enjoyed these old pix and stories. I'll be combing though my archives and hope to share more with y'all soon.
Cheers!