On the Road is a weekday feature spotlighting reader photo submissions.
From the exotic to the familiar, whether you're traveling or in your own backyard, we would love to see the world through your eyes.
When we pressed pause on After Dark a few weeks ago, I suggested that we might do a special Springtime in Paris series in After Dark if there was interest.   Only 5 Paris submissions have come in so far, and I'm wondering whether that indicates lack of interest or if it's just that you haven't sent yours in yet.  Let me know in the comments?

On the Road: Week of March 29  (5 am)
Albatrossity – Brazil 2011
p.a. – Chichen Itza addendum
?BillinGlendaleCA – Joshua Tree Sunrise
UncleEbeneezer – SE Asia Valentines (Part 3): Notre Dame/Saigon Post Office
Tom V – Death Valley: Mesquite Flats Sand Dunes at Dawn
?  And now, another treat with Albatrossity taking us back to Brazil!  
Albatrossity
My second trip to Brazil, in 2011, was also with a Study Abroad class, and this time the class included my youngest daughter. No worries about conflicts of interest, though; I am not an instructor for these classes, so I didn't have to assign her a grade.
As was the case in 2010, we went to Manaus and the Ariaú Amazon Towers lodge. Since you have already seen the sights of Manaus in last week's post, this week will be all birds! Next week the saga continues, as we headed to the mouth of the Amazon (Belem and the island of Marajó), and that one won't be all birds. But maybe there will be a few…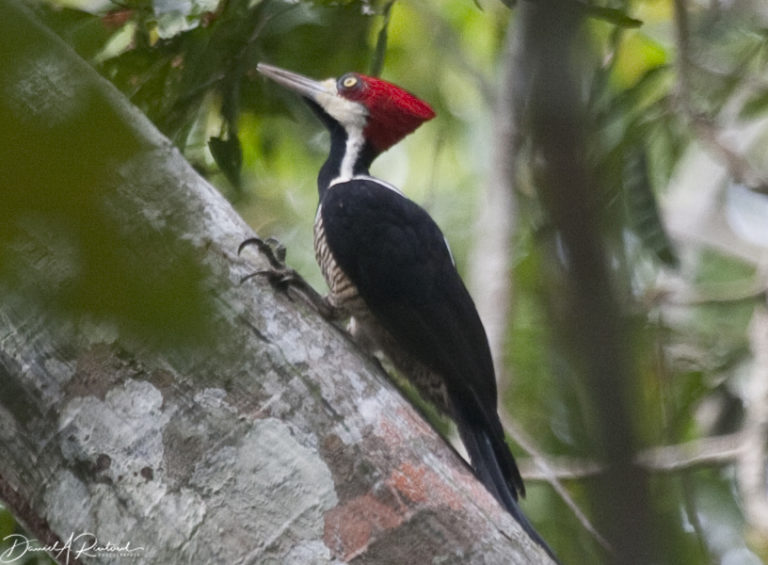 Ariaú
May 20, 2011
South America, and the Amazon in particular, is a great place to see woodpeckers, ranging in size from birds the size of our Pileated Woodpecker to the diminutive piculets, one of which, the Bar-breasted Piculet, is the smallest known woodpecker, weighing in at 7 grams, or only about twice as much as a Ruby-throated Hummingbird. They are a challenge to photograph, since they like to spend their time on the other side of the tree. Here's one of the big ones, a female Lineated Woodpecker (Dryocopus lineatus, or Pica-pau-de-banda-branca).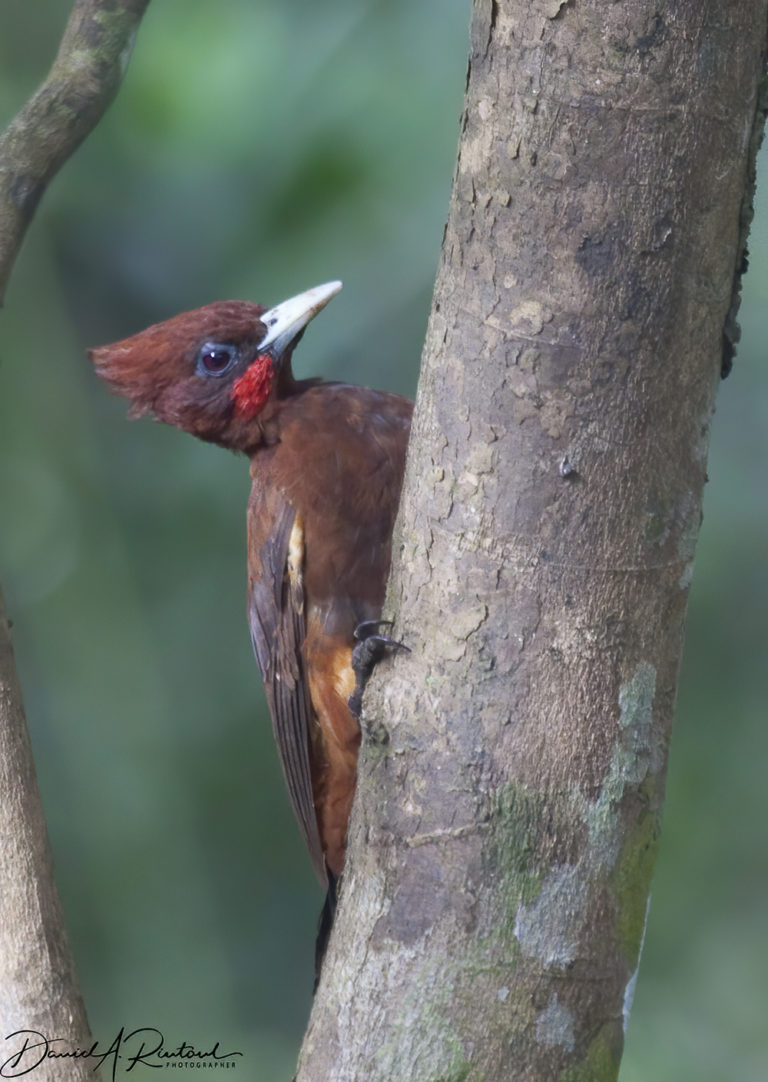 Ariaú
May 21, 2011
Another gorgeous woodpecker, a male Chestnut Woodpecker (Celeus elegans, or Pica-pau-chocolate). Personally I think the Brazilian name is more apt; this thing is very chocolate-colored!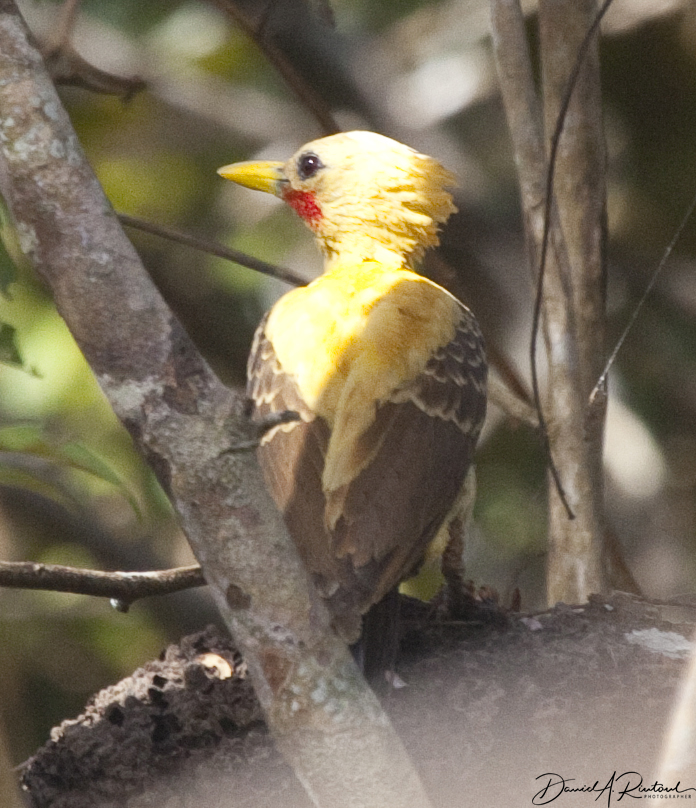 Ariaú
May 22, 2011
The third woodpecker in this random series, a male Cream-colored Woodpecker (Celeus flavus, or Pica-pau-amarelo).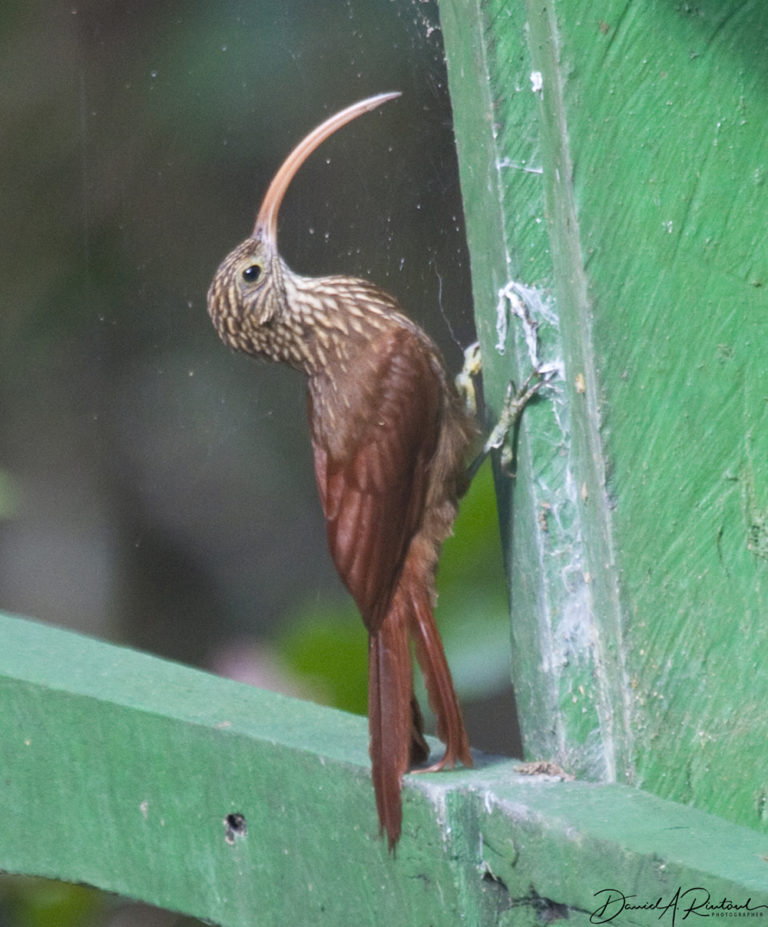 Ariaú
May 22, 2011
The woodcreepers are another large family of South American birds, and the Amazon rainforest is loaded with those as well. Some have stout bills, some have longer curved bills, and a few, like this Red-billed Scythebill (Campylorhamphus trochilorostris, or Arapaçu-beija-flor) have ridiculously long bills.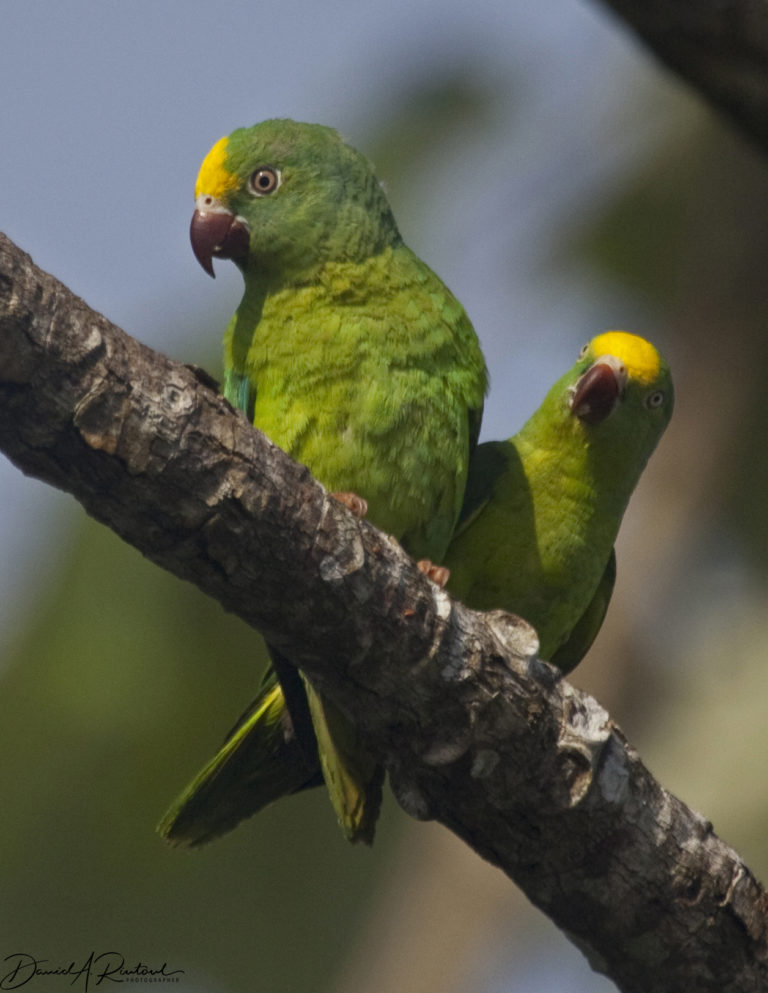 Ariaú
May 21, 2011
Parrots are also abundant in the Amazon, and one of the most abundant around Manaus is the Tui Parakeet (Brotogeris sanctithomae, or Periquito testinha). Flocks of these birds were a common sight, but this pair was snuggling above our balcony, courting and even copulating.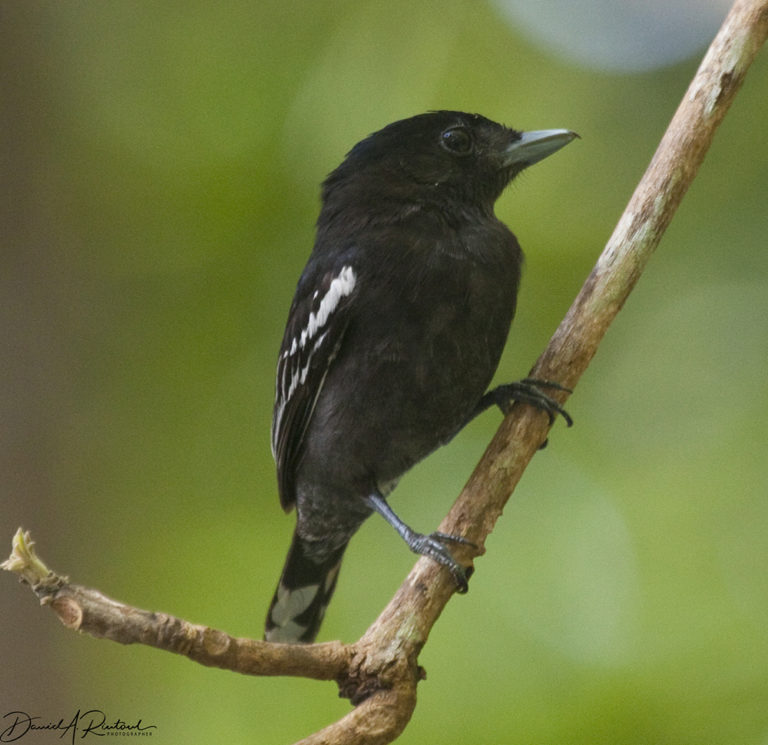 Ariaú
May 22, 2011
Flycatchers (family Tyrannidae) are well-represented in the South American avifauna, and this bird was formerly classified in that family. Recent research revealed that it is actually a member of the family Tityridae, along with some other handsome flycatcher-like birds such as the Royal Flycatchers. It's a male White-winged Becard (Pachyramphus polychopterus, or Caneleiro-preto), which was building a nest with its mate just above a humongous paper wasp nest.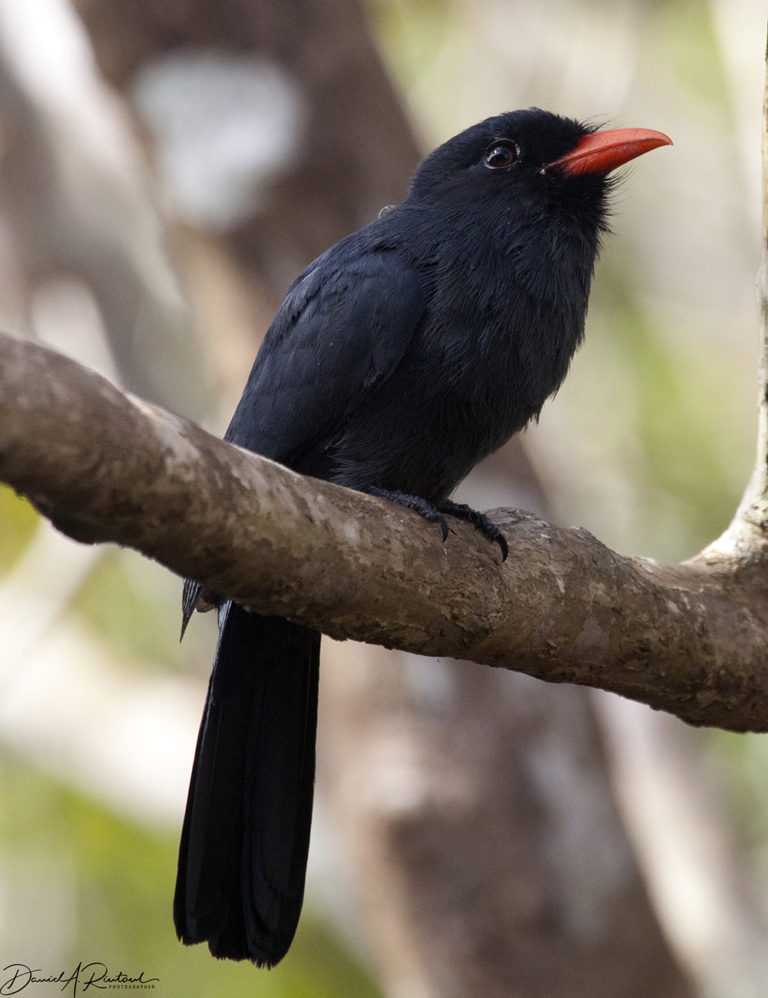 Ariaú
May 22, 2011
Another large family of tropical birds is the family Bucconidae, or the puffbirds. This is a Black-fronted Nunbird (Monasa nigrifrons, or Chora-chuva-preto), which was very commonly sighted in the flooded forests around Ariaú.
Ariaú
May 22, 2011
A bird that is relatively common but very easy to overlook, this female American Pygmy Kingfisher (Chloroceryle aenea, or Martim-pescador-pequeno) flew out of the forest and landed on this low perch above the flooded forest. It is just a bit larger than an American Goldfinch, if you need a size comparison with a North American bird.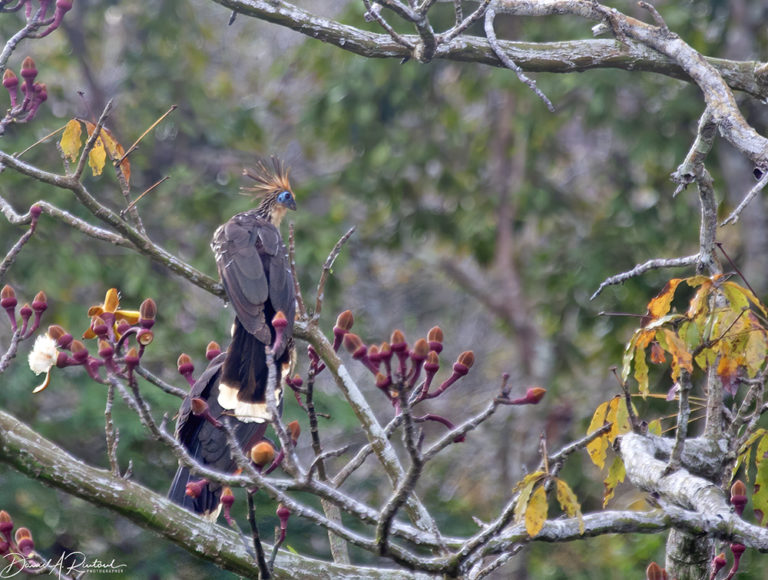 Ariaú
May 20, 2011
Another flooded forest specialist, but one that is much more obvious than the pygmy kingfisher, is the Hoatzin (Opisthocomus hoazin, or Cigana). We had seen a few in this spot in 2010, but in 2011 they seemed to be much more abundant. My personal favorite name for these is Dinosaur-chicken.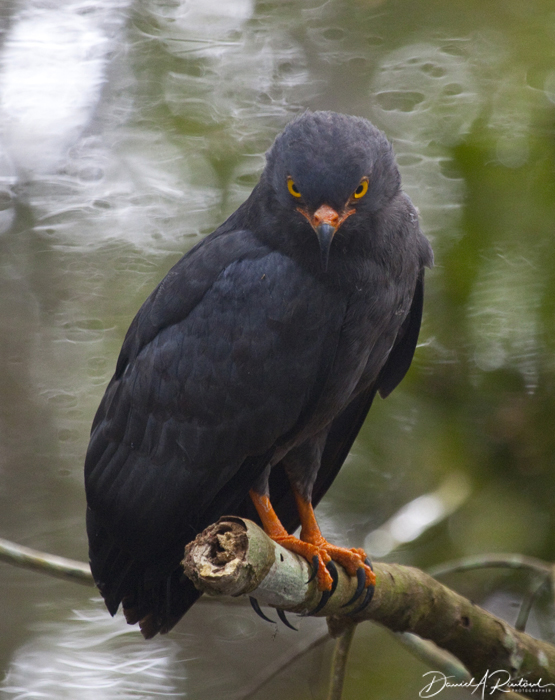 Ariaú
May 21, 2011
My favorite sighting for this part of the trip was this guy, a Slender-billed Kite (Helicolestes hamatus, or Gavião-do-igapó). Igapó is the blackwater flooded forest habitat, and this species is perfect for that habitat. It was a rainy morning, as you can see from the rain-dappled water behind the bird, and it sat calmly, looking for snails, fish, or any other unlucky small critter that happened to fall within the gaze of those killer orange eyes.