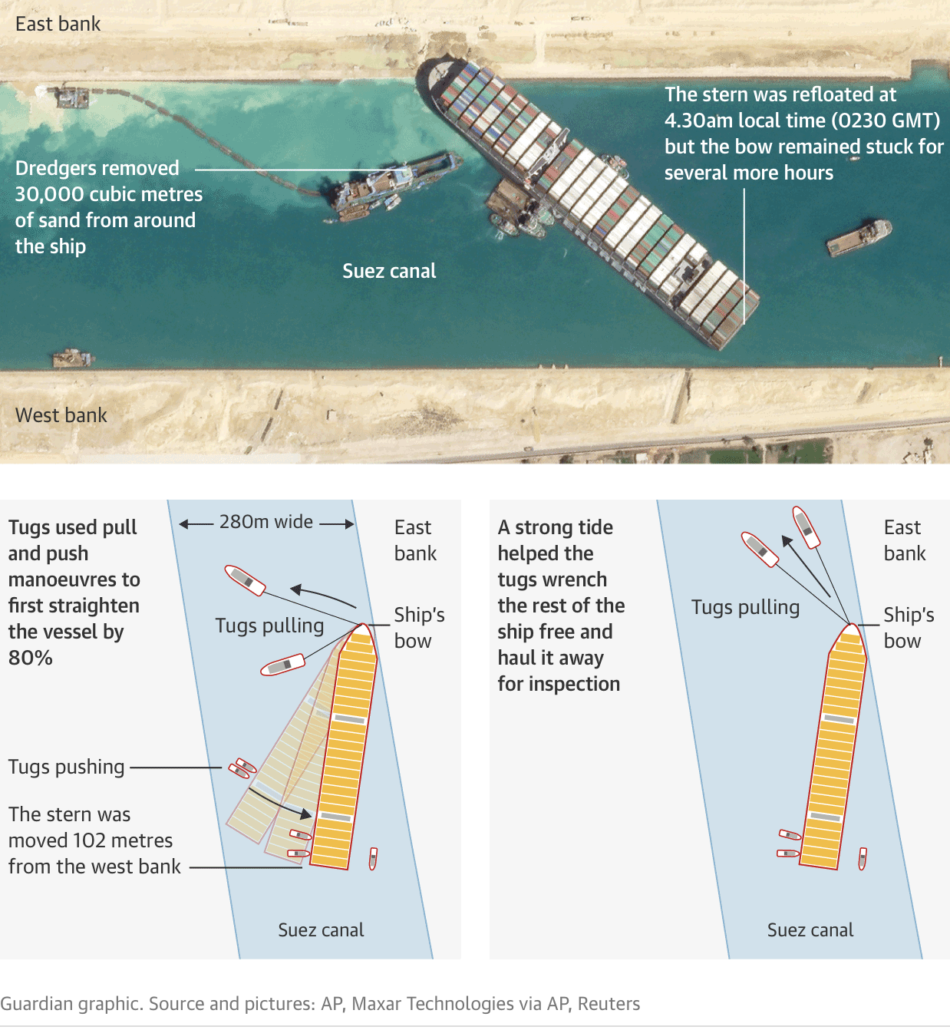 Excellent story in the Guardian, h/t to commenter cope.  Read the whole thing.
The week-long operation in the Suez Canal had struggled to make progress and looked as though it might stretch for weeks until Sunday, when nature and logistics aligned, according to the boss of the Dutch salvaging unit that helped run the operation, who has given the fullest account of the mission so far to news outlets in the Netherlands.

For five long days and nights, the team of Egyptian, Dutch and Japanese workers dredged huge amounts of sand and attempted to pull the vessel free using nearly a dozen ordinary tugboats.

"[But] the real work could only begin once the two powerful seagoing tugs arrived," Peter Berdowski, the chief executive of Boskalis, told NPO Radio 1. "We always thought that what happened until that point would help a bit but wouldn't be enough."

There had been few such tugs stationed nearby – the top of the Red Sea is usually a quiet environment – and with the canal blocked, they needed to come from the southern end, further reducing the available options.

The first, the Alp Guard, capable of pulling 285 metric tonnes – 75% more than the canals' fleet of tugboats – arrived on Sunday morning. The dredging by crews including those on the Egyptian vessel Mashhour had helped to shift 30,000 cubic metres of sand over the past week. In the early hours of Monday morning, there was optimism on the banks of the canal, including among Boskalis's team of 15 people onsite.